TORONTO – This version of the Detroit Tigers sure doesn't score the way they did four or five years ago, but still. They're a big-league team, one that just scored seven runs against J.A. Happ, arguably the best starting pitcher available on the summer trade market.
On Monday, the Toronto Blue Jays sent a considerably younger left-hander to the mound and enjoyed much better results. Ryan Borucki couldn't have performed much better in his first home start, but the Blue Jays lost 3-2 in 10 innings despite a ninth-inning rally that tied the game.
Borucki threw strikes all afternoon, locating his three pitches down in the zone. All told, he threw 68 of his 97 pitches for strikes over seven innings.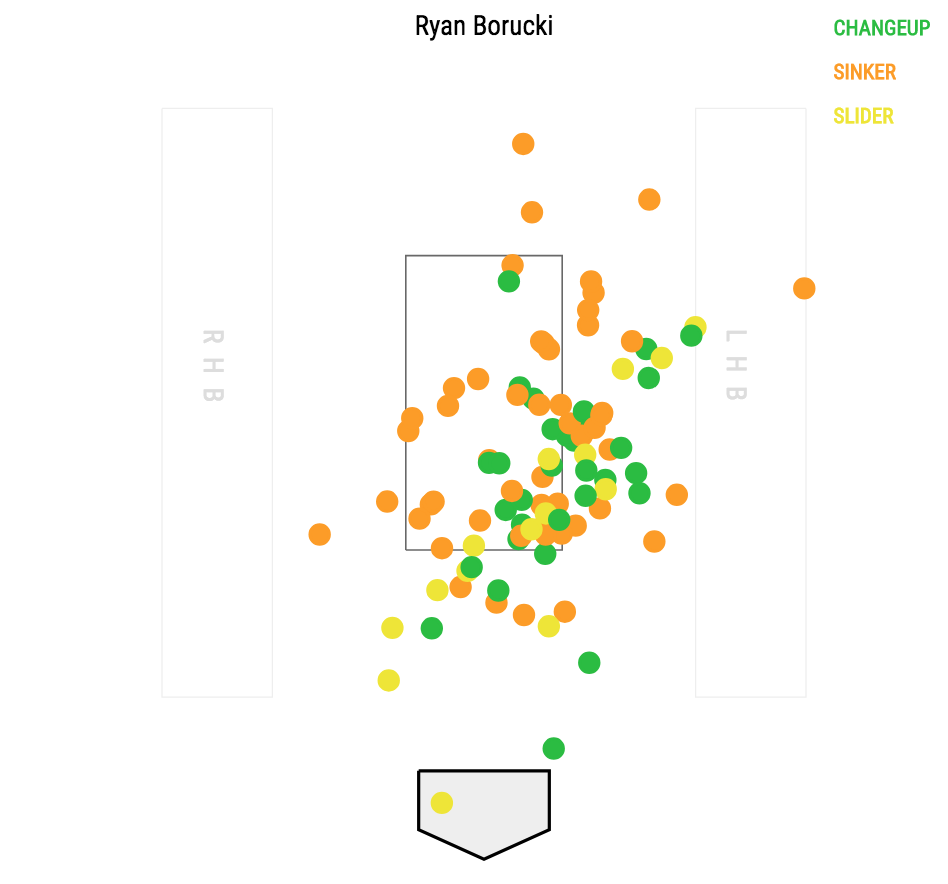 "Another impressive outing for Borucki," manager John Gibbons said. "He's a pitcher, he's not just out there heaving it."
Gibbons noted a similarity between Borucki and former Blue Jays left-hander Mark Buehrle given that both work quickly and throw effective changeups.
"Much slimmer," Gibbons said of Borucki. "I'm sure the thought process they think alike. Classic lefty-type guy. I've been really impressed. If a kid can throw strikes and move the ball he's got a chance, and that's what he's done his first two outings. … He probably doesn't drink as much beer as Buehrle."
Borucki grew up a White Sox fan in Chicago and wears No. 56 as a tribute to Buehrle, so he welcomed the comparison.
"If I could have a career like that guy had, I'd be doing something right," Borucki said. "I did take a lot of parts of his game and put them into mine, so hopefully I can live up to what he's done."
The 24-year-old completed seven innings, striking out eight Tigers without walking a hitter and allowing just two runs on six hits. Four of those hits came consecutively with one out in the first, but Borucki adjusted on the fly and escaped with a double-play ball before stringing together four straight three-up, three-down innings.
"The guy's got a lot of composure," catcher Luke Maile said. "He knows what he's doing. You can just watch him throw five or six pitches and get the idea. He's a pitcher. He knows that with his stuff he's not going to just throw it by people all day, but he knows what pitches play off of each other and he knows how to execute them."
Borucki made his first big-league start against the Houston Astros on June 26 and allowed just two runs over six innings. This time, he was even sharper, generating 14 swinging strikes while touching 94 m.p.h. on the radar gun. From behind the plate, Borucki's changeup looked especially effective.
"You can tell it's a plus pitch at any level," Maile said. "It'll be a real weapon for him."
"It really does wonders for your fastball," Gibbons added.
The eight strikeouts he recorded tie Roy Halladay for the second-most punchouts ever recorded by a Blue Jays pitcher in his home debut. Only Jose Nunez has recorded more (11 in 1987).
An opportunity opened up for Borucki when both Aaron Sanchez and Jaime Garcia hit the disabled list last month. Sanchez threw on the field at Rogers Centre Monday, but there's still no clear timetable for his return, which could allow Borucki to stay in the rotation for now. Later in the month, more opportunities would emerge if Happ and Marco Estrada are traded to contenders. And if you look even further ahead at 2019, there's a clear need for big-league starters should Borucki keep producing.
"When you go out there and you pitch pretty well, you get a lot of confidence," Borucki said. "I'm getting a little more comfortable out there and it was fun to come here and pitch in Toronto."
At the plate, the Blue Jays had troubled generating offence against starter Mike Fiers, who allowed just one run on three hits over eight innings, but they did managed to tie it against Joe Jimenez, who's closing for Detroit with Shane Greene on the disabled list. Justin Smoak drew a game-tying walk that scored Devon Travis with two out in the ninth, but Luke Maile grounded out to end the rally.
An unorthodox defensive configuration followed, as Smoak took over at first base and Kendrys Morales moved to third for the first time in his career. Russell Martin was on the Blue Jays' bench, but his knee was 'barking a little,' so Gibbons elected not to use him at third base.
Regardless, the Tigers re-took the lead in the top of the 10th, as Jose Iglesias drove home a Niko Goodrum triple with a sacrifice fly off Seunghwan Oh. This time, the Blue Jays didn't come back, stranding a Lourdes Gurriel Jr. single at second base.
With the loss, the Blue Jays fall to 39-45 on the season ahead of a series with Jose Bautista and the New York Mets. Those two games will offer plenty of chances to reminisce about past successes, but in the meantime Borucki's strong outing Monday represented an encouraging sign for future editions of the Blue Jays.