There are five gloves sitting on the top shelf of Darwin Barney's stall in the home clubhouse at Rogers Centre — a range of shades running from orange to black. These are the Toronto Blue Jay utility man's back-up mitts. Below them, nestled on the bottom shelf, is a slightly faded, brown glove with a ball in its pocket. That's the gamer Barney's using on this day, in which he's starting at third base in place of the injured Josh Donaldson.
Aside from the signs of use on the glove that he'll carry on field, the various shades of leather are the only real difference between the mitts. They're all the same make, model and size: Wilson, 1786, 11.5 inches. Some players opt for a bigger glove when they man third and a smaller one for shortstop or second, but not Barney. The revered defender is very particular about the feel of his on-field instrument. "I once dropped a backhand in Washington and the glove went in the garbage can right away," he says. "Next glove up."
That zero-tolerance-for-errors policy may be tough on an individual glove from time-to-time, but it hasn't stopped the eight-year MLB vet from nurturing a long-standing relationship with the Wilson model. He's used the 1786 since 2006, his sophomore year at Oregon State University.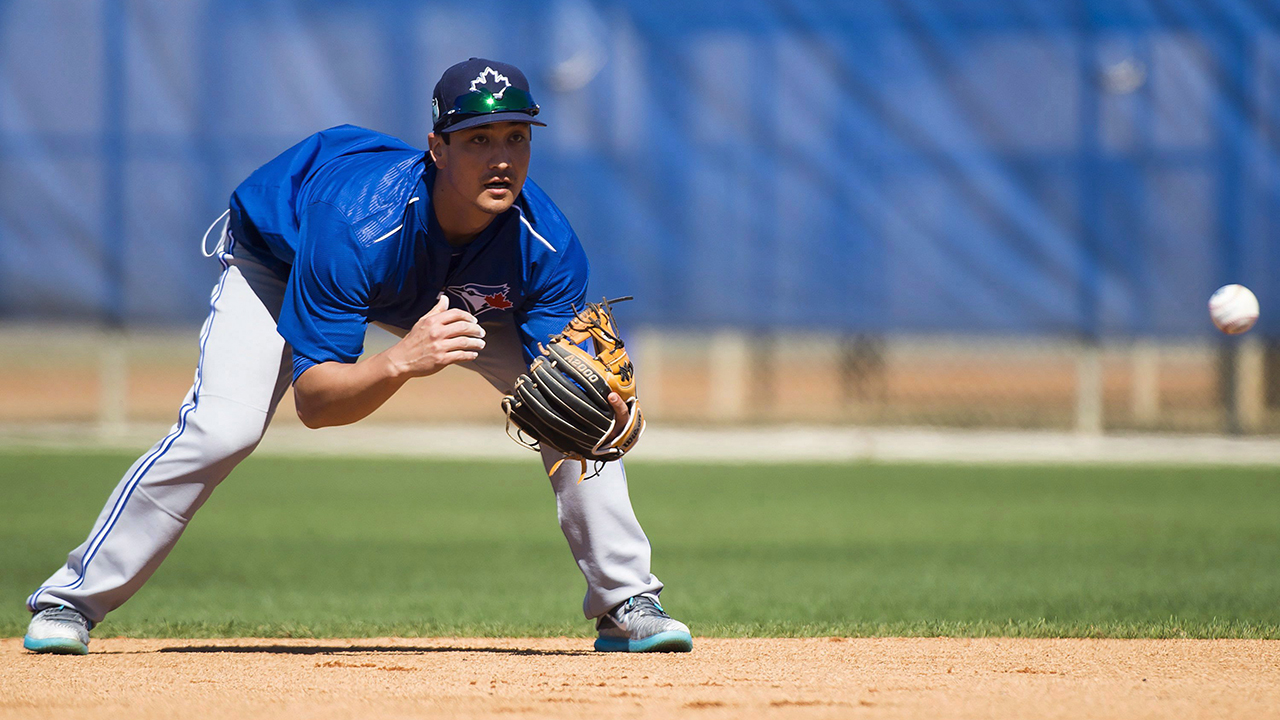 Darwin Barney takes grounders with his Wilson A2000 1786 glove. (Nathan Denette/CP)
Barney knows the man who designed the glove he's used for his whole MLB career — at least a little, enough for warm greetings when they see each other at spring training. The maestro has several monikers: Glove Guru, Glove Whisperer, Jedi Master of Gloves. Wilson refers to him as its Glove Master Craftsman, but Barney prefers another nickname. "He's like the Miyagi of baseball gloves," he says, referencing the martial arts master from 1984's cult favourite The Karate Kid.
His actual name is Shigeaki Aso, and the 1786 model that's been adored by major leaguers like Barney for over 30 years is the work he considers his preeminent masterpiece. This is the story of that glove and the man who made it.
***
Aso was born in 1945 in Toride, a city just north of Tokyo, and like most kids in the region he grew up following the Yomiuri Giants. His first relationship with a baseball glove began at age 14 when, after he'd pleaded repeatedly, his older brother obliged and bought him one. It was a catcher's mitt and Aso still remembers its feel and smell. He says he slept with it every night.
Aso didn't grow into a standout ballplayer, but in the mid-1970s he was hired by a Wilson sales partner as a factory quality inspector. Regularly travelling to Korea and Taiwan in the role, he inspected fielding and batting gloves, and gained valuable experience engaging in constant back-and-forth dialogues with factory managers about all aspects of the equipment from workmanship and patterns right down to material.
In 1985, still working for Wilson, Aso travelled to the United States to visit MLB spring training camps and to learn about major leaguers, see what types of gloves they were using and how they were faring with his company's products. Examining the gloves donned by middle infielders, he found that the thumb and pinky fingers were too long and the pocket too shallow. "I was disappointed with the gloves," says Aso. "It was difficult for fielding."
He immediately returned to Japan, determined to create something new and vastly better.
***
Jeff Ross, equipment manager of the Blue Jays for over 30 years, remembers working extensively with shortstops Alfredo Griffin and Tony Fernandez on their gloves in the early- and mid-1980s. Gloves used by middle infielders back then were typically flatter and harder, featuring shallow pockets and thicker heels. "A lot of times, we would take the padding out of the heel of the glove, because it was too thick and too hard," Ross says. "You didn't want the ball to hit the heel — it would bounce out. You would slice out some of the padding, and then it would be a little softer and easier to break in."
Thinning out the heel was an element Aso factored in to his new glove's design. He also shortened the fingers and deepened the pocket, which aided in backhanded and one-handed plays. Before, players would need to guard against the ball bouncing out of the flatter pocket by using two hands.
"He lives and breathes baseball gloves. That's all he does, that's all he thinks about. He wakes up in the middle of the night with ideas. He dreams about them."
By spring training of 1986, Aso's glove was ready to be introduced to the majors, but
his trip back to MLB camps with his new product in tow almost didn't happen. "I bought a non-refundable ticket," Aso recalls. "But my manager said 'We don't have much budget. You cannot go to major-league camps this year.' I said, 'Sorry I bought a ticket already and it's non-refundable.'"
Aso arrived in America, unveiled his gem and watched it quickly gain popularity. Neither he nor Wilson is able to recall any of the first group of players to adopt the glove, but Aso says watching it in action on the field gave him intense satisfaction. It was, after all, the first pattern he ever designed. "It's my baby," he says.
***
If Aso is Mr. Miyagi, then Ryan Smith is Daniel-san, the young protege. The two met in 2010, when Smith was working as a glove repair expert for a sporting goods company in Phoenix, Ariz. They hit it off immediately, bonding over their shared craft and speaking for hours about glove patterns and laces, functions and flaws. A friendship was sparked and they kept in touch by email, constantly bouncing new ideas off each other.
"He lives and breathes baseball gloves," Smith says of his mentor. "That's all he does, that's all he thinks about. He wakes up in the middle of the night with ideas. He dreams about them. Nobody can match his passion."
Smith was also awed by Aso's precision. "There's not one detail of the glove that isn't purposely done to help everything function better," he says. "He'll look at a glove and it could be a millimetre — just a millimetre — off and it's not good enough for him. So he'll have everything adjusted to make up for the one little millimetre."
Aso now resides in Chicago, where Wilson is headquartered, and has become a key face in the marketing of the company's gloves. He appears in YouTube videos describing his glove creations — some of which are customized for certain players — and offers tips on breaking in new mitts. But now that he's in his 70s, Wilson has begun looking for an eventual successor. Smith was brought in to work with Aso in person, and this past February accompanied him on his annual visit to spring training camps in Florida and Arizona, where he hands out new gloves to players, answers questions and handles modifications and customization. Usually they would divide and conquer to speed up the trip, but working together allowed Smith to marvel at Aso and "the relationship the players have with him."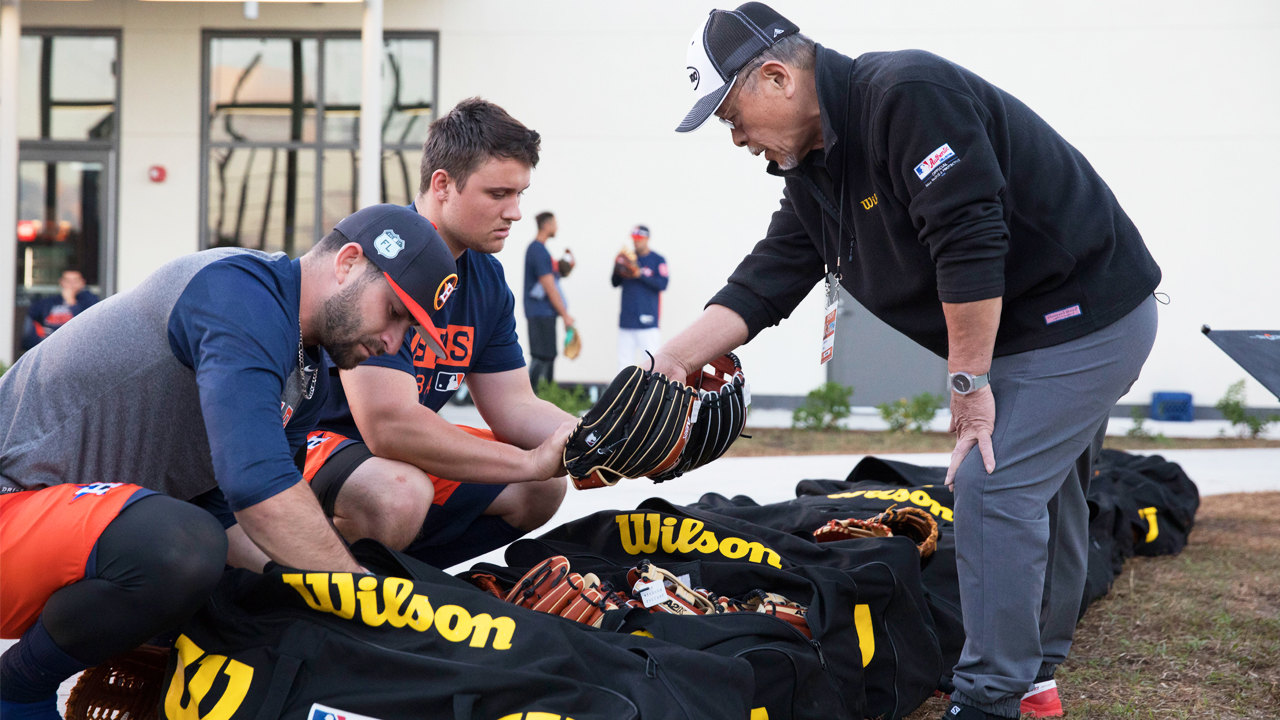 Aso talks to Houston Astros players in spring training. (Wilson)
"They come out and give him a hug, they're high-fiving him, excited to see him," Smith says. "Players know that when he shows up, one, they're gonna get some cool stuff; two, they get to talk about gloves.
"Players are like kids at Christmas on glove day. They come out and have this huge smile on their face and they're excited about it. And Aso's like Santa Claus to them."
***
Aso now has about 20 glove designs on his resume, and the 1786 remains one of Wilson's flagship models. It's changed very little over the years, with just minor updates such as the inclusion of a lighter, softer material on the back of the glove. Second basemen Brandon Phillips, Dustin Pedroia and Robinson Cano are among players who use the model and Aso has worked with all three to design their own unique variants.

From left, Brandon Phillips, Dustin Pedroia and Robinson Cano. (AP Photos)
While Barney doesn't have the star power of that trio, he does share one thing in common: A Gold Glove, which he won in 2012, when he manned second for the Chicago Cubs. Barney accomplished the feat using a 1786 and cites that historic season as one of the reasons he won't even consider another mitt. "Why change what's not broken?" asks Barney. "You just have a relationship with the glove. You want it to be a part of you."
Admittedly, Barney doesn't know much about history of the 1786. But he does know of its impact.
"Other glove companies have tried to mirror that glove," says Barney. "I've talked to other companies, I'm not going to name any names, but they've said, 'We've tried to make it look like this. We've tried to make it feel like this.' That says a lot about what [Aso] did. And the fact that the glove is still the same [after] that long a time and hasn't needed much tweaking, that says a lot about what they do [at Wilson]. I'm proud to wear it.
"When I play men's league when I'm done, I'll probably continue to wear it."