TORONTO — On a very, very good night for Pascal Siakam, it was nearly a very, very bad night for Pascal Siakam. Such is the margin for error in the NBA playoffs. And such has been the relative difference between the Toronto Raptors and Milwaukee Bucks over the first three games of this Eastern Conference Final, which Milwaukee leads, two games to one. It's been awfully tight.
Just look at how things have played out. Though the Bucks surely disagree, the Raptors feel they could have that one-game advantage themselves if not for two dreadful final minutes in Game 1. There is no denying the Bucks hostile takeover of Game 2. And if not for Kawhi Leonard's excellence, Siakam's equanimity, and Toronto's sheer desire over an hour of basketball, we'd be talking very differently about what happened with seven seconds remaining in Game 3.
That was the moment, after an ill-advised Khris Middleton three-point attempt with the Raptors up by two, when Siakam came down with a rebound under his own basket, was promptly fouled, and walked to the free throw line at the other end with an opportunity to end everyone's night. Siakam isn't the world's best free-throw shooter, but he hit 78.5 per cent of his attempts this season, which was above the league average of 76.6. And coming into the game, he'd hit 78 per cent in these playoffs. There was little reason to doubt him.
But Siakam missed both, and paced back to his team's bench utterly furious with himself, yelling and clenching his fists. Milwaukee tied the game on the ensuing possession, and some great bodywork by Middleton on Leonard during an inbounds play with two seconds left forced the ball into Siakam's hands for a hopeless and rushed three-point attempt that missed badly at the end of regulation.
That's a lot of anxiety to deal with in the span of fewer than 10 seconds of game clock. A tormenting string of missed opportunities that forced the Raptors into an overtime period that, with Kyle Lowry and Norman Powell both fouled out, heavily favoured the Bucks. It was only the season on the line. Only the potential of a 3-0 series deficit in play thanks to Siakam's misses. And only a 25-year-old, third-year player who had to mentally overcome it all, refocus, and play a central role for his team over the next 10 do-or-die minutes.
That Siakam found himself walking back to that same free throw line with 16 seconds remaining in the second overtime, again with an opportunity to ice the game, would have been a little too on the nose in a screenplay. But real life has a funny way of working out like that, and just look at the part-triumphant, part-relieved beat Siakam holds his follow-through for after he hit them both: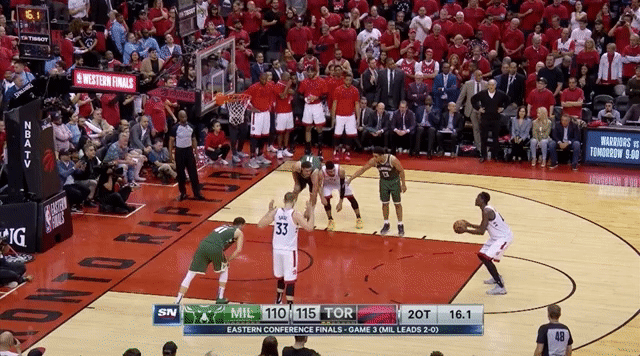 Leonard was a beast in overtime, of course. But the Raptors wouldn't have gotten through those 10 minutes with a win without Siakam composing himself and finding ways to contribute.
From the huge offensive rebound he pulled down midway through the first period to the tough, contested layup he hit immediately after. From the all-out hustle in transition both ways to this floor-shaking block of Brook Lopez at the rim in the game's final minute:
If those two misses at the line in such a consequential situation had happened last season or the one prior, would Siakam have been able to handle it as well as he did? Would a younger version of himself have dwelled in the failure and not turned the page as quickly?
"I don't know, I don't know," Siakam said Monday, wearing a red Toronto FC jersey with the nameplate 'Spicy Skills' across the back. "I couldn't tell you how I would've handled it before or now. But I think I just, at that moment, just being there, it hurts. It's tough. But you've got to try to make yourself understand that it's okay. And that it's still a game to play. And you've got to continue to play. And that's what I tried to do with the help of my teammates, too."
These are the kinds of gigantic developmental leaps Siakam's been taking all season, and continues to take now, in his team's most crucial, stressful moments. He's had incredible highs and lows in these playoffs, sometimes in the span of a few minutes as he did Sunday. But, in the aggregate, Siakam's very good nights are far outnumbering his very bad ones. And in his breakout season, his junior year as an NBA player, his first time playing a central role deep in a playoff run, Siakam's accumulating the kind of foundational, high-leverage experience that great careers are forged from.
"This is what basketball is about. I know people always say that. But that's where the game goes," Siakam said. "You miss two free throws, but then you have an opportunity to redeem yourself. And if you spend the whole time crying about it, you don't really have the energy to do what you did after. So, obviously, if I could have saved Kawhi from playing an hour of basketball, I would have. I tried. But, hey, it happened. And we've got to move on from that."
And for as much well-deserved credit as Leonard's receiving for playing 52 minutes and eight seconds of remarkable basketball in Game 3, Siakam was right there with him, playing only 45 seconds fewer. The Raptors don't win without Leonard's virtuosic performance. But that Siakam finished plus-12 with a double-double (25 points, 11 rebounds) while leading his team in several hustle categories such as steals (three), loose balls recovered (three), and box outs (12) is being treated as a little more commonplace than it should be.
Leonard's a titan. He's uncommonly talented in a league of uncommon talents, and he's been an NBA Finals MVP. He's supposed to have nights like he did. But Siakam's still new to this. During last year's playoffs he only once played more than 22 minutes. He never scored more than 11 points. Coming into these playoffs, the best post-season game of Siakam's career had produced a 12.8 game score. After putting up a 17.9 Sunday, he's now beaten that mark nine times in his 15 games this spring.
"I think it's good, I think it's good, man," Siakam said. "Just being here. From last year, I mean, I played some significant minutes. To now this year, it's a whole different level. Being a part of the main guys and just all the minutes that I've played all year and the experience, I think it's only going to help me in getting me better."
Plus, it's worth remembering that Siakam spent the bulk of Round 2 being guarded by Joel Embiid, who should soon be named to his second-consecutive NBA all-defensive team. And his hard landing in the subsequent round has been a steady diet of Giannis Antetokounmpo, who last week was named a finalist for the NBA's defensive player of the year award.
And in the midst of that daunting task, he's had to adjust the way he plays. There isn't much sense in dribbling down into the paint in search of the five-footers Siakam lived on this season when one of those two gigantic, long-limbed, bruising monsters is waiting there to swat away his attempts. The adjustment has been to ask Siakam to operate much more frequently away from the paint, working in pick-and-rolls with guards at the top of the arc or racing around and setting screens off the ball while staying ready to potentially pop up for a shot or keep the ball moving to the next open man.
He's obviously more than capable of doing all these things, but he's making it look a lot easier than it should be to alter his style of play on the fly. Remember, only three seasons into his NBA career, and less than a decade into playing competitive basketball of any kind, Siakam's meant to still be figuring out his identity as a player. Instead, he's layering new identities on top of the one he's still forming.
No matter what happens in Tuesday's Game 4, no matter what happens in the as-yet-undetermined amount of games Toronto gets to play after that, and no matter what happens this summer when Leonard will make a personal decision that will push Toronto's franchise down one road or another, the Raptors have something in Siakam. The value of the experience he's gained through these playoffs is immeasurable. It's not about how good he already is now. It's how good he could one day become.
"It's going to be huge for him going forward," said Kyle Lowry, an Olympic gold medalist and five-time NBA all-star who, in his third NBA season, was a faint vestige of the player he is today. "But he's staying in the moment right now. All he's worried about is Game 4, which is a good thing. Game 3 is over, game whatever is over — all that's over. All he's preparing for is Game 4 now. With these experiences, he'll learn. It'll just take him and he'll continue to grow."