With Selection Sunday in the rearview and the annual March Madness tournament set to kick off, Sportsnet's panel weighs in and selects the contenders, bracket-busters, standout Canadians and more. Today, we look at the tourney favourites:
NCAA Roundtable: Predicting this year's Bracket Busters
NCAA Roundtable: Must-See Players
NCAA Roundtable: Canadians to Watch
---
Sportsnet Bracket Madness: Make your picks for the chance to win a trip for two to a 2016/2017 regular season basketball game in Toronto | Submit your picks
---
Craig Battle, senior editor
Michigan State. Great coach? Check—Tom Izzo has taken his team to the Final Four seven times, including last year. Veteran leadership? Check—senior Denzel Valentine is a complete player in the mold of former Spartan Draymond Green, and like Green before him has become a vocal leader of this Spartans team. Peaking at the right time? Check—they've won 10 of their last 11, following a three-game losing streak that ended Jan. 29. Key stats? Check—they shoot the three well, rebound well and turn the ball over less than other elite teams.
Gare Joyce
Virginia. The Cavaliers are the most defensively sound team in the tournament and play more with cool confidence than swagger. Senior guard Malcolm Brogdon (pictured below) won't win POY honours because their offence gets spread around. Still, Brogdon was the best player in the best conference this season. Virginia showed their mettle with three out-of-conference wins in December, outclassing West Virginia and Villanova and squeaking out another over Cal. Virginia has the highest mountain to climb to get to the Final Four—chalk would put them in against Michigan State in Elite Eight, in what would be a great match-up in the final. Best reason to like the Cavs: They're not Duke.
Michael Hoad, contributor
Virginia. The Cavaliers are able to fly somewhat under the radar due to the other big names in the ACC. But Virginia boasts impressive wins over West Virginia, Villanova, Miami, North Carolina and Louisville (twice), ending their season with a perfect home record. Malcolm Brogdon is the team's best player, but don't overlook fellow guard London Perrantes and his 51 per cent clip from beyond the three-point arc.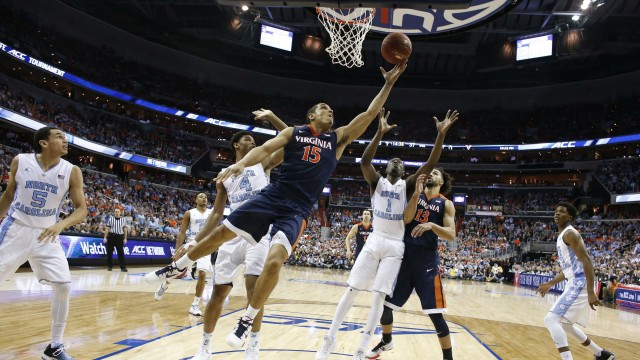 Dave Zarum, NBA editor
Michigan State. Superstar swingman Denzel Valentine can carry a team on his back, but on a deep roster like the Spartans he's far from a one-man show. Michigan State (a No. 2 seed who really should be a No. 1) has talent at every position, bona fide size— don't sleep on the frontcourt duo of senior Matt Costello and freshman Deyonta Davis— and the chess pieces to match up with virtually any team. Tom Izzo seems to always be able to maximize his roster— his team has made it to at least the Sweet Sixteen in each of the previous four years— and this team has many players returning form the squad that made it all the way to the Final Four last season. Add it all together and the Spartans should be able to once again navigate deep in the tournament.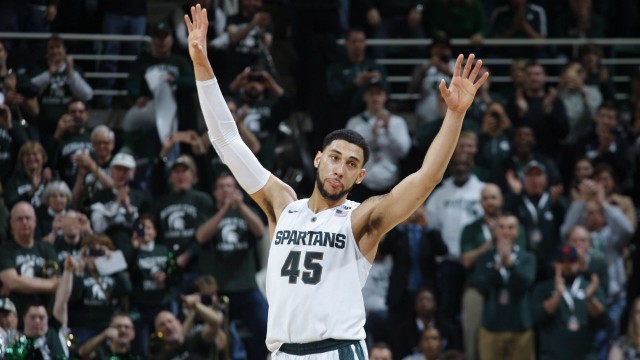 Jeff Simmons, staff writer
Kansas. It's no fun to pick the No. 1 overall seed, but the Jayhawks are a well-balanced machine— they haven't lost since Jan. 23 and have the deepest roster in the tournament. With star Wayne Seldon and Perry Ellis, along with the guard pairing of Frank Mason and Devonte' Graham, they have the ingredients to make a deep run.
Dan Robson
Virginia. A steady team that wears opponents down with relentless defence. Look for UVA to defend their way to a National title.
Donnovan Bennett, staff writer
North Carolina. The Tar Heels were Amercia's preseason No. 1 team for a reason and, simply put, the best team in the nation's toughest conference. Virginia, Duke and Miami all gave them a push but in the end North Carolina proved to be too big and too deep to overcome (what other team can play Duke and have a plus-30 rebounding margin?).
Marcus Paige has had a late season return to form, providing them great guard play in the process. When he is aggressive in the backcourt North Carolina is deadly and are 10-0 when they attempt 20 or more three-point shots. However it's fellow senior Bryce Johnson who makes UNC such a tough matchup—Johnson racked up 10.8 rebounds per game, shot 60.6 per cent from the field, on the way to 19 double doubles. All of those are top marks in the ACC which is why he was a unanimous first-team selection. In a generation of one-and-dones, UNC has a pair of potential lottery pick seniors giving them a balance of talent and experience that will have them cutting down the nets this spring. It's North Carolina's tournament to lose.
Ryan Dixon, staff writer
North Carolina. In a year as wide open and unpredictable as any in recent memory, why not default to an old classic—one that happened to win a tough conference tournament and has a coach with Roy Williams' experience.
Steven Loung, associate editor
Oklahoma. Simply put, Buddy Hield has been the best player in college basketball this year. Apart from that Oklahoma boasts a very strong offence and a defence that's good enough to get the job done. Give me the Sooners all the way.