With Selection Sunday in the rearview and the annual March Madness tournament set to kick off, Sportsnet's basketball panel weighs in and selects the contenders, bracket-busters, standout Canadians and more. Today, we look at some of the standout Canadian talent you need to keep an eye on:
NCAA Roundtable: Who will win it all?
NCAA Roundtable: Must-See Players
NCAA Roundtable: Predicting this year's Bracket Buster
---
Sportsnet Bracket Madness: Make your picks for the chance to win a trip for two to a 2016/2017 regular season basketball game in Toronto
| Submit your picks
---
Dave Zarum, NBA editor
Jamal Murray, G, Kentucky. Full disclosure: When I first reached out to SN staffers for their selections, I included a note that read: "…and please, don't EVERYBODY pick Jamal Murray." So nobody did. My bad. Fact is, Murray is so far and away the best & most intriguing Canadian talent in the March Madness field this year (and certainly a worthy candidate of a consensus pick). He's been on fire in the second half of the season as his role on the Wildcats became more clear (read: that he would NOT be overtaking Tyler Ulis at the point guard spot, instead mostly playing off the ball like he has most of his life). Before last weekends SEC final, in which Murray scored 17 points in Kentucky's OT win, he had scored at least 20 points in 12 consecutive games, something no Wildcat had done since 1975 (and they've had a talented player or two come through that program in the years since). Murray isn't just the biggest Canadian name in the 64-team field, he just might wind up being the best player, period, and is already vaulting up draft boards, in some cases into the top 3. But enough from me, just check out the tape, or better yet, Gare Joyce's feature from Sportsnet magazine.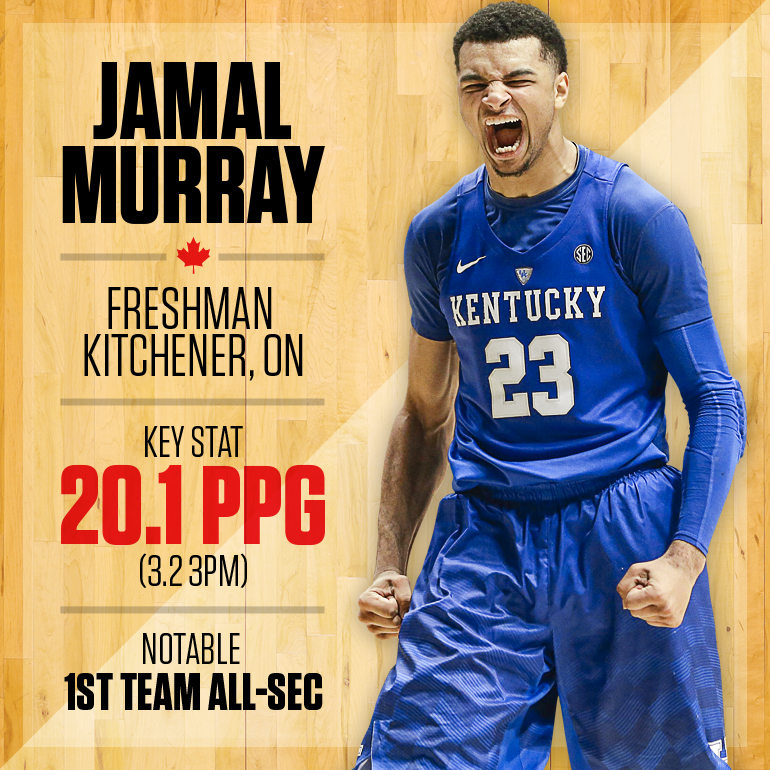 Steve Loung, associate editor
Dillon Brooks, F, Oregon. He's the best player on a very solid Oregon team that can make a legitimate run at the Final Four this season.
Ryan Dixon, staff writer
Dillon Brooks. Take a look at his 30-point, six-rebound, nine-assist performance against Utah last month for an idea of the kind of damage the sophomore from Mississauga, ON can do: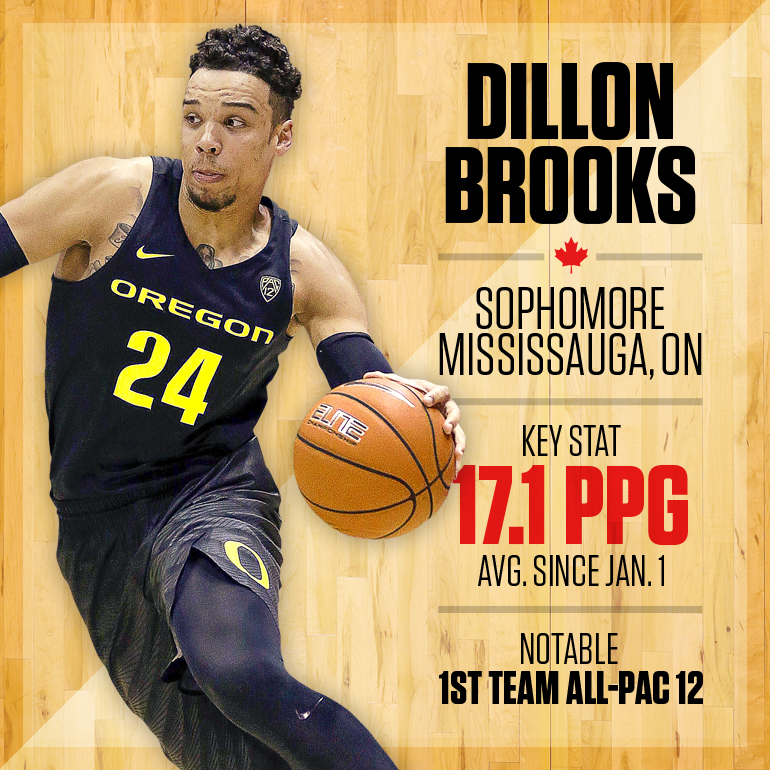 Craig Battle, senior editor
Chris Boucher, F, Oregon. He was honourable-mention All Pac-12, and first-team Pac-12 All-Defence. He leads all Canadians in PER with 27.7 (the average is 15), a number that bests teammate Dillon Brooks and potential top-10 NBA pick Jamal Murray— and Boucher was even better in conference games. He kicked around the junior college ranks before arriving at Oregon and is a 23-year-old senior, but he's been playing organized ball for only four years and is still improving. Rail thin, he's got a long way to go before he can body up against NBAers, but against NCAA competition he's rebounding well and blocking 12.2 percent of the two-point shots taken by his opponents while he's on the floor. That nets him 3.1 blocks per game.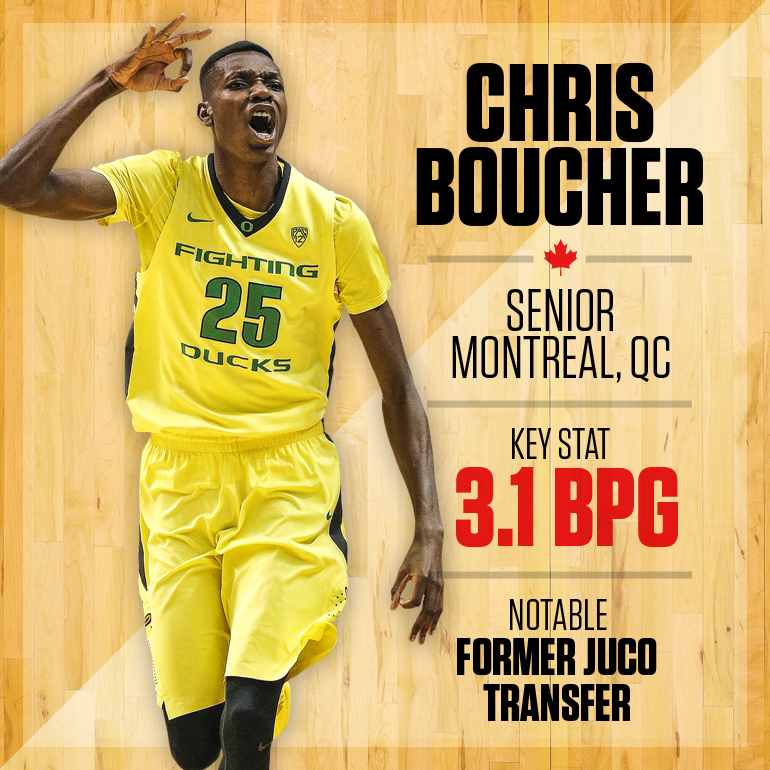 Michael Hoad, contributor
Kyle Wiltjer, F, Gonzaga. He may not be destined for NBA greatness (at least his name fails to appear in the first round of most mock drafts), but Wiltjer could be a force to be reckoned with in his final NCAA tournament. The senior is averaging nearly 21 points per night while shooting solid percentages across the board.