TORONTO – He knew from all the screaming and yelling.
A nerve-wracked Mac Hollowell didn't bother flying to Dallas for Day 2 of the 2018 NHL Draft, and he wasn't even in the same room as the television set on June 23.
But the overaged hockey hopeful, eligible but passed over in 2017, could tell from the gleeful shouts of family members at the Hollowell home in Niagara Falls, Ont., that the news was finally good — it just took its sweet time arriving.
Like it always does.
Then the phone rang, and it was Kyle Dubas on the other end of the line, bumping overaged, overlooked Hollowell up to the next level.
Like he always does.
"To get drafted by Toronto was a dream come true," says a smiling Hollowell, his red curls dripping with sweat from 75-minute practice session with the Toronto Marlies, the freshest rung on his long, slow climb up the sport's ladder.
"I took an open mindset: Anything can happen."
[relatedlinks]
Hollowell is a 20-year-old defenceman coming off his fifth and greatest Ontario Hockey League campaign. He has embraced the undersized, late-bloomer tag, wearing it like a badge of honour.
He wasn't discouraged from dream-chasing when his solid performance for the Sault Ste. Marie Greyhounds failed to result in a late-round 2017 pick.
Nor when he busted his leg blocking a shot in scrimmage at Leafs development camp a couple weeks later.
Nor when he watched his younger, less productive teammate, Rasmus Sandin, go to the Leafs in Round 1 in Dallas while he waited at home, trying to keep positive until Round 4, Pick 118.
"Not really, because I've always taken the long route," Hollowell says, matter-of-factly. "The OHL draft, my minor hockey days, it's always been a work in progress."
Fitting that it's fellow Greyhound alum Dubas, the GM who had selected Hollowell in the 12th round of the 2014 OHL draft, who keeps believing in the five-foot-10, 163-pound right shot with the graceful stride.
Despite filling an organizational need and fitting the mold of the modern D-man — a speedy puck-mover focused on improving his transition game — Hollowell didn't ink his entry-level papers with the Leafs until March and wasn't given his first pro look until an into-the-fire tryout in the middle of the Marlies' first-round playoff sweep of the Rochester Americans.
"It's not an easy jump to make, but he has made it seem that way, frankly," says Marlies coach Sheldon Keefe, who also ran the Soo bench during Hollowell's first OHL call-up.
"We weren't quite sure how it was going to go. We put him into that Rochester series against a very good team that doesn't make it very easy on any defender in terms of the depth they have and how they roll the lines out."
As if the learning curve wasn't steep enough, Keefe immediately threw Hollowell onto left D, his off-side.
"Which is something he's not comfortable with or not familiar with all that much. He was just extremely calm, poised and moved the puck very efficiently," Keefe said.
"He found a way to make complicated situations look simple, which is really what you're looking for, so that was really good for him. And defensively, he was really good with his gaps and didn't hurt us at all. It was very encouraging, and that's why we've remained confident in playing him."
Even with a more experienced right-shot prospect, 21-year-old Jesper Lindgren, rejoining the Marlies hot off the Finnish Elite League playoffs, the sense is Hollowell has gripped a lineup spot when the undefeated Marlies kick off their Calder Cup semifinals in Charlotte this weekend.
Heck, Toronto is a perfect 6-0 since he turned pro. On the bottom pair, he's averaging a shot per game and has an assist.
"The guys are bigger and older and positionally smarter, so I'm just trying to find ways to play my game. It's definitely been a big adjustment, but I like it," Hollowell says. "It's been a lot of fun."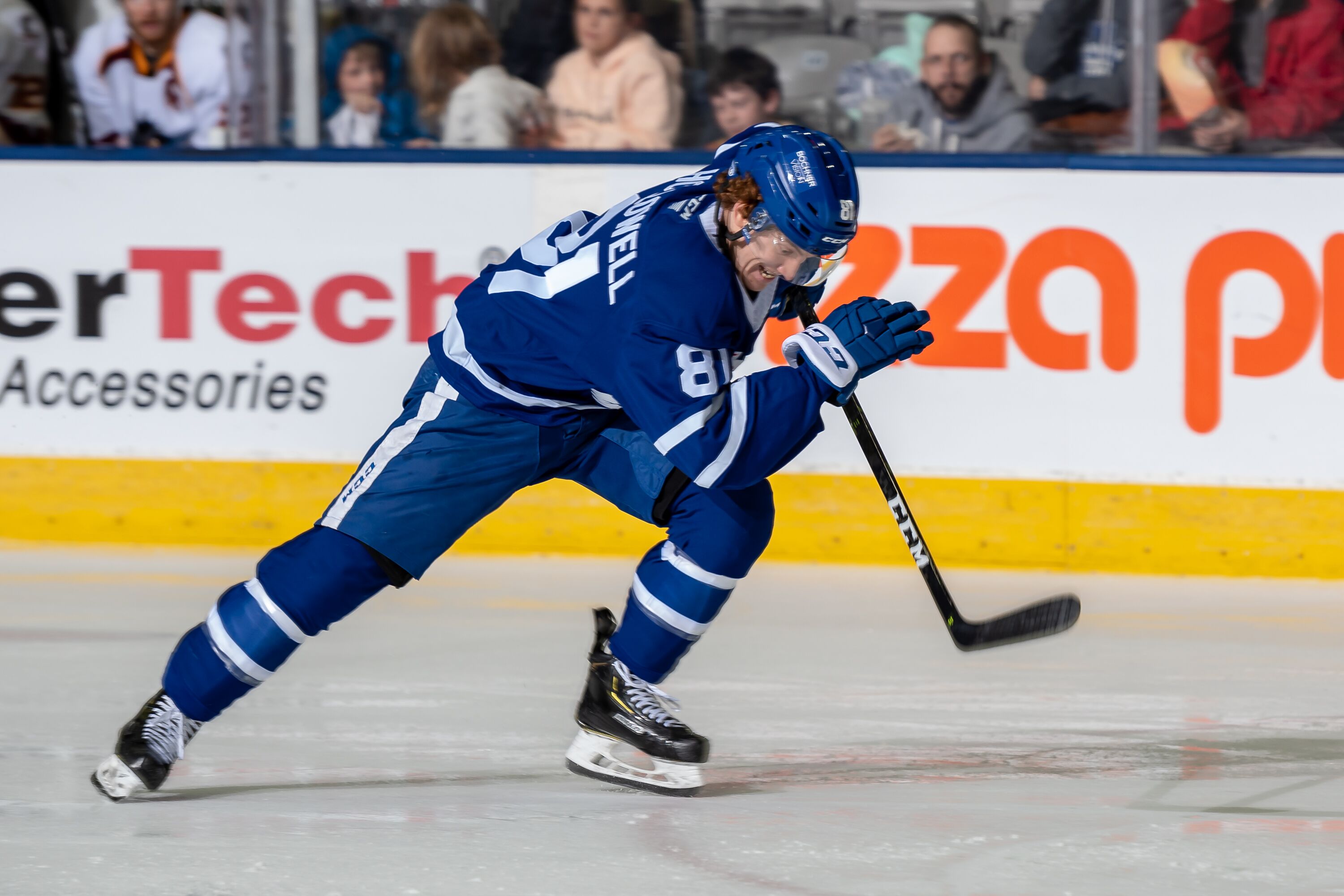 The prospect has picked up on the increased importance of puck management at the pro tier. Where the Greyhounds might try to beat one more man or make one more play, the AHL emphasizes safe and smart.
"Here, you're forced to dump it in," Hollowell notes.
Hollowell has a firm grasp of where his game is at, breaking it down like a scout.
Strengths: skating, passing ability, heady zone exits.
Areas in need of improvement: Gap control, limiting larger forwards' movement in the corners, boxing attackers down low to snuff out the cycle.
Hollowell knows Keefe is looking for the exact same thing from him as Mike Babcock would, eventually.
"Quick, clean breakouts to get pucks in the hands of our forwards," he says. "We have forwards who can take over games, so just to get it in their hands will help us succeed."
Sound familiar, Leafs fans?
Hollowell says his comfort with Keefe, Dubas and Sandin has eased the transition, and he signals out the latter, with whom he was partnered for a game, as an inspiration.
"[Sandin] is a great guy. Even though he's a young guy here, everyone likes him and talks to him. He's a big part of this team, and on the ice his numbers speak for themselves. He's a great player and he's going to do great things," Hollowell says.
"On defence, [Timothy] Liljegren and Sandin as a duo, we all know how good they are offensively, but to see them as a pair shut down first-line AHL guys was a big thing for me. It really opened my eyes."
Slowly but certainly, Hollowell himself is dilating pupils.
His production increased over each of his five OHL seasons, peaking with a ridiculous 24 goals and 77 points from the back end over 64 games this season, making him the league's top-scoring blueliner.
For an encore, Hollowell threw up 11 more points in 11 OHL playoff games before joining the Marlies' run mid-stream. He leaves juniors as a plus-98 defender, thankful that his ice time continued to rise.
"But I like to think that I earned those opportunities and I did good with them. Offensively, I was getting more shots and earning shot opportunities for myself," says Hollowell, encouraged by what this AHL taste could mean for the future.
"To be able to play these playoffs games has been big for me heading into the summer and next year. Knowing you're one step closer to your dream is just going to make me work harder to get there."