IT WAS A DAY OF FIRSTS, that fall afternoon in 2012: the first practice in the first week of school; the first time David Levin put on his first full set of hockey equipment; the first time he tried to figure out what he was supposed to do when the coaches explained a drill to him; the first time Levin skated at full speed, careening face-first into the boards, barely having enough time to get his hands up before crumpling in a heap. "Back then, I could go forward but I didn't know how to stop on the ice," Levin says.
It's a rite of youth, learning the basics in the formative years running up to tyke hockey. First you learn to skate, then you learn to stop. Levin was no tyke, though. No atom, either. Not even a peewee. Levin was 13 years old and seemed to be in way over his head. The other kids on the ice were his age or even a couple of years older, adolescent stars in Ontario AAA leagues, all in the pipeline taking them to major-junior or NCAA ranks. When they saw Levin picking himself up and getting back on his feet, they wondered if a beginner really belonged on the ice with them, if he'd just slow things down, if he was going to get hurt.
---

On print and digital newsstands now: iOS | Android | Windows
---
But minutes later, Levin dazzled them for the first time. "He started doing things out there, handling the puck, making passes all over the place," says Mitch Marner, who was 15 at the time and the most accomplished rink rat on the ice. "We were all thinking, 'This can't be all new stuff… where did he play before?'"
Marner was already a star at the Hill Academy, an independent high school for dedicated student-athletes in Vaughan, just north of Toronto, and he knew he was destined to play in the Ontario Hockey League. Three years later, the Toronto Maple Leafs made him their first-round draft pick, fourth overall. This is Marner's dream come true, but it's not even a patch on Levin's story, which is the stuff of pure fantasy. "It's something that happens only in a Disney movie, something that you say just isn't possible," says Lindsay Hofford, who was on the ice coaching Levin and Marner that day. "There's never been another case like it, coming as far as he did as fast as he did."
Within three years of that day of firsts, David Levin went No. 1 to the Sudbury Wolves, first overall in the OHL draft. Having your name called first in the midget draft doesn't guarantee NHL success, but it worked out well for John Tavares, Steven Stamkos and Aaron Ekblad—and you have to think Connor McDavid has a good chance of sticking, too. Most of the time, everyone can tell you who's in the horse race a year or more out. The kids themselves keep track of the chase and know the attention and hype that go with it. At age 10, McDavid told his father that being the No. 1 pick in the OHL draft was one of his goals. Levin, though, hadn't thought in those terms. Just months before the Wolves selected him, Levin didn't know he'd be eligible for the OHL draft. A year before, he didn't even know about the draft. A couple of years before, he didn't know there was a major-junior league in Ontario or anywhere else.
And if you went back to 2012, to a point in time when the other kids in the draft class had played in dozens of tournaments and worked with personal coaches, David Levin had yet to don blades and play a game—not even shinny. In fact, he'd only laced up skates and stepped on the ice a handful of times—understandable, given that the nearest rink was in Metula, four hours' drive from Netanya, the city where he lived. As Levin says: "Israel is not a hockey town."
THE BACK STORIES of elite 16-year-olds in the Canadian Hockey League are boilerplate. Regardless of the places of origin, the personal anecdotes all read the same: on skates at age two or three; in games at age four, five or six against players two or three years older; early signs of excellence and dominance. And, unremarkably, they all conform to Malcolm Gladwell's prescription for young genius as laid out in his book Outliers: a minimum of 10,000 hours dedicated to the development of skill and talent.
Yet, Levin is the true outlier. At five-foot-10 and 160 lb., he is an average-sized teenager and below average among the kids in this draft class—only four of the 21 other first-rounders are smaller than him, and those by fractions of an inch and the weight of a good meal. And every one of the 301 players selected after him would have played in more games and spent hundreds more hours on the ice in practice. Gladwell's theory is turned inside out: David Levin achieved a level of genius in one discipline by spending 10,000 hours doing something else.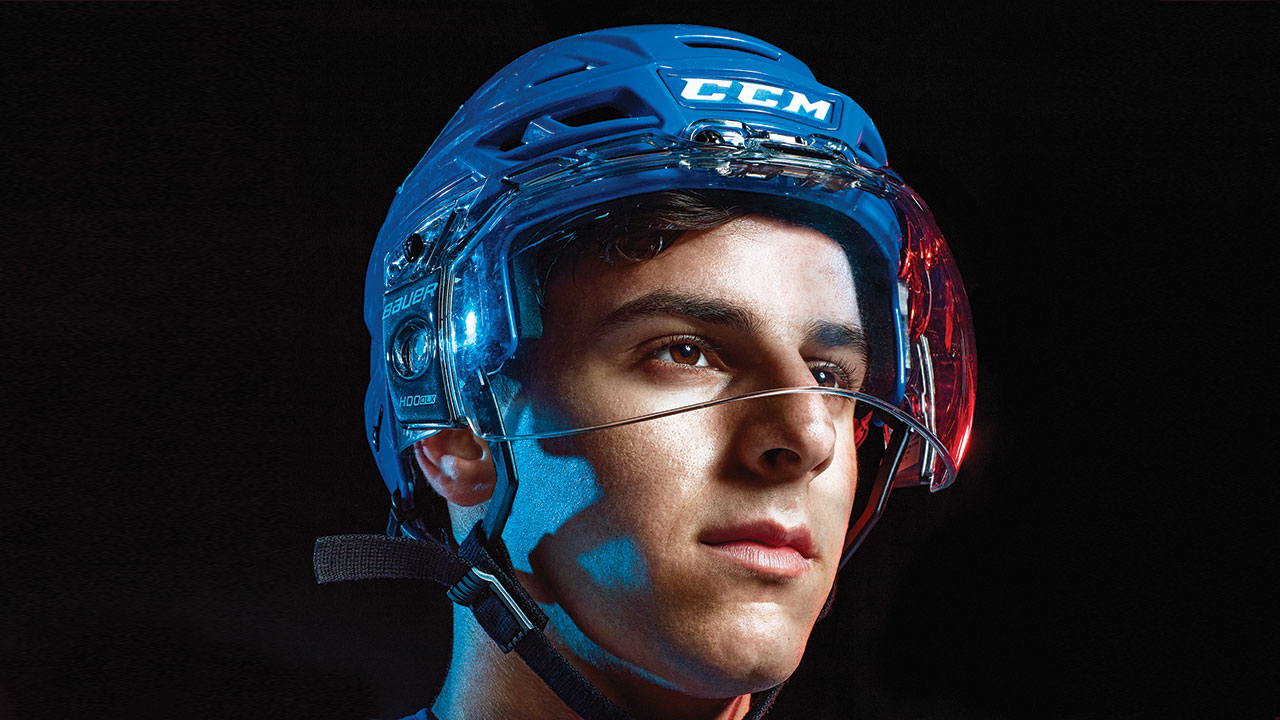 A few turns in Levin's story hew closer to the boilerplate. In the beginning, the coach, like in so many cases in the game, was his father, and his father had been an athlete. Pavel Levin played professional soccer in his native Latvia before signing with Maccabi Tel Aviv in the Israeli league in 1990. Not long after, Pavel suffered a career-ending leg injury, but he had met his Russian-born wife-to-be, Lena, in Israel and decided to settle in Netanya, a city where expats from Europe and North Africa significantly outnumber those born in the country.
After retiring from the game, Pavel launched a youth sports club, with soccer, Israel's most popular sport, getting the most attention. Over the years, enrolment at the club reached 1,500, and no one shone more brightly than the founder's older son, David. "I played soccer and I liked tennis and basketball, too, but when I was nine or 10 years old, my father told me that I had to pick a game to concentrate on," says Levin, a soft-spoken kid whose manner and dark features recall Tavares at the same age.
His father might have been disappointed that his son passed over the mainstream, tradition-rich sports for a seemingly contrived confection: roller hockey, or what is called "in-line hockey" in some circles. You might imagine that this is a goofy game played at no higher than a recreational level—an ill-fated professional league launched in the '90s by World Hockey Association founder Dennis Murphy did nothing to enhance the sport's reputation in North America. But roller hockey is more than a playground game, and it even made it on the program at the 1992 Summer Olympics in Barcelona as a demonstration sport. In fact, in-line's ranks of international teams run deeper than ice hockey's. At last year's Roller Hockey World Championships in Toulouse, France, the U.S. beat the Czechs in the final with Canada claiming the bronze, but the 24-team field included squads from China, New Zealand, Brazil and Namibia.
Levin wound up on the roster of Israeli national age-group teams in European championship tournaments, playing with and against players a year or two older, and won MVP awards. "It's a very fast game, four-on-four, no offsides, no icing, everybody always moving," he says.
Though Levin could have looked forward to playing for Israel in world men's tournaments, he had his eyes set on another horizon. The watershed moment came at age 10, when he saw for the first time a video of an NHL game online. The sands of time have made the memory fuzzy—the teams and the players' names are lost. Still, the effect on Levin was immediate. "I knew what I wanted to do," he says. "I started to ask my father, 'When can I go to Canada to live with my aunt and uncle and play this game?'"
Pavel told Levin he would have to wait. Lena was hoping that her son's desire to leave home was just a phase that would pass. After three years, though, his yearning only intensified. Sending a kid to live with relatives across the ocean so that he can play a game he has only seen on a screen—what seemed outlandish at age 10 seemed only fractionally less so at 13. But every success Levin had in the in-line game made him more certain that he could make the switch. And with his son running out of challenges in roller hockey in Israel, Pavel's skepticism eroded. Lena's never did. "When my father got my ticket, I thought my mother was going to kill him," Levin says. "She was not happy about it. She was worried, because I didn't speak one word of English, just Russian at home, Hebrew in school. I knew I was going to have to learn the language to play, so I didn't go to a Hebrew school. Really, I was more worried about the language than I was about hockey."
His family arranged for Levin to attend the Hill Academy, where tuition for day students starts at $37,000 a year. The academy adjoins a sports complex boasting four 80-by-200-foot ice sheets. Having only been on blades those few times before he came to Canada, Levin was now on the ice at least an hour a day, often more. Some skills developed from in-line skating crossed over smoothly to the ice, but one was glaringly missing in that first workout with Marner and the other Hill Academy players: stopping. "A few times, I just got my hands up and crashed into the boards," he says. "I was lucky not to get hurt."
Even when he was careening around the ice with no brakes, Levin flashed skills that the elite kids his age lacked. "He was making passes other kids didn't see, making passes into open space that hit his linemates in stride, just perfectly," says Hofford, who joined the Maple Leafs scouting staff this year. "He had an awareness of where everyone on the ice was. Maybe some people don't think that's a skill, but it is, and it's probably the hardest one to develop and the hardest for scouts to evaluate."
Coaches who watched Levin work out at the Hill Academy picked up on it immediately. After seeing him in one of his early practices, a coach of a AA team invited Levin to try out. After that tryout, a coach of the South Central Coyotes AAA team was waiting for him to come off the ice. Within a few months, the ARC Sports Group, a Toronto-based agency, was reaching out to Levin and his family. If he had grown up immersed in Canada's hockey culture, he'd have appreciated how fast things were happening, but he didn't, and his aunt and uncle didn't know any better, either. "I watched hockey when I was a young girl in Moscow, but we had to learn about the teams and the leagues and everything here," his aunt Alla says. "A lot of people helped us."
Last winter, Levin's learning curve steepened. Because of his Israeli citizenship and the fact that he wasn't living with his parents while playing for the Don Mills Flyers, the OHL wasn't going to deem him eligible for the league's 2015 midget draft. That would have required him to wait a season and enter the league as an import. ARC applied for an exemption, based on the fact that he was living with legal guardians who were family and Canadian citizens. Only when the OHL allowed him into the draft did Levin try to figure out what it all meant. "I went to my first OHL game in Barrie with North Bay and then I went to see Erie in Mississauga," he says. "Then I was on the Internet, looking to see [where I was in] the rankings—it was No. 6, to 12, then back to 6, then 9. It all depended on how my year [was going]. Sometimes I was up, sometimes I was down."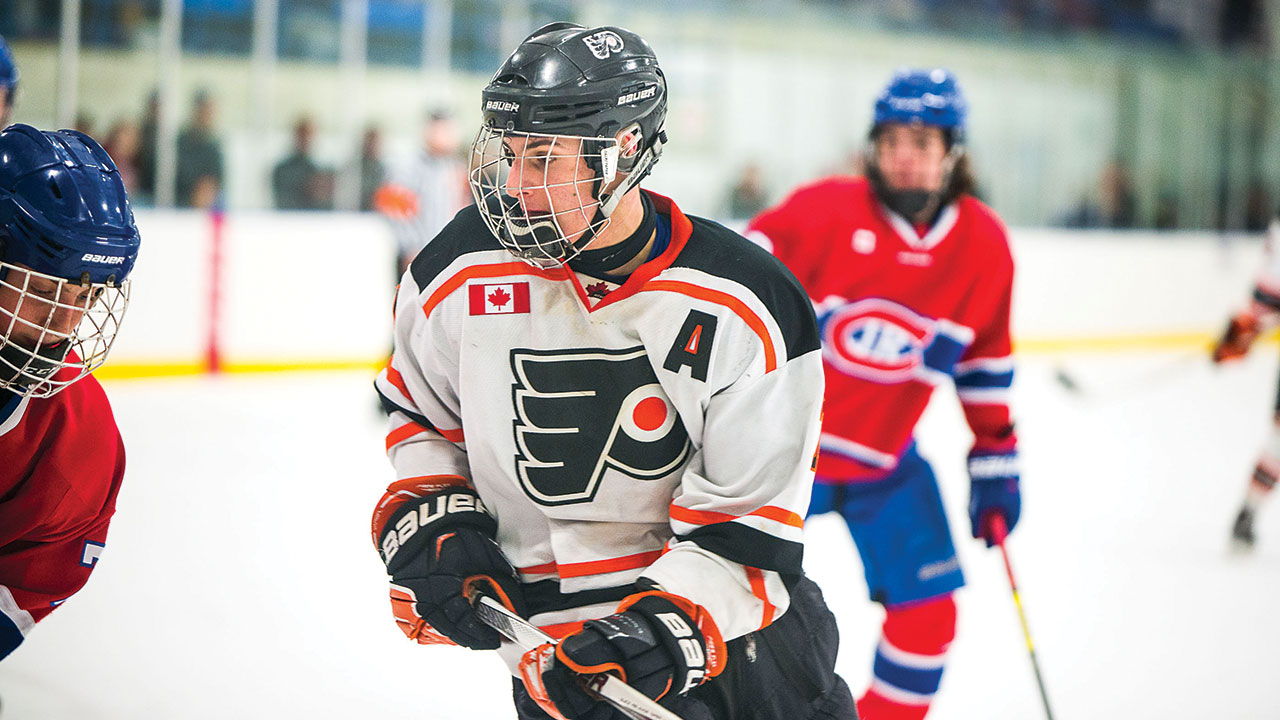 His minor-midget season ended on an uptick this past spring, taking his Don Mills team to the OHL Cup final and tying for the tournament lead in scoring. Though the Flyers lost in overtime in the championship game to the Toronto Marlies (and though he was wracked with the flu), Levin considers it the highlight of his young career. "My parents and my brother, Mike, came from Israel and saw me play," he says.
By season's end, most OHL teams ranked him in the top three in his draft class. Still, he only undertook research on Sudbury, owners of the first pick, after GM Blaine Smith called and arranged for an interview. "I had to find out the team name and see where [Sudbury] was on a map," he says.
Ninety-nine percent of the players in the elite have been groomed for success as professionals, and more than a few develop a chronic case of entitlement. Smith saw Levin as an exception, and not just because he was taking it all in with wide eyes. "What I really liked was that he just wants to fit in," Smith says. "When it came to school, he wasn't looking for any [special consideration]. He just wants to go where his teammates go."
HOFFORD BELIEVES that Levin has more untapped potential than any other player his age, but openly wonders if it will be tapped. "It's great that he's gone through all this and kept a sense of innocence or naiveté, but it's still a culture change," he says. "At the end of the school year, David went to Israel for six weeks. The selection camp for Hockey Canada's under-17 tournament is in August, and all those other players going to it were training hard, working out and getting ready. He's 160 lb. If he wants to play at the next level, he's going to have to be bigger, stronger."
Hofford's worries aside, Levin says he's serious about making one of the three Canadian teams that will play in the Under-17 Challenge. "It's a dream to wear the red jersey," Levin says. "I worked out when I was in Israel. There's a new hockey rink [closer to Netanya], and I was on the ice with my brother. I played for the national team at the European junior roller hockey championships in Germany—we lost to the Germans in the semifinal. I'll be ready for the training camp. I want to play this game very much."
Yes, the culture of sport where he grew up differs from that of anyone else who'll be trying out, but so too does his commitment. "I know that to play this game and [to play for Canada in] the world juniors, I have to give up my Israeli citizenship," he says. "If I don't, then I have to serve three years in the army after I turn 18. If I do that, poof, hockey for me is over. And if I [don't do that], I can't go back [to Israel]. It's a serious thing. This summer is one of the last chances I'll have to see Netanya and many friends."
When he skated out onto the ice at the Hill Academy that first day, it hadn't occurred to Levin that he was taking the first step toward leaving Israel behind. The stakes have been raised in ways he hadn't thought of when he was 13. He wasn't just leaving home to play hockey—he was leaving home for good. His commitment to the game is like that day when he first stepped onto the ice in his new country: There's no stopping; he can only go forward.
This story originally appeared in the August 17 issue of Sportsnet magazine. Subscribe here.