We may have seen the best line in the CHL right now on Friday Night Hockey last week: Cape Breton's trio of Maxim Lazarev, Evgeny Svechnikov and Pierre-Luc Dubois torched Charlottetown. Lazarev, who is undrafted but did attend Chicago's camp this year, was a force picking up a hat trick and adding a helper, Dubois tallied four points (a goal and three assists) while Svechnikov added a goal and a helper.
That was Friday. For an encore Saturday against the Islanders, it was Svechnikov's turn to tuck three away while power forward Dubois added four assists. The line is particularly lethal at home where head coach Marc-Andre Dumont can get the matchups he wants.
Dubois was a standout for Team Canada at the Ivan Hlinka tournament this past summer, picking up two goals in the gold medal game playing on a line with Brett Howden (Moose Jaw Warriors) and Sam Steel (Regina Pats). In our monthly Sportsnet NHL Draft Top 30, Damien Cox has Dubois in at No. 11, but I don't think anyone will be surprised if he ends up being a top-10 pick and may just get himself into the conversation for the top 5. Dubois was named QMJHL second star of the week.
The Quebec league has two of the top power forwards in the draft this season with Dubois and Val-d'Or's Julien Gauthier. And the common denominator between the two is current Cape Breton assistant GM and head scout Jacques Carriere.
While working with Val-d'Or, Carriere was part of the group that called Gauthier's name sixth overall in the 2013 Q draft out of Laval-Montréal Rousseau Royal. A funny story about Gauthier's pre-draft interview—when Carriere asked him if he'd go to Val-d'Or if they selected him, Gauthier responded with a question back: "Is there a gym in Val-d'Or?"
Gauthier's family has a background in weightlifting/bodybuilding with both his dad and grandfather having competed at the highest level. Julien himself has been working out since the age of nine. When Carriere said "Of course there's a gym," Gauthier responded "OK, I'll go. I'll only go to a city where there's a gym."
A year later, Carriere wound up in Cape Breton and in the first round, fifth overall out of Collège Notre-Dame Albatros, do did Dubois. Carriere says going back to when he first scouted Dubois he was a "mini pro" and you could see it with both his on- and off-ice demeanour.
Carriere is one of those scouts who doesn't just go to see the game, he usually shows up ninety minutes prior to see which players are handling their activation properly in preparation for the game. Dubois, needless to say, was one of the players whose focus and preparation always stood out.
His father, Eric, is currently the assistant coach of the Rimouski Oceanic and was taken in the fourth round of the NHL Draft by the Quebec Nordiques in 1989. But the tough, right-hand shot defenceman never played a game in the NHL.
Back to Carriere for a second, this is a big year for him as a scout, he already has two first-rounders under his belt in Anthony Mantha and Svechnikov (both Detroit Red Wings picks) and this year he'll add two more in Gauthier and Dubois. Always good to remember: it's not just the players who have a lot riding on the NHL Draft.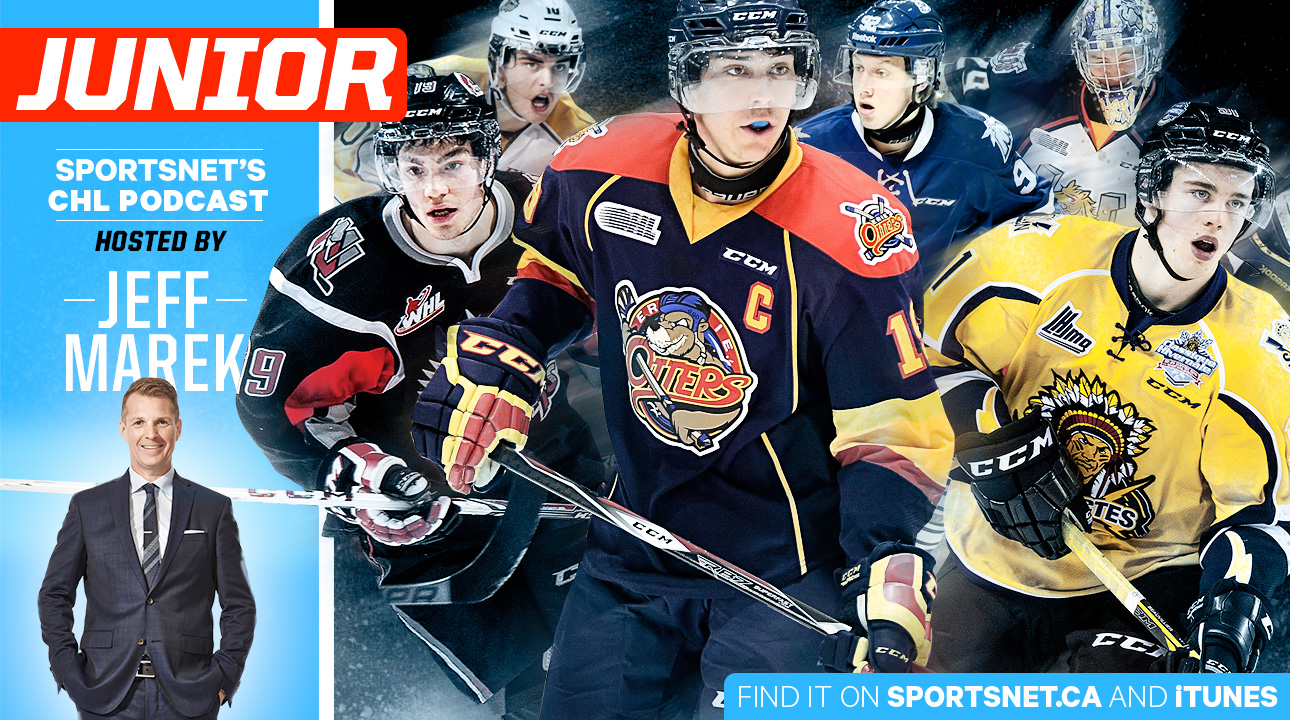 Puck drop | iTunes | Podcatchers
On an island
Have to feel for what's happening with Charlottetown right now. I think most expected to see Daniel Sprong back on the island this season, but with the Penguins starting a little light on the depth chart when it came to skill, the slick winger found himself sticking with his NHL team.
Many feel Sprong will be sent back at some point, not unlike what happened with Leon Draisaitl and Anthony Duclair last season. In the meantime, his junior club is going through something of an identity crisis. The Islanders were supposed to be high-flying, but without their top end sniper what are they? That's the struggle head coach Jim Hulton finds himself in right now.
QMJHL deadline coming fast
As the Dec. 19 QMJHL trade window opening starts to near, buyers and sellers have clearly emerged. Looking to add are heavyweights like Rouyn-Noranda, Shawinigan and Val D'Or. The Halifax Mooseheads may end of playing king maker if they decide to move San Jose Sharks first-rounder Timo Meier. Halifax is in a rebuild and moving Meier for picks and prospects could move that forward quickly. As one QMJHL GM told me: "Meier could be the difference maker."
Who's the OHL's best coach?
Despite losses this past weekend to Owen Sound and Niagara, an early candidate for OHL coach of the year has to be Windsor Spitfires bench boss Rocky Thompson, who's had his club either in or around the CHL's top 10 pretty much all season. In some ways Thompson was a surprise hire, unless you were at the NHL Draft coaches clinic in Fort Lauderdale, Fla., where he gave a presentation that blew away everyone, including Spits owner/GM Warren Rychel. The topic of the presentation: generating offence.
The Spitfires flew Thompson to Windsor right from Florida where he presented to the group. In a coaching world where the emphasis is placed on the defence, some of Thompson's brightest ideas revolve around getting pucks to the net and putting them behind goaltenders, ignoring the old axiom "You can't teach goals."
Thompson consistently put up triple-digit PIM totals as a player in the Dub and the pros, but if you thought the Spitfires were getting a rough-and-tumble coach who'd model his team around the way he used to play, guess again. Thompson has shown to be one of the more progressive thinkers in the game at the junior level. I recently spoke an NHL person familiar with how Thompson approaches each moment, he said: "He thinks it like a poker player. What's the high-percentage play? How do I get something out of this?"
One element that stands out immediately is the wide D-to-D pass Thompson has his blueliners make at 5-on-5 in the offensive zone. When done effectively, it keeps opposing wingers out of shooting lanes. The Spits then add a "bumper" guy in the high slot not unlike what the Chicago Blackhawks have done with Pat Kane for years. It's really effective at this level.
(Next) Friday Night Hockey preview
We have the Spitfires coming up on Friday Night Hockey in two weeks. It will be fascinating to see how Thompson's team matches up against Dale Hunter's London Knights. Windsor leads the season series 2-1 and play again on Nov. 29 in Windsor, five days before our FNH matchup.
The two squads are an amateur scout's dream matchup. You can legitimately see six players who project to be first-rounders in the 2016 NHL Draft: Matthew Tkachuk, Max Jones and Ollie Juolevi of the Knights, and Mikhail Sergachev, Logan Brown and Logan Stanley of the Spits.
Throw the Mississauga Steelheads in there with Michael McLeod, Alexander Nylander and, maybe, Nathan Bastian if he sneaks up and you could have almost a third of the first round wrapped up in three OHL teams. That's insane.
Stephen Burtch is a treasure
If you don't know him already you probably will one day either at the NHL or junior hockey level. Burtch is a Toronto high school math teacher by trade (he also has a background in physics) whose hobby/passion is hockey analytics and he's quickly turning into one of the go-to guys for this type of information (stop me if you've heard this one before).
Burtch is someone I personally consult while doing show prep for NHL games and now he's starting to dip his beak into junior hockey as well. Have a look at the work he recently did around Game 1 of the recent CHL Canada Russia Series, manually tracking over 1,300 data points.
And while his main takeaway—that Brayden Point was far and away the best player on the ice—may seem obvious to those who watched the game, what this information shows is just how overwhelmingly dominant he was. From zone entries to puck recoveries to individual scoring chances, Point showed why Sportsnet junior hockey analyst Sam Cosentino called him the best player in the CHL today on our podcast last week.
Point, taken
The Moose Jaw Warriors, the WHL and Hockey Canada for that matter all held their breath last week when Point left a game against Prince Albert after getting tangled up with Buffalo Sabres prospect Brendan Guhle.
Point hasn't played since last Tuesday's incident (the Warriors lost weekend games to Kootenay and Spokane), but the team doesn't think it's as serious as it could be and consider him day-to-day.
Around the CHL
New Jersey Devils first-round pick Pavel Zacha is the OHL's player of the week after picking up six points in two games
After a dismal start to the season the Niagara IceDogs look to be turning things around, going 7-3 in their past 10. In the process, St. Louis second-round D-man Vince Dunn has been tremendous as has 'the most controversial player in junior hockey' Josh Ho-Sang. As I'm told by someone close to the situation in Niagara: "Ho-Sang has been stellar. He will cough up the puck every night by trying to do too much but will make 20 plays for one turnover' If I'm a coach I'll take that ratio all day.
The Guelph Storm retired Jeff O'Neill's No. 92 in a ceremony over the weekend. I went to the University of Guelph when O'Neill played and maybe missed a dozen of his home games (once leaving an exam early to catch one). The 1992 OHL first-overall pick was a treat to watch playing on a line with Todd Bertuzzi in that era.
The Seattle Thunderbirds are on a roll, winning six straight. The T-Birds are being led by New York Islanders first-rounder Mathew Barzal who now sits atop the WHL in assists with 28
The Kamloops Blazers haven't lost in regulation in their 10 games
The (once again) powerhouse Kelowna Rockets are 8-0-1 in their last nine, fueled mainly by Tyson Baille who finds himself second in league scoring (41 points)
Congrats to Detroit Red Wings prospect Joe Hicketts who became the Victoria Royals franchise leader for points by a defenceman. He has 138 in 191 games and we'll see him on Friday Night Hockey this week as Victoria hosts Kelowna
Quebec Remparts head coach Philippe Boucher was fined $5,000 by the league for his tirade against QMJHL officials earlier this month. This is a recording.