The QMJHL may as well give out participation ribbons to teams finishing in 15th and 16th place. For the past five seasons the league's playoff format has paired off the regular season champ against the 16th-place team, No. 2 vs. 15 and so on.
The bottom two playoff teams have won a grand total of one game—Chicoutimi over Moncton in 2015. Basically good luck to the Sherbrooke (15th) and Drummondville (16th), you'll need it. Still, upsets can happen.
---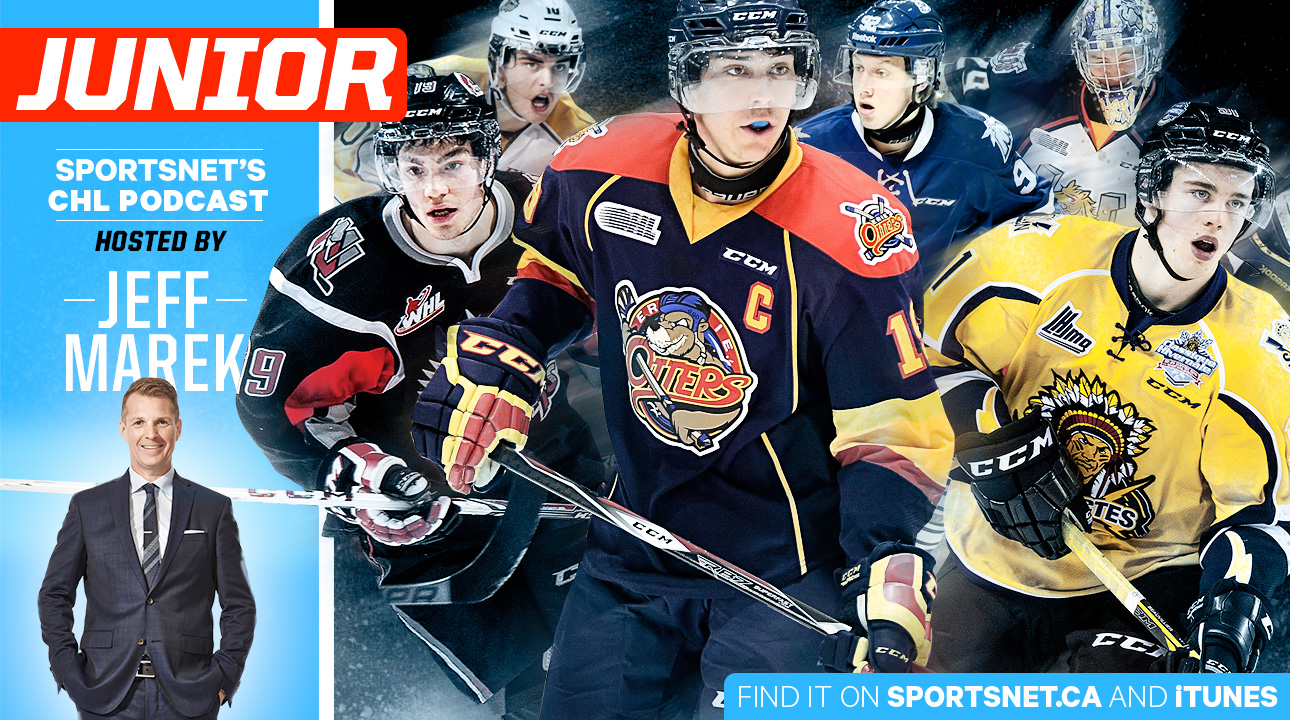 ---
Jeff goes deep on the QMJHL playoffs with Sam Cosentino and Jonathan Briggins. Subscribe to the best CHL podcast going.
Listen now | iTunes | Podcatchers
---
Last season, the Gatineau Olympiques finished in 14th place, but entered the playoffs with an 8-1-0-1 record. The Olympiques faced the third place Blainville-Boisbriand Armada, who finished 23 points ahead in the standings, and sent the Armada home in six games. Even the 2015 MasterCard Memorial Cup host Québec Remparts narrowly escaped the first round after a game-seven win over the 13th-place Cape Breton Screaming Eagles.
History is on the top seeds' side. But it's the playoffs and anything can happen. We start with the fifth through 16th teams:
Gatineau Olympiques (5) vs. Québec Remparts (12)
If there's a team that should fill opponents with fear, it's the Gatineau Olympiques. The team's identity started to change late last season with a roster shakeup and that momentum appears to have spilled into this season. They play a tight, physical defensive brand of hockey.
Gatineau allowed 172 goals and 1,700 shots against, both lowest in the league. Prospect-stats.com has the Olympiques with an Est.FC% of 58.17, also highest, ahead of Rouyn-Noranda's 56.02. Sure, the rookie goalie tandem of Mark Grametbauer and Mathieu Bellemare lacks experience, but Gatineau's defensive system has allowed them to excel. And that should continue in the playoffs. The rookies finished second and third in GAA during the regular season.
Russian rookie whiz kid Vitalii Abramov led the team in scoring with 93 points, tops in the league among rookies and fifth overall. Trading for Nicolas Meloche added another nasty defenceman to an already intimidating blueline—one featuring Marc-Oliver Craver-Morin who led the league in hits with 187. The team is firing on all cylinders and are ready to do damage in the postseason.
An upset, you say?
The Québec Remparts resemble a car that's been completely torn apart, valuable parts sold to other teams, but somehow still driving. The 2015 MasterCard Memorial Cup hosts head into the playoffs on an eight-game losing streak and will need some leftover magic from last season to win.
And the winner is…
Gatineau in four
Moncton Wildcats (6) vs. Victoriaville Tigres (11)
I'm going to dub this one the "cat bowl" since it features two teams named after ferocious felines. From a logo perspective, Moncton certainly has a more menacing look while Victoriaville rocks and old school logo that somewhat resembles a taxidermy cat.
At the deadline, Moncton went into buying mode, picking up Toronto Maple Leafs free-agent signee Cody Donaghey , Buffalo Sabres prospect Vaclav Karabacek (49th, 2014) and, between the pipes, Edmonton Oilers seventh-rounder Keven Bouchard. Soon after, the team fell off the rails losing, nine consecutive games and its stranglehold on the Maritimes Division in the process. By the time Moncton turned it around, Saint John had dug in and claimed top spot.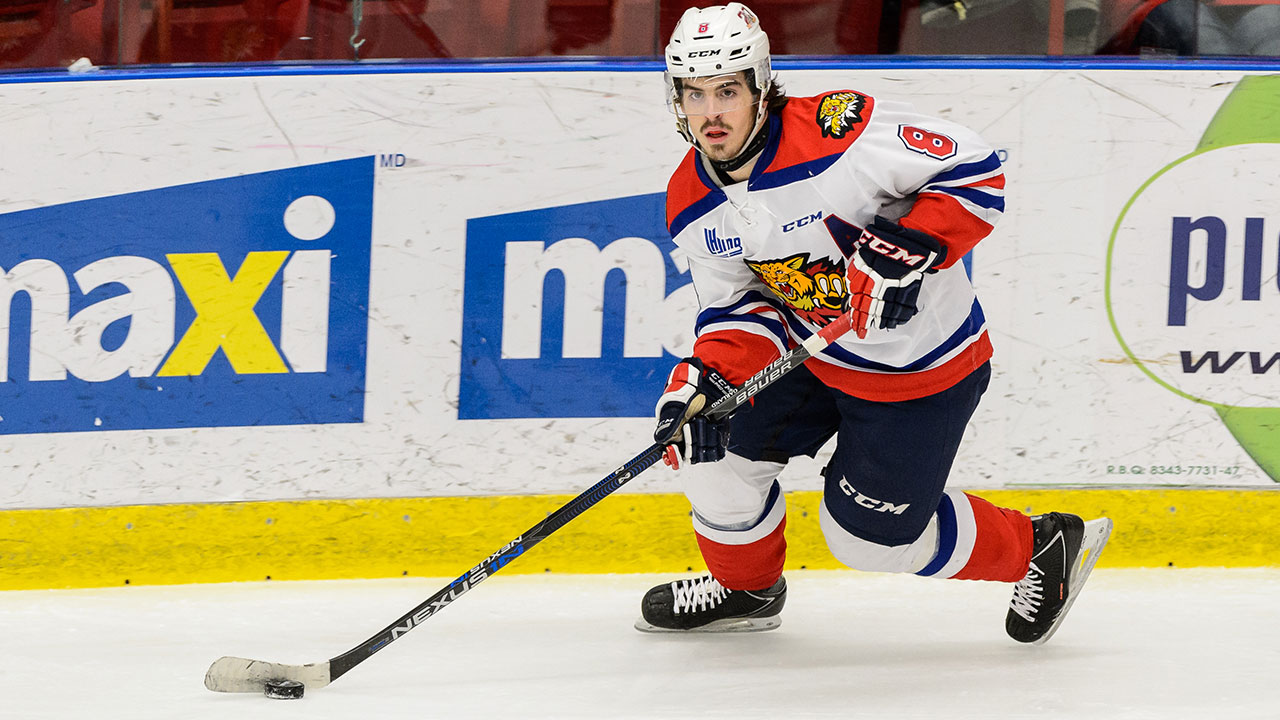 Garland won the QMJHL scoring title by 20 points. (Minas Panagiotakis/Getty)
Moncton's Conor Garland once again led the league in scoring with a CHL-best 128 points, one shy of his MVP campaign last year. He's a slippery character who seems to find an opening and generate points game after game.
An upset, you say?
At times the Wildcats have looked really good, but the losing streak showed they can also be really bad. The two teams only played each other twice—splitting the series—so it's hard to judge head-to-head. Victoriaville has two of the league's most exciting young stars in draft-eligible Pascal Laberge and rookie Maxime Comtois. Sellers at the deadline, the Tigres have a bright future. Any wins this year are a bonus.
And the winner is…
Moncton in six
Cape Breton Screaming Eagles (7) vs. Chicoutimi Saguenéens (10)
Cape Breton seems to have all the elements required for a successful team. Pierre-Luc Dubois broke out in his draft-eligible year to post 99 points. Red Wings prospect Evgeny Svechnikov and fellow Russian Maxim Lazarev both scored 30-plus goals. Three other veterans brought in posted more than 50 points. With 285 goals, only Rouyn-Noranda and Val-d'Or scored more in the regular season.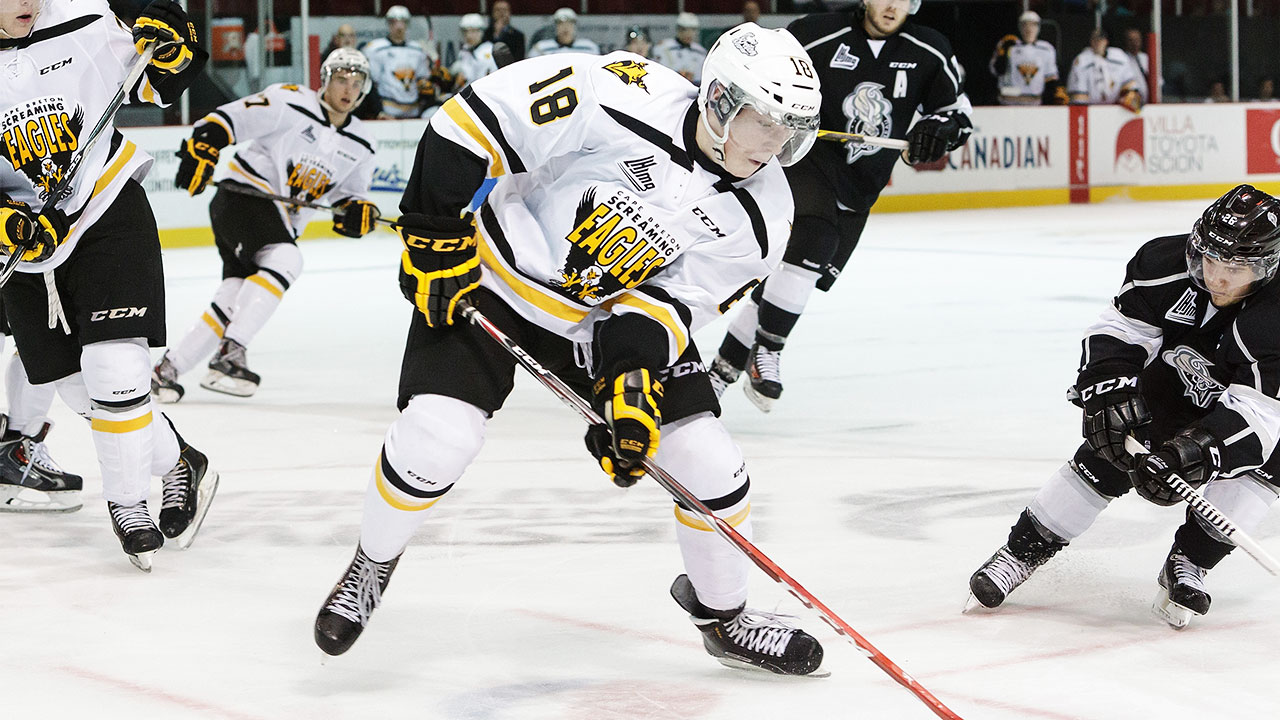 Prospects-stats.com listed Perron with the 1.339 primary points per game, third in the league. (Francois Laplante/Getty)
On defence, Loïk Léveillé is a nightmare to play against and anchors a veteran bunch. Goalie Alexandre Belanger—drafted in 2013 but not signed by the Minnesota Wild—saw his GAA shrink every month from November to March. With a seven-game win streak to end the season, the Screaming Eagles come roaring into the playoffs. (Note: Dubois will miss game one with a suspension for his hit on Luke Green.)
An upset, you say?
Nic Roy turned out to be the QMJHL's ultimate post-draft sleeper this year. After seeing his draft stock tumble from first-rounder to eventual fourth-round pick by Carolina in June, Roy bounced back to lead the league with 48 goals. In his previous two seasons, he had 16.
The late bloomer is an excellent playmaker, skater and has high hockey IQ. If he can parlay his progress into an explosive playoff performance, Chicoutimi has a shot at knocking off Cape Breton.
Defenceman Frédéric Allard doesn't get the attention of Sam Girard in Shawinigan or Luke Green in Saint John, but Allard is NHL Central Scouting's highest ranked defensive prospect. He's a puckmover, consistent and should be up for the task of squaring off with Cape Breton's elite scoring. In nets, Julio Billia led the league in save percentage (0.919) and was fourth in GAA (2.62), and could single-handedly steal games for the Sags.
But the winner is…
Cape Breton in seven
Rimouski Océanic (8) vs. Charlottetown Islanders (9)
This season's version of the Rimouski Océanic looked completely different from the one that won the President Cup last year. Antoine Dufort-Plante, a 14th-round pick who re-entered the QMJHL draft in June, led the team in scoring with 63 points. President Cup game-seven overtime hero Michael Joly was shipped to Cape Breton (and still finished sixth in team scoring, in just 21 Rimouski games). The Océanic finished the season 4-5-1-0 and will face a Charlottetown Islanders team trending in the opposite direction.
An upset, you say?
Technically an Islanders' series win would be an upset, but they only finished two points behind Rimouski in the standings. Mason McDonald enters the playoffs red hot, winning five games in a row to close out the regular season. In his first two games back from the world juniors, he allowed 15 goals, but since his numbers have improved and he has 14 wins and four losses.
He was carrying the Islanders along in the playoffs last season until an injury knocked him out of the playoffs. Healthy and hot could be a deadly combination for the Flames prospect.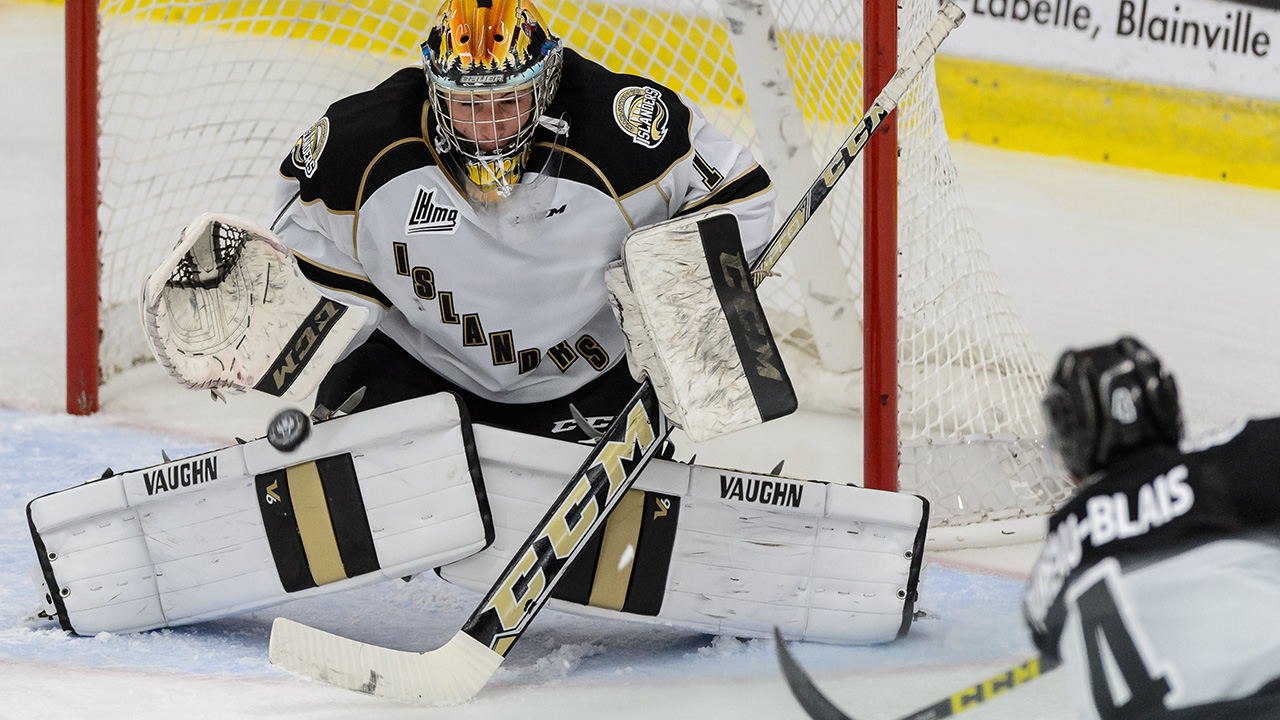 McDonald was selected 34th overall by Calgary in the 2014 NHL Draft. (Minas Panagiotakis/Getty)
The whole team's dynamic changed at the end of December when Daniel Sprong returned from the Pittsburgh Penguins. He finished the season with 46 points in 33 games and helped get a slumping Filip Chlapik back on track.
Trading for Samuel Blais and Jake Coughler gave Charlottetown secondary scoring that was lacking the first half of the year. And for a fifth-round pick, Alexis Vanier has been a bargain defenceman filling the hole left by the David Henley trade. A slow start to the season will quickly be forgotten if Charlottetown pulls off an upset or two.
And the winner is…
Charlottetown in five