It's the draft within the draft. The battle of the defencemen, and it's proving to be a fluid story as it unfolds.
Last fall, Sarnia blueliner Jakob Chychrun was seen as the class of the 2016 defence crop, and possibly a challenger to Auston Matthews for the-first overall pick. While Chychrun hasn't been quite as dominant this season as he was last coming off shoulder surgery, other defencemen have surged to challenge him, led by Olli Juolevi of the London Knights, who to some scouts is now the top defence prospect for the draft.
Just like last year when defencemen Noah Hanifin (Carolina), Ivan Provorov (Philadelphia) and Zack Werenski (Columbus) all went in the top 10, the same could happen this season if Chychrun, Juolevi and Windsor's Mikhail Sergachev are taken in the first 10 picks.
---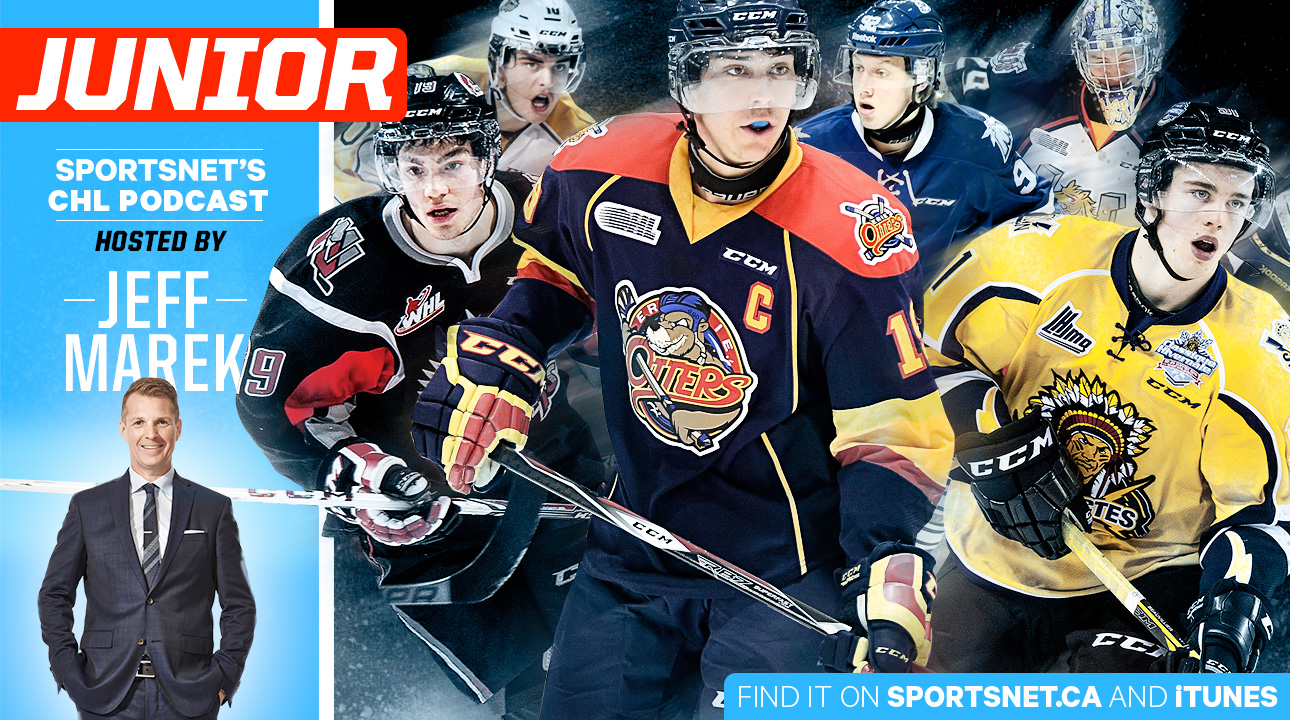 Jeff Marek hosts Sportsnet's weekly CHL podcast, a one-stop shop for news, analysis, opinion and interviews covering the WHL, OHL and QMJHL.
Listen now | iTunes | Podcatchers
---
Meanwhile, Calgary's Jake Bean and Windsor's Logan Stanley having been pushing their way up the rankings all season after not being rated as first-rounders in September, as has Boston University freshman Charlie McAvoy. Dante Fabbro (Penticton) and Kale Clague (Brandon) have been top-30 picks on most lists all season.
Beyond that, we may see late season pushes from 6-foot-6 Markus Niemelainen (Saginaw) and Cam Dineen (North Bay), who leads OHL defencemen in scoring. All in all, a draft that is forward heavy at the very top may end up including some outstanding defencemen as the first round moves along.
Here's Sportnet's Top 30 Prospects list for February:

1. (1) Auston Matthews, C, Zurich (Swiss), 6-2, 190 lb. Has 24 goals in 32 games in Swiss Elite League. Leafs top scout Mark Hunter on hand for a viewing this week.

2. (2) Patrik Laine, LW, Tampere (Finland), 6-3, 195 lb. Has 13 goals in 36 games in Finnish SM Liigas. Played for Finnish national team for first time last weekend in Sweden.

3. (3) Jesse Puljujarvi, RW, Karpat (Finland), 6-3, 198 lb. Sometimes get the feeling he plays more like a centre. Not as productive as Laine this year, but plays on a top team.

4. (4) Matthew Tkachuk, LW, London (OHL), 6-1, 188 lb. Has 81 points in 43 games with high-flying Knights. Interesting combination of net front presence and playmaking ability.

5. (5) Alexander Nylander, LW, Mississauga (OHL), 6-0, 172 lb. Had three multi-point games last weekend, now leads Steelheads in scoring.

6. (7) Olli Juolevi, D, London Knights (OHL), 6-2, 180 lb. Another rock-solid performance at the Top Prospects Game in Vancouver last month. Just keeps impressing.

7. (6) Jakob Chychrun, D, Sarnia (OHL), 6-2, 194 lb. Boyhood chums with Logan Brown of Windsor, another likely first rounder. Challenge is to keep the scouts excited.

8. (8) Clayton Keller, C, USNTDP (USHL), 5-9, 170 lb. Another product of the St. Louis minor hockey system. Dynamic with a Doug Gilmour-like edge to his game.

9. (10) Mikhail Sergachev, D, Windsor (OHL), 6-3, 195 lb. Didn't start playing until he was nine years old. Got over bout of homesickness in November and hasn't looked back.

10. (12) Pierre-Luc Dubois, C, Cape Breton (QMJHL), 6-3, 201 lb. Versatility and size for all three forward positions. Leads a deadly top line with Evgeny Svechnikov and Maxim Lazarev.

11. (15) Michael McLeod, C, Mississauga (OHL), 6-1, 184 lb. Suffered a knee injury last week, had arthroscopic surgery on Tuesday, expected to be out for several weeks.

12. (11) Julien Gauthier, RW, Val-d'Or (QMJHL), 6-4, 221 lb. Big man with a nose for the net. With 36 goals and only 10 assists, scouts want to see him use his teammates more.

13. (17) Max Jones, LW, London (OHL), 6-2, 189 lb. His father, Brad, played in NHL. His mother, Mary, was a standout diver at University of Michigan. And brother Mitch plays in ECHL.

14. (13) Tyson Jost, C, Penticton (BCJHL), 6-0, 195 lb. Fabulous year with the Vees, 91 points in 43 games. Imagine Everett if both he and Auston Matthews had reported.

15. (16) Jake Bean, D, Calgary (WHL), 6-0, 165 lb. Formed a nice tandem at Top Prospects with Luke Green of the Saint John Sea Dogs. Went undrafted into the WHL.

16. (9) Kieffer Bellows, LW, USNTDP (USHL), 6-0, 189 lb. A pure sniper. He shoots from everywhere and is selfish in the way great goal-scorers need to be.

17. (14) Dante Fabbro, D, Penticton (BCJHL), 6-1, 185 lb. With Jost, he could give the BCJHL two first-rounders for first time since 2004 (Travis Zajac, Kris Chucko).

18. (23) Charlie McAvoy, D, Boston University (NCAA), 5-11, 195 lb. Playing very well as a freshman and was terrific at the world juniors on a power-play tandem with Zach Werenski.

19. (18) Luke Kunin, C, University of Wisconsin, (NCAA), 6-0, 190 lb. Plays a simple, strong game and all three forward positions. Strong start at the U.S. Top Prospects Game last fall.

20. (20) Logan Stanley, D, Windsor (OHL), 6-7, 210 lb. "Plays tough against small players, tough against big players," said one scout. Just keeps rising in the eyes of scouts.

21. (22) Logan Brown, C, Windsor (OHL), 6-6, 215 lb. Has good vision, thinks the game well and creates chances for teammates. Still growing, much to his chagrin.

22. (19) Alex DeBrincat, RW, Erie (OHL), 5-7, 165 lb. Has 40 goals in 45 games, behind only Christian Dvorak (London) and Andrew Mangiapane (Barrie) in OHL.

23. (21) German Rubtsov, C, Russian national U-18 (MHL), 6-1, 180 lb. Impressed scouts with his play at World Junior Challenge in mid-December.

24. (27) Riley Tufte, LW, Blaine H.S. (Minnesota), 6-5, 205 lb. Will finish the year in the USHL with Fargo after his high school season ends this season. Drawing Nick Bjugstad comparisons.

25. (28) Nathan Bastian, C/RW, Mississauga (OHL), 6-3 lb. Shifted to centre, his natural position, when McLeod went down last week in Barrie.

26. (26) Kale Clague, D, Brandon (WHL), 6-0, 194 lb. Started off the season with a strong effort at the Ivan Hlinka tourney partnered with Victor Mete (London). Has 26 points in 56 games.

27. (HM) Pascal Laberge, C, Victoriaville (QMJHL), 6-1, 170 lb. Delivered impressive two-goal performance in front of a large scouting audience at Top Prospects Game.

28. (24) Tyler Benson, LW, Vancouver (WHL), 6-0, 196 lb. Missed the Top Prospects Game with a lower-body injury and still isn't back in Giants lineup. Has played only 28 games this season.

29. (29) Carl Grundstrom, LW, Modo (Sweden), 6-0, 184 lb. The fifth-ranked Euro prospect by NHL Central Scouting. His grinding game may translate well to North America.

30. (NR) Tage Thompson, C, Connecticut (NCAA) 6-5, 189 lb. Has a big shot and is scoring scoring as a freshman with the Huskies. Father Brent was a second-round pick by L.A. in '89. He played 15 pro seasons.
Honourable Mention
Rasmus Asplund, C, Farjestads (Sweden), 5-10, 175 lb.
Dillon Dube, C, Kelowna (WHL), 5-10, 175 lb.
Markus Niemelainen, D, Saginaw (OHL), 6-6, 195 lb.
Brett Howden, C, Moose Jaw (WHL), 6-1, 190 lb.
Taylor Raddysh, RW, Erie (OHL), 6-1, 198 lb.
Simon Stransky, LW, Prince Albert (WHL), 6-0, 160 lb.
Filip Gustavsson, G, Lulea (Sweden), 6-2, 184 lb.
Libor Hajek, D, Saskatoon (WHL) 6-1, 196 lb.
Sam Steel, C, Regina (WHL), 5-11, 165 lb.
Chad Krys, D, USNTDP (USHL), 5-11, 185 lb.
Samuel Girard, D, Shawinigan (QMJHL), 5-9, 165 lb.
Will Bitten, C, Flint (OHL), 5-9, 150 lb.
Tim Gettinger, LW, Sault Ste. Marie (OHL), 6-5, 206 lb.
Vladimir Kuznetsov, LW, Acadie-Bathurst, 6-2, 214 lb.
Cam Dineen, D, North Bay (OHL) 5-11, 183 lb.