Not everyone has a fancy cottage to get to.
While the dog days of summer might seem like the perfect time to enjoy the sun and find a lake, golf course, or even a plush hammock to unwind, why not stay indoors like a true hockey fan and take in some spicy news nuggets before the 2018-19 NHL season unfolds?
(Or, just like, take your phone with you wherever you go and enjoy the best of both worlds.)
Here are some things to look out for during the next couple of months.
[relatedlinks]
Karlsson and Pacioretty have been traded
It's come to this.
Two Canadian Atlantic Division franchises have (in their own unique ways!) seemingly reached points of no return with their respective captains.
The Ottawa Senators are in the midst of an exceptionally miserable off-season, which has somehow completely overshadowed their averagely miserable regular season. (It's not worth re-hashing how the Senators got to this point, but if you haven't been following, there's a good recap here.)
It's worth waiting for just the right deal when it comes to trading a player the calibre of Erik Karlsson, and we seemed oh so close to finding out what that perfect deal entails a couple weeks ago when rumours were rampant that the Lightning were about to land him.
In theory there's nothing stopping the Senators from holding on to their superstar and trading him mid-season like Colorado did with Matt Duchene last year. But given the incredible toxicity brewing out of the nation's capital, this is a deal best made yesterday.
The Montreal Canadiens seemed mighty close to shipping Max Pacioretty to San Jose at the draft. With GM Marc Bergevin reportedly telling Pacioretty's camp that there won't be any extension talks, it's only a matter of time before a move is made.
Figuring out the value of a shot-generating, scoring winger like Pacioretty is tricky, but you know this trade is going to be a juicy one.
By the time October rolls around, we may very well be looking at not a single Canadian Eastern Conference team having a captain.
Unless of course…
The Toronto Maple Leafs name ____ their new captain
John Tavares was brought in, and he comes with quite the resume. Auston Matthews is the franchise saviour, while Morgan Rielly has seen it all in his five years with the Toronto Maple Leafs. It seems highly likely that one of those three (and no offence to Rielly, but he's a bit of a longshot here) will be named the 19th captain in Leafs history and 23rd of Toronto's NHL franchise.
The Leafs haven't had a captain since Dion Phaneuf was sent to Ottawa in the middle of the 2015-16 season, playing the rest of that campaign and the two that followed captain-less.
They've already surpassed the one and a half seasons spent without a captain between Mats Sundin's reign and Phaneuf's original acquisition, and are closing in on the franchise mark for going without one.
That would be the three-plus seasons when Rick Vaive had the C removed from his sweater in 1985-86 to when Rob Ramage got the honour ahead of the '89-90 season.
It's possible that head coach Mike Babcock will wait, but you have to figure he's just as eager as Leafs fans to finally have a consistent option for all those ceremonial faceoffs an Original Six franchise like Toronto has in a season.
It may or may not also help to have an official leader in the locker room.
Team X has unveiled its new third jersey
Blockbuster trades are nice and meaningful and whatnot, but nothing brings more harmless fun to hockey fans than jersey unveilings!
The league refrained from third jerseys this past season due to a switch in manufacturers, so fans were treated to just home and away threads from all franchises. (Unless of course you were one of 10 exclusive teams to play in an outdoor game or were celebrating your centennial season.)
But this year promises to be different, with rumours of 18 teams unveiling either a third jersey or a special occasion sweater.
The Arizona Coyotes, Carolina Hurricanes, and Philadelphia Flyers have already showed off their new kits, bringing us back to the '90s with some sleek all-black looks.
Other clubs rumoured to have something cooking that have yet to show it off have some questions to answer.
Will the Anaheim Ducks bring back the mighty teal and eggplant, or double down on the orange? Will the New York Islanders break their streak of awful thirds ever since they moved away from these beauties?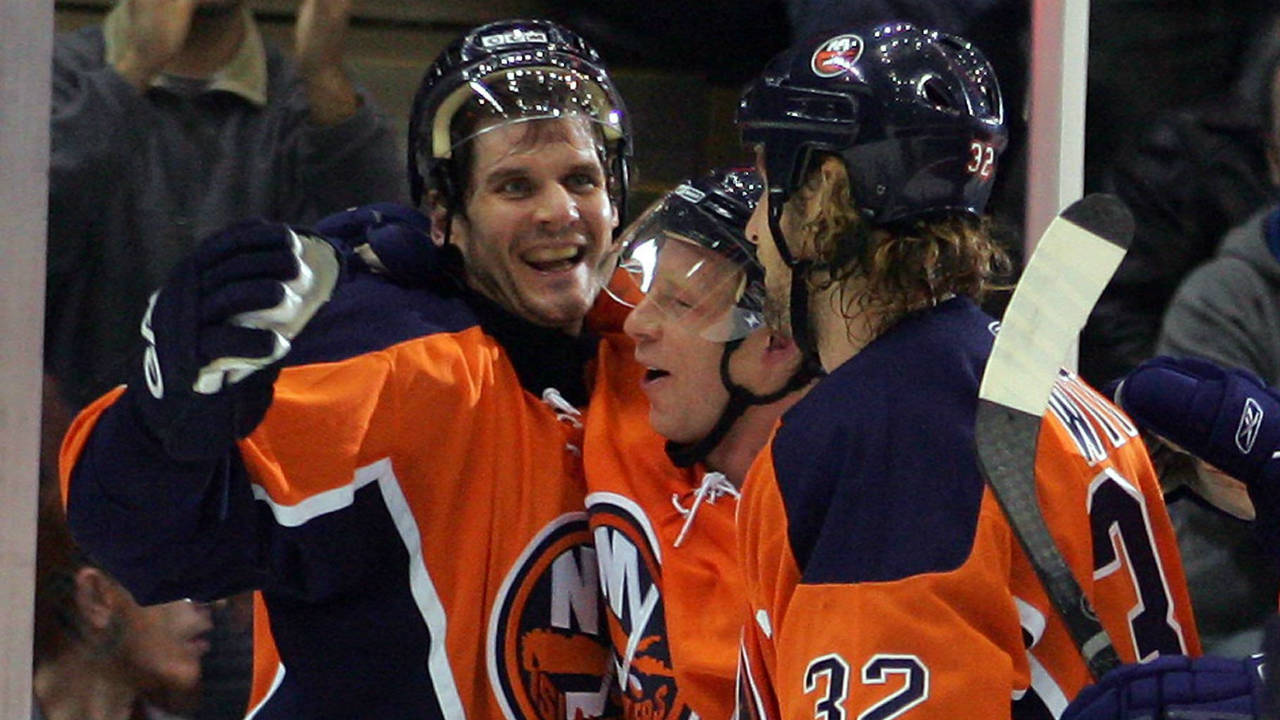 (This appears to be close to what they will eventually unveil.)
It might not make a difference in the win-loss columns, but sweater unveilings (and socks too; don't forget the socks) are worth looking forward to. And as long as you're not a fan of the team in question, it doesn't even matter whether the new design is attractive or not. Who didn't love taking shots at this misguided attempt?
Rick Nash has made a decision on next season
At some point we're going to know whether or not Rick Nash has played his last game of professional hockey.
The burly winger has yet to decide whether it's worth coming back after suffering a concussion near the end of the past season, giving GMs with cap space reason to pause before committing to lesser players.
If Nash decides to come back, he'll be the most-coveted free agent on the market, which says a fair bit about the market.
And if he decides to hang 'em up? Well, then it's time to celebrate all the highlights he gave us in his years in the league while being happy for him and his family.
Quinn Hughes has made a decision on whether to play college or pro
A pair of Canadian teams are still waiting on decisions from their 2018 first-round picks.
Quinn Hughes, picked seventh overall by the Vancouver Canucks in June, is undecided over whether to return to the University of Michigan for a second season or not.
The five-foot-10 rearguard hasn't signed his entry-level deal (doing so would would kill his NCAA eligibility) and has enough tools to perhaps crack the Canucks lineup this fall.
He told Sportsnet's Iain MacIntyre last week that he's "ready right now" to play in the NHL. Unlike a major junior prospect, the 18-year-old could also be sent to the AHL.
Shane O'Brien on Quinn Hughes handling comparisons, expectations and media
July 11 2018
Brady Tkachuk, taken fourth overall by the Senators, is in a similar situation.
The feisty forward is coming off an eight-goal, 31-point freshman season in 40 games with Boston University.
The six-foot-three, 192-pound winger has the same decision to make as Hughes, and you wonder how eager Ottawa – which has no first-round pick in the 2019 NHL Draft – would be to add Tkachuk's talent to the lineup.
While both prospects could play college, AHL, or NHL hockey this coming season, there is also the dark-horse possibility of either playing junior hockey in Canada.
The Sarnia Sting hold Hughes's CHL rights, while the London Knights – for whom Tkachuk's older brother Matthew starred as a junior – hold Brady's.
Former Maple Leafs assistant GM Mark Hunter has a new job
Mark Hunter has yet to find NHL employment since leaving the Leafs after being passed over for the GM job. (It should be noted that Hunter's deal with the Leafs forbade him from joining another team until July 15.)
The 55-year-old will be in no rush to jump into just any situation, having his farm and OHL Knights to tend to in the meantime while he awaits the right fit.
The Athletic's Arthur Staple reported on July 9 that Lou Lamoriello could bring his former assistant in some capacity over to Long Island.
Mark Stone and Jacob Trouba have new deals
So, the Senators really have some work to do these days.
As if their hands weren't full enough (and that's without getting into starting goalie Craig Anderson's trade request), they still have to find common ground with Mark Stone… or deal with arbitration.
Stone led Ottawa in scoring this past season with 62 points, and the winger also provides plenty of value on the defensive side of the puck.
The Winnipeg Jets are also looking to get Jacob Trouba inked to a contract, with the RFA a key piece of their heavy blue line.
Trouba has come to enjoy his role with the Jets since his September 2016 trade request, and will have every reason to seek top dollar from an organization that has a cap crunch looming in the next couple of seasons.
While the Senators still have a good chunk of time to get Stone inked (his arbitration date is Aug. 3), Trouba's hearing is scheduled for this Friday.
Someone has taken a chance on Slava Voynov
Slava Voynov recently had his misdemeanour domestic abuse conviction dismissed by a judge in Los Angeles, the first of numerous steps towards playing in the NHL again.
While the 28-year-old still has to sort out visa issues and get reinstated by the league, it's very possible that the Russian defenceman could find himself eligible to play professional hockey in North America again.
The Kings still hold his rights and appear likely to trade him should he become reinstated, if a team is willing to take on the mountain of backlash sure to come with his employment given the details of his original conviction.
Ivan Hlinka Gretzky Cup is quality summer hockey
NHL news is nice, but if you're still jonesing for some live hockey action, you're in luck; the unofficial world cup of under-18 hockey is coming to Canada for the first time.
The Hlinka Gretzky Cup will begin on Aug. 6 in Red Deer and Edmonton, Alta.
The tournament has sneakily become one of the more entertaining events on the hockey calendar, and if you felt left out seeing all those non-Canadian flags fly during the FIFA World Cup, know that Canada has won this event in nine of the past 10 years.
Time to get your North on.
The Carolina Hurricanes continue to make moves
There may not be a more entertaining team to watch in the off-season than the Hurricanes.
The team has made big moves in consecutive off-seasons in search of its first playoff berth since 2009, and it might not be done yet.
Top-four defenceman Justin Faulk could be available for trade given Carolina's impressive depth on the blue line, but the biggest name on the block could be Jeff Skinner.
Skinner, a three-time 30-goal scorer, will be entering the final year of a contract that carries a $5.725-million cap hit and is reportedly available.
Any team looking for offence should move in on the 26-year-old. With the Hurricanes not looking to rebuild, we might even get to see an old-fashioned "hockey trade" in which both teams get a useful player for the present.
The Blue Jackets and Artemi Panarin relationship has reached a resolution
Artemi Panarin is one of the best forwards in the game today, and he doesn't seem to want to commit to the Columbus Blue Jackets.
That has put the team in an awkward spot, with GM Jarmo Kekalainen flying out to France to meet the Russian and his agent.
Panarin is the Blue Jackets' most valuable forward, and while his situation will likely play out over the course of the season, it's possible we see something change in the next while.
Staying with Columbus, there's also two-time Vezina winner Sergei Bobrovsky to sign.
The 29-year-old will, like Panarin, hit unrestricted free agency next summer.