The Nashville Predators may be a Stanley Cup dark horse as a wild card team, but this is the first round matchup they wanted to avoid.
These two teams have met in the playoffs twice before (2010, 2015) and the Blackhawks won both series in six games. The 2010 series included what is probably the most devastating loss in Predators history. With the series tied 2-2 in Chicago, Nashville was up by a goal in the final minute while Marian Hossa was in the box serving a major penalty. It was all but certain the Preds would be heading back home with a 3-2 series lead. But Patrick Kane scored the shorthanded, tying goal with 13.6 seconds left in regulation and then Hossa, fresh out of the box, scored the overtime winner to completely shift the series. Chicago won the next game and the Predators were done.
The Blackhawks are still the NHL's closest thing to a modern dynasty, winning three Cups in seven years. The Predators sure seem like a team on the rise, though, and possess one of the best defence corps in the league, which was made more dynamic with the arrival of P.K. Subban in the off-season. This was supposed to be a breakthrough year for the Predators and they could set the table for that with a first round upset over their chief rival.
BROADCAST SCHEDULE
G1 Thurs., April 13 Nashville @ Chicago, 8 p.m. ET SN
G2 Sat., April 15 Nashville @ Chicago, 8 p.m. ET SN
G3 Mon. April 17 Chicago @ Nashville, 9:30 p.m. ET SN1
G4 Thurs., April 20 Chicago @ Nashville, TBD SN360
G5* Sat., April 22 Nashville @ Chicago, TBD
G6* Mon., April 24 Chicago @ Nashville, TBD
G7*Wed., April 26 Nashville @ Chicago, TBD
ADVANCED STATS:
Chicago: 50.41 5on5 CF% (12th), .932 5on5 Sv% (4th), 8.17 5on5 Sh% (11th), 101.4 PDO (4th)
Nashville: 51.38 5on5 CF% (5th), .926 5on5 Sv% (10th), 7.96 5on5 Sh% (13th), 100.5 PDO (12th)
TEAM STATS:
Chicago: 18.0 PP% (19th), 77.7 PK% (25th), 240 GF (8th), 212 GA (11th)
Nashville: 18.9 PP% (16th), 80.9 PK% (15th), 238 GF (9th), 220 GA (15th)
HEAD-TO-HEAD RECORD
Chicago: 4-1-0
Nashville: 1-4-0
Play the Sportsnet Fantasy Playoffs Pool for your chance to win $5,000 cash if you are crowned the champ! It's FREE and easy to play.
Chicago Blackhawks Outlook: The Blackhawks head into the post-season as the top team in the Western Conference and are looking to avenge last season's first-round exit. This group knows how to win, boasting much of the same core that won three Stanley Cups in the past seven years. Toews, Kane, Hossa, Seabrook, Keith, Crawford; these are all names who've navigated the playoff terrain together with great success. But the question will be how their legs hold up in the "second season." Toews and Kane are the only players in that core group under the age of 31. If youngster Artemi Panarin can carry over his regular-season success and shoulder a big load in the playoffs, it will be a huge help.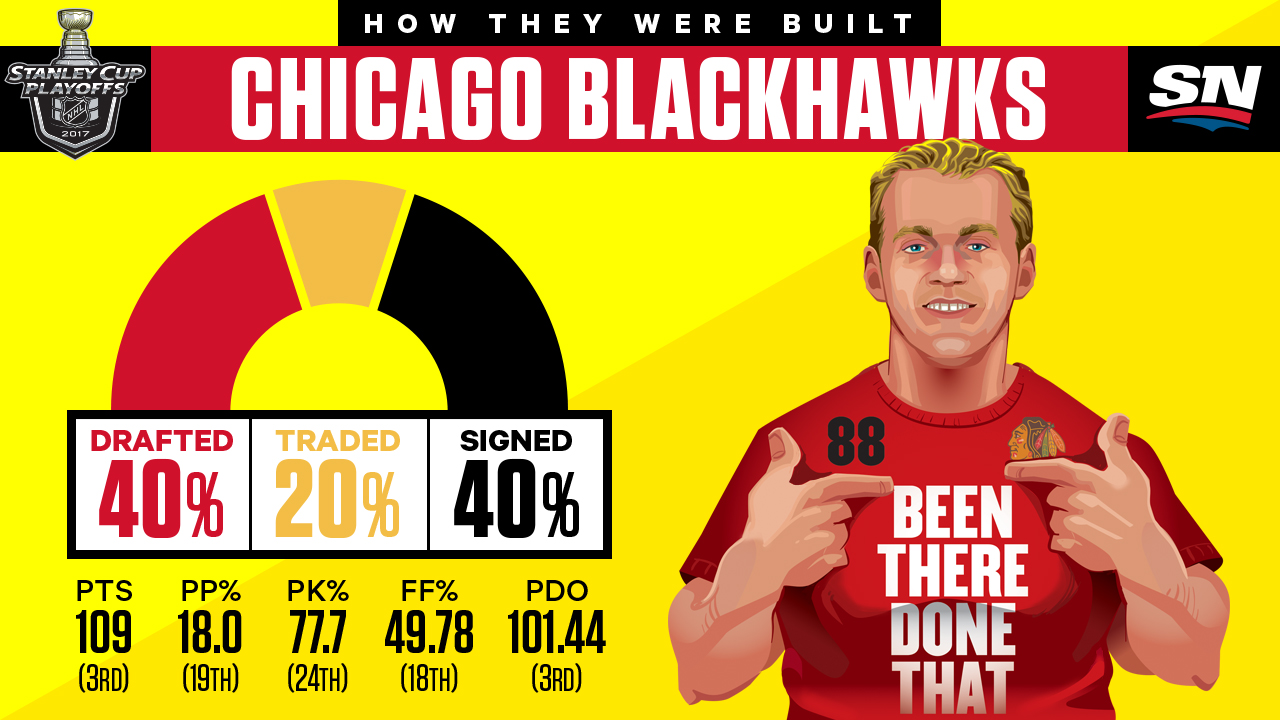 Nashville Predators Outlook: The Predators have been a bit of a puzzle this season. On paper, they're a contender. But on the ice, it hasn't been so easy. After making a splash in the trade market last summer, the Predators looked poised to strike early and often thanks to depth on offence and one of the strongest defence corps in the league bolstered by Subban's arrival. The team was slow to take off and struggled to maintain momentum when they did, and a variety of injuries certainly didn't help. Now, with all the right pieces in place, this club is going to be a popular dark horse pick.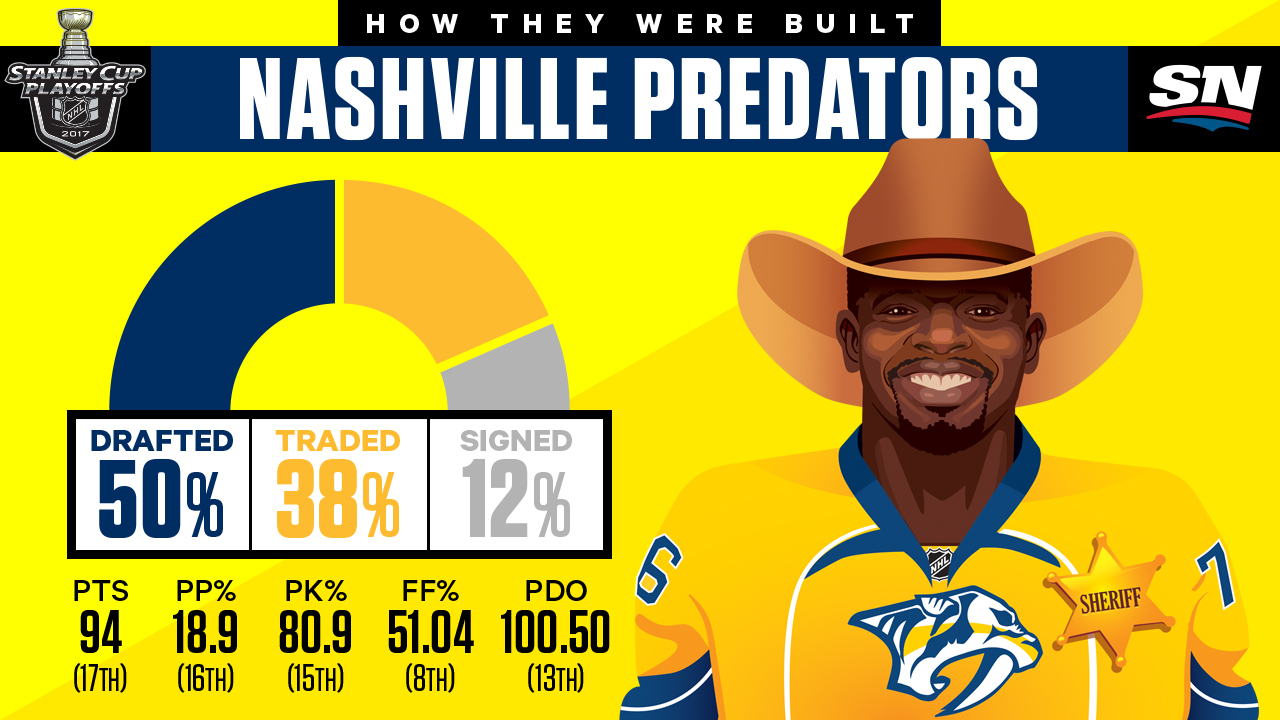 Blackhawks X-Factor: Would it ever not be Patrick Kane? The Blackhawks' leading scorer is a proven playoff performer, accumulating 121 points in 123 career post-season games. The best news for the Blackhawks is that the 28-year-old has flicked a new switch in his game over the past few months. He put up a solid 14 points in both November and December, then in January he scored 12. But in February he tallied 16 points in 10 games and in March he exploded for 22 in 16 games. Moreso than any other skater in this series, he can single-handedly change the outlook of any given contest.
Predators X-Factor: Even if Nashville can harness its potential up front, the team will still need to rely on goalie Pekka Rinne behind them. Rinne has put together a decent 31-19-9 season with a 2.42 goals-against average and .918 save percentage, placing him right in the middle of the pack in the league, stats-wise. If the 34-year-old falters, rookie netminder Juuse Saros will need to step in. Saros has had some highlight-reel saves throughout his 19 starts this season, but his inexperience just ups the pressure on Rinne to stay healthy and on his game.
TEAM LEADERS (G-A-PTS)
Chicago: Patrick Kane (34-55-89), Artemi Panarin (31-43-74), Jonathan Toews (21-37-58)
Nashville: Viktor Arvidsson (31-30-61), Ryan Johansen (14-47-61), Filip Forsberg (31-27-58)
Stanley Cup Playoffs on Sportsnet NOW
Ready for playoff hockey? Stream every single game of the 2017 Stanley Cup Playoffs with Sportsnet NOW.