The Calgary Flames qualified for their second Stanley Cup Playoffs appearance in eight years, and although their 2015 showing felt like a team that overachieved and received a favourable first round matchup, this squad feels like the start of something special.
Like the Predators, Calgary is going to be a popular dark horse pick and they have one of the best blue lines from top to bottom in the NHL. Overall, they have some experience (Mark Giordano, Michael Frolik, Troy Brouwer), tremendous youth (Sean Monahan, Johnny Gaudreau), and a proven starter who was on fire down the stretch (Brian Elliott).
On the other hand, the Ducks are your tried and true veteran squad who has been here many times before. This is their 11th appearance in 14 seasons, but they haven't won the Stanley Cup since 2006-07, when Ryan Getzlaf and Corey Perry were in their sophomore seasons. Since this became their team, the Ducks have made it to just one conference final, where they fell in seven games to the eventual Cup champion Chicago Blackhawks. There is unfinished business for this core, which now has a few younger weapons of its own (Rickard Rakell, Hampus Lindholm) eager to make a mark.
These two teams sit at different places in their development timelines, which will make for a tough match up both ways.
BROADCAST SCHEDULE
G1 Thurs., April 13 Calgary @ Anaheim, 7:30 p.m. PT CBC
G2 Sat. April 15 Calgary @ Anaheim, 7:30 p.m. PT CBC
G3 Mon., April 17 Anaheim @ Calgary, 7 p.m. PT CBC
G4 Wed., April 19 Anaheim @ Calgary, 7 p.m. PT CBC
G5* Fri., April 21 Calgary @ Anaheim, TBD
G6* Sun., April 23 Anaheim @ Calgary, TBD
G7* Tues., April 25 Calgary @ Anaheim, TBD
ADVANCED STATS:
Anaheim: 49.65 5on5 CF% (19th), .931 5on5 Sv% (5th), 7.73 5on5 Sh% (15th), 100.78 PDO (8th)
Calgary: 50.55 5on5 CF% (11th), .920 5on5 Sv% (22nd), 7.56 5on5 Sh% (17th), 99.53 PDO (20th)
TEAM STATS:
Anaheim: 18.7 PP% (17th), 84.7 PK% (4th), 220 GF (18th), 197 GA (3rd)
Calgary: 20.2 PP% (10th), 81.6 PK% (12th), 222 GF (17th), 219 GA (14th)
HEAD-TO-HEAD RECORD
Anaheim: 3-2-0
Calgary: 2-3-0
Play the Sportsnet Fantasy Playoffs Pool for your chance to win $5,000 cash if you are crowned the champ! It's FREE and easy to play.
Ducks Outlook: Randy Carlyle was the Cup-winning coach with Anaheim in 2007, and returns with a strict mandate to win it all. Many joked at the hiring of Carlyle, but the Ducks are as good as ever, grinding you down in the corners and playing a tough defensive game. The loss of Cam Fowler for at least one round of playoffs will be a tough pill to swallow, but Lindholm, Sami Vatanen and Josh Manson leave the Ducks with a still-formidable blue line. Ryan Kesler has had somewhat of a resurgent season and his gritty style of play lends itself well to the playoffs. And although Perry had a subpar offensive season and didn't even reach 20 goals, he's still getting lots of shots and is more likely to break out of his slump than keep it going. The Ducks are deep with lots of experience and skill.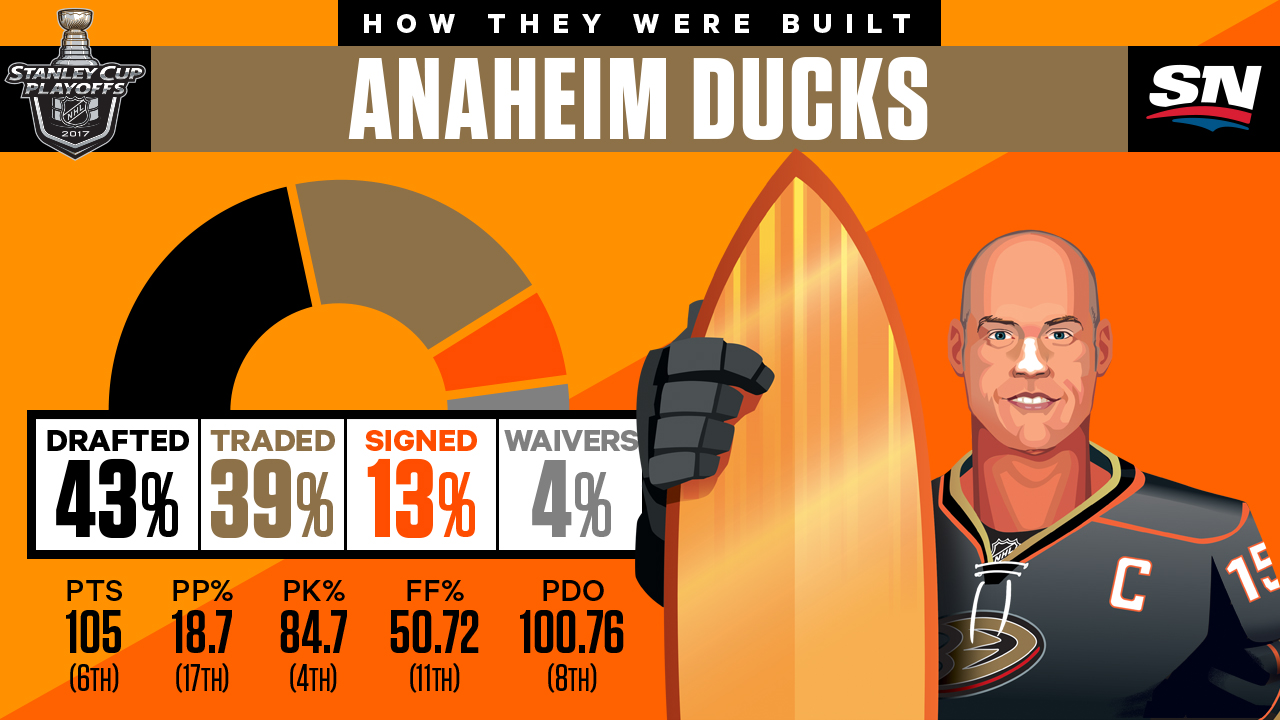 Flames Outlook: The Calgary Flames are relative strangers to the post-season, with only one appearance in the past seven years (2014-15). However, several members of the current core, including Gaudreau, Monahan and Mikael Backlund were a part of that run, which ended with a second-round loss to the Anaheim Ducks. The fact that the trio, who are Nos. 1, 2 and 3 in team scoring, respectively, have dipped their feet into the playoff waters already is a good sign. Meanwhile, Dougie Hamilton and Giordano are the big horses on the blue line, forming a duo that can rival most clubs.
Special teams are always under intense scrutiny during the playoffs and Flames are in a good position, ranking in the top five among Western teams in both power play and penalty kill percentage.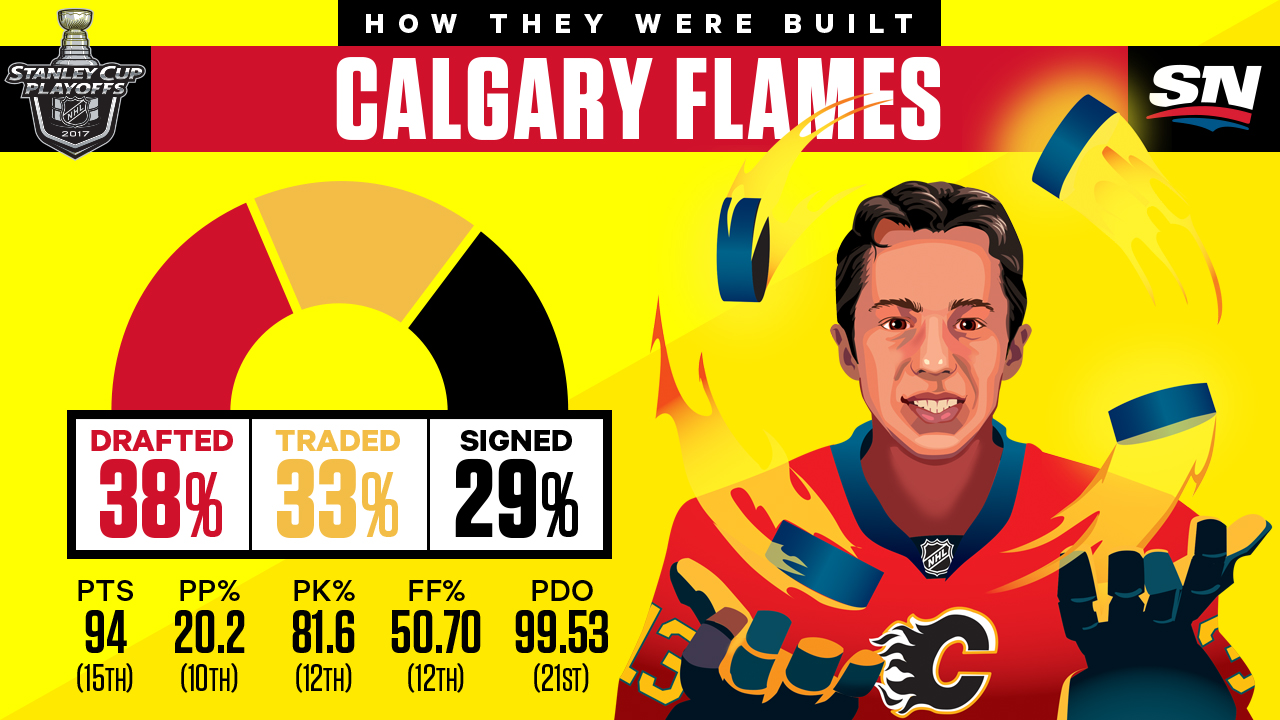 Ducks X-Factor: For all the experience through the roster, the goalie behind it all has seen very little of the Stanley Cup Playoffs. John Gibson, 23, hasn't got out of Round 1 yet and is 2-4 with a 2.84 GAA and .912 SP in his playoff career and now has the weight of Anaheim's expectations on his shoulders. Should he falter, you have to wonder how long it will take for Carlyle to turn to backup Jonathan Bernier, whom he coached through gloomier days in Toronto. Bernier was terrific in relief of an injured Gibson late this season, winning 11-of-14 games in March and April with a .937 save percentage.
Flames X-Factor: It wasn't until goaltender Brian Elliott turned his season around that the Flames really took off. In 24 games prior to the all-star break, he had just six wins to go along with a 2.88 goals-against average and .892 save percentage. Since the break: he has a goals-against average below 2.30 and a save percentage nearing .930.
Elliot was in the crease last spring during the St. Louis Blues' extended playoff run, which ended with a loss to the San Jose Sharks in the Western Conference Final.
TEAM LEADERS (G-A-PTS)
Anaheim: Ryan Getzlaf (15-58-73), Ryan Kesler (22-36-58), Corey Perry (19-34-53)
Calgary: Johnny Gaudreau (18-43-61), Sean Monahan (27-31-58), Mikael Backlund (22-31-53)
Stanley Cup Playoffs on Sportsnet NOW
Ready for playoff hockey? Stream every single game of the 2017 Stanley Cup Playoffs with Sportsnet NOW.