The best two days in sports are the beginning of the season and the beginning of the playoffs. There's a new energy, everyone's excited, you're not as annoyed by the idiot who never signals when turning.
It's incredible how much things have changed in Canada. Twelve months ago, this country was hoping for one playoff team. Now, Toronto's got an $800-million naming-rights deal and cities are planning parade routes.
Before each season, I ask myself, "If I had any guts at all, I would pick (blank) to win the Stanley Cup." I make a note and see how I did. Last year was good. I picked Nashville and Ottawa. Most years I might as well guess a team from the NBA.
This one was the hardest. It's so wide open. Would anyone be surprised if Dallas or Tampa Bay, both of whom missed the playoffs last season, won it all in 2018? Everyone's picking Carolina to make a big step. Conformity is boring.
I never pick repeat champions, because it is so hard to win in the first place. But, would anyone bet against Sidney Crosby? When the Los Angeles Lakers failed to win a third consecutive title in 1989, head coach Pat Riley began discussing "The Disease of Me." He later wrote about it in The Winner Within.
He said there were six warning signs: The "Woe is me" feeling of underappreciation; focusing on personal playing time/stats; internal cliques; happiness in personal performance when the team loses; frustration from lack of playing time when the team wins; desire to have more recognition than a teammate.
Does anyone see these destroying Pittsburgh? Me neither.
[snippet id=3638287]
I thought about Canadian teams. Edmonton or Toronto is not a gutsy pick. Some people might say Calgary is, but I think the Flames are good. So, by process of elimination I came down to the final two.
The first is Winnipeg. There's a lot more on the Jets in the "Thoughts" below, but I'm with a GM who constantly calls them a "sleeping giant." There's a lot of talent. Good young players, good veterans. There are also a lot of questions, including, can they stop being their own worst enemies?
They're worth a calculated gamble because the Central might just be the most unpredictable division in the NHL. The Predators will be very good. The Stars should be very good — Ken Hitchcock's new teams inevitably improve. Minnesota is always there. Colorado will be better, but it's a long way back. St. Louis suddenly looks uncertain. For the first time in a long time, we don't know what to make of Chicago. There is an opportunity for the Jets to make this interesting.
The second pick probably shouldn't count. Columbus is a 108-point team, fourth-best in the NHL last season. That doesn't really qualify. But, again, I don't see them getting the respect such a finish grants them.
A lot of that is the division. The Metropolitan is survival. Everyone who missed the playoffs last year looks better, through youth or additions. I don't buy that Washington will be terrible. The Rangers are tough. Everyone waits for them to fall apart, but they find a way.
That's hard to push through, and we are also talking about a team that's never won a playoff series. Going from zero wins in 16 years to four in two months would be a huge step. The Blue Jackets are in the same position Washington was in two years ago. The window is open, the time is now before contracts dictate changes.
They're going to go for another scorer. That would be a terrific roster, and should disqualify them as a surprise team. But what the heck, it's my choice, anyway.
31 THOUGHTS
1. Connor McDavid should ask for five per cent of all upcoming second-contract extensions. We're seeing what several agents and executives predicted, that everyone else is getting a bump because he raised the ceiling for top players. During the summer, there were rumours Jack Eichel's number would be $10 million.
The question was: Were the Sabres ready? Not for a second did Buffalo doubt Eichel's ability or his position as cornerstone of the franchise. But I do think they wondered if now was the time, maybe it might be better to wait until later/after the season — have the carrot just ahead of him. Yes, it might have cost them more, but, look where we are going. Auston Matthews will join this stratosphere. If Patrik Laine is as good as we think he is, he's going there, too. This is the new normal. In the end, the Sabres decided they didn't want a whiff of disagreement with Eichel. He's going to have a massive season.
2. Nashville is looking for a forward. Maybe a centre, maybe a scorer. Here's the hitch: The Predators prefer not to take away from their NHL roster. They are all-in. Wonder how many teams will ask about Eeli Tolvanen, their 2017 first-rounder who is lighting up the KHL for Jokerit.
3. The NHL and NHLPA are meeting in New York City on Wednesday to discuss the international calendar. Not sure if they can schedule a World Cup, since there is the possibility of a strike/lockout in the next four years. But they are expected to discuss more non-North American competition, whether it be a Ryder Cup-style event, games in France/Germany or something else.
4. One suggestion about future trips to China from an agent who had clients there: "Players felt they had too much down time. They could have done more clinics or had more interaction."
5. Jaromir Jagr's Calgary bonuses involve games-played thresholds, with one minor exception. There is a two-parter that is not triggered unless Calgary makes the playoffs. I'm not 100 per cent certain as I write this, but he needs either 50 or 60 appearances (plus the post-season) to get that one. There are no statistical bonuses.
6. One Western Conference GM said Jagr ending up in the Pacific Division was a perfect fit because "its best teams aren't that fast. It's different than the rest of the league, more of a grind than a speed game. Even Edmonton, outside of McDavid, is not a fast team." Would not be surprised to see Jagr start the season with Sam Bennett, hoping some of the future Hall of Famer's karma rubs off on the young centre.
7. Sounds like St. Louis's offer for Jagr was in the $850,000 range, not including bonuses. Before signing Thomas Vanek, Vancouver discussed the possibility of Jagr, too.
8. And then there was one. With Josh Anderson joining Columbus, Andreas Athanasiou remains the only unsigned player. From the beginning, people who know him said he would be the most dug-in of all, and that's proven to be true. When it reaches this point, you wonder if there's something besides financials affecting his decision, maybe usage or role. I think there are other teams interested (personal guesses include St. Louis and Vancouver), but I'm guessing they wait to see if Detroit will consider a trade rather than trying an offer sheet.
9. Pittsburgh has waited on Athanasiou (and a potential trade with Detroit) long enough. The Penguins are resuming their search for a third-line centre. Think they asked about a Jordan Staal reunion, but Carolina had no interest.
10. We are learning publicly that Columbus GM Jarmo Kekalainen is a hard negotiator. He has his numbers in mind, and doesn't budge. One exec said that when Kekalainen worked in St. Louis, word was he was the second-highest paid scout in the NHL behind New Jersey's David Conte. "That wasn't easy for him to accomplish," another scout said. "But he was determined to get it and did."
It will be interesting to see how he navigates upcoming contracts for Cam Atkinson, Sergei Bobrovsky, Jack Johnson, Artemi Panarin and Zachary Werenski.
11. We're always watching countdowns to free agency, with John Tavares being the No. 1 storyline among those players as the 2017-18 season begins. As for those with term, one that stands out to me is Claude Giroux. Flyers GM Ron Hextall laughed off rumours about his availability at the draft. Occasionally, his name pops up again. Hextall declined to comment this time, and a couple of GMs I asked said they hadn't heard Philadelphia bring him up. The captain has five more years on his contract at an $8.275-million cap hit and a no-movement clause. As one player said, "He loves it there." There's curiosity over the winger experiment, but from personal experience I do recognize one thing: sometimes you get stale. Philly is trying to make him a little uncomfortable, force Giroux into an "I'll show you" mentality. If it works, everyone benefits.
12. Anecdotal evidence from exhibition play: Laine is shooting the puck even harder. "Just exploding off his stick," one opponent said. In 2015-16, Laine played a full Finnish League season, the world juniors and the world championships. After becoming a Jet, there was the World Cup, 73 NHL games and a concussion. The organization wanted him to make sure there was enough rest during the summer. "In his draft year, I think he flew over here four, five or six times," GM Kevin Cheveldayoff said this week. "Even for an 18-year-old, (the last two years) were a lot. We just wanted him to come back feeling stronger."
Many of his peers are changing their training, spending more time on the ice and less in the gym. Laine didn't skate as much and added muscle. When he got back, he needed a slight adjustment because he hadn't skated much with the extra strength. He spent time working on his release to get the timing and accuracy right. It hasn't gone unnoticed, by his organization or the opposition.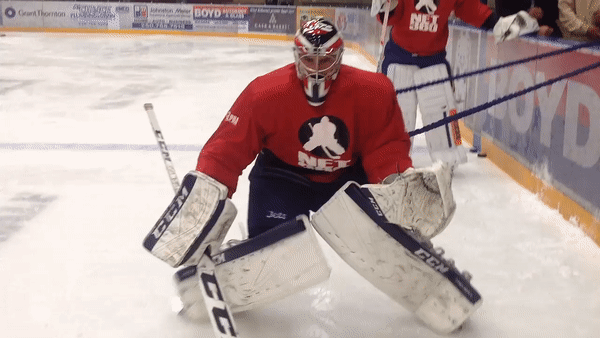 13. Before the summer, we had some notes about Jets goalie Connor Hellebuyck doing some new off-season work. The GIF above has some insight into one of the techniques. Holding the giant rubber band is Adam Francilia, whose NHL client list includes Devan Dubnyk, Eddie Lack, Andrew Ladd and Tyler Myers. Francilia is standing on the bench. What are they doing? Helping Hellebuyck use his body "more efficiently," Francilia said.
"The hip and pelvis, postural issues, goalie-specific core, down through the knees and ankles. We work on co-ordination of all that, so the body stays together and move better. I look for 'hiccups,' failures of movements. We want him to understand how to use his body better."
How does the band help? While attached, when the goalie moves away from the bench in the butterfly or with a T-push, he's in what Francilia calls the overload. "They have to push out more than they are used to. The further they get out, then you pull them back in. Remember when you were a kid running down a hill, and another kid pushed you? All of a sudden you have more speed than your body can handle. It forces your brain into overdrive, make your feet run faster than normal, increases stimulus. On-ice, we are trying to make his body move faster than it normally would be able to. (Hellebuyck) has to adapt and stay together." That's called "overspeed." Even though the Jets signed Steve Mason, they will need Hellebuyck.
14. As for Myers, limited to 11 games due to injury, it was about "reprogramming and restructuring muscles around his surgery. There was lots of scar tissue, muscles not letting go, guarding the area operated on. When you are stroke rehabbing, say you can't use your right arm. It's not a matter of grabbing a dumbbell and doing 10 curls. You hold the dumbbell and retell your arm how to do a curl. You have to teach certain muscles that were dormant how to refire. You also have to reprogram your brain, teaching other muscles not to fire unless needed. It takes a hell of a long time. Tedious process."
The neurological part of body doesn't recover the same way as the physiological system. Should have paid attention in biology class.
15. Word is the Jets did a deep dive into analytics, trying to get greater understanding of what kinds of statistics correlate to winning on a regular basis. "I wouldn't say that means we didn't look at analytics before," Cheveldayoff said. "But when you miss the playoffs, you take a good hard look at everything. You're asking, 'How much does (a certain stat) matter?'"
What did you learn? "I'm not going to tell you that," he laughed. "That's why we do it."
16. Okay, let's try a different one: What did one of the NHL's most penalized teams learn from an in-house visit by retired referee Paul Devorski? "The one-on-one interaction was great. Having him telling you that if your stick goes to a certain place, his eyes are attracted to it."
17. Finally on Winnipeg, one coach pointed to Bryan Little's health as an underemphasized piece of the Jets' puzzle. He got hurt in their opener last season and missed six weeks. When he came back, the team was dead last in faceoffs (44.4 per cent to Chicago's 47.9). From that day on, they were 13th (50.2). Little himself finished 55.6. And, the new rules should not affect the way he wins them.
18. Carolina is getting a lot of love as a pre-season surprise team. "I love it," head coach Bill Peters said Monday. "I like that the expectations are higher. That's what we should want." Any success will have to come in hockey's hardest division, the Metropolitan. "The first- and second-overall pick are here, so it didn't get any weaker," he added.
However, the Hurricanes are generally a poor starter. Record on Nov. 1 this decade: 5-7, 1-6-2, 4-6-3, 5-4-3, 5-6, 2-8-3. Not good in a league where it's hard to catch up. Why? "Two reasons," Peters answered. "The state fair gave us a long road trip, and our team was not deep enough." This year, the first 10 games are split evenly home and away. And Peters likes his depth. "We've never had this level of it in three years. Marcus Kruger is going to be a big part of that. And I like our blue line all the way through. I know people have talked about giving up one to add, but I like it like this. Say you've won three straight games. You used to think, 'I'll never change the lineup,' but if one guy was tired and was no good, why wouldn't you put in a new guy? We will be using that depth."
19. Peters' comment about not giving up a defenceman was interesting, because it's not exactly a secret teams like Colorado would like to get one. But he thinks Noah Hanifin, in particular, is primed for a very good year. "Jaccob Slavin is an elite player with an elite mindset. His lifestyle, his faith. He does not drink, he's married, he only cares about getting better, his lifestyle is not in the way. He drags everyone around him to being better. Brett Pesce is the same way. Hanifin is hungry. He has no new deal (the Hurricanes extended both Pesce and Slavin). He wants it, and his numbers from the trade deadline to the end of the season were good. He had a better opportunity. And he will get it again."
Other Hurricanes ready for the next step? Peters picked Joakim Nordstrom, "Although he won't get the numbers, he'll be very important for us," and Teuvo Teravainen. "He's got the skill, he just has to become more assertive. The younger Finns are very respectful. I kid Sebastian Aho about it. He's more of an assertive guy. He says, 'I'm not like that. Patrik Laine isn't like that.' We laugh. If (Teravainen) can be more assertive on a constant basis in traffic, he will break out for sure. I like him on the wing more than centre. He can score from there, he's good enough to do it."
20. The Hurricanes have a great penalty kill, have been good on faceoffs, score well with the analytics. What they have to do, the coach says, "is have a better team save percentage and score more goals." They hope Scott Darling solves the first problem. As for the second, can you do it without adding an elite sniper? "It's about going to the net harder, getting there for the second and third opportunities." Peters paused. "We also gave away too many points in games we should have won."
He says "won" in a way that makes you realize he's still annoyed at those defeats. "When we are tied or leading late, we have to do better. The experience of Kruger and (Justin) Williams will help there."
21. It's difficult to get perfect context on quotes when you aren't in-person. It's been interesting reading and watching what's been coming out of Washington. The Capitals were rocked by last season's loss to Pittsburgh, the pain is still there even as coach Barry Trotz tries to choke it out of the organization.
I get it. It took me 11 months to come to grips with my own failure in Rio, and a good friend in the business told me I "sucked" last season because I couldn't let it go. T.J. Oshie was excellent at the media tour last month in New York, saying he loves the journey and the challenge; what happened in April wasn't going to change that.
"I'm not the only one who said it, but I told (GM Brian MacLellan) he was the most important guy to bring back," defenceman Brooks Orpik said Tuesday. "That attitude, the energy he brings to a room. There's nothing phoney about him, the positive he brings. You need that in an 82-game season. T.J. wanted to stay, but he didn't think it was possible."
22. Capitals fans are down on their team, but I remember something Mark Messier said during one of his studio appearances: "In the cap world, every team has a fatal flaw. Can you overcome it?" Washington is still a threat.
"Maybe that's what this group needs," Orpik said. "Less expectation. We put a lot of pressure on ourselves, and it worked against us. It might be good for this group, a little different path. I've been here three years … others have been here a lot longer than I have, (the loss) affected everyone differently. Barry really had to right the ship. Last year stung a lot more. Who we lost to, and when you know as a group it was your best or most realistic shot at winning. We were making mistakes we hadn't made all season long, it was out of character."
Orpik was not concerned with the results in exhibition play. "No one took it easy. We had a hard camp, with the amount of skating we did. I think we're ready."
23. Orpik did not want to go into it, but word is the Capitals may de-emphasize the importance of the Presidents' Trophy in favour of more process-oriented goals. He did say he thinks new blood will help. Last year's team was basically set the date everyone showed up. This one has pushing for spots. "I was skating with Evgeny Kuznetsov, talking about Pittsburgh. How they've found two young guys you've never heard of who play great and win. Maybe that's what we need. Young guys who give you energy. We're excited about what we have coming." Jakub Vrana, come on down.
24. With all of the excitement in Alberta, we've ignored the defending Pacific Division champions from Anaheim. "I know how difficult it is to win, I know the quality of the teams in this division," Ducks head coach Randy Carlyle said. "These are two young teams that, on paper, improved. But I leave predictions to the people I call the experts."
The best news for the Ducks is that they are encouraged by the recoveries of Hampus Lindholm and Sami Vatanen. Maybe they return earlier than expected. The bad news for opponents is that Anaheim will continue to grind you, giving up no inches without a physical battle.
"We have to play that way. We know we can't blow out teams offensively, that's not going to give us our best chance." Carlyle said the difference in the Western Conference Final was goaltending and the power play. He promised some new wrinkles with the man advantage, but wouldn't drop any hints. Carlyle did not like Anaheim's pre-season. "There were only two games to be proud of." (Ducks fans, they were the 1-0 overtime loss to Los Angeles and the 6-4 win over Arizona.)
25. Carlyle did like Rickard Rakell, who will replace the injured Ryan Kesler at centre. "He was as good as anyone. We had a conversation mid-summer, once we found out the severity of Kesler's injury and made the decision to move him to centre. He understood the importance of what we were asking." Rakell played wing aside Ryan Getzlaf last season. Is he a centre or a winger?
"I've always seen him as a centre," the coach answered, "because he is that dynamic. We are only seeing the tip of the iceberg. He's a very talented, young player." I asked about Brandon Montour, who will take a bigger role until the defence gets healthy. "We're asking more than he's done before. The playoffs were an invaluable experience. He's earned the right to start there, now he has to show every day he deserves to stay there." Anaheim will give Calgary and Edmonton everything they can handle.
26. There were a lot of internal battles last season in Florida, and one involved the readiness of Jared McCann. McCann showed in training camp he wanted to end the debate. He made summer switches, hiring skating coach Dawn Braid and trainer Matt Nichol. "Physically, I feel way different," he said by telephone. "I felt I was quick before at full speed, but the first three steps were a problem to get there. (The changes) helped me out." He's been told he will start the season as a centre, saying "he's very excited about it." How is it playing for Bob Boughner? "He's an intense guy. He expects a lot."
27. McCann, a 2014 first-round pick by Vancouver, learned to expect a lot from himself. "There are things I regret, but I've learned from it. I'm a better player. You can't take a day off, can't get complacent, there are guys coming to take your job. Coming into to the league, I was a cocky little kid my first couple of months. They straightened me out."
Boughner: "Jared worked hard this summer and it showed in camp. He came in prepared and earned this opportunity."
28. McCann scored points among his teammates for fighting Montreal's Brandon Davidson last week. He had a good line: "I bit off more than I can chew there … didn't realize how big he is."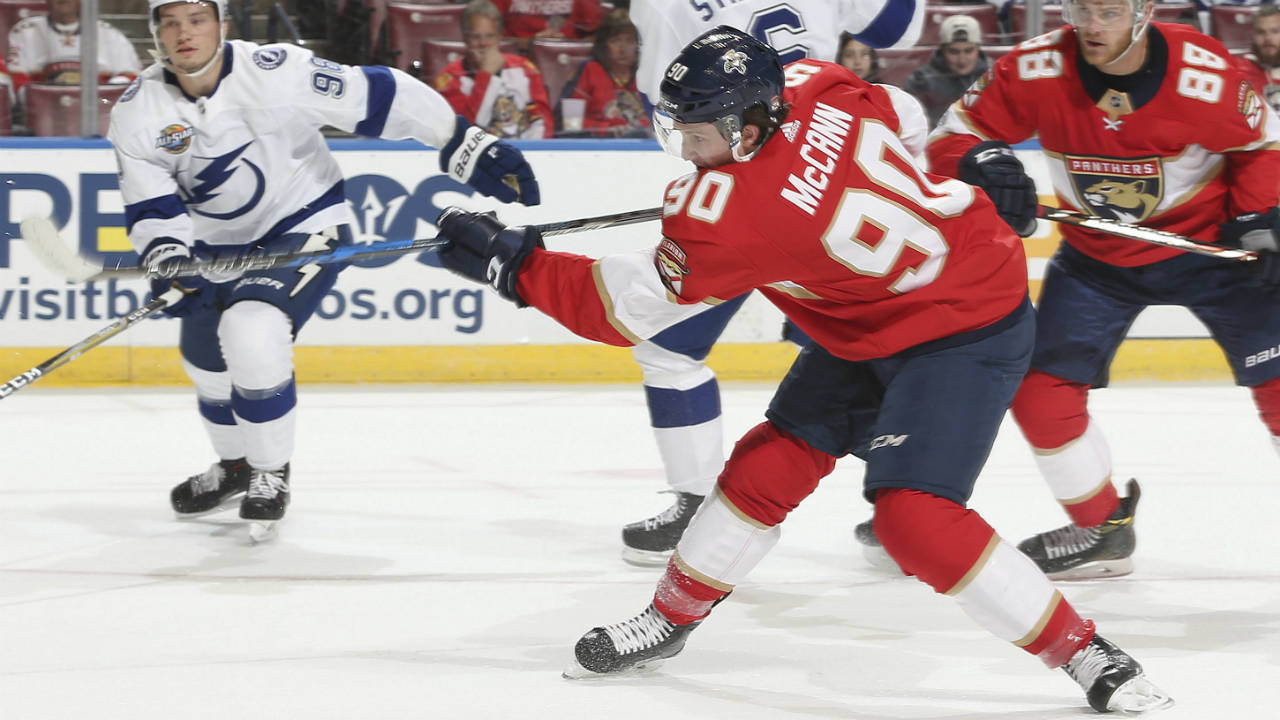 29. Was looking at something on New Jersey's website and saw that the Devils hired Lew Mongelluzzo as a scout. Met him at the 2003 world juniors in Halifax and, later, someone explained he previously scouted for the Quebec Nordiques, championing the draft selections of Chris Drury and Tim Thomas. Legend has it that Mongelluzzo called Thomas to welcome him to the organization, only to have Thomas think he was a friend named John pulling a practical joke. Loved that story. I didn't realize he'd left Ottawa, he'd been there almost 20 years. He's a fixture at NCAA games in the northeast.
30. A few people were asking on Twitter about something I mentioned during a radio hit, a "regular-season Stanley Cup pool" we did in high school. I'm enough of a geezer that it was 21 teams back then, so four of us would draft five clubs each, with one going unselected. The reigning champion started the season with "the Cup," until the first team beat them and became the "new" Cupholder.
Whoever picked the organization that held it at the end of the year won the cash. For example, my last year was 1988-89. Edmonton began as your champ, only to lose its third game of season, 6-2 to Vancouver. The Canucks held it for a grand total of 48 hours until Winnipeg beat them in overtime. On and on it went. That year was particularly fun, because, in the last month of the season, the "Cupholder" kept losing. If I remember correctly, Buffalo beat the Islanders on the second-last night of the season to take possession, then stopped the Rangers 24 hours later to win the pool for a buddy. I think he used the cash to upgrade his prom tuxedo.
31. When the "new" Ottawa Senators hosted their first Stanley Cup Final game in 2007, Hockey Night in Canada producer Sherali Najak asked me to do a live walkthrough of the press box a few minutes prior to puck drop. One of the booths I stepped into was home to the NHL international feed, where Dave Strader was the play-by-play broadcaster. He turned, looked and smiled, a bit surprised as he wasn't expecting me in there.
After the game, he asked, "Were you doing that live?" Yes, why? "Next time, tell me. I almost (jokingly) told you to get the f— out!" Strader was so respected that when the Professional Hockey Writers' Association extended the list of awards voters to include some broadcasters, he was among the first invitees. He never needed the spotlight. It found him because he always did a great job.
[relatedlinks]