"Delightful."
Nimble and sunny in the eye of a hurricane of local sports panic, that is the one-word caption Toronto Maple Leafs general manager Kyle Dubas tagged onto a Harvard Business Review article he shared with his 68,000 Twitter followers Thursday evening.
In "How to Stop Worrying About What Other People Think of You," author Michael Gervais dives into the concept of FOPO — fear of other people's opinions — and argues that when people conform, we squander our potential.
"You'll start playing it safe because you're afraid of what will happen on the other side of the critique. You'll fear being ridiculed or rejected. When challenged, you'll surrender your viewpoint," writes Gervais, who draws a thought parallel between NFL coaches (Seattle's Pete Carroll, specifically), extreme-sport athletes and Fortune 500 CEOs.
"What makes these high performers great is their clear sense of the principles that guide them. Because of their clarity, they're more willing to push themselves, learn more and embrace discomfort. They can shut out the noise and opinions of fans and media, and listen to their own well-calibrated, internal compass."
Delightful. https://t.co/sTSa6mkpMj

— Kyle Dubas (@kyledubas) May 2, 2019
To understand how a man thinks, glance at his bookshelf.
Dubas won't be pulled off course by your magnetic north because he's secure in his own.
So, it shouldn't be shocking that as other voices scream for grittier, heavier bodies to be added to a Toronto roster still fumbling with its keys at the door of post-season success, Dubas will continue to shape the Leafs according to his vision.
The sophomore GM is sticking to his guns, despite his group's seven-game ouster by the Boston Bruins, who are now entrenched in a punchy, big-boy series with a Columbus Blue Jackets squad that also eliminated the team with more talent, on paper. The very team Dubas is using as his model for these Leafs.
"My conviction about speed and skill has not been shaken at all," Dubas said from the podium during last week's dissection of a disappointment. "I do think, like any team, as our guys get older, they're going to naturally get heavier and grittier. As they accrue these scars and scar tissues from experiences like this, mentally they'll deal with it.
"I wish there was a switch we could flip naturally to get there, but it comes only with experience."
Jeff Marek and Elliotte Friedman talk to a lot of people around the hockey world, and then they tell listeners all about what they've heard and what they think about it.
Read those comments in isolation and you'd be tempted to assume Dubas will take the patient course this summer: keep the coaching staff, re-sign the young superstar and elevate some of his carefully nurtured entry-level prospects to fill in the inevitable contractual departures.
But, unlike the head coach he inherited, Dubas strongly and accurately describes 2018-19 as a failure to match internal beliefs.
"We didn't reach the expectation I think we set out at the beginning of the season. We had 100 points and we went to Game 7 against the Bruins in the first round, so it's tough to say it was tangible progress," said Dubas, demanding better from himself on down.
"There's not anybody staunch in their stance that what we're doing is great and we can't change it. We know we have to improve and get better, and that's the exciting part of it."
The exciting part for fans is that Dubas has already enrolled in the Masai Ujiri school of big thinking.
Last off-season, the Raptors architect fired the coach of the year and orchestrated the blockbuster trade of the summer, at the cost of personal relationships that may never mend.
"It was time for change and time to disrupt a bit. You don't want to create even more pressure for them [by bringing back the same group], in my opinion. Next year everybody will be looking at, 'Oh, the same thing's going to happen again,' " Ujiri explained on The Woj Pod.
"Our jobs aren't that hard, to be honest. I think putting teams together and making the playoffs, I don't know that if it's [that hard]. For me, I feel that everybody's goal — the 30 teams — is to win a championship."
It's that big-swing thinking that led Dubas to pick his MLSE colleague's brain before flooring an on-the-fence John Tavares with his free agency pitch.
Of using Ujiri as a resource, Dubas said, "We'd be crazy not to." The Leafs GM was spotted courtside this week, seeing up close what Round 2 looks like at Scotiabank Arena.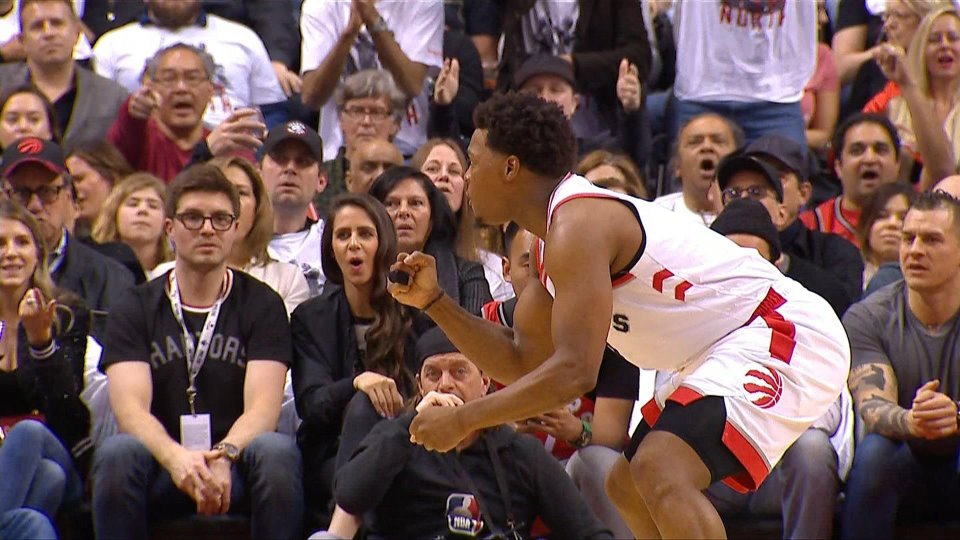 And it's that out-of-the-box approach that is being rewarded in the NHL today as Dubas takes a breath to plot his next move.
Blue Jackets GM Jarmo Kekalainen's brassy deadline push is Exhibit A, but St. Louis's Doug Armstrong, Carolina's Don Waddell, San Jose's Doug Wilson, New York's Lou Lamoriello, Dallas's Jim Nill and Colorado's Joe Sakic all made major off-season changes that led directly to their current success.
Enter now for your chance to win big! $50,000 in cash prizes up for grabs. Grand prize includes: A new 2019 Ram Power Wagon.
So, if we can agree that Dubas won't shy away from a shakeup based on FOPO, what could another Tavares-level splash for Dubas look like in the summer of 2019?
Well, here's some wild brainstorming, because it's too early for substantial trade rumours (check back near the draft) and Dubas himself has proclaimed no one safe.
• Firing Mike Babcock. Removing the Leafs' confident, decorated alpha-dog four years before the most expensive coaching contract in NHL history expires? Well, that would certainly take guts. That Dubas didn't offer an endorsement of his coaching staff when given the opportunity last week raises eyebrows.
• Trading William Nylander. Think of DeMar DeRozan being blindsided by the Kawhi Leonard deal, then try not to remember Nylander saying Dubas assured him he wouldn't be moved as long as he was steering the ship. The team believes in the player. Nylander is much better than his 2018-19 suggests, which is precisely why he could yield a bounty if traded.
• Disposing of the Patrick Marleau contract. Dubas is no stranger to the analytics of Father Time. The GM has yet to trade for or sign anyone in their 30s, which is partly why he let a handful of Lou Lamoriello veterans walk last summer, and why Tyler Ennis, 29, and Ron Hainsey, 38, are heading out the door now. (Nikita Zaitsev is scheduled to be a Leaf through age 32, and already Dubas has entertained dealing him.) Ruthlessly dekeing around the final year of 39-year-old legend Marleau's cap-impeding contract? In some corners of Leafs Nation, that would be a win of Tavares-esque proportions.
• Playing hardball with Mitch Marner. The regret Dubas has owned for letting the Nylander saga drag on till the 11th hour is written all over an Auston Matthews contract that has a franchise centre hitting his walk year at age 26. Marner's work this season has put him in position to at least ask for the same. The team and player love each other. Does Dubas call bluff on the vague threat of an offer sheet and prey on Marner's comfort level as a hometown hero?
• Chasing a marquee free agent we don't see coming. Logic says Toronto has enough issues with its own UFAs and RFAs. No doubt, pursuing a big-ticket option outside of that would require some corresponding salary clearing. But is there a pie-in-the-sky way to lure a Tyler Myers, Jeff Skinner, Wayne Simmonds, Kevin Hayes or Joe Pavelski?
• Launching a trade bomb to finally solve the right-handed defenceman problem. Dubas certainly has a variety of assets he could use (Jeremy Bracco, Timothy Liljegren, Andreas Johnsson, Kasperi Kapanen), and finding a partner willing to rattle his own roster might not be as difficult as you think.
Playoff-hungry Dale Tallon has already made waves in Florida, bringing in coach Joel Quenneville and going public with his big-game-hunting aspirations. Nashville's David Poile is starving for offence and a power-play overhaul after another underwhelming spring. Ditto Paul Fenton in Minnesota. L.A.'s Rob Blake is finally embracing the rebuild and found common ground with Dubas on the Muzzin deal. Pittsburgh's Jim Rutherford is toying with the idea of cutting to the core. Vegas is in it to win it. And ever since Tom Dundon started running Carolina, change has been the order of the day.
What do all those teams have in common? Solid, top-four right-shot defencemen with term.
Aaron Ekblad, Ryan Ellis, Jared Spurgeon, Drew Doughty, Kris Letang, Colin Miller, Dougie Hamilton, Brett Pesce. Because Vancouver's Chris Tanev and Carolina's Justin Faulk will be entering their walk years, they could be more affordable targets.
Of course, Dubas would have to give to get. Naturally, other people would rip him for not playing it safe.
But Dubas is trying to win a championship here, FOPO be damned.