The St. Louis Blues have defeated the Boston Bruins to take home the Stanley Cup for the very first time since they entered the league in 1967, and all of a sudden the NHL is in off-season mode.
For 29 teams, nothing has changed. Rumours of off-season moves have already been swirling, with one of the most common ones being that the Vancouver Canucks are interested in Milan Lucic.
Lucic has been one of the most high profile contract disasters in the NHL over the past two seasons, and at 31 years old with four more seasons at $6 million per left on the deal, that's a weird one to be interested in. Lucic's actual salary does go down in 2020 — he's owed $5 million less in actual cash than what his cap hit shows over the remainder of his deal — and he's a Vancouver native. But that isn't enough of a rationale.
Seemingly every time he speaks, Canucks general manager Jim Benning lusts after adding size and physicality to the Canucks' lineup, which are certainly things Lucic possesses. If the Canucks allow him to play his game instead of forcing him to be a net front guy like the Oilers have, maybe he won't be as bad there, but what about the return?
Senior Writer Ryan Dixon and NHL Editor Rory Boylen always give it 110%, but never rely on clichés when it comes to podcasting. Instead, they use a mix of facts, fun and a varied group of hockey voices to cover Canada's most beloved game.
According to the trusty, old rumour mill, the player going the other way could be Loui Eriksson, who signed his big contract with the Canucks the same season Lucic signed his with the Oilers — and Eriksson's has been about equally awful.
Two teams trading struggling players who have the same cap hit makes a certain kind of sense, but could Eriksson actually help the Oilers?
Like Lucic, Eriksson's contract cuts down his actual salary by $5 million over the remainder of the deal, but it starts next season, and his contract ends one year earlier than Lucic's. However Eriksson is three years older, and has missed more time than Lucic to injuries over the past three seasons, so there's risk involved.
There's not much to believe in for Lucic as a goal scorer going forward, but I don't believe he's completely washed up at this point if utilized correctly. So the question is would Eriksson be better than Lucic on the Oilers? Let's dig into it looking at his underlying offensive numbers first.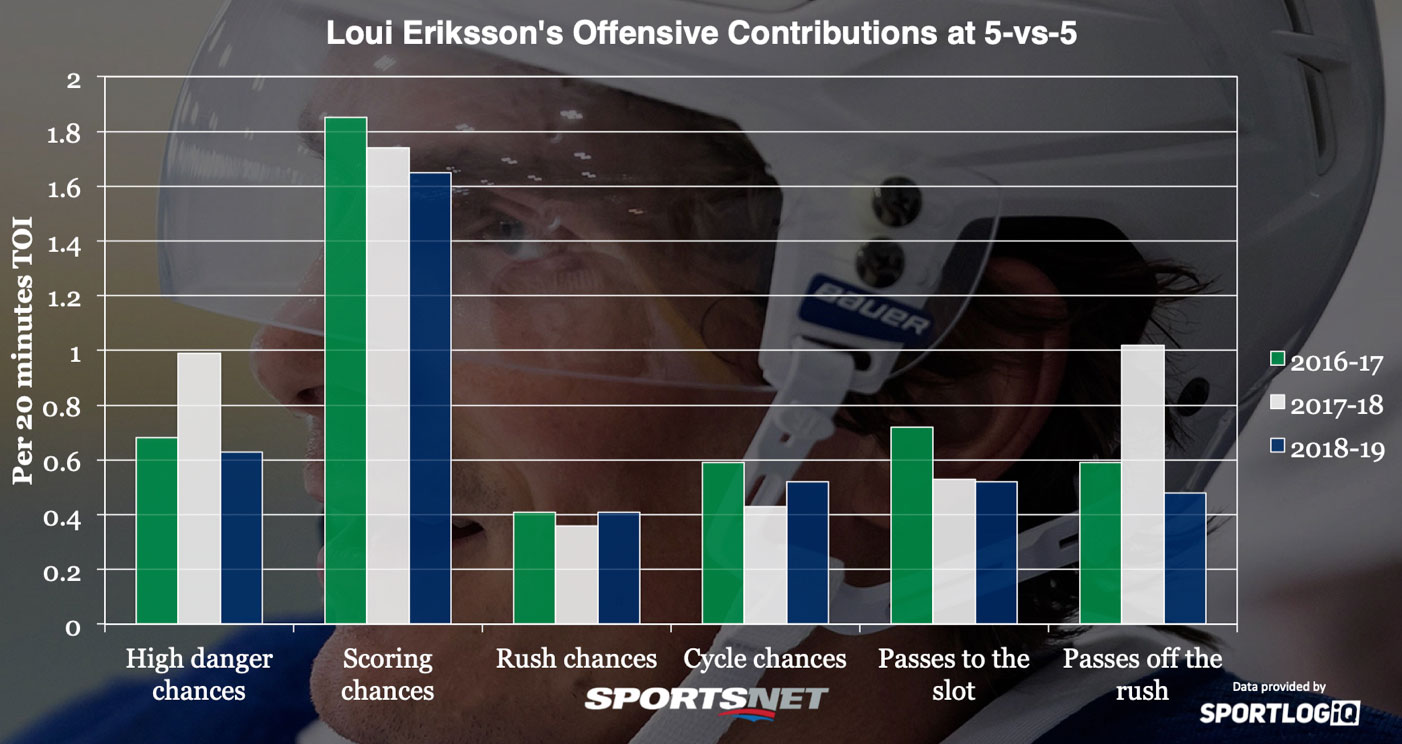 In the prime of his career, Eriksson was among the best two-way players in the game. But looking at the past three years he's put in with the Canucks, it's not just his point production that's suffered. Things don't look good.
Playing heavy minutes on the Bruins' power play heading into 2016 free agency hid some decline in his game, and as the NHL has trended towards more scoring chances, more passes to the slot, more attacking off the rush, and more offence in general, Eriksson's numbers have dipped.
In the 2018-19 NHL season, the average NHL forward completed one pass to the slot every 20 minutes they were on the ice, while Eriksson was barely half that. It wasn't a function of teammates either, as Eriksson ranked 15th among Canucks skaters there.
Elliotte Friedman on potential off-season trades for Canucks
June 11 2019
Similarly, the average NHL forward recorded 2.2 scoring chances per 20 minutes this past season, which was quite a bit more than Eriksson. So he's not completing many dangerous passes and not taking many dangerous shots either. He's getting to the net a decent amount — he's almost dead on average in high danger scoring chance production — but there's decline there as well.
It's not as though Eriksson compensates for low volume with higher quality chances either, as his rush and cycle chance numbers are both way below league and team averages, so the even strength offence he offers looks like a low-quality third line winger. But what about the rest of his game?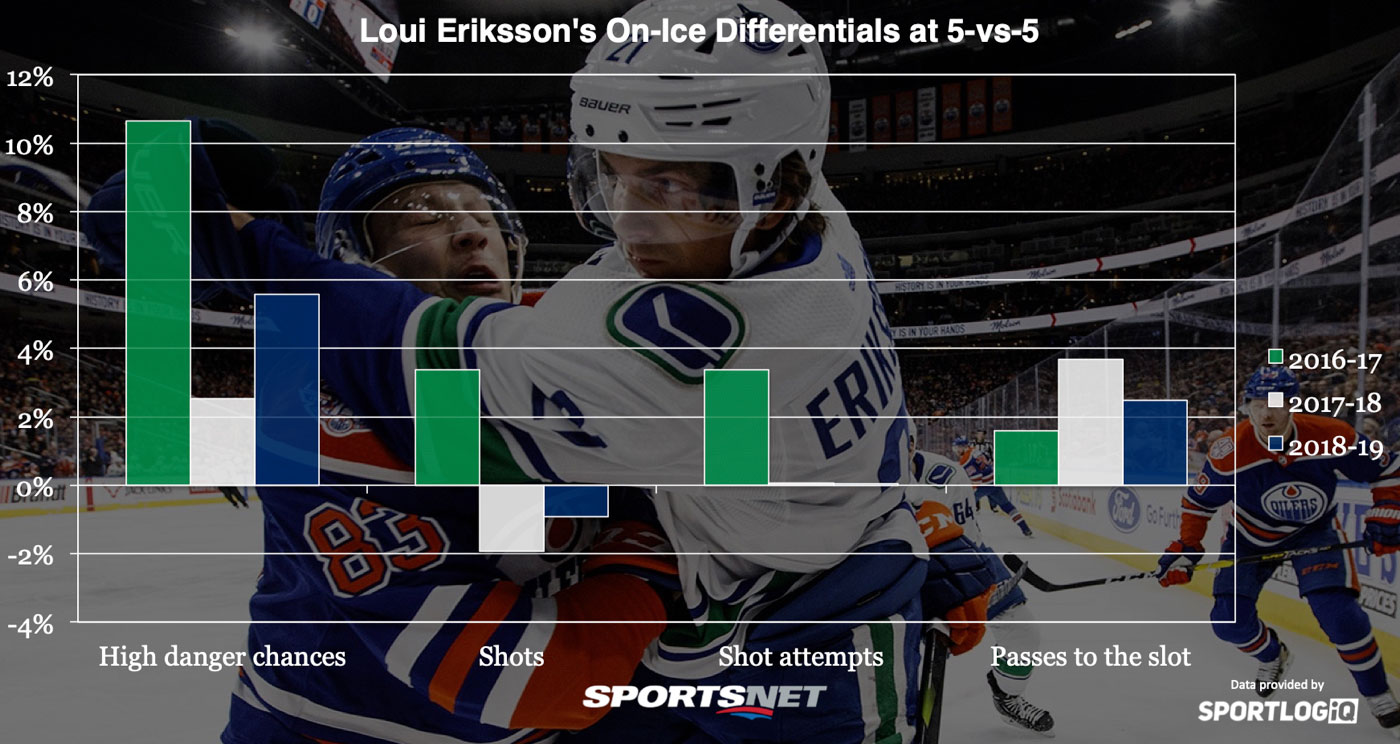 I mentioned earlier that Eriksson in his prime was a high-end two-way player, and while his offence has dried up, his defensive impact is actually still very good.
The Canucks get outshot slightly with Eriksson on the ice, though they hold the edge in shot attempts, and the shot quality picture looks extremely strong for him.
When Eriksson has been on the ice over the past three seasons, it's been far more difficult for opponents to generate high quality offensive plays. The Canucks didn't generate much either, but the team was far better off in shot quality when he was on the ice than when he was on the bench.
This is especially impressive when you consider that Eriksson didn't spend much time with Elias Pettersson in 2018-19.
I'm of the opinion that wingers influence defensive metrics far less reliably and far less in general than centres or defencemen, but Eriksson has always been a high-quality defensive player. We're looking at three years of data for a player in his early 30s and he's consistently coming out on the right side here.
So is acquiring Eriksson worth it for Edmonton?
Offensively, it's possible that he gives you even less than Lucic has over the past two seasons. Eriksson doesn't add the speed Edmonton so desperately needs in order to split up their big three centres and run a competent lineup, but does Edmonton need more defensive acumen among their forward group? Absolutely.
There's serious risk here because of the age gap between the two players, but shaving a year off the potential contract and adding to an area of need by sending out a player who hasn't fit — without taking on extra salary — sounds like a decent idea to me.
However, there is one hitch to this plan: the rumours of Edmonton needing to add a sweetener to the deal. Some have speculated that the addition to the trade from the Edmonton side could be as hefty as Jesse Puljujarvi, and if that's the case, no. Don't do that, Oilers, that's a bad idea. Lucic and Eriksson are about as equal value players as it gets, so there shouldn't be anything else involved in the trade unless it's a very late round pick.
The Oilers can afford to take a risk by dropping a player who hasn't worked out, but they can't afford to just toss Puljujarvi aside at the same time. That's just not good asset management.