In football there's a saying that if you have two quarterbacks, you really have no quarterbacks at all. The implication being that if you don't have that one player (in the most important position on the field) who can be relied upon to lead the team when it matters most, you're in trouble.
That saying doesn't exactly translate neatly to hockey, and its analog, the goaltending position. If anything, in today's game you actually really need two reliable puck-stoppers to properly navigate the treacherous path of an 82-game regular season. This is especially true as teams wise up to the importance of sports science and devote more attention and resources to keep their players fresh later on in the season.
Long gone are the days when Miikka Kiprusoff and Martin Brodeur would routinely make north of 70 starts. For example, last year the Oilers squeezed every single ounce of juice out of Cam Talbot, starting him 73 times in the regular season and an additional 13 times in the playoffs. That served as a glaring exception to the general rule; at the time it was seen as a highly suspect strategy that was received with raised eyebrows. And it certainly hasn't aged well.
But while the idea of trying to optimize the performance of your goalies by more frequently alternating between them, rather than riding one starter, is sound, it's not without its challenges.
It's awfully tricky to find the right balance between accumulating as many points as possible in the present, while also keeping a big-picture view and developing players for the future. In an ideal world it'd be lovely to do both, but there are extenuating circumstances that make it difficult to have your cake and eat it too.
[snippet id=3317857]
Most teams have a young goalie somewhere in their system who would presumably give them a better chance to win right now than the veteran backup they're carrying around. Most of those teams, however, are also understandably reticent of having that young goalie prospect toil away on the bench for large chunks of time in lieu of playing games at a lower level.
That's why there are a handful of name brand journeymen backups who have been circulating the league for years. Even though they're almost certainly not one of the best 62 available options at the position, they keep getting gigs because teams are more comfortable knowing what they'll get from them (even if it's not all that good and the upside is limited).
It's a shame because most teams simply don't have the luxury of throwing away precious points whenever it's time to give their starter a breather. With the standings as tightly packed as they are, every point could be the difference between making the playoffs and missing out.
In a time when the margin for error is shrinking and finding ways to get a leg up on the competition is becoming harder to find, it appears having a backup goalie who you can rely on to give you a chance to win on any given night is still one of them.
Let's take a closer look at how teams have fared whenever they've gone to their backup this season.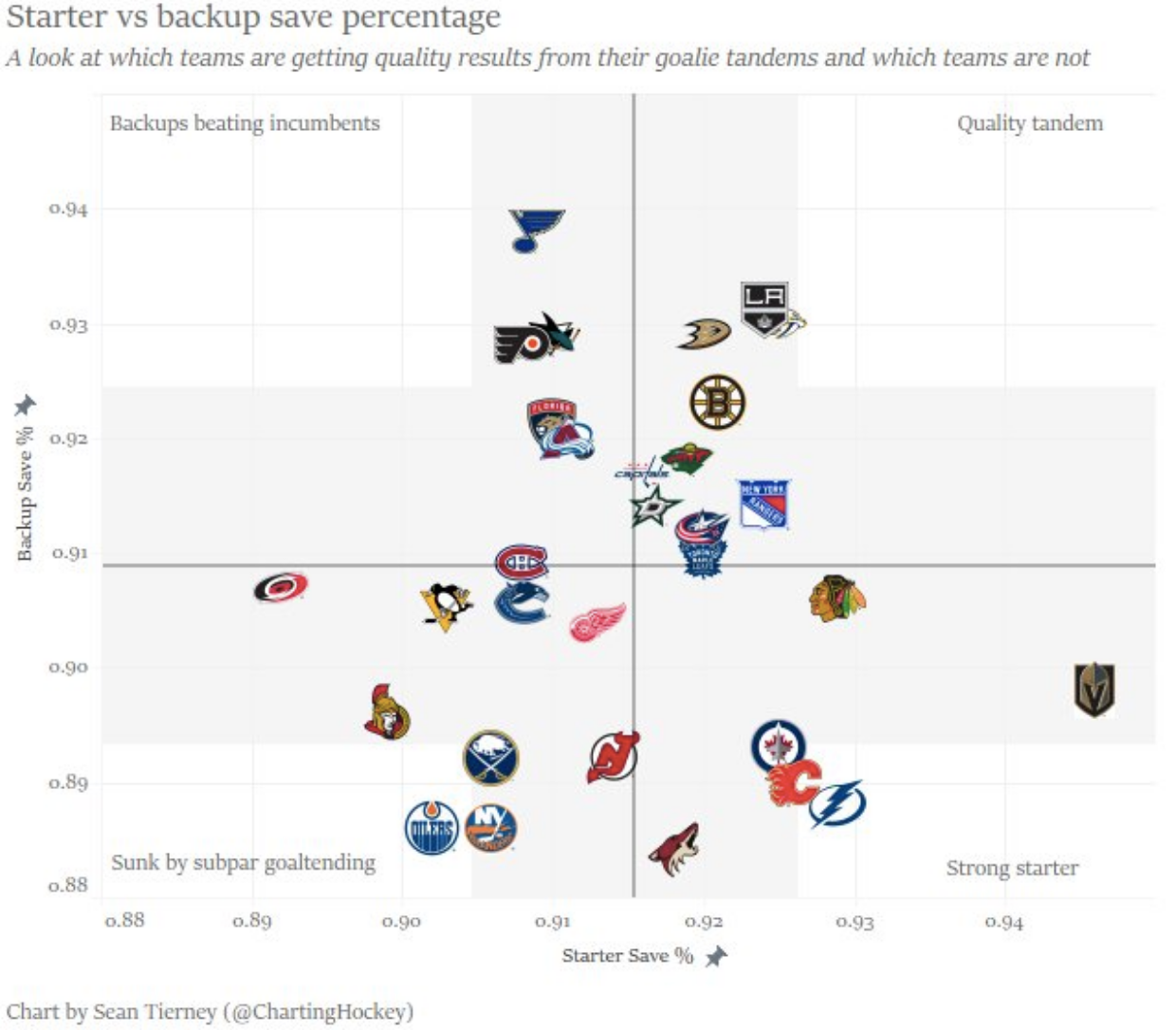 (This data was put together prior to Tuesday evening's slate of games. Much love to Sean Tierney for working his magic.)
A few immediate takeaways, in no particular order:
1. It's worth noting there's obviously some small sample size effects at play here that are making certain results look wonky.
Particularly in the top left quadrant, where you see teams like the Blues and Sharks. Carter Hutton has significantly outplayed Jake Allen thus far in St. Louis, but he's also done it in only 15 starts (and 19 total games), which means it wouldn't take many shaky showings for those numbers to quickly come crashing back to earth. It's fair to argue that he – similar to Aaron Dell in San Jose – has earned a larger share of starts, particularly in the immediate future, but it's important to maintain some perspective.
2. It's interesting to see where the Blackhawks appear on this list given the combination of Corey Crawford's uncertain status and their current precarious footing in the Western Conference playoff picture. He'll never truly get the credit he deserves on a team where bigger stars such as Patrick Kane, Jonathan Toews, and Duncan Keith soak up the glory, but there's a legitimate case to be made that Crawford has been their most important player for years now.
The reality is Crawford is as good and consistent at stopping pucks as it gets and has masked many of the flaws that are increasingly seeping into the Blackhawks' game as they've aged out in front of him. There's still enough talent to outscore those defensive concerns in the short term, but unless Crawford comes back soon we may face the unthinkable scenario of a post-season without Chicago.
[snippet id=3816507]
3. When the all-star rosters were announced, Marc-Andre Fleury was one of the most surprising to make it. I knew he'd been excellent and that people wanted to acknowledge the Golden Knights for their success, but with such a small sample of appearances it felt like it was tough to make the case he'd been important enough to be rewarded for it.
Since then, the idea that he deserves to be there on actual merit has been growing on me. He obviously won't hover around the .950 save percentage mark all year, but those early-season numbers he's banked go a long way towards making up for the fact he hasn't started nearly as many games as most of his peers.
As crazy as Vegas' numbers are, imagine how much better they'd look if it weren't for a brief stretch of road games where they had to lean on their fourth-string goalie.
4. I feel for the Coyotes. Antti Raanta has actually been perfectly fine for them whenever he's played, but unfortunately that's only happened 27 times. In the other 19 games, the trio of Scott Wedgewood, Louis Domingue, and Adin Hall have been an abomination. Because of that, the team has the worst save percentage on the season, despite the fact Raanta himself is well above league average.
Things are certainly still far from perfect in Arizona these days, but I wonder how different things would've turned out if a) their starter didn't get injured two weeks into the season, b) they had a suitable replacement, and c) they didn't wind up losing their first 11 games as a result.
5. I lied about having your cake and eating it too earlier, because the Predators seem to have figured it out. Pekka Rinne has been very good this season, proving that any chatter about his demise was premature. And yet I still couldn't possibly be more all-in on the Juuse Saros Experience. Rinne may hold him off for a year or two longer as the incumbent, but if Saros keeps this up it'll be just a matter of when and not if he steals the job and immediately lights the hockey world on fire. Go and buy any remaining Saros shares you can while they're still available and affordable.
[relatedlinks]
6. Barring some sort of completely unforeseen event, Andrei Vasilevskiy will and should win the Vezina Trophy this season. I can't tell whether Capitals fans should be laughing or crying when they see everyone excitedly falling over themselves about a team that has a high octane offence, the league's top goalie, and is running away with the Eastern Conference regular season crown.
7. What's not to like about the Boston Bruins right now? No team controls a larger percentage of the five-on-five shot share and they're fourth in expected goals. They're 13-0-3 over the past calendar month and haven't lost in regulation since December 14. They haven't just beaten teams, either, they've demolished them by a 65-28 margin during that time. They have undoubtedly the best line in hockey, and – if Charlie McAvoy can come back without any complications – a defence pair that can cut the game in half.
Another big part of what makes it easier to take them seriously as a contender right now has been Tuukka Rask's resurgence. After being mired in an alarming decline since 2014, he's finally back up over .920 SP for the first time in the past three seasons. If we're going to take Boston seriously as Tampa Bay's biggest threat out East, he'll need to hold up. It definitely helps that Anton Khudobin has also bounced back as his backup after a year from hell.
Every time Rask sat out last season was nearly a guaranteed loss for the Bruins, and now they can afford to play the long game with an eye on sustaining a long playoff run this Spring.
8. The following graphic is a useful hypothetical exercise. It essentially compares how every goalie has done in their current situation versus how one performing at a league average level would do under the same workload. So for example, Vasilevskiy has given up roughly 20 fewer goals against than a generic league average goalie would've facing the same number of shots against. It obviously rewards goalies who have done exceedingly well under heavier workloads, which is fine because that's relevant for this discussion.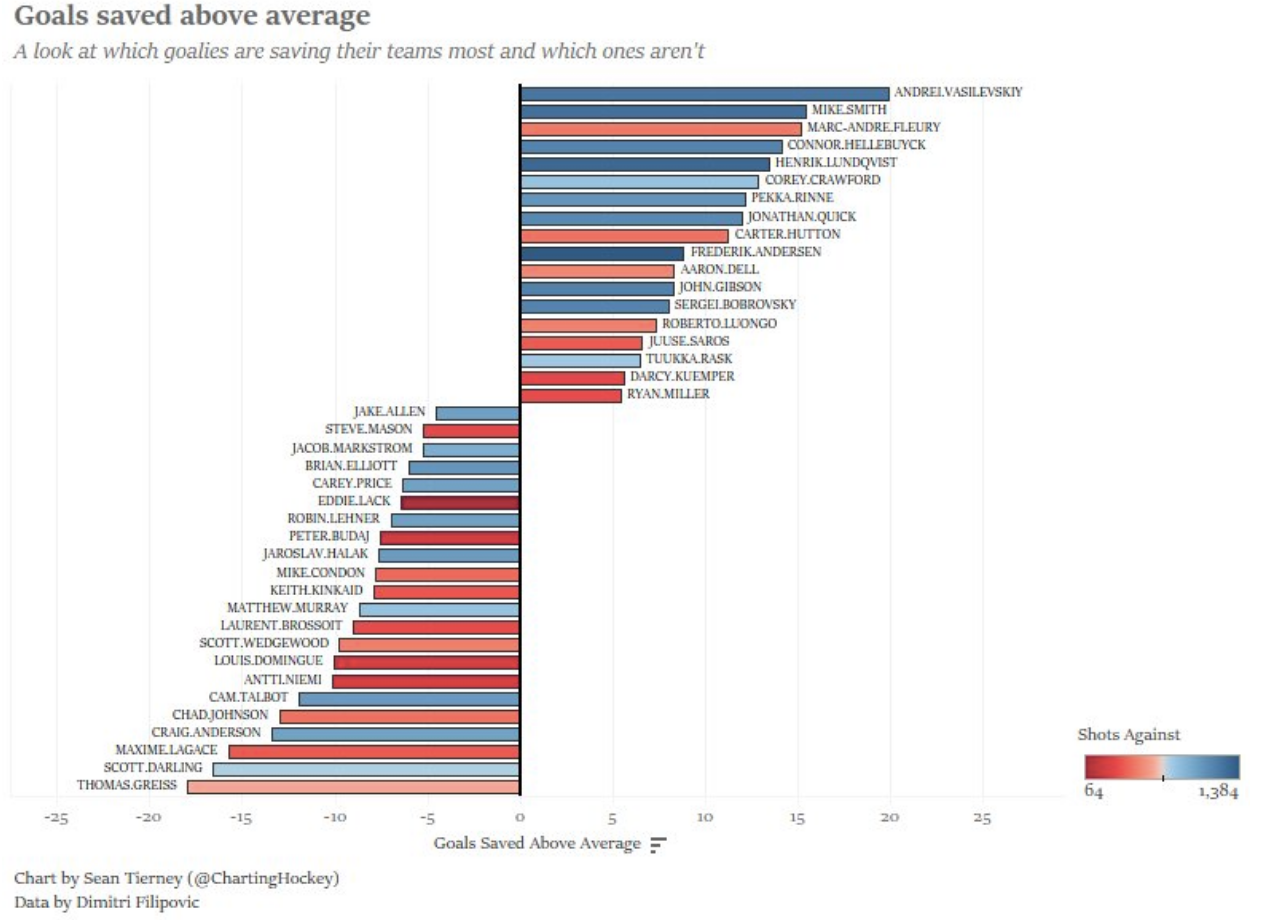 Mike Smith's name jumps off the page and he's been nothing short of spectacular in his first season in Calgary. All of the credit where it's due to both him and the Flames, because I certainly didn't expect him to be this good for them.
Based on how much he's been relied upon, particularly early in the year when Calgary was struggling in front of him, he certainly deserves to be right up there in the Vezina discussion right now.
It's also worth noting that the Flames' year-long numbers are a bit misleading because of how bad Eddie Lack was in his brief stint as the backup. Since moving on from him the job has gone to David Rittich, who's been excellent in the rare instances he's been called upon.
9. One of my favourite hockey parlour games this summer was the question of 'who ya got this year: Carolina or Winnipeg?' as the team more likely to finally take the next step and reward all of the hype that's been heaped on them for years.
The correct answer has obviously proven to be the Jets by a landslide, as they currently sit atop the Central Division, while the Hurricanes remain in their customary spot on the outside looking in.
Above all else the reason for that comes down to goaltending, which may seem overly simplistic, but it's true.
| Season | Jets Save % Rank | Hurricanes Save % Rank |
| --- | --- | --- |
| 2015-2016 | 28th | 29th |
| 2016-2017 | 28th | 27th |
| 2017-2018 | 7th | 28th |
Connor Hellebuyck has been splendid in Winnipeg, realizing his vast potential and taking off as a bonafide stud this year. Unsurprisingly, the Jets have taken off with him backing their high-powered offence.
Meanwhile, the calculated bet Carolina made on Scott Darling has been a disaster. There was reason to be skeptical heading into the season about whether he'd be able to carry over his success in a new environment under a greater workload, but this has been the worst case scenario. Until he's able to figure it out and Carolina is able to get a consistent supply of saves, they'll be hard-pressed to make the leap regardless of how much talent they have.
10. One final note: stop me if you've heard this before, but the New York Rangers are relying on Henrik Lundqvist to do essentially everything for them this season.
No team has used their starter more often than they have. On the one hand, that seems less than ideal considering he's about to turn 36 years old and has north of 900 NHL (regular season and playoff) games to his name already. On the other, if anyone can do it with nary a hair out of place it's probably Lundqvist.
| Goalie | Pace for Games Played |
| --- | --- |
| Henrik Lundqvist | 70 |
| Mike Smith | 70 |
| Frederik Andersen | 69 |
| Andrei Vasilevskiy | 68 |
| Connor Hellebuyck | 67 |
| Sergei Bobrovsky | 67 |
| Jonathan Quick | 67 |
| Jimmy Howard | 65 |
| Cam Talbot | 65 |
| Brian Elliott | 65 |
| Ben Bishop | 64 |
| John Gibson | 64 |
The Rangers are in an unenviable spot regarding how to approach the trade deadline. They've got a handful of players who are set to walk for nothing this summer and would presumably fetch some sort of reasonable return from a contender in a trade. Considering just how little draft capital they've had over the years, thinking ahead seems like the most prudent move for them.
At the same time, they're close enough to a playoff spot that it's easy to see why they should make a push, too. Lundqvist is having a bounceback season after last year's uncharacteristic dip, and at this point who knows how many more of these he has in him? It'd be a shame to willingly flush one of the last few great ones down the toilet. While there's no question the Rangers are largely a flawed team, they still have enough talent around Lundqvist that he could potentially lead them to make some noise in the Stanley Cup Playoffs.
Sadly, that internal debate perfectly captures the blessing and curse of having one of the few true difference-making goalies in the league. It also neatly summarizes the neutral position the Rangers have been stuck in for most of the Henrik Lundqvist Era, trying and failing to maximize the career of an all-time great.