The Montreal Canadiens and Tampa Bay Lightning have completed the first blockbuster trade of the 2017 off-season with Montreal acquiring Jonathan Drouin and a conditional sixth-round draft pick in 2018 and sending top prospect Mikhail Sergachev and a conditional second-round draft pick in 2018 to Tampa Bay.
The reported conditions on the draft picks are that if Sergachev plays 40 or more games in the NHL next season, there are no picks exchanged at all.
The implications of the trade are pretty clear. The Canadiens are in 'win now' mode and needed to beef up their scoring ability, specifically in terms of playmaking, and sacrificed the future of their blue line (for the second straight summer) to do so.
Long term, there's no doubt that losing Sergachev will be tough on the Canadiens. Their defence core is old, with three of their prospective top-four at or over the age of 30 by October (if they're able to keep Jordie Benn), but their window to win is now, so the future is less of a concern.
Engels on Habs acquiring Drouin from Bolts for Sergachev
June 15 2017
Tampa Bay, on the other hand, gets a cost controlled, young asset with loads of potential at an area of need, getting them out of salary cap and expansion draft trouble in the process.
Because Sergachev is a prospect, though, even if he's a great one, this looks like a bigger win for the Canadiens early. Drouin has become a difference maker as an NHL scorer over the past two seasons, and addresses a specific area of need for the Canadiens.
Montreal struggled to score goals this past season, but it wasn't due to lack of scoring chance creation or shot generation — they were quite good at both, especially at even strength. What the Canadiens struggled to do was create pre-shot movement on their attempts from the slot and shots off the rush.
The Canadiens' forwards ranked 24th in the NHL in successful passes to the slot per 20 minutes at even strength, with their average forward completing just 0.8 per 20, with only one forward in the top-90 in successful passes to the slot (Radulov) and only four in the top-270 among forwards (Pacioretty, Galchenyuk, and Danault joining in). To make matters worse, they were also 30th in the NHL in pass to slot completion rate at 31.7 per cent, meaning when they did attempt to create offence, they were constantly turning the puck over.
Drouin gives them a legitimate threat in terms of playmaking and scoring up front that they desperately needed, and that will look even better if the Canadiens can convince themselves to keep Alex Galchenyuk and try him at centre again.
Let's look at how Drouin fits in offensively compared to the rest of the Canadiens' forward group.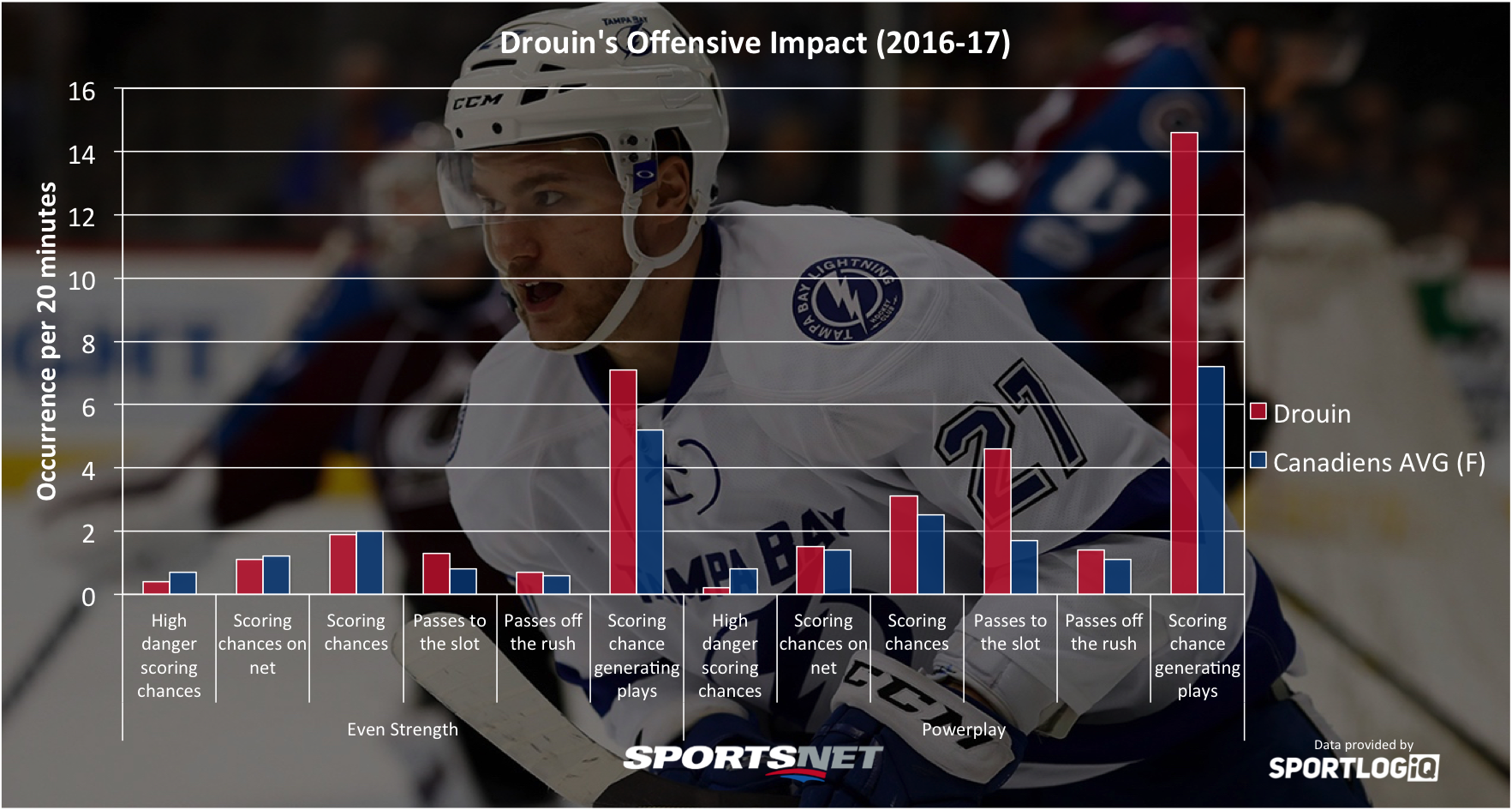 Despite his increased shot rate this year, Drouin isn't a big-time sniper by any stretch, preferring to shoot from the perimeter more often than not. However, he is an elite-level playmaker, ranking in the top-20 in scoring chances created for his teammates at even strength and on the power play.
He immediately becomes the Canadiens' second-best playmaker should they manage to keep Radulov, and even if they aren't, Drouin is a capable replacement with upside and age on his side.
Where this trade really could help the Canadiens is if they decide not to move on from Galchenyuk for the time being, and re-try the experiment at centre ice with Drouin on his left. That would give him a winger who can keep up with his attacking-off-the-rush style of play, and bring out his elite shot with a high-end playmaker at his side.
The Canadiens moving Subban and Sergachev in back-to-back summers has certainly poked major holes in the future of their blue line, but this time they brought in something they desperately needed.
The question going forward is whether the Canadiens really beefed up their forwards, or if they end up treading water by losing one or both of Galchenyuk and Radulov.