Auston Matthews, or Patrik Laine?
The Toronto Maple Leafs had the choice and chose Matthews, the prototypical franchise centre, with the Winnipeg Jets turning their lottery luck into the sniper back at the 2016 NHL Draft.
As much fun as it has been to watch the young talents thrive since joining the league, it's also been fun to compare the two! (It's also fun to re-visit their first meeting as NHLers, which ended with a Laine hat trick being scored in overtime as the Jets overcame a 4-0 deficit. Game-winner attached in the video player above.)
NHL 19, the latest in EA Sports's popular hockey video game series has been releasing its player ratings over the last little while, and its top 50 players have been revealed in 10-player instalments.
The latest saw players 30-21 revealed, and look who just can't stay away from each other?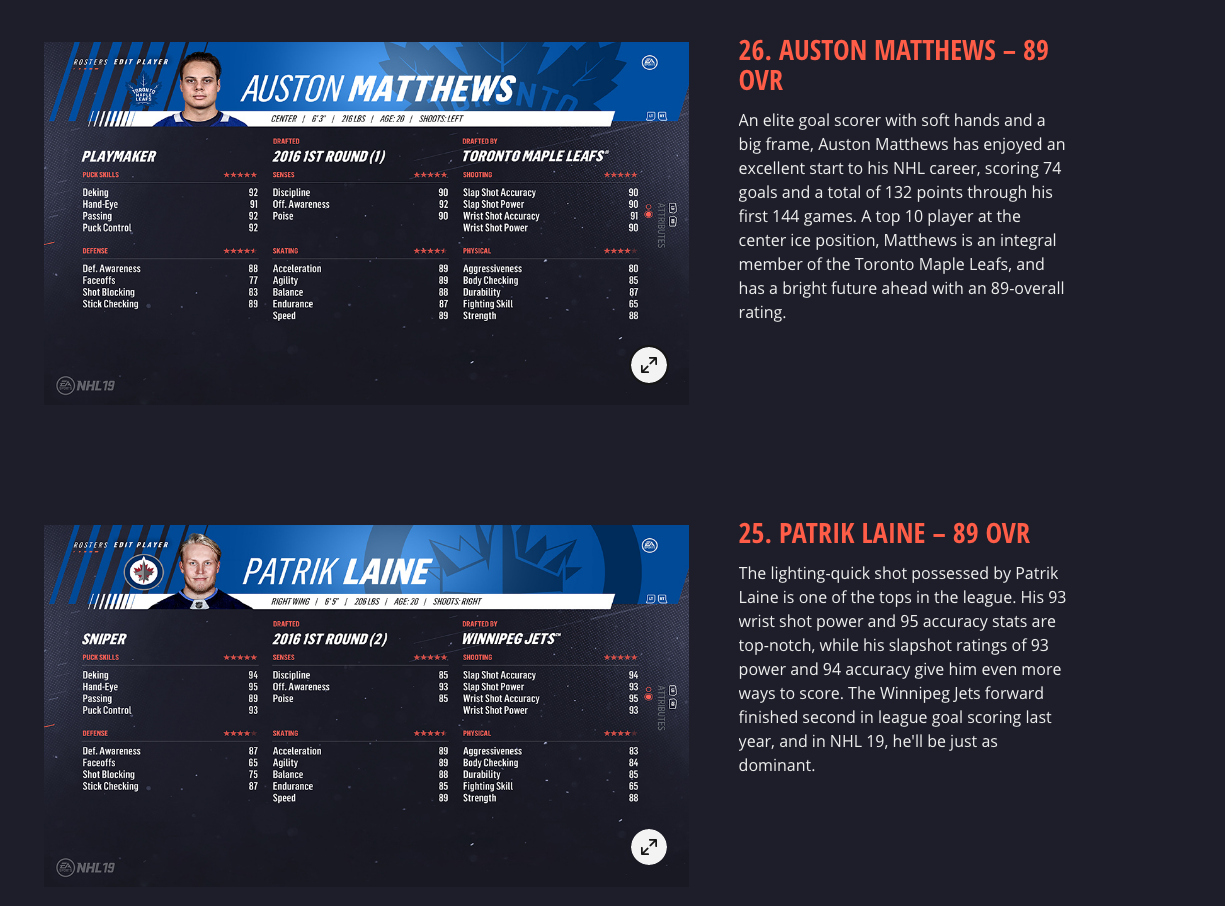 Both players got identical 89-overall ratings, with some small differences in how they got there.
Laine gets the obvious edge in shooting, with mid-90s scores in both wrist shot and slapshot categories. Matthews gets low 90s for both as well, which seems a bit odd (has he ever actually taken a slapshot?).
Their skating ratings are somewhat surprisingly identical save for a small gap in endurance, given skating being one of few areas in which Laine has room for improvement.
Fans of both teams are mighty happy with what they came away with in 2016. The Jets already have a bona fide No. 1 centre in Mark Scheifele – also an 89 overall, by the way – and have found a player in Laine whose calm demeanour and Finnish upbringing fit perfectly in the hockey-mad and winter-welcoming city that is Winnipeg. The Leafs meanwhile, needed someone to be the face of their turnaround and in Matthews landed a player worth tanking for.
Jack Eichel, taken second overall in 2015 and often compared to Matthews himself, hasn't had his rating released yet, which would suggest either a top-20 ranking or a spot outside the top 50 altogether.