One of the biggest early surprises from last season for me was Leon Draisaitl, who was putting up scoring chances – and goals — like an elite scorer, and doing it on a bit of sad sack Edmonton Oilers team. However, down the stretch he fell apart quite severely.
Normally a 19-goal, 51-point season for a 20-year-old is nothing to be upset with, but the great first half set expectations extremely high. A similar start this season, with 13 goals and 26 points in 31 games, has expectations ramped right back up for Draisaitl, but the question is whether he can sustain it this time.
In order to do that, we need to look at what kinds of shots Draisaitl is producing, and considering over half his goals have come on the power play, we'll look at the power play numbers too.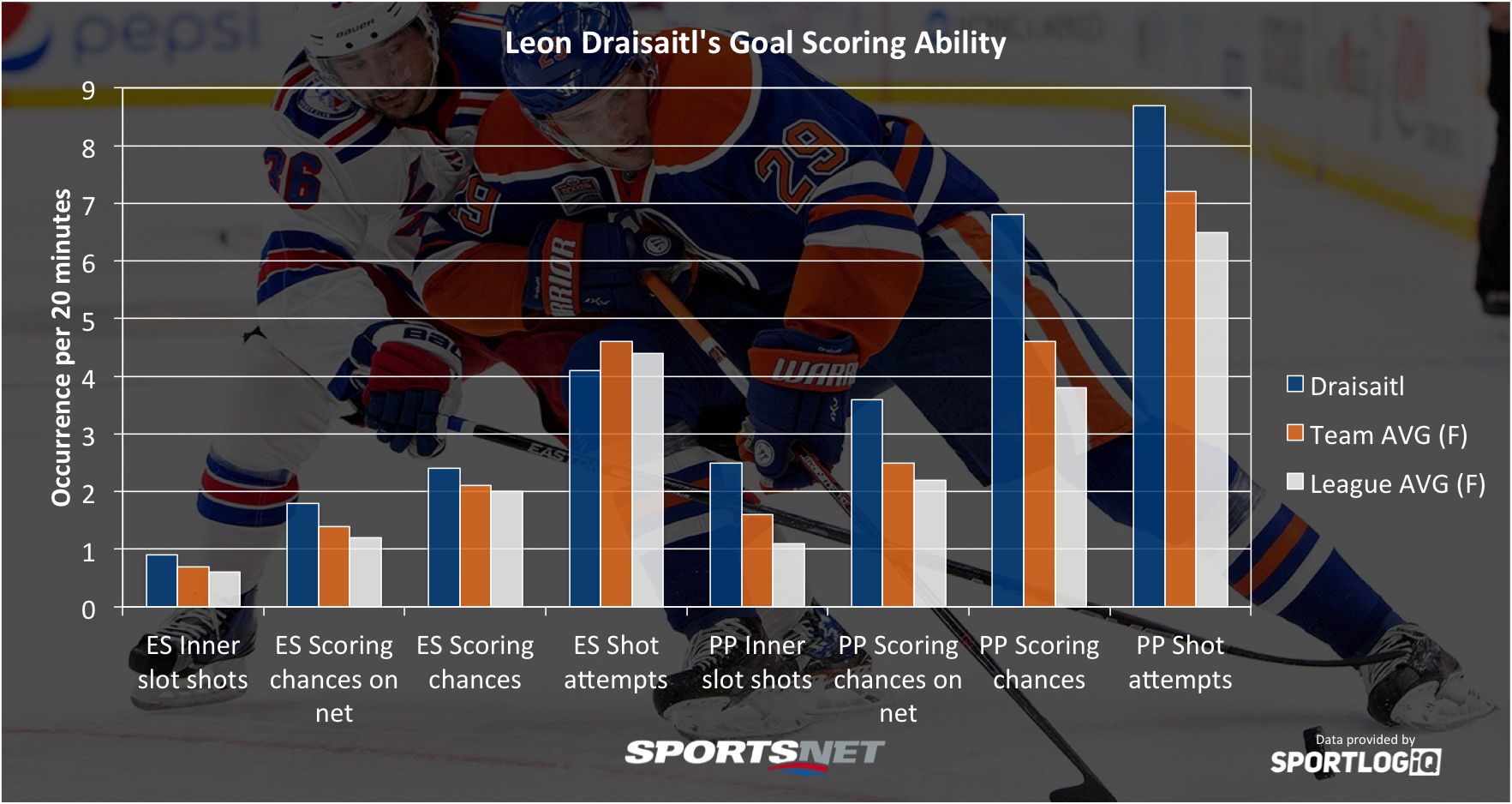 The disappointing news for the Oilers is that Draisaitl's even strength numbers aren't as strong as they were during his hot streak last season, but he's still above team average in terms of generating good chances, and that's especially impressive in Edmonton this year, since the team as a whole is very good at creating chances.
Draisaitl produces the fourth-most scoring chances on the Oilers, behind Connor McDavid, Jordan Eberle, and Milan Lucic, but only McDavid gets more scoring chances on net than he does. And only McDavid gets more scoring chances from the inner slot, where expected shooting percentage is over 22 per cent.
Where Draisaitl is blowing everyone else out of the water so far though, is on the power play. With the man advantage, Draisaitl is the Oilers' biggest scoring threat, producing the most inner slot chances and scoring chances overall – Milan Lucic is the only other player close to him.
However, the thing about power plays is there aren't very many of them, and even with the number of scoring chances Draisaitl is producing, they don't justify a 33.33% shooting percentage.
So what does this all mean for Draisaitl's future goal scoring? In terms of power play production, it will absolutely slow down, but he should stay very productive there overall. That could mean only another seven power play goals the rest of the season though. In terms of even strength play, it's possible Draisaitl could see an increase in goal scoring, but in order for it to be a sustainable uptick, he needs to increase his shot attempts overall and not just his scoring chances.
It's true that shot quality drives scoring more in small samples than shot volume, but long term there aren't many high-end scorers who are 12th on their team in shots per minute played.
Draisaitl could be an exception to that rule — he certainly has the talent and draft pedigree to be — but the likelihood of him becoming a consistent 30-plus goal scorer would be much greater if he increased his volume.
There's another angle here as well. Part of the reason Draisaitl couldn't keep up his scoring pace last year was his game was a bit too predictable.
Last season Draisaitl had a significant amount of trouble successfully passing the puck to the slot and so he went all out as a shooter. His shots led to a lot of rebounds that his teammates cashed on, but overall his primary assist numbers weren't great.
This season only McDavid is successfully passing to the slot more often than Draisaitl on the Oilers, and as a result Draisaitl is third on the team in primary assists for a huge increase. That variability in his game makes him a more unpredictable offensive threat, which should open more shooting opportunities for him in the future.
It's probably not going to be the 35-goal season Draisaitl is on pace for, but a 25-goal season is almost a lock, and if he gusts up to 30, no one should really be surprised.