The Edmonton Oilers will begin next season with a $4.5-million backup goalie in Mikko Koskinen, whose situation personifies what has happened with the Oilers as an organization: an inexplicable contract from an inexplicable team.
While the rest of the hockey world still wonders aloud, "Why on earth would a team offer a three-year, $13.5-million contract to a 30-year-old goalie with such a small sample size in the NHL?", the Oilers have moved on to their own questions. The primary one being, "Can a goalie who turns 31 in July learn to have a stronger glove hand?"
Alas, the six-foot-seven Koskinen, dubbed "The Three Metres of Koskinen" by the Finnish media, has been at times so leaky in the Oilers net that perhaps "The Three Litres of Koskinen" is a more accurate moniker.
The book is out, and every NHL player is shooting glove side on Koskinen. That will continue until he proves he can catch more pucks, an area that has been shaky since the first day we saw Koskinen at training camp last September.
[relatedlinks]
Whether or not he improves, the Oilers are stuck with the contract. They will seek to pair Koskinen up with a partner who can help him to carry the ball next season.
But can they rehab Koskinen, who spent his prime years in the mostly Russian Kontinental Hockey League, where the game is vastly different from a goaltending perspective? Goaltending experts point to Koskinen's leaky glove hand and blame it on his inability to be "set and square" when the shots are being fired.
"(Goalie guru) Benoit Allaire would say, 'Beat the play. Solve the equation,'" said Kevin Woodley of InGoal Magazine. "So much of the game is about being in position, and being in position is not just about being in the middle of the net. It really is about being set and square, and on most of the glove saves, he is neither set, nor is he square. Not all, but most.
"Your footwork is what allows you to beat those plays," Woodley explains. "You beat the play with your footwork. The faster you're there the more time you have to pick up all the information. Is he passing? Is he shooting?"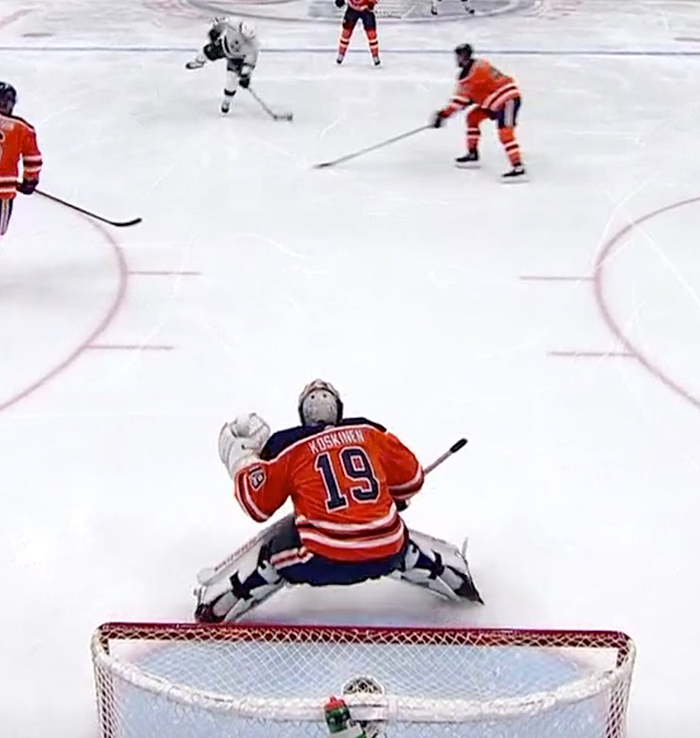 We'll assume Koskinen didn't have these problems during four KHL seasons in which he posted a save percentage of .921 or better. So why here in North America?
Simple: shots on goal and scoring chances come faster and more frequently in the NHL. That's why Koskinen is behind the play, leaning the wrong way and not getting set for shots. NHL players are better than KHL players, puck movement is faster, the rinks are smaller and the scoring chances are of a higher pedigree.
That's why so many people — including myself — were skeptical when Edmonton pulled Koskinen out of Russia and gave him a one-year, one-way deal worth $2.5 million. There is simply no history of goalies coming from the KHL and having success as starters in the NHL:
• Pavel Francouz led the KHL in save percentage in 2016-17 (.953) and 2017-18 (.946). He came over to Colorado's organization this season, where he earned $690,000 while posting a .918 in the AHL.
• Former Oiler and Anaheim Duck Viktor Fasth posted a .929 save percentage for Red Army, long after he was deemed not to be an NHL goaltender.
• While Tampa's Andrei Vasilevskiy, Colorado's Semyon Varlamov and Columbus's Sergei Bobrovsky came to North America as 20-year-olds, older goalies have had very little success making the transition from the Europe to the NHL. See: Jonas "The Monster" Gutavsson.
[snippet id=3816507]
The assets that Koskinen has on his side are a dogged work ethic and a high compete level even when things aren't going well. He's on the practice ice before every practice working on his game, a very good sign.
You could point to Vancouver's Jacob Markstrom — who is just 18 months younger than Koskinen — as a goalie who found a way to improve his game late in his 20s. Markstrom has been in North America since 2010, and this season gave the Canucks the best goaltending he has given a team in his NHL career — at age 29.
"You have to take that as a positive example," Woodley said. "Even the fact that Koskinen has been talking about his footwork shows that he understands the game, and what needs to change. It's just really hard to do it on the fly."
The summer will be important for Koskinen, an old dog who needs to learn some new tricks. And fast.