From crushing playoff losses to soaring international triumphs, Dale Hawerchuk has a lot to reflect back on when it comes to the Winnipeg Jets chapter of his NHL career. But on the occasion of his enshrinement into the Jets Hall of Fame, 'Ducky' simply sounded like a hockey guy still in awe over his hockey life.
"Everyday being in the NHL, man," said Hawerchuk when asked if one Winnipeg memory stood out above the rest. "I was the only guy from my street who made it; we all wanted to make it."
Hawerchuk — whose nickname was cheeky commentary on a unique skating stride — did much more than that. In 713 games with the Jets, he registered 379 goals and 550 assists for 929 points. On Tuesday night, he stood beside two other members of the Jets Hall of Fame — Anders Hedberg and Ulf Nilsson — and watched his No. 10 ripple in the Bell MTS Place rafters.
"Everything about the Jets was huge to me," said Hawerchuk, who spent five seasons wearing the 'C' in Winnipeg. "Not many guys make the NHL at 18 and I can tell you, the first two weeks [of training camp], I didn't think I was going to make it [either]."
That, of course, was never going to be the case. And while the first overall pick in the 1981 draft surely would have done just fine wherever he landed, Hawerchuk — who now coaches his son, Ben, with the Ontario Hockey League's Barrie Colts — clearly feels his career was enhanced by landing in Winnipeg.
It was a reciprocal relationship.
Winnipeg won just nine games in 1980-81 during the club's second season in the NHL. Then along came Hawerchuk, who won the Calder Trophy thanks to 45 goals, 58 assists and 103 points, as the Jets secured a playoff berth in his rookie campaign.
"It was such a good fit for me," he said. "I was hockey crazy and so was this town and this province."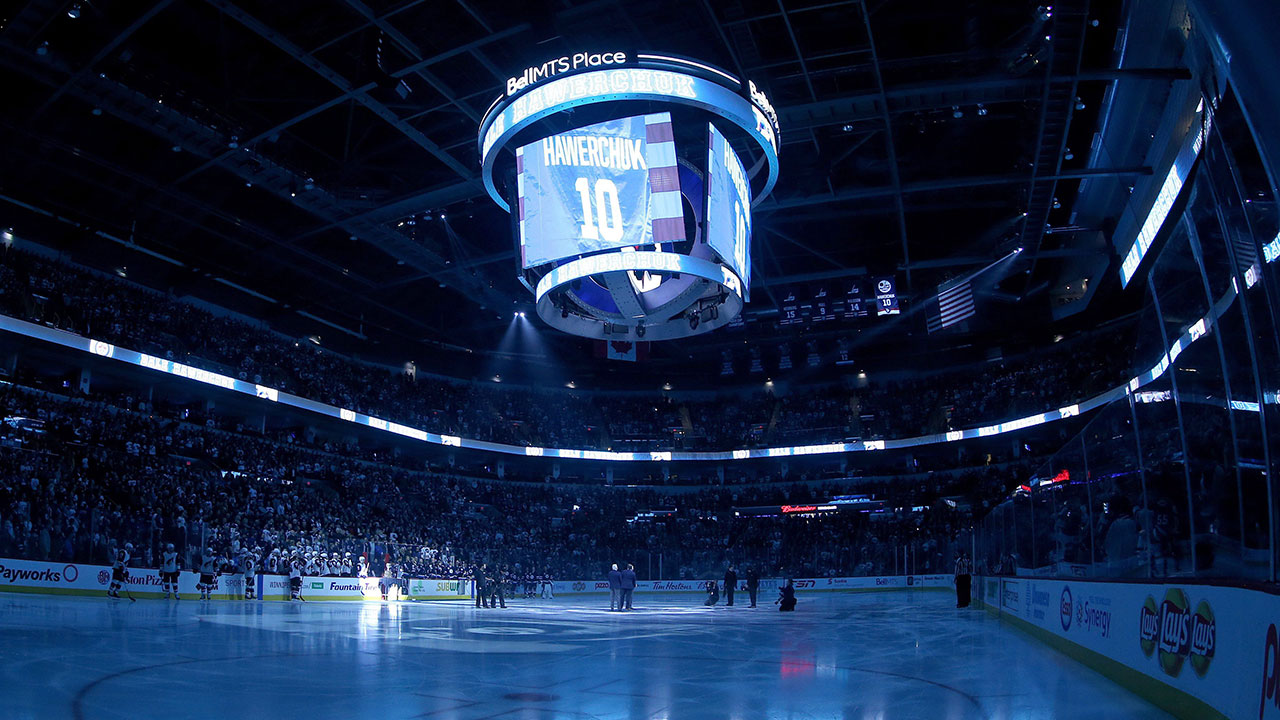 Former Winnipeg Jets great Dale Hawerchuk has his banner raised to the rafters of Bell MTS Place prior to their game against the Arizona Coyotes. (Trevor Hagan/CP)
Like many of his teammates, Hawerchuk became embedded in the Winnipeg and greater Manitoba community. He saw much of the province either golfing or playing softball and logged as much downtime as possible at his cottage in Gimli, a lakeside community about an hour north of the city.
While playing in a hockey-mad place can wear on some, Hawerchuk thrived on it, allowing the passion of the fans to push him forward.
"One thing about living in Winnipeg, once we got outside the rink we got a lot of opinions from people," he said. "You walk on the streets outside, everybody knows who you are. You want to walk proud."
Pride in the team swelled during the 1985 post-season, when the Jets knocked off the Calgary Flames for their first-ever playoff series victory. Unfortunately for Hawerchuk, his spring ended early thanks to a whack from the stick of Flames defender Jamie Macoun. Watching his team get bounced by the powerhouse Edmonton Oilers in the next round while nursing broken ribs was devastating.
"It hurt even more because you felt like, we're not that far off from winning this thing," said Hawerchuk, who finished runner-up to Wayne Gretzky in Hart Trophy voting that year.
Though the Jets — placed in the stacked Smythe Division — were only able to win two playoff series during Hawerchuk's nine years with the club, he represented the franchise on Team Canada at the 1987 Canada Cup. While talk of the tournament-winning goal is usually all about, "Gretzky to Lemieux," Hawerchuk had a hand in the decisive play against the Soviet Union. He was the one who scrambled the defensive zone draw, allowing Lemieux to chip the puck to Gretzky and start the rush. As the Soviets raced back toward their net, Hawerchuk gave the opposing centre, Vyacheslav Bykov, a tug that would land you in the box today, no questions asked. Back then, it was just called creating a little space for greatness.
"I'll go to my grave saying he dove," Hawerchuk said with a wry smile.
The '87 Canada Cup is just a single highlight on a resume that includes winning the same tournament in 1991, back-to-back Memorial Cups with the Cornwall Royals in 1980 and '81, five productive seasons with the Buffalo Sabres and induction into the Hockey Hall of Fame in 2001.
The one thing missing, naturally, is a Stanley Cup. And there's no doubt where Hawerchuk always imagined that happening.
"For me, this was a special place," he said. "This would have been the place to do it and I hope I see it here one day."