MONTREAL—The way Daniel Briere tells it in his recently released autobiography Mister Playoffs, he went to bed one night at the beginning of the 2000-01 season convinced he'd wake up as a member of the Montreal Canadiens.
The kid from Gatineau, Que., who had scored 416 points in 198 games with the Drummondville Voltigeurs in the QMJHL before being drafted 24th overall in 1996, appeared to be on the outs with the Phoenix Coyotes. He had scored 36 goals and 92 points in 68 AHL games with the Springfield Falcons in 1997-98, managed respectable production in spite of being used sparingly over parts of the next two seasons in Phoenix, but had failed to gain the trust of Coyotes coach Bob Francis and had been placed on waivers just two games into the 2000-01 campaign.
That's when the team Briere grew up cheering for had first expressed an interest in him.
"The one thing that was scary at the time was that I had a two-way contract and my NHL salary was over $700,000 and my salary in the AHL was $30,000," said Briere in a telephone interview with Sportsnet this past Sunday. "If you got claimed on waivers then, teams had to keep you for a minimum of 28 days.
"Montreal was afraid to pick me up because my contract was so lopsided in NHL money, but that's when my agent (Pat Brisson) talked to the Canadiens and had agreed with them that we'd raise my salary in the minors to about $75,000 and cut my NHL salary in half. And I was totally fine with that because all I wanted was to play in the NHL. I was happy. I knew we had a done deal."
Briere says in the book he had suffered the most devastating blow of his career when he woke up the next morning and was told by the Coyotes he'd be returning to Springfield, Mass. And it'll probably be a tough one for Montreal fans to absorb, learning that the purported reason the Canadiens didn't follow through on claiming Briere was because they didn't want to free up a roster spot by trading or waiving forward Juha Lind, who had spent a total of 60 games over two seasons with the team and scored a measly four goals and six assists before never appearing in the NHL again.
As for Briere, he found his way back to Phoenix, scored 11 goals in 29 games with the Coyotes to close out 2000-01, and started on the path to becoming the player who managed 307 goals and 696 points in 973 regular-season games before retiring as one of the greatest playoff performers the NHL's ever known.
Mister Playoffs, as told by Briere to Radio-Canada reporter Martin Leclerc, is a riveting read (in French) that takes you through the highlights of his life and his hockey career.
After ripping through it, we had to talk to Briere about that first brush with the Canadiens, about his decision as a free agent to choose the Philadelphia Flyers over them in 2007, and certainly about how he scored 116 points in 124 playoff games.
We also made sure to touch on the tumultuous relationship he and former coach Michel Therrien formed when the two were members of the Canadiens during the 2013-14 season.
[relatedlinks]
SN: The book is filled with all kinds of fascinating material. Though we can't run through it all, we'd like to start with you on the subject of becoming an unrestricted free agent for the very first time. You had just completed your fourth season with the Buffalo Sabres, recording 95 points and co-captaining (with Chris Drury) the team to a Presidents' Trophy and a run to the Eastern Conference Final. How was the experience of going to market as one of the most sought-after players in the world?
Daniel Briere: "Very nerve-wracking, demanding, and it's weird because you go in not knowing if there's going to be interest. You have a feeling, but there are no guarantees you'll get what you think you might be worth. You don't know what the offers will look like.
"Five minutes into free agency I was completely relieved knowing that we had many, many teams call and many offers on the table that already went over and above my expectations. So the worry over whether or not a team I was interested in would call or whether or not I made a mistake not negotiating further with Buffalo all went out the window right away. That was a good feeling.
"But then comes the process of figuring out the best place to go, and we started weeding teams out until we had the Flyers, the Canadiens and the New York Rangers. And I was in contract with Chris Drury also, and when he told me he wanted to go to the Rangers that made it easy for me to call the Rangers and say I was out and that I was opening up the doors for Chris to go there.
"Then we had to focus on Montreal and Philly and there was a lot of back-and-forth trying to take in all the pluses and minuses on each side. At the end of the day, it was very close until we came to talking about the players on each team. I felt the young players coming up on the Flyers' side—Mike Richards, Jeff Carter, Scottie Upshall, Braydon Coburn—and having a chance to play with Simon Gagne and Mike Knuble tipped the scale on their side."
SN: The book reveals that the Canadiens assured you they would match any offer, and it goes into detail about how they presented their interest. Can you share with our readers just how far they went to get you?
Daniel Briere: "Someone showed up at the door, as soon as free agency opened, with a package from the Canadiens. Talking to [Canadiens legend] Jean Beliveau, talking to [Canadiens legend and then-GM] Bob Gainey—it was almost surreal to be courted by the greatest hockey organization in the world. They gave me a DVD with Kiefer Sutherland (who at the time was playing a starring role in the critically acclaimed television series 24) in a Canadiens jersey pitching me on the team and the city. My wife at the time was crying when she saw that.
"They did it all right. There's nothing you could say that they missed the boat on with their presentation. Their presentation was simply amazing. It touched my heart, and that's why it hurt so much to turn it down."
[snippet id=3638287]
SN: The book is called Mister Playoffs for a reason. In 2010 you put up 30 points in the playoffs and came within two wins of bringing the Stanley Cup back to Philadelphia. How do you look back at that experience?
Daniel Briere: "It was probably the best two months of hockey I played in my career.
"If I remember correctly, for the first three games of the first series against New Jersey I was held without a point (he remembers correctly) and reporters in Philly were starting to get on me. And then all of a sudden it just exploded. I finished that series strong (with two goals and five points in the final two games).
"In the second round, against Boston, it was definitely one of the best series I've ever played. Had a lot of big goals (Briere scored in five of the seven games and played a huge role in helping the Flyers overcome a 3-0 series deficit and a 3-0 Bruins lead in Game 7).
"The third round against Montreal was probably my weakest performance (he had only two goals and three points in five games), but then the finals came against Chicago. When we came home for Game 3 against Chicago—when [coach] Peter Laviolette called me into his office and told me he was going to match me up against Jonathan Toews and his line because he felt our line's puck possession would match up well against them—that was one of the greatest compliments a coach has ever given me. Without saying much, he was putting me up against the player who was probably the greatest player in the NHL at the time. We answered the bell and performed well." (Briere finished the six-game series with 12 points, falling just one point shy of Wayne Gretzky's record for most points ever recorded in a Stanley Cup Final.)
SN: If you could put your finger on it, what was it that made you consistently rise to the occasion in the playoffs?
Daniel Briere: "I think it's a combination of different factors. Growing up I always dreamed of playing in the playoffs, I always thought going to bed at night that I would score an overtime winner in the playoffs. I always wanted to be the guy that would make the difference. I visualized myself making the difference.
"I remember having conversations with Chris Drury about how most players, when they get in those big moments, they're afraid to make a mistake and afraid to screw it up. But players like us don't even acknowledge that it's a possibility that we might not make the big play happen.
"And if it didn't work out, it just meant my odds went way up for the next time I'd be in that position. Just that mentality of wanting to be in that moment was a mental challenge I wasn't afraid of, whereas a lot of guys are."
[snippet id=3317857]
SN: You finally made it to Montreal after being bought out by Philadelphia in 2013. You say in the book that you had a conversation with general manager Marc Bergevin and coach Therrien that—without being given any guarantees—you'd be used in an offensive role, have a chance to contribute on the power play to help them fill an obvious scoring void. You ended up choosing Montreal over the Nashville Predators, and shortly after your arrival you were put on the back burner by Therrien.
The book describes one particular encounter you had in December of that season, where you were summoned to Therrien's office to review a bad sequence of yours from a previous game and were then told by the coach that, "No one respects you and no one wants to play with you."
How do you process that event now, in retrospect?
Daniel Briere: "I'm sure he had a tactic behind it. I would hope so—with him being a coach. I just don't know and haven't figured out what it was. I would give him the benefit of the doubt of thinking it was tactical and that it wasn't just personal, but only he knows that."
SN: If he had berated or embarrassed you and then given you 16-17 minutes of ice time the next night, would you have understood it better?
Daniel Briere:"Definitely. That's what [Sabres coach] Lindy Ruff used to do. He did that to me a few times, but at least he gave me a chance to redeem myself. If you're doing it to get under the skin of a player, you gotta give them a chance to respond. If you do that and you don't give them a chance to respond, then it really serves no purpose.
"But when you're told that, the first reaction is you start questioning yourself: 'Am I a bad teammate? Is it that bad that nobody likes me, nobody wants to play with me?'
"It's definitely a bad feeling."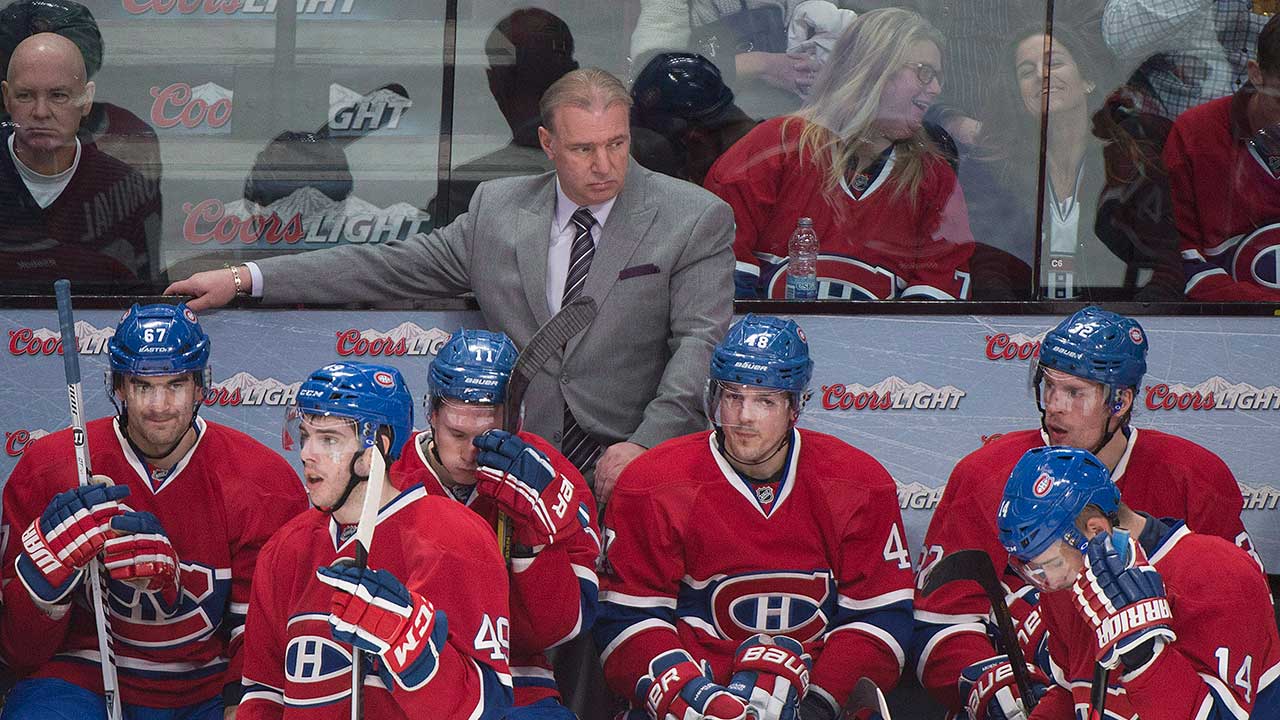 SN: How much worse was it given the pressure of being a French Canadian playing for the Canadiens and feeling like you weren't getting a fair chance to prove you could contribute to the team's success?
Daniel Briere: "I was okay and willing to live with it because all I cared about was trying to find a way to help the team. If the coach or the players didn't feel like I could keep up with them, I wanted to make sure that in the room I could be the best teammate and the best leader to help them through.
"It was the same thing with Michel. I was willing to help him out in the room. I knew he had a bad reputation. I knew that coming in. But I thought he might rely on me to help him out with the dressing room.
"That he didn't was probably the thing I was most surprised with. I don't know if he felt like I was a threat to him, but it's the one thing I wish we could have a redo on."
SN: You came to Montreal having scored 109 points in 108 playoff games, and in the second round of the 2014 playoffs Therrien scratched you for what turned out to be a 4-0 loss for the Canadiens in Game 5. Your teammate at the time, David Desharnais, says in your book that he was absolutely shocked. How did you take it?
Daniel Briere: "That decision to scratch me in Game 5 made completely no sense to me. I'm not trying to be arrogant here. We all have our strengths and our weaknesses, and there's things I know I didn't do well over the course of my career, but the one thing I did was I was a gamer.
"When I saw that, I just couldn't believe it. It made absolutely no sense to me. I didn't know what the thinking was. We ended up getting beat badly that game, so in a sense maybe he did me a favour. I would not have changed the outcome of the game myself, playing on the fourth line.
"But I had an assist in the first game in Boston in overtime, I had a couple of big plays in the sweep over Tampa in Round 1—including the one in overtime when Dale Weise scored. So to me that decision just made no sense. What if we got in the crunch or got to overtime that night? You have someone on the fourth line who has done it many times and has the confidence to do it. It was just baffling to me. It got to the point where I was wondering how much he wanted to win. That's how deep it goes as a player. But at the end of the day he's the coach and he's hired to do that, and I had to go along and had no say. I had to keep moving forward, which I did for the next two games of the series."
Briere played just nine shifts and a total of 8:06 in Game 7 and got the last laugh by setting up Montreal's first goal and adding one of his own to put the Canadiens up 3-1 with less than six minutes remaining, helping them to the Eastern Conference Final.
His book, which is filled with his thoughts on experiences like that, is currently only available in French. But he did mentioned there is a possibility it will be released in English at some point in the near future.