After ranking the top-20 centres, in the NHL over the past three seasons, we're moving on to ranking the total impact of left wingers relative to their peers today. Before we get into it, you can check out 2016's list here, and 2017's list here.
Like the past two years, I owe a lot of thanks for this project to others in the hockey analytics field, like Emmanuel Perry, Dom Luszczyszyn, Steve Burtch, Dominic Galamini Jr., and Tyler Dellow. Their help along the way directly and indirectly influenced this project.
Statistics for this project were collected from SPORTLOGiQ, Natural Stat Trick, Corsica, Puck IQ, Hockey Reference, the NHL's official website, and Dom Luszczyszyn's Game Score database.
This year, in order to get a larger sample size to work with, I lowered the barrier of eligibility for the rankings from 2000 5-on-5 minutes over three seasons, to 2000 minutes overall. This helped to include some promising young players, but there are still rookies from last year who won't make the cut — 113 left wingers qualified for the project.
The weighting of categories for left wingers remains the same as last season; 60 for offence, 25 for transition, and 15 for defence, though there are new statistics added, and the difficulty of minutes adjustment has been changed.
Previously, players could be awarded a maximum of a 25 per cent boost to their score based on the difficulty of their minutes, but this year that was changed to 30 per cent. The mean score for each position was taken and deducted from every individual's difficulty score, so a player could be boosted or knocked down depending on the difficulty of the minutes they were assigned. This difficulty adjustment is already applied to the numbers shown and on the graphics.
Each season was weighted so that recent years account for more of a player's total score, with 22.2 per cent for 2015-16, 33.3 per cent for 2016-17, and 44.5 per cent from 2017-18. If a player only played in two of those seasons the weighting was changed to 42.8 per cent for 2016-17, and 57.8 per cent for 2017-18.
[snippet id=4234155]
Here are the statistics used in each category:
Offence: 5-on-5 and power play goals, primary assists, secondary assists, high danger scoring chances, scoring chances, passes to the slot, scoring chances off the rush, passes off the rush, rebound recoveries, scoring chance generating plays, shot attempts, penalties drawn, on-ice goals for relative to teammates (all per 60 minutes), and offensive zone pass completion rate.
Transition: 5-on-5 outlet passes, stretch passes, controlled carries out of the defensive zone, neutral zone passes forward and east-west, controlled entries into the offensive zone (all per 60 minutes), Corsi for percentage, Corsi for percentage relative to teammates, controlled exit rate relative to teammates, controlled entry rate relative to teammates, outlet, stretch, and neutral zone pass completion rates relative to teammates.
Defence: 5-on-5 and shorthanded loose puck recoveries by zone, blocked passes, stick checks, body checks, blocked shots, puck battles won, penalties taken, on-ice goals against relative to teammates, on-ice shot attempts against relative to teammates, on-ice passes to the slot against relative to teammates, on-ice high danger chances against relative to teammates (all per 60 minutes), turnover rate by zone relative to teammates.
Degree of difficulty: Puck IQ's competition faced percentages (2016-17 only), Game Score's quality of forwards faced, Game Score's quality of defencemen faced, Game Score's quality of teammate forwards, Game Score's quality of teammate defencemen, Corsi quality of competition, Corsi quality of teammates, time on ice quality of competition, time on ice quality of teammates, personal shooting percentage relative to career average, on-ice shooting percentage, on-ice save percentage, defensive zone starts percentage, 5-on-5 ice time, and overall ice time per game.
There's a slight change to the charts this year as well. I'll be showing how players rank both in percentile form — a straight up 'what percentage of their peers are they ahead of — and also the percentage that the player impacts a category compared to the best player at their position, which I'm calling per cent of peak. For example Rick Nash's transition impact is 52.2 per cent of Artemi Panarin's.
Let's get into it.
20. Jeff Skinner
Difficulty adjustment: +3.85%
Offence: 38.64/60 | Transition: 10.19/25 | Defence: 4.42/15
Total: 53.26/100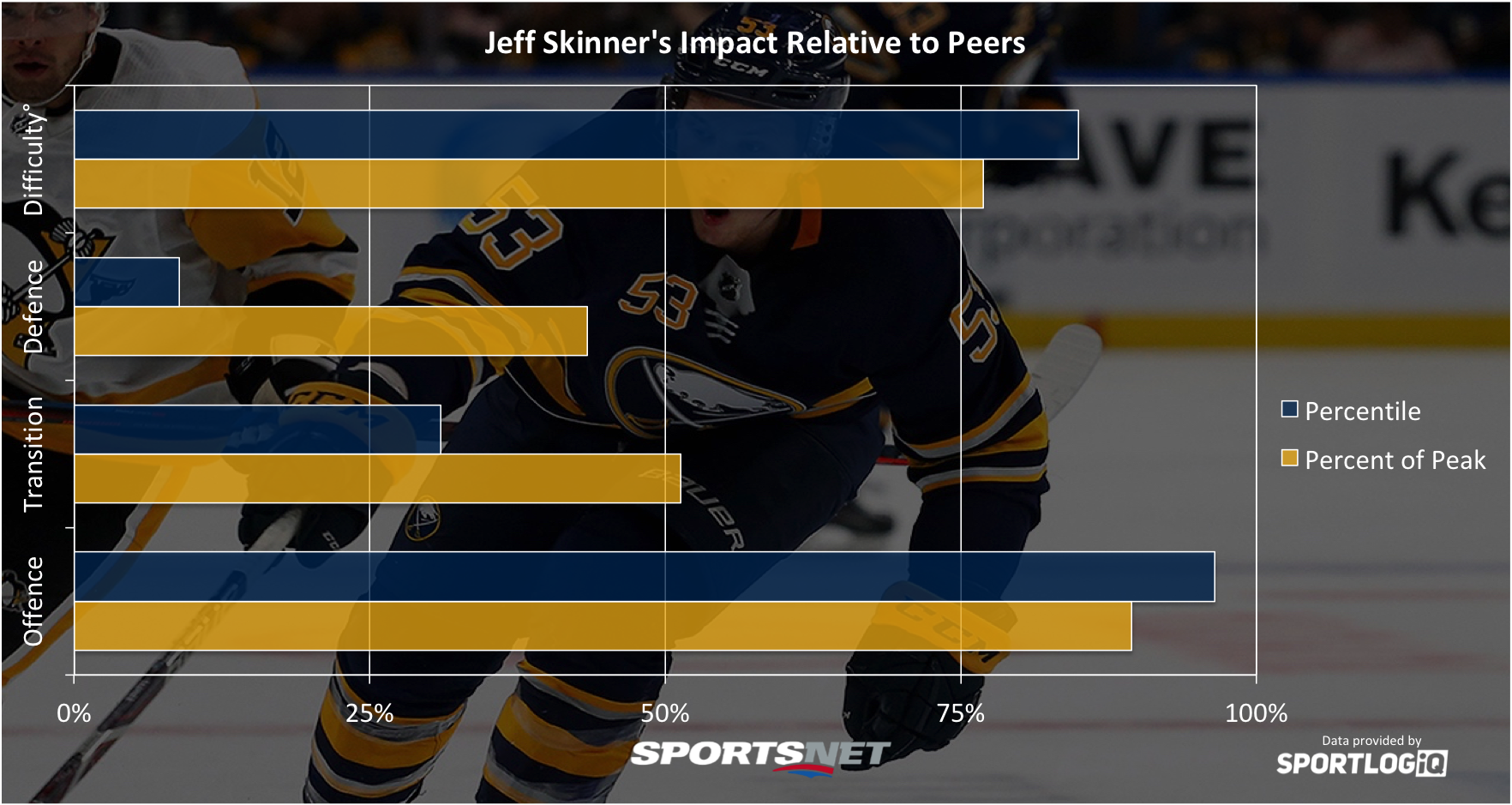 Last year I called Skinner the ultimate elite, one-dimensional player, and that holds true after another season of being a great offensive talent who struggled to get much accomplished outside the attacking zone. Skinner actually makes good choices with the puck at both blue lines, but doesn't engage in transition very often. It's more a question of will than skill, it seems.
A less effective offensive year and another season of missing the playoffs lead to a trade out of Carolina. This might be a blessing for Skinner, because he's likely to play on a line with Jack Eichel, who is one of the top transition players in the league. If Eichel can continually get the puck into the offensive zone, Skinner can be at his best without being as much of a liability everywhere else.
19. Jonathan Marchessault
Difficulty adjustment: +0.63%
Offence: 34.41/60 | Transition: 11.27/25 | Defence: 7.78/15
Total: 53.46/100
After putting up a couple strong seasons for two different teams, Marchessault finally found one that fully believed in him, and he proceeded to have a career season with the Vegas Golden Knights. Marchessault is a strong offensive player who can slot into a line as either the go-to shooter or playmaker. He thinks the game well and has the skill and will to beat another player to get into better position in the offensive zone.
Outside the offensive zone, Marchessault's a little rougher around the edges and struggles with zone exits and entries relative to his peers. He has some trouble moving the puck as well and has a very low pass success rate. Defensively, his biggest strength is that he doesn't turn over the puck in the defensive zone very often, though he's not as involved there as many other wingers on this list.
18. Brandon Saad
Difficulty adjustment: +2.90%
Offence: 30.15/60 | Transition: 15.20/25 | Defence: 8.30/15
Total: 53.64/100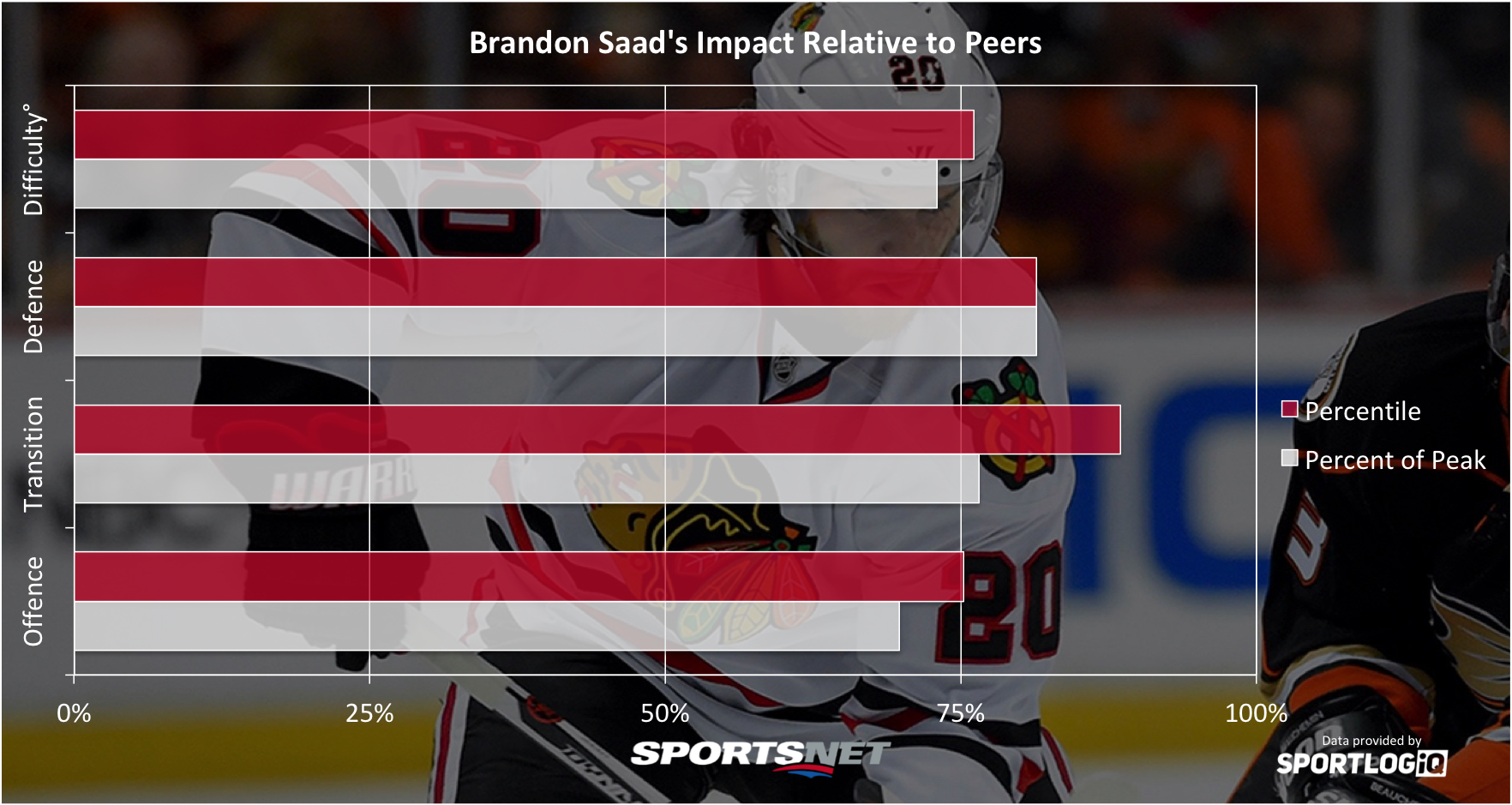 After three straight 50-point campaigns, Brandon Saad had a disastrous first season back with the Blackhawks, shooting at a career low 7.6 per cent, which was well off his career average of 10.9 per cent. The crazy thing is, Saad was one of the NHL's leaders in scoring chances last season. According to all the underlying numbers he played very well, but just couldn't catch a break.
Because of that poor season, a lot of people are now underrating the soon-to-be 26-year-old winger, who remains a fantastic player in all three zones. He's not a player who can do it all himself offensively, but you can plug and play him in essentially any style or line combination and not have to worry.
17. Matthew Tkachuk
Difficulty adjustment: +1.69%
Offence: 31.94/60 | Transition: 15.12/25 | Defence: 7.11/15
Total: 54.18/100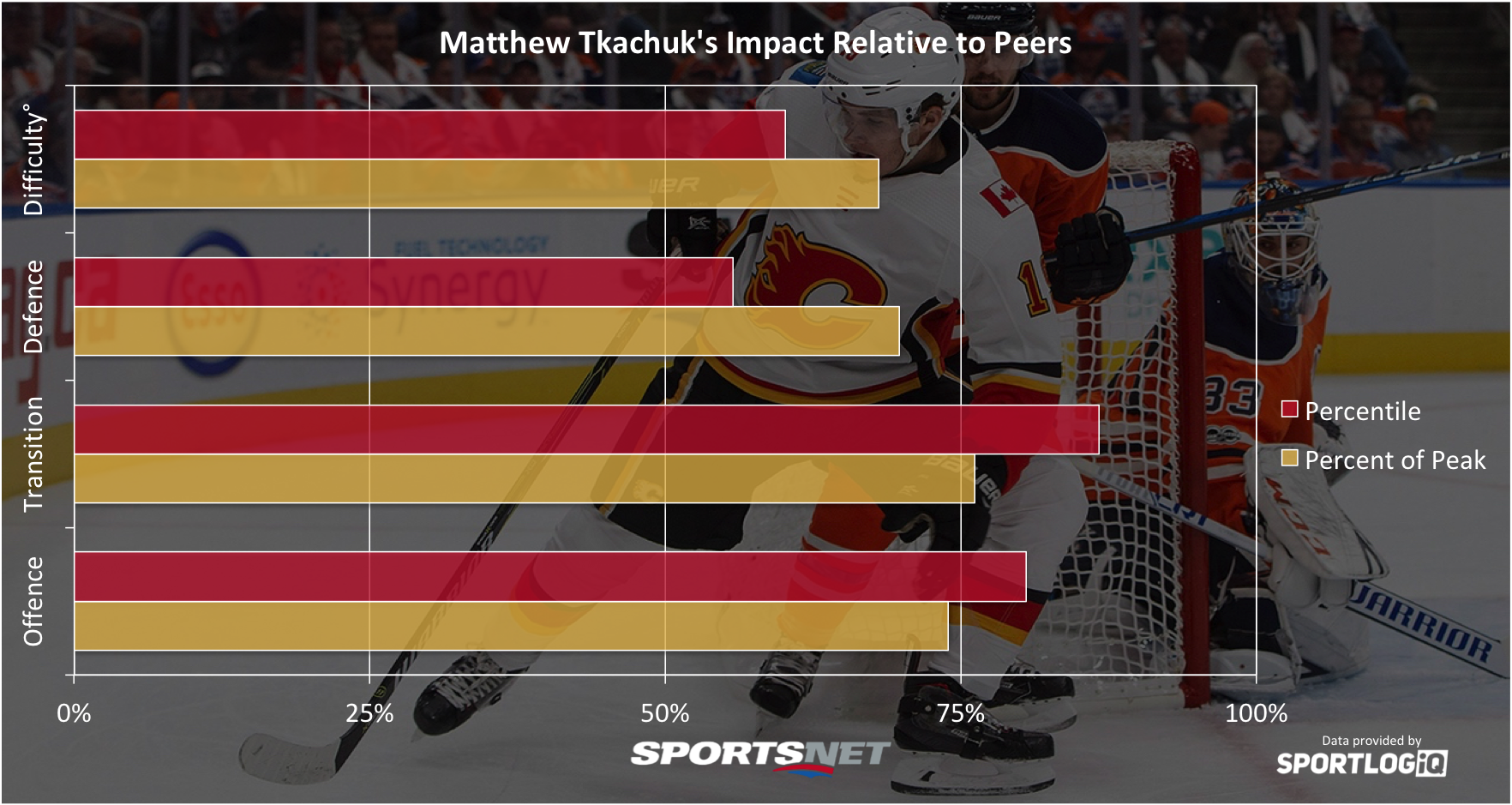 Just two years into his NHL career, Tkachuk is already seen as one of the biggest pests in the sport. Part of the reason he's so annoying for opponents is that aside from the cheap shots and chirping, he happens to be a great hockey player, too. His ability to annoy draws a lot of penalties, which he did more than any other left winger last season.
Tkachuk's line was abysmally unlucky in 2017-18 despite strong control of shot volume and shot quality, but he made up for it on the power play. Tkachuk's produced more assists than goals so far in his short career, but based on how many scoring chances he produces, and his relative lack of dangerous passes, I would guess he will end up more as a shooter than a playmaker, probably hitting the 30-goal mark before long.
[relatedlinks]
16. James van Riemsdyk
Difficulty score: +0.56%
Offence: 37.03/60 | Transition: 9.85/25 | Defence: 7.86/15
Total: 54.73/100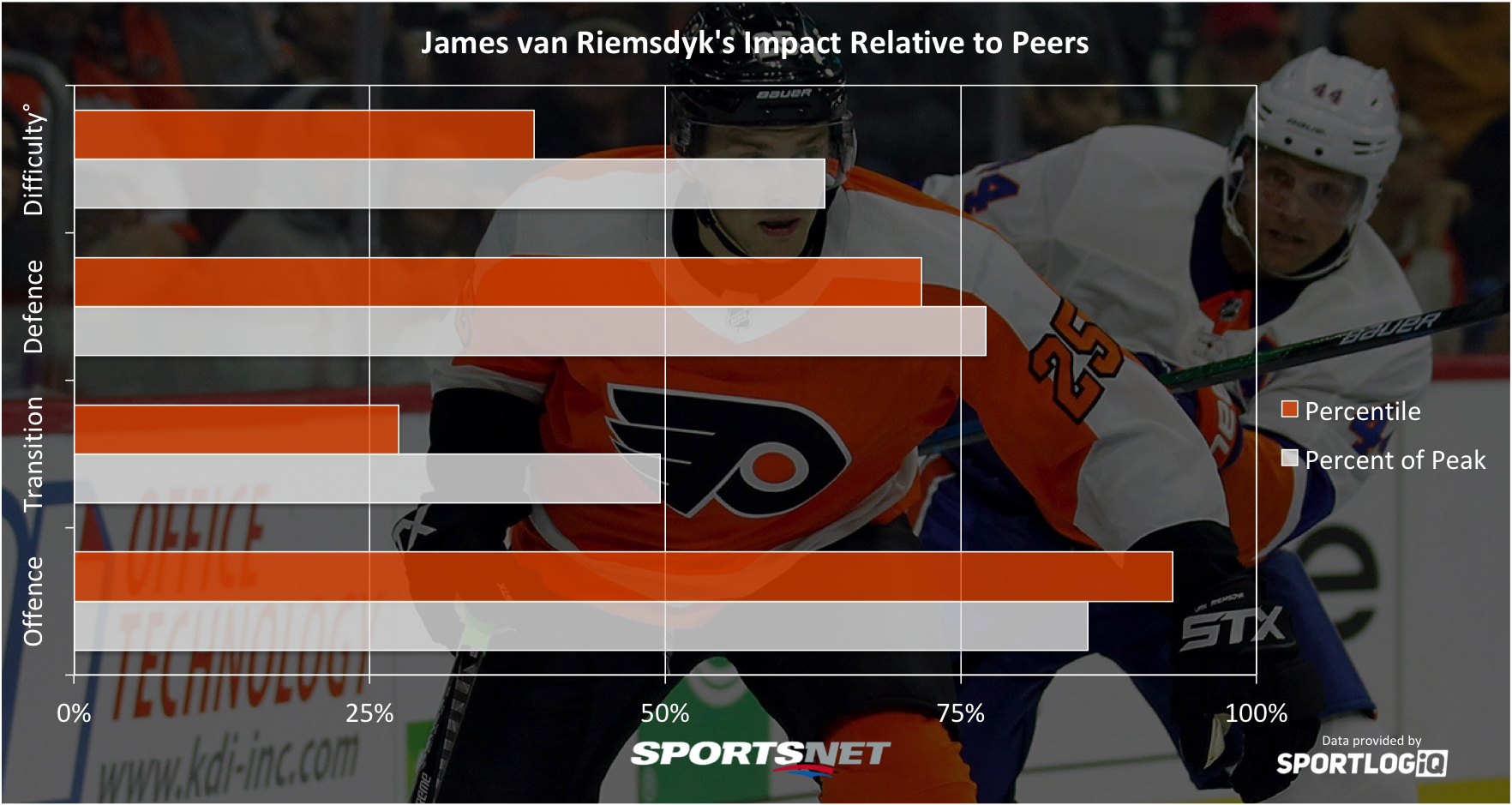 There are huge flaws in James van Riemsdyk's game, but he's the absolute best in the NHL at the things he does excel in. If you want JVR to move the puck out of your defensive zone, or try to enter the offensive zone, he's going to turn it over a lot. He's going to cause a lot of odd-man rushes against. However, if you want him to win some puck battles and make easy plays for teammates to do the transition, he's fine.
Once you get into the offensive zone and van Riemsdyk sets up in front of the net, there's no player in the league who can create more high-quality chances. No one recovers more rebounds or converts more often from in tight. He absolutely needs to be kept away from the toughest matchups to maximize his potential, but if you're able to do that he'll be a goal machine.
15. Jonathan Huberdeau
Difficulty score: +2.30%
Offence: 32.31/60 | Transition: 16.41/25 | Defence: 6.93/15
Total: 55.65/100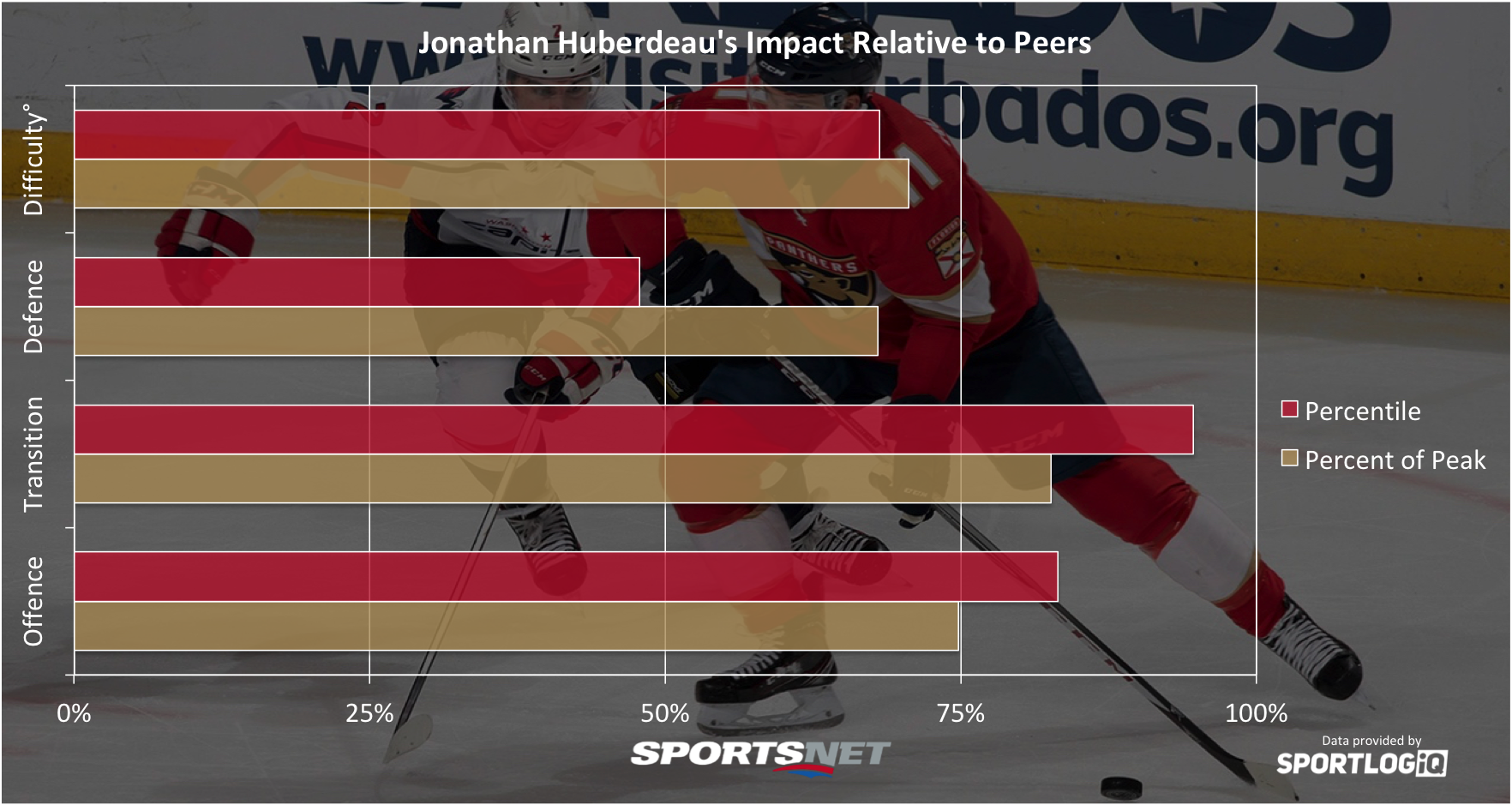 Huberdeau had a bit of a tougher year in 2017-18 when he played away from Aleksander Barkov more often, but he's still a strong offensive contributor who can move the puck up the ice efficiently. Huberdeau is a far above average playmaker, so while his numbers look strong last season, they could have been even better had his linemates finished more of his plays.
Huberdeau excels in the defensive zone as a transition player, not only in creating zone exits for himself, but also by finding teammates with open ice to carry the puck out. He's a trustworthy puckhandler in the defensive zone as well, with very few turnovers coming off his stick. He struggled a bit in the neutral zone last year though, finishing in the bottom-third at his position in turnover rate relative to teammates, and he was just a hair above average in controlled entries. A 69-point season might seem nice, but for Huberdeau's talent level I think he can flirt with a point-per-game at his peak.
14. Mike Hoffman
Difficulty Score: +4.64%
Offence: 34.95/60 | Transition: 13.74/25 | Defence: 7.05/15
Total: 55.74/100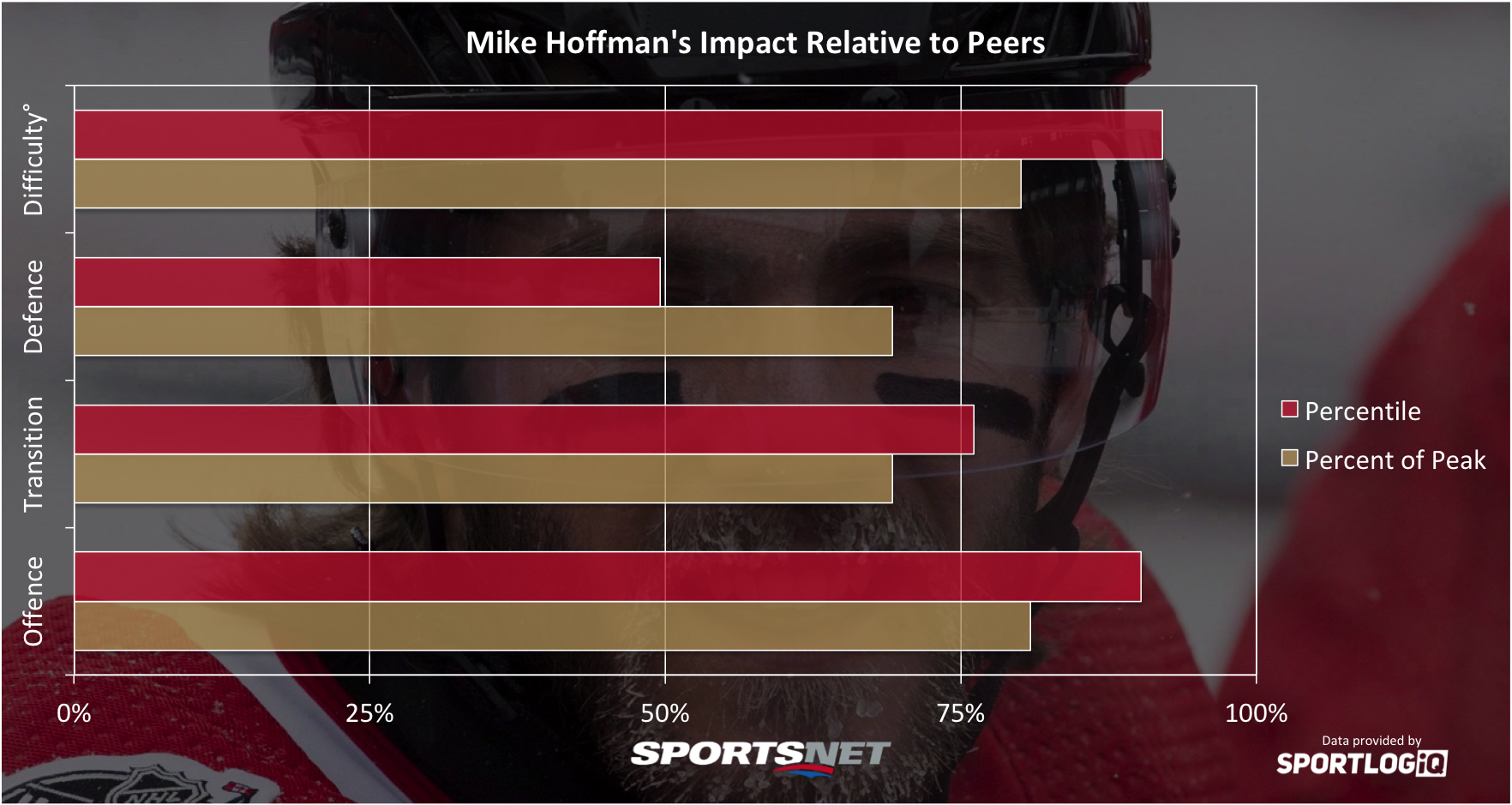 Mike Hoffman had an awful season last year both on and off the ice, but he has the opportunity for a fresh start with a good team in the Florida Panthers. Hoffman has one of the best wrist shots in the NHL and can maintain high shooting percentages even when he doesn't get to the slot as often as other scorers.
Hoffman played tough minutes in Ottawa and can be exploited on defence, especially if he's not given quality teammate support, but he's a decent transition player mostly from the red line to the offensive zone. He's okay but not great at zone exits, though zone entries are absolutely his thing. He can generate a lot of offence off the rush and remains excellent on the power play.
[snippet ID=3322139]
13. Jaden Schwartz
Difficulty adjustment: +1.40%
Offence: 31.34/60 | Transition: 16.44/25 | Defence: 8.68/15
Total: 56.46/100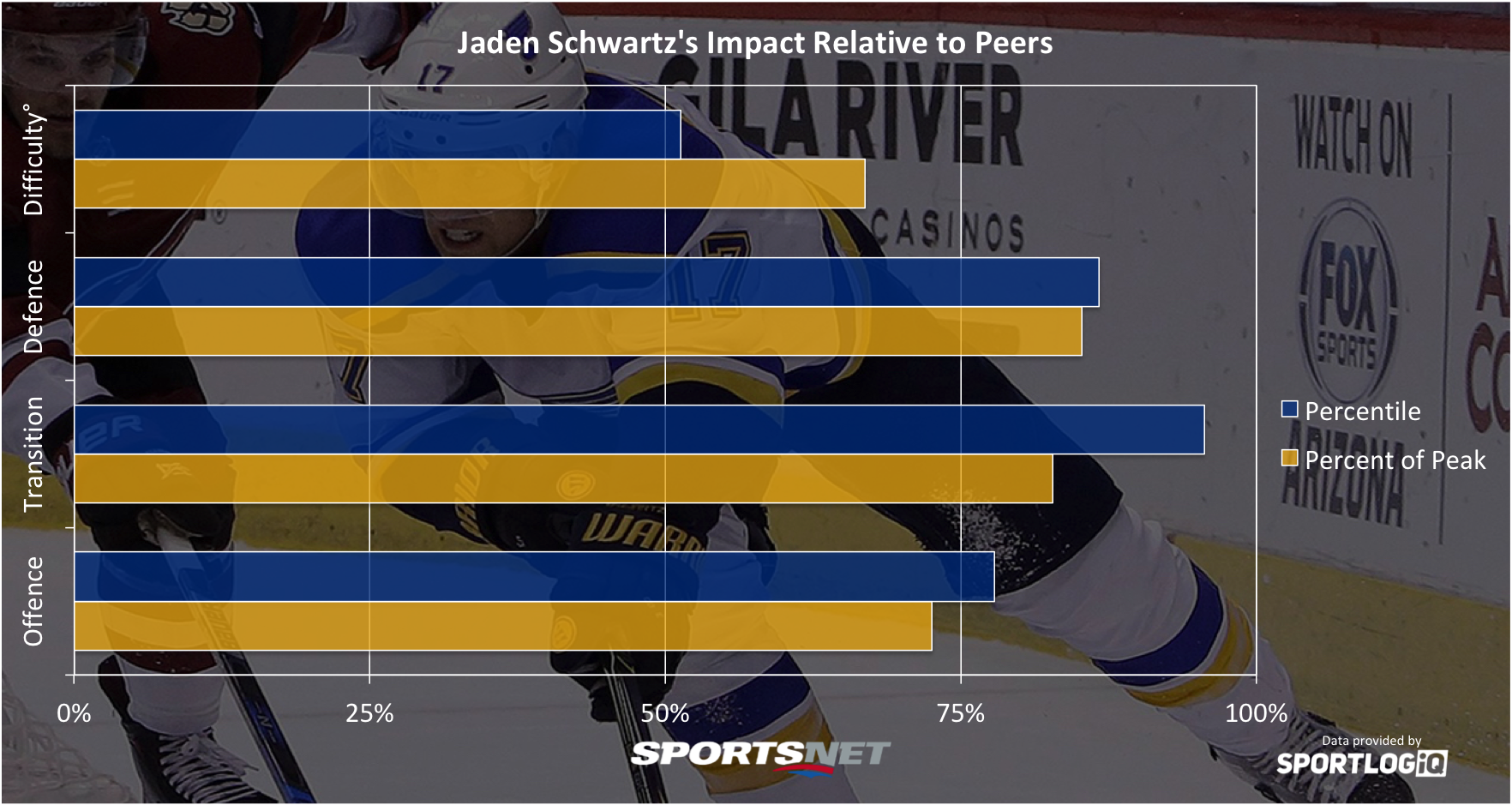 After playing on one of the NHL's best offensive lines last season with Brayden Schenn and Vladimir Tarasenko, a lot of the hype around Schwartz focuses on his offensive game. And he is good on offence, as he's a high percentage shooter with quality playmaking abilities, but his best work is arguably done outside of the offensive zone.
Schwartz is a fantastic neutral zone player who loves to make passes to open up lanes for his teammates, and has one of the highest pass success rates relative to his teammates in the league. On top of that, if there is no passing option, he's great at zone exits himself and can use his stick skills to get around defenders with ease.
12. Nikolaj Ehlers
Difficulty adjustment: +1.30%
Offence: 33.83/60 | Transition: 16.04/25 | Defence: 6.88/15
Total: 56.75/100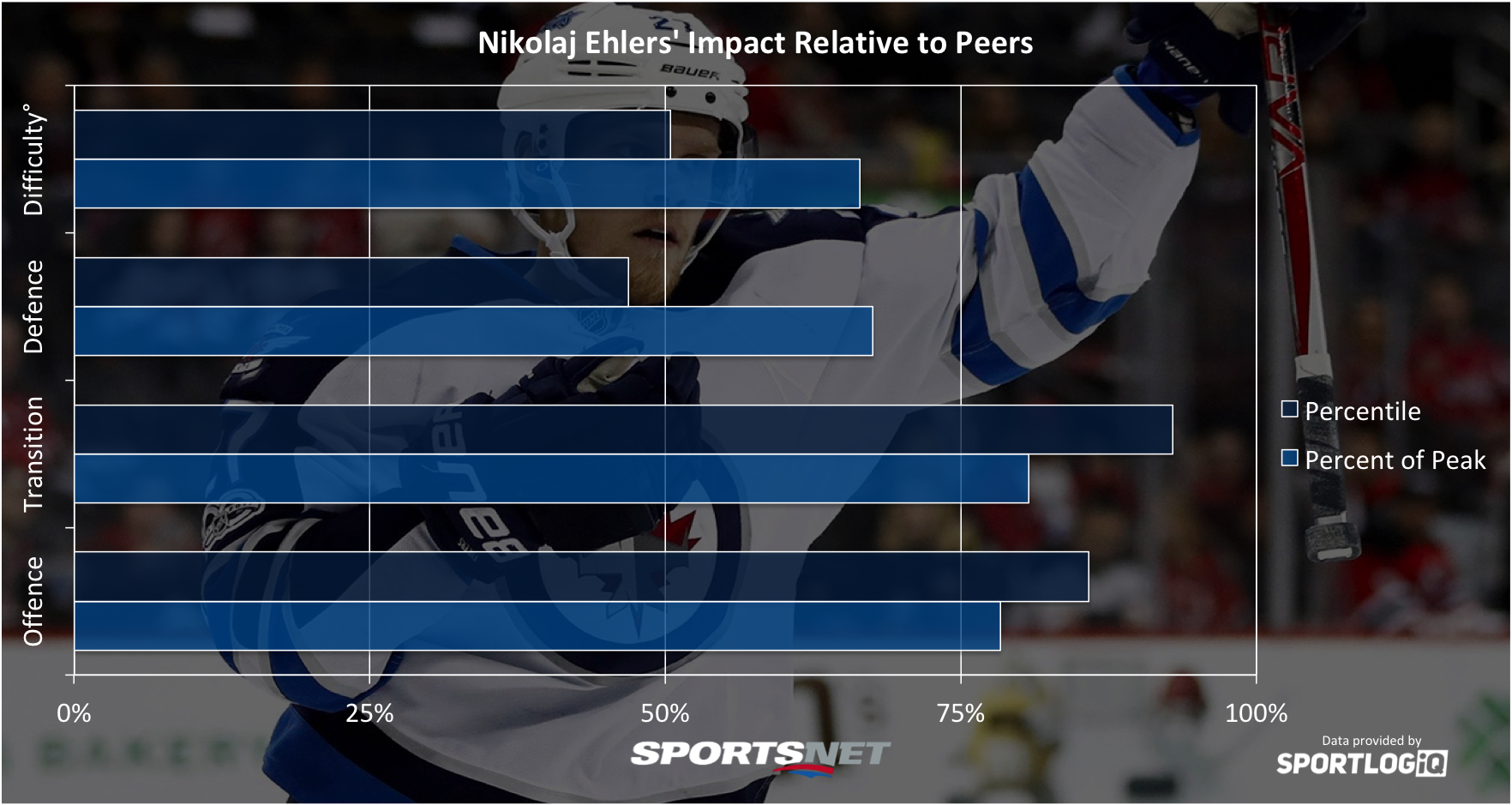 Nik Ehlers has improved each season in his young career, and as he focuses more on shooting it's opened up more space for his passes in the offensive zone to be of higher quality. As a result, Ehlers generated a ton of scoring chances for his teammates last season, effectively carrying the play of the second line.
No one made as many successful plays in transition on the left wing as Ehlers did last season, and his specialty is entering the offensive zone with possession. The only thing that dragged him down a little bit was a low pass success rate relative to teammates, but his puck carrying more than makes up for it.
11. Max Pacioretty
Difficulty adjustment: +6.66%
Offence: 34.72/60 | Transition: 13.84/25 | Defence: 8.27/15
Total: 56.84/100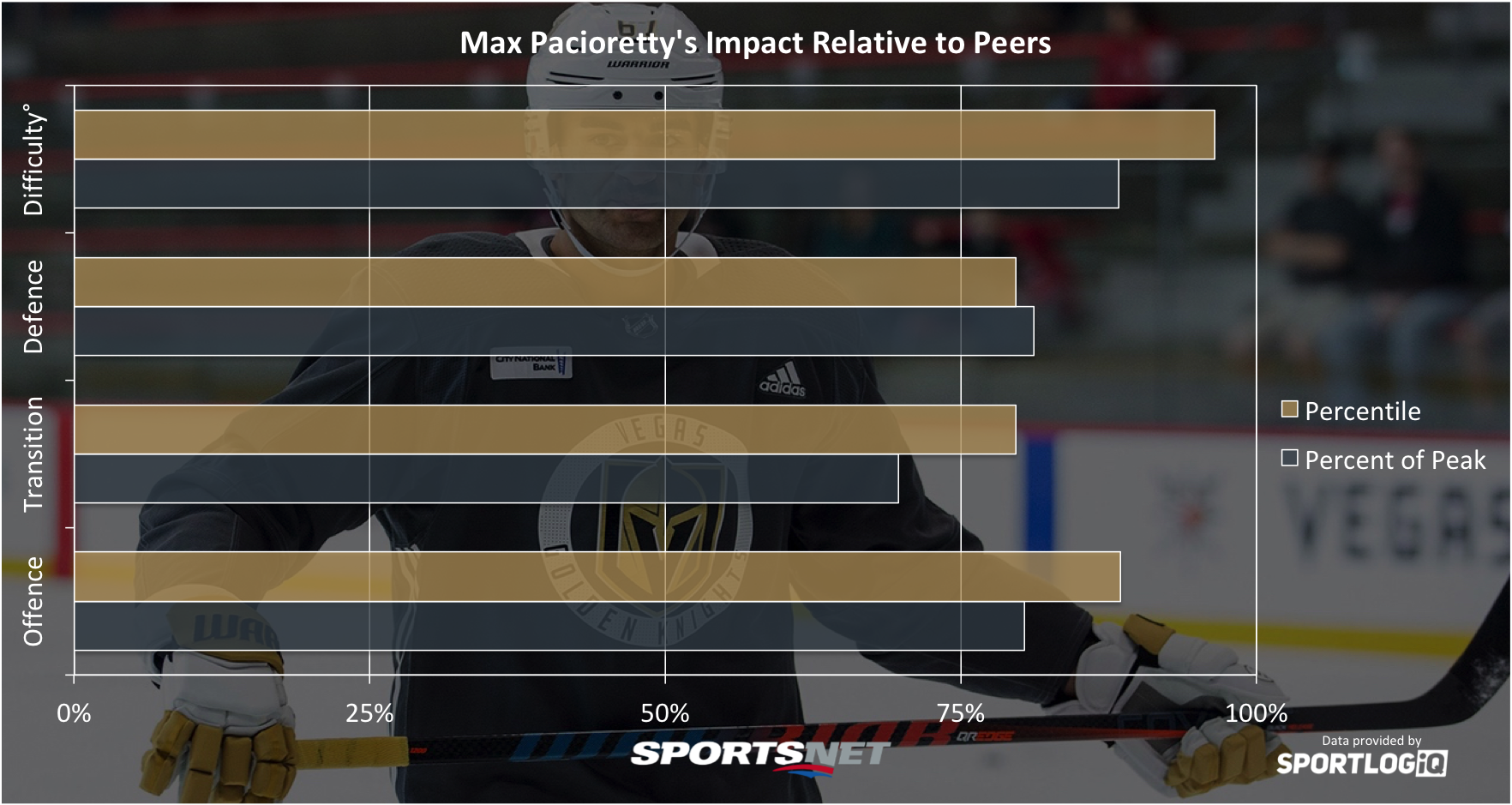 After a disaster of a season Pacioretty drops six spots in these rankings, and while the focus is mostly on his lack of goal scoring last season, his play in every area took a bit of a hit. Like Hoffman, Pacioretty has a chance for a clean slate on a new team.
Pacioretty has been one of the most impactful offensive contributors on the wing in the NHL for years now. He particularly dominates the high slot area of the ice, where he scores more than anyone not named Alex Ovechkin.
Pacioretty's main weakness is his passing game, which is usually fine if he's making short passes but starts to break down when he's too heavily relied on, especially in transition. He's a strong puck carrier, but Pacioretty has one of the lowest pass success rates in the NHL outside the offensive zone, so he needs to keep his game simple.
10. Chris Kreider
Difficulty adjustment: +4.32%
Offence: 32.55/60 | Transition: 14.93/25 | Defence: 9.44/15
Total: 56.92/100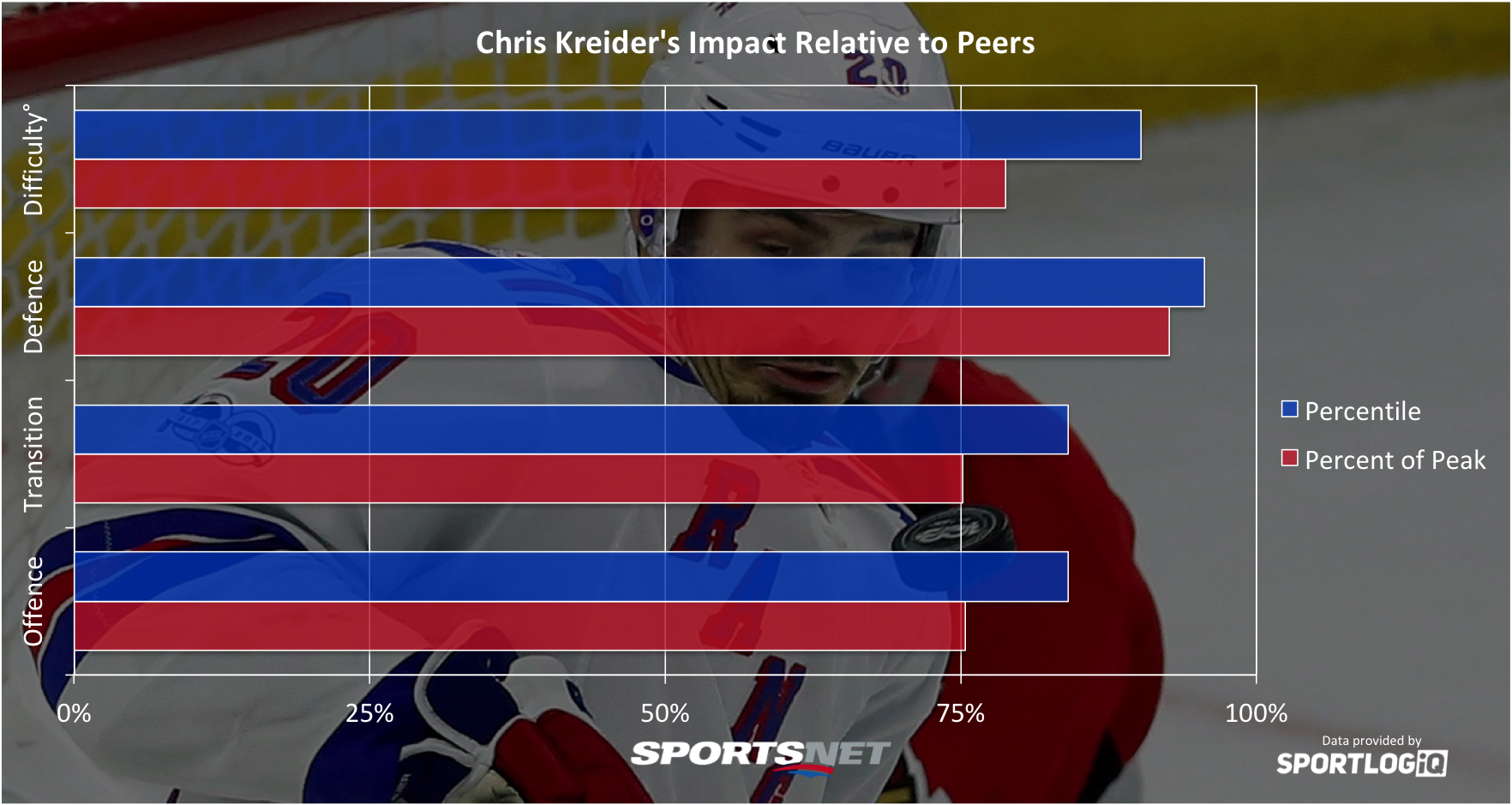 Kreider continues to evolve as a three-zone player, and he had another strong season in 2017-18 despite battling some serious injury problems that kept him out of 24 games. Kreider's offensive impact isn't huge for a first line player, but considering his complete all-around play, he's incredibly valuable.
Kreider is a key to the Rangers' ability to gain possession at even strength. He is extremely strong in both loose puck recoveries and contested puck battles in all three zones. In the defensive zone especially, he not only wins a lot of puck battles, but is smart once he has it, organizing a good portion of the Rangers' breakouts.
9. Alex Ovechkin
Difficulty adjustment: +0.93%
Offence: 41.80/60 | Transition: 11.43/25 | Defence: 3.92/15
Total: 57.16/100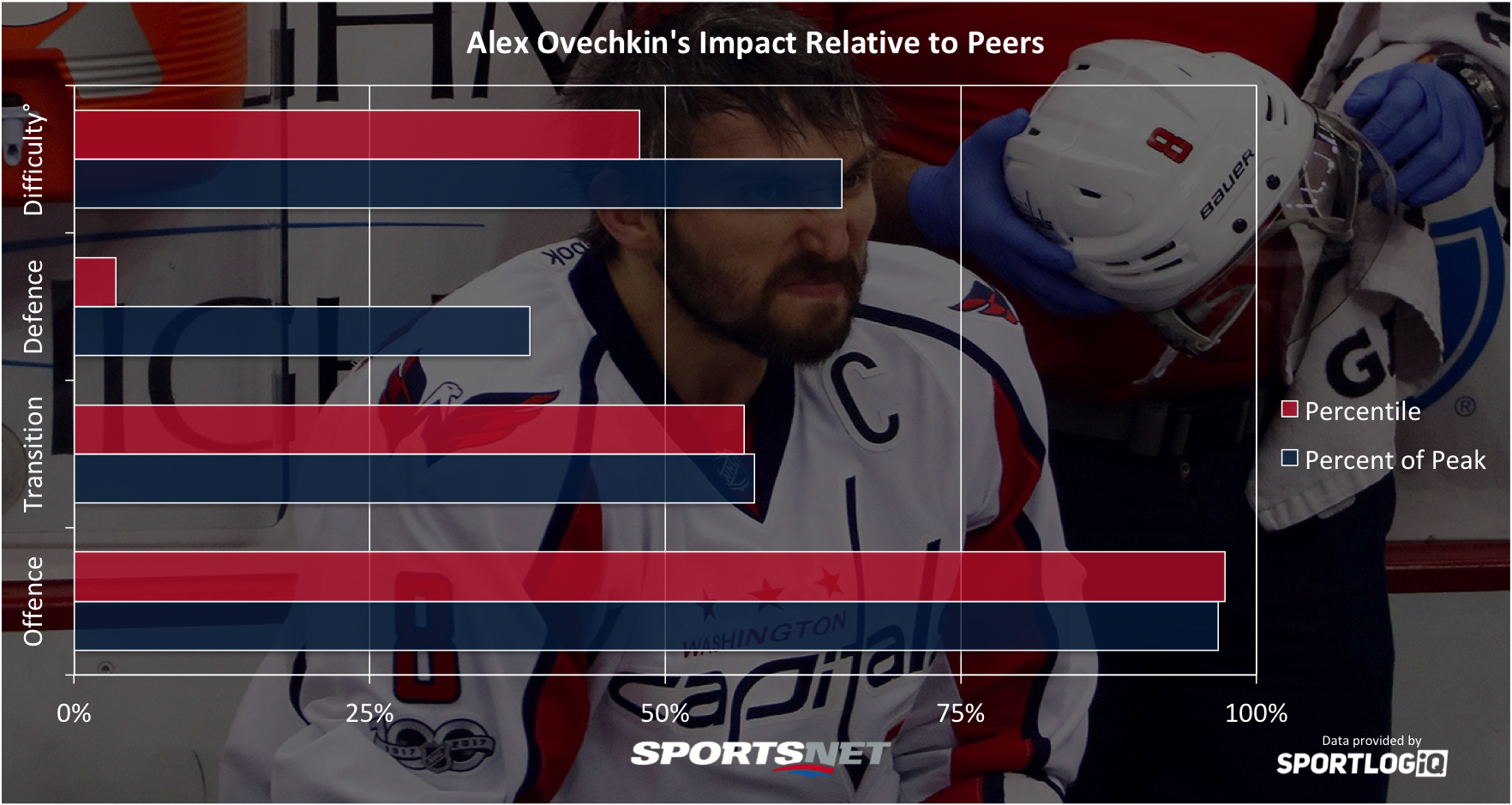 Alex Ovechkin had a huge bounce back season in 2017-18. He changed his game to attack more off the rush instead of just on set plays, something that harkened back to the way he played in his prime. Ovechkin is the best pure goal scorer of his generation, and he seems to be able to reinvent himself just enough that every time you think he's going to fall off, he pushes 50 goals.
Last year Ovechkin massively improved his play at both blue lines, becoming a solid zone exit and entry option when his line wasn't relying on Evgeny Kuznetsov. Ovechkin still doesn't expend much energy defending — he finished dead last in loose puck recoveries and close to it in defensive plays that removed possession from opponents. Conserving that energy could be a reason why he's able to continue to top the NHL in goals nearly every season.
8. Filip Forsberg
Difficulty adjustment: -0.02%
Offence: 37.99/60 | Transition: 13.08/25 | Defence: 7.07/15
Total: 58.13/100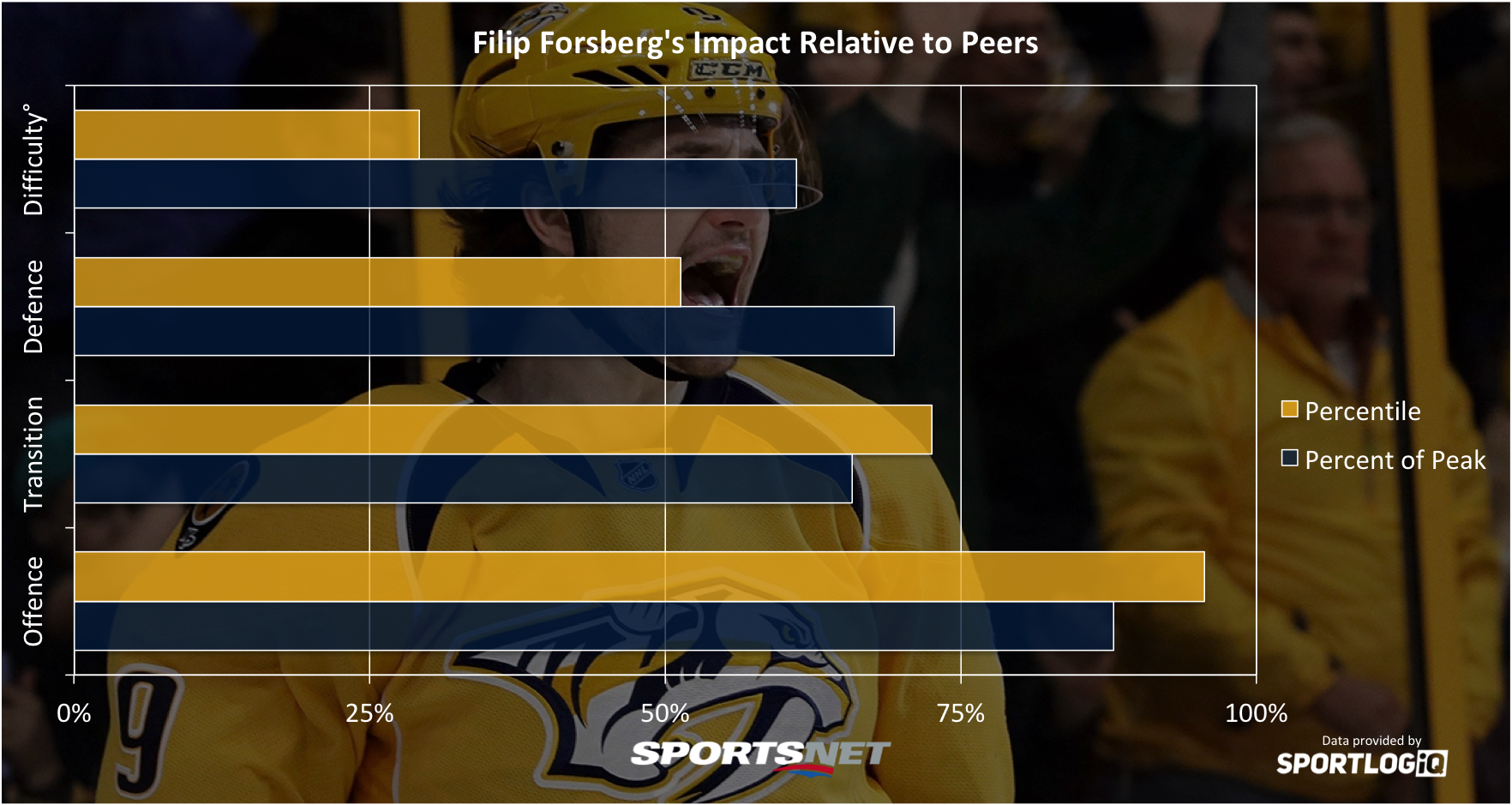 Even though he missed 15 games in 2017-18, Forsberg managed to pull off his usual 60-plus point season and maintained his status as one of the most consistent offensive threats in the league. Forsberg benefits by playing with a very complete line that didn't take the toughest minutes available after the Predators acquired Kyle Turris, but he takes advantage of these opportunities.
One issue for Forsberg last season was his defensive play; his line was far too vulnerable to passes into the slot and was very weak in puck battles. Combine that with one of the highest turnover rates in every zone among his peer group, and Forsberg took a bit of a dive defensively. Nashville's vaunted defencemen and a great year from Pekka Rinne more than made up for these shortcomings, but Forsberg can be better.
7. Rickard Rakell
Difficulty adjustment: +3.02%
Offence: 36.39/60 | Transition: 15.04/25 | Defence: 7.08/15
Total: 58.51/100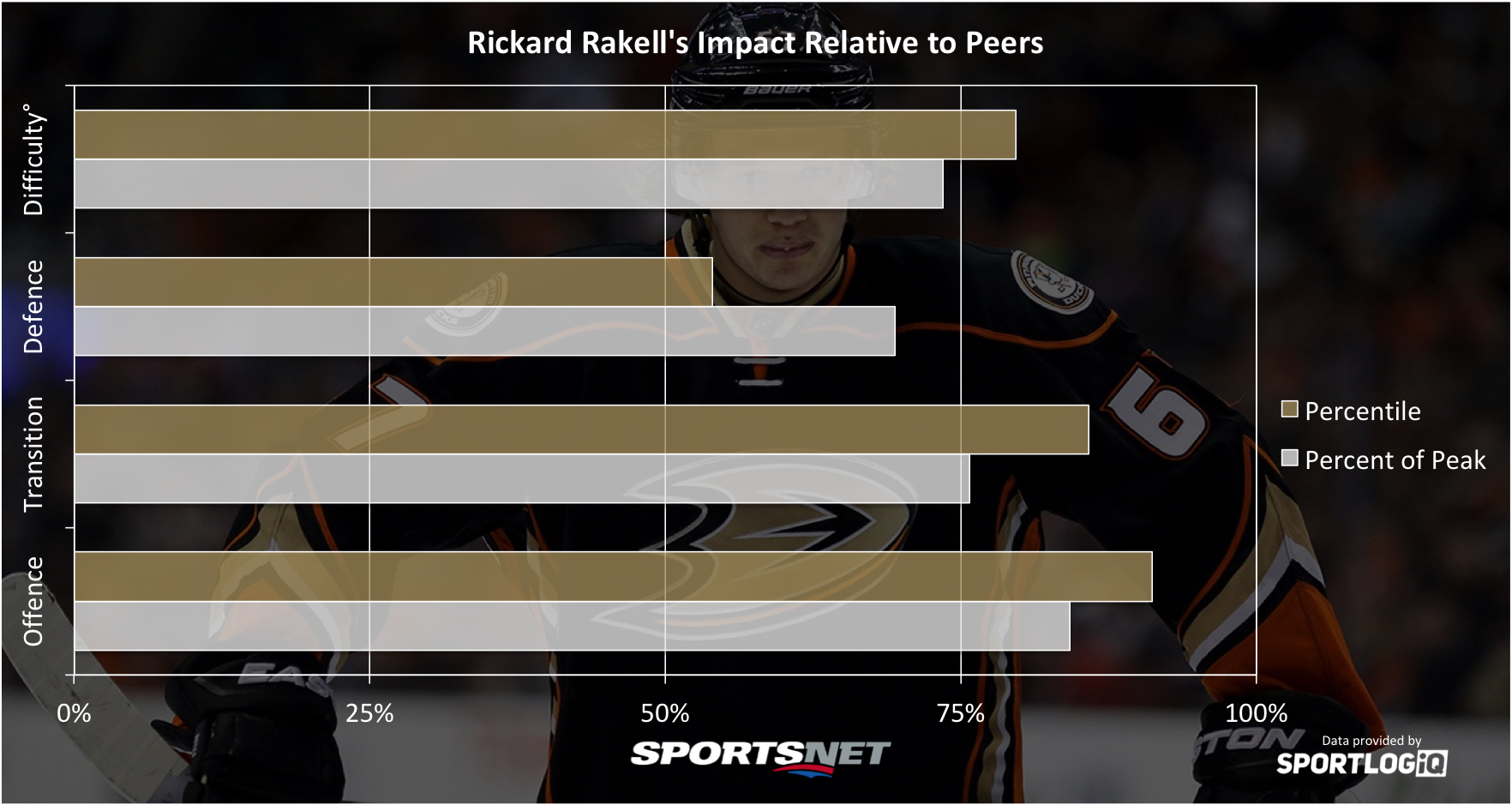 Rakell keeps getting better every year and he had to last season as the Ducks dealt with a slew of injuries. Rakell responded with his second-straight 30-goal season and his fourth-straight season of increased personal production.
While his offensive impact is mostly as a goal scorer, Rakell flexed his playmaking muscles a bit more often last year. This was especially true on the power play, which contributed to him nearly doubling his previous season's assist numbers. He's also becoming a very strong transition player and took a big jump there last season due to improved play at both blue lines and making more passes in the neutral zone. Rakell is a bit weak defensively, but he's shown growth there too. He's on his way to excelling in every zone.
6. Johnny Gaudreau
Difficulty adjustment: +3.20%
Offence: 37.70/60 | Transition: 15.84/25 | Defence: 5.83/15
Total: 59.37/100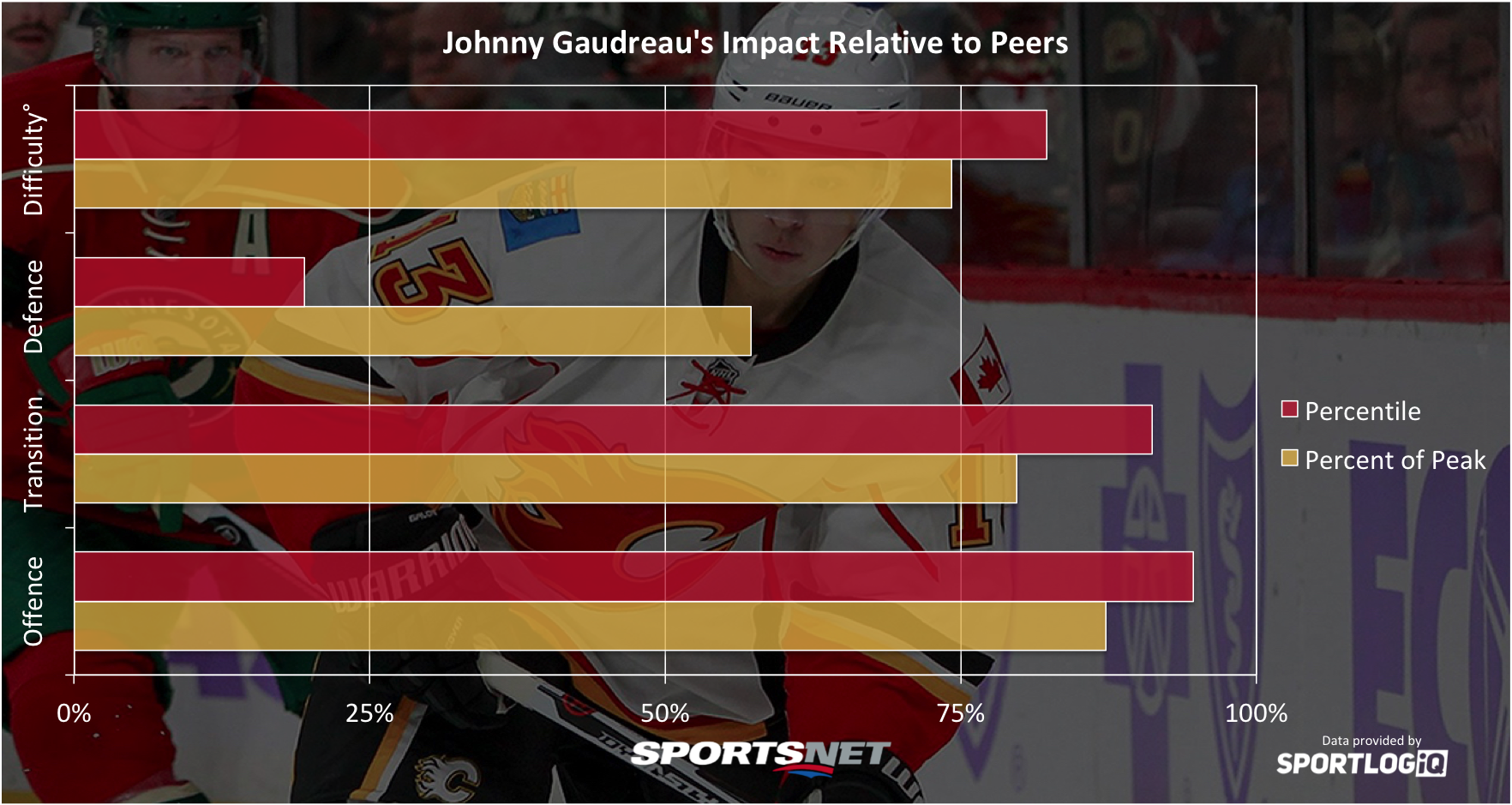 Gaudreau seems to have settled into his niche in the NHL as an elite offensive producer who can move the puck better than most, but is a liability on defence. Not much has changed in his game, but his minutes got quite a bit easier last season as more stress was put on Mikael Backlund's line. This resulted in even more scoring from Gaudreau and Monahan.
No left winger in the NHL creates as many scoring chances for his teammates as Gaudreau, and those chances are often high quality since he's one of the league's top attackers off the rush with his elite puckhandling ability. Gaudreau's unique skillset is why he's the NHL's most dangerous three-on-three player.
[snippet ID=3322139]
5. Jamie Benn
Difficulty adjustment: +2.46%
Offence: 37.05/60 | Transition: 13.78/25 | Defence: 8.70/15
Total: 59.54/100
Maybe it's a coaching thing, but almost every Dallas Star has seen their transition game drop a little bit over the past three years. Although Benn's has held up better than Tyler Seguin's, it's still down significantly.
Thankfully, Benn remains one of the league's most dangerous offensive performers while also being strong without the puck. Benn is a very adept passer in all three zones, but last season it didn't translate to many primary assists. Even with some flaws in his game, Benn is so good it would take some serious issues to move down the rankings.
4. Claude Giroux
Difficulty adjustment: +2.41%
Offence: 34.75/60 | Transition: 16.14/25 | 9.62/15
Total: 60.50/100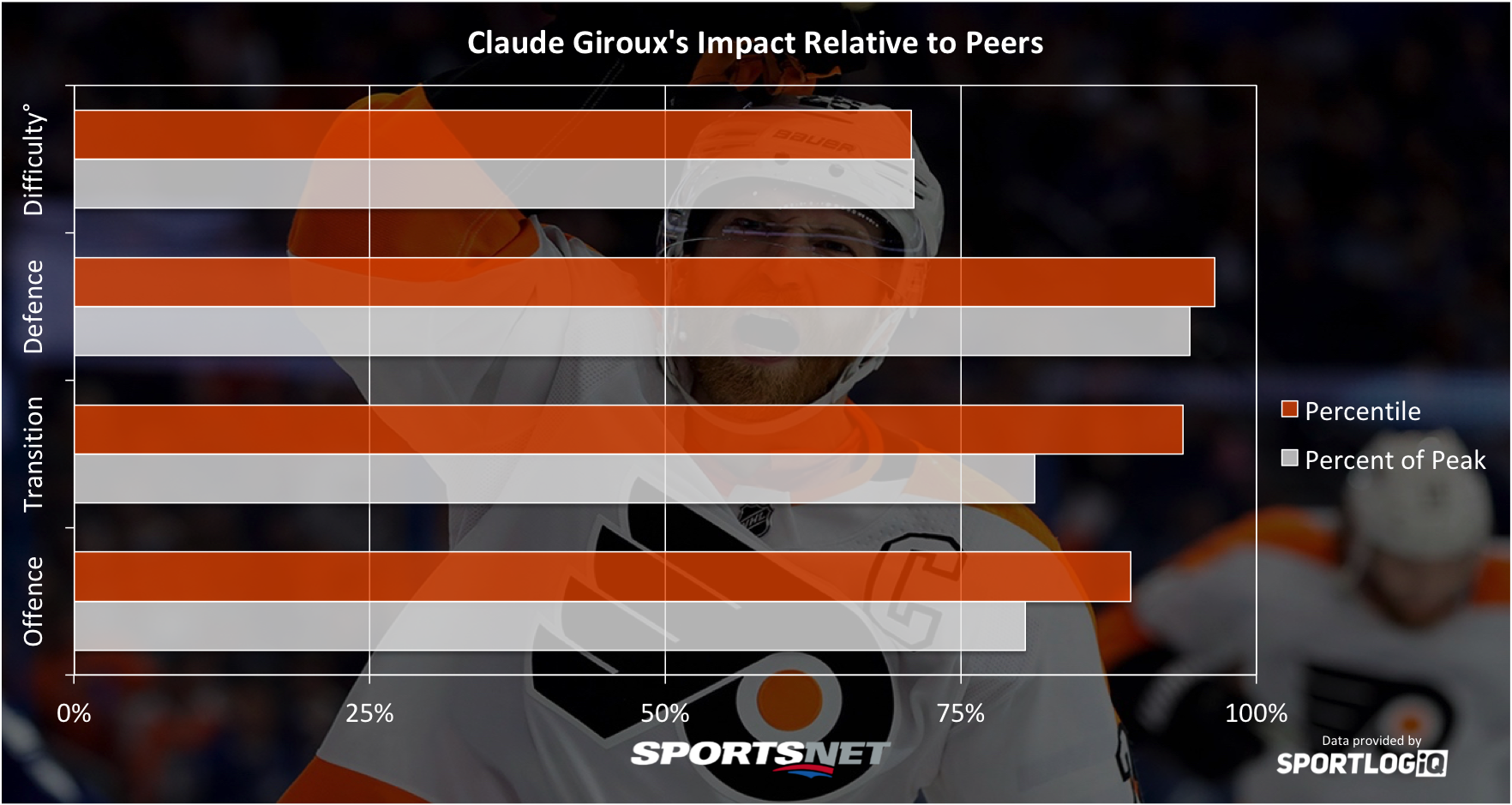 Moving from centre to the left wing seems to have re-invigorated Giroux's career — and all that time as a centre has made him one of the best defensive wingers in the game. Giroux's goal scoring was re-ignited at even strength which, coupled with his singular dominance of power play offence, gave him his first 100-point season.
In transition, Giroux isn't the best at zone exits or entries, but he's one of the most impressive passers in the defensive and neutral zones, both in volume and success rates. That allows him to set up other players who are great at transitioning zones, such as Jakub Voracek.
3. Artemi Panarin
Difficulty adjustment: +2.12%
Offence: 36.52/60 | Transition: 19.86/25 | Defence: 8.52/15
Total: 64.90/100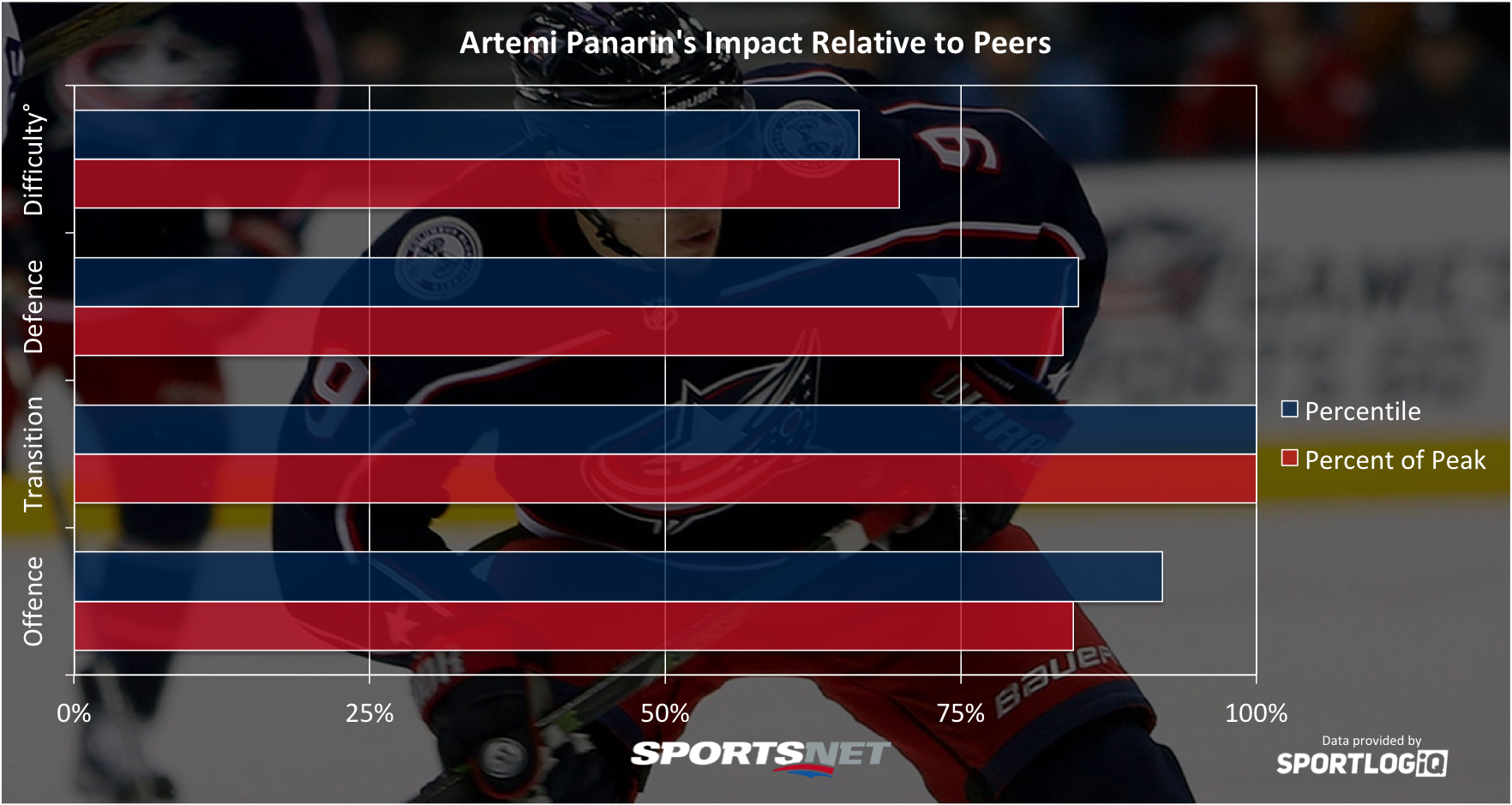 When Panarin was traded to Columbus some wondered if he could replicate the success he had with Patrick Kane. Last season confirmed he's awesome. Panarin is incredibly dynamic on offence, daring to make plays that most players won't. His primary focus offensively is in playmaking, but if you give him an inch he can find a space under the bar with a sniper's shot.
The most impressive area of Panarin's game, though, is transitioning the puck. He's the best zone entry left winger in the league, and his toolbox in transition is as full as it gets. He can rip through teams with speed and stickhandling, or he can make incisive passes that allow teammates clear lanes to travel through zones. He's a superstar. There shouldn't be any doubters left.
2. Brad Marchand
Difficulty adjustment: -.078%
Offence: 42.45/60 | Transition: 17.25/25 | Defence: 7.71/15
Total: 67.40/100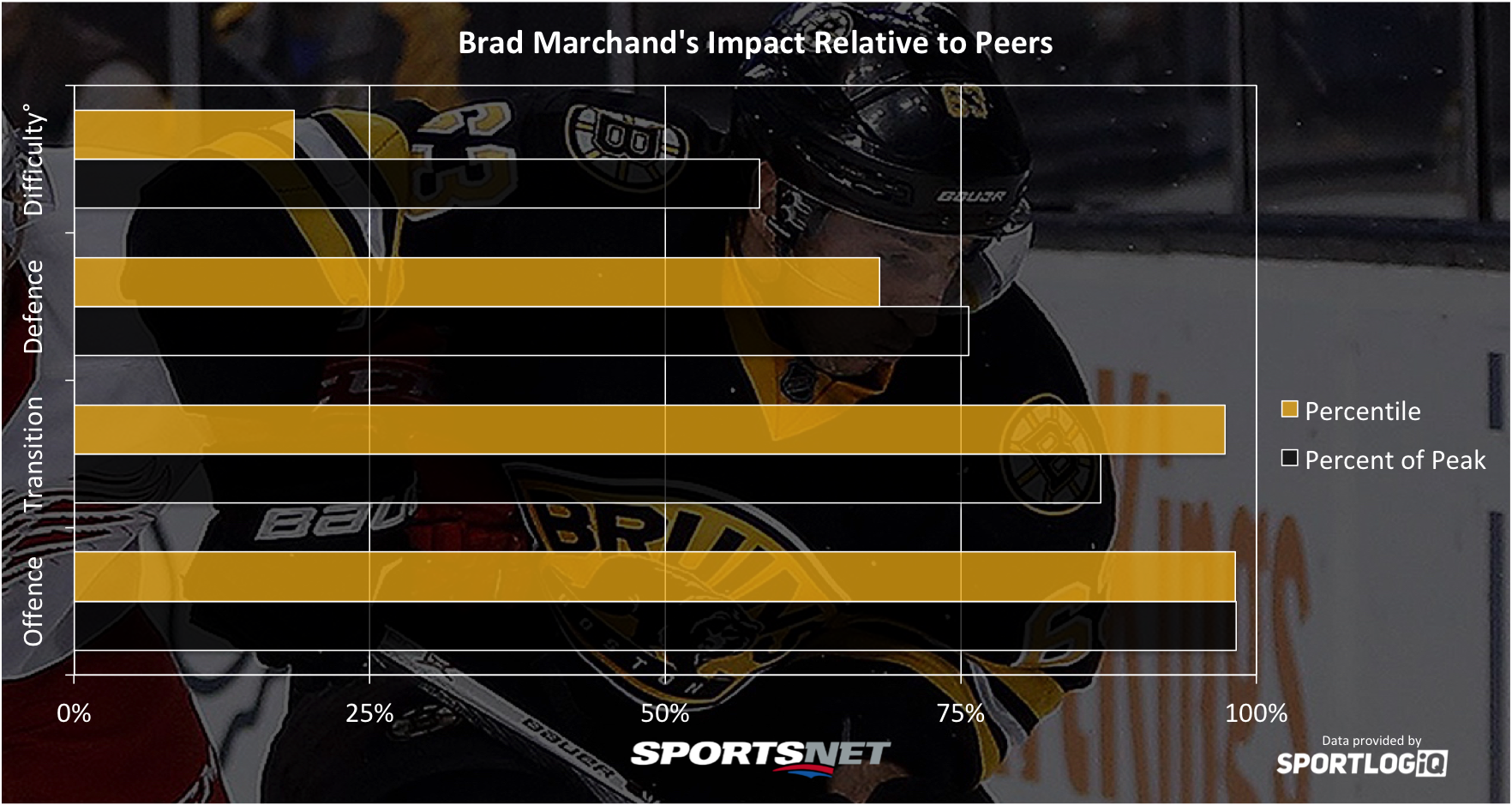 Last year's top left winger drops down one spot, but not through any fault of his own. Marchand gets dinged a little under this new way of incorporating difficulty of minutes thanks to his absurdly great linemates, but he remains one of the most impressive offensive players in the league.
Aside from his game breaking offensive talent, Marchand is a brilliant player at both blue lines, where he is one of the best in the league regardless of position. He combines that with phenomenal penalty killing and an underrated ability to win puck battles to be a top-end player every way you slice it.
1. Taylor Hall
Difficulty adjustment: +7.91%
Offence: 43.19/60 | Transition: 18.63/25 | Defence: 8.81/15
Total: 70.63
Last season's Hart Trophy winner also plays among the toughest minutes of any player in the league, which only accentuates how balanced a player he's become. Everyone knows Hall is a dynamic point producer, but he's also great without the puck. He's a great battler and among the lead leaders in loose puck recoveries due to his speed and strength.
In transition Hall has been the same player essentially since he entered the league, preferring the "put your head down and skate through everyone with a bit of stickhandling but mostly pure power" style that really only he and Evgeni Malkin accomplish at an elite level. Early in Hall's career that style resulted in a few injuries, but he seems to have found the perfect balance.