ANAHEIM, Calif. — If John Gibson ends up in the minors later this month, at least the Anaheim Ducks' promising goalie will take the comfort of a big new contract with him to San Diego.
Gibson agreed to a three-year, $6.9 million contract extension Monday, keeping him with the Ducks through the 2018-19 season.
With two more experienced goalies in his path, the 22-year-old Gibson seems unlikely to make the Ducks' roster out of training camp. Yet the Pittsburgh native is considered one of the top goaltending prospects in hockey after winning 16 regular-season games and two playoff contests in limited action with the Ducks over the past two seasons.
"I think it shows they want me to be here for a long time, and I want to be here for a while and help the team win," Gibson said after practice at the Ducks' training complex.
He is competing with starter Frederik Andersen and newcomer Anton Khudobin for two roster spots in training camp. Gibson realizes he will probably start the season with the Ducks' AHL affiliate in San Diego despite his big new deal — and he's fine with it for now.
"I'm just looking forward to playing," Gibson said. "Obviously I want to be here sooner than later, but I can't really control that. Just going to play, and play my best."
Gibson is already under contract for the upcoming season, making roughly $720,000. He will make $1.5 million in 2016-17, $2.1 million in 2017-18 and a hefty $3.3 million in 2018-19, clearly indicating the Ducks expect him to be a regular NHL player by then.
Gibson and Andersen both were headed for restricted free agency next summer, but general manager Bob Murray managed to get one of his talented young netminders under a long-term contract. Murray said he has spoken with Gibson about the future, acknowledging that "early on this year, things could be rough."
"I have some security now, and that's the bottom line," Murray added. "He knows what I think of him. He's on board right now. He's prepared for that."
Murray also indicated that negotiations with other young players weren't going quite so smoothly for the Ducks, who are attempting to keep together their mixed core of veteran talent and up-and-coming contributors on a moderate NHL budget. Andersen and defencemen Hampus Lindholm, Sami Vatanen and Simon Despres are a year away from restricted free agency, along with forwards Rickard Rakell and Jiri Sekac.
"The young guys who want to be here will be here," Murray said. "It works a little different in Anaheim than some places. We only have certain revenue to work with. … Our players know that. They want to play here. I want young players who want to stay and be a part of this organization. It's not a bad place to play."
Gibson made his first NHL start in April 2014, and he played four post-season games for Anaheim that spring. The last one isn't a fond memory: He was pulled from Game 7 of the Ducks' second-round loss to the eventual Stanley Cup champion Los Angeles Kings.
He went 13-8 in 23 starts for the Ducks last season, but missed three early months with a persistent groin injury. He played extensively in February and March for the three-time Pacific Division champions, but broke his thumb in April and didn't play in the post-season while Anaheim fell one victory shy of the Stanley Cup Final.
Andersen also has endured injury problems in the recent past, and Murray acknowledged the uncertainty in the off-season when he traded for the Russian veteran Khudobin, who makes $2.25 million.
"I'm sure with every decision they make, it's for the betterment of the team, so you've got to respect that," Gibson said. "Wherever I'm at, I've just got to do my job. … I guess it's better to be safe than sorry, especially with all the injuries that happened."
Although Gibson is in an NHL holding pattern, he is expected to be a strong candidate to start for the 23-and-under "North American Young Stars" team at the World Cup of Hockey in Toronto next summer.
"It's exciting," Gibson said. "But now I've got training camp, and worry about this team first."
September 21, 2015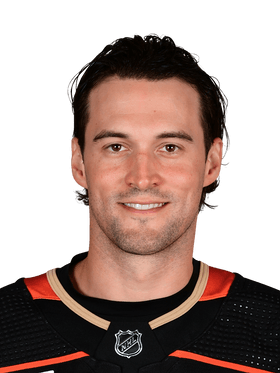 ---
SIGNED BY
Anaheim Ducks