There's a siren call to be found in Drew Doughty and Erik Karlsson's willingness to speak so freely about free agency that may or may not arrive 18 months from now.
It hints at a new approach. The possibility that two of the NHL's top players might be looking to disrupt the established way of doing things.
Superstars always exchange the leverage of potentially hitting the open market for the security of long-term, guaranteed-money contracts where they already are. It has been that way, almost without exception, since the salary cap was instituted in 2005 following a season lost to a lockout.
Player movement was further complicated following another lockout, and the signing of a new collective bargaining agreement in January 2013. That brought about contract term limits, salary variance restrictions and a cap recapture penalty.
[snippet id=3638287]
Here we are now with labour uncertainty again clouding the horizon and the possibility of a 2019 superclass of UFA defencemen that includes Karlsson, Doughty and Oliver Ekman-Larsson. None of those men will know what the NHL's next system looks like while negotiating his next contract. However, we can bank on a couple things:
1.) They'll want to exert maximum control over the process.
2.) They'll mitigate their personal risk in the 2020-21 season, when salaries aren't likely to be paid in full because of another lockout.
3.) They will give no discounts for loyalty, geography or in the name of building a contender.
How the players seek to achieve those aims is where this gets interesting. In Karlsson's words, in particular, you can detect a militant stance that suggests he's willing to endure an uncomfortable negotiation with his employer.
As we mentioned on "Hockey Night in Canada" this weekend, the Senators aren't overly comfortable with it being discussed publicly at all right now.
"I think it's time to realize that when we go to the table, it's business on both parts, not just [owners]," Karlsson told reporters last week. "That's the business part of it. That's the way every player has been treated ever since this league has started, and I think the players have been a little bit on the other side of things when it comes to negotiations."
Consider his frame of reference here: Karlsson was arguably the most outspoken player when the NHL decided to cease Olympic participation. He is also best friends with Daniel Alfredsson, the Senators legend who took perceived hometown discounts with the organization until an emotional 2013 divorce when the favour wasn't repaid.
As much as he loves living and playing in Ottawa, it shouldn't come as a surprise that the 27-year-old is prioritizing business at this stage of his career.
The same goes for Doughty. He first mused about the possibility of one day playing for the Leafs on radio this summer and dropped more crumbs during a visit to Toronto in October.
Doughty went even deeper in a conversation with The Athletic's Craig Custance last week – saying that he planned to consult with Karlsson throughout the free-agent process and expects both of them to surpass P.K. Subban's deal. Custance shared the complete audio of the interview on his "Full 60" podcast and it includes this telling exchange:
CC: So you're thinking about [free agency] already, then…
DD: Well I think about it, yeah, but obviously my first want would be to stay in L.A.
CC: Is it?
DD: Yeah, I think so. You know, I love this organization. Actually I sh— – I love the players, that's where I would really, really, really feel bad is if I left some of the players. And I've done so much in this organization already, I'm comfortable here, you know, I don't know. Definitely L.A.'s going to be my No. 1 choice to re-sign here, but you never know what could happen, right?
Doughty appeared to catch himself pledging allegiance to the Kings before stepping back slightly. He's won two Stanley Cups with the franchise, sure, but he also sat out most of training camp in 2011 before signing the $56-million, eight-year contract he's currently playing on.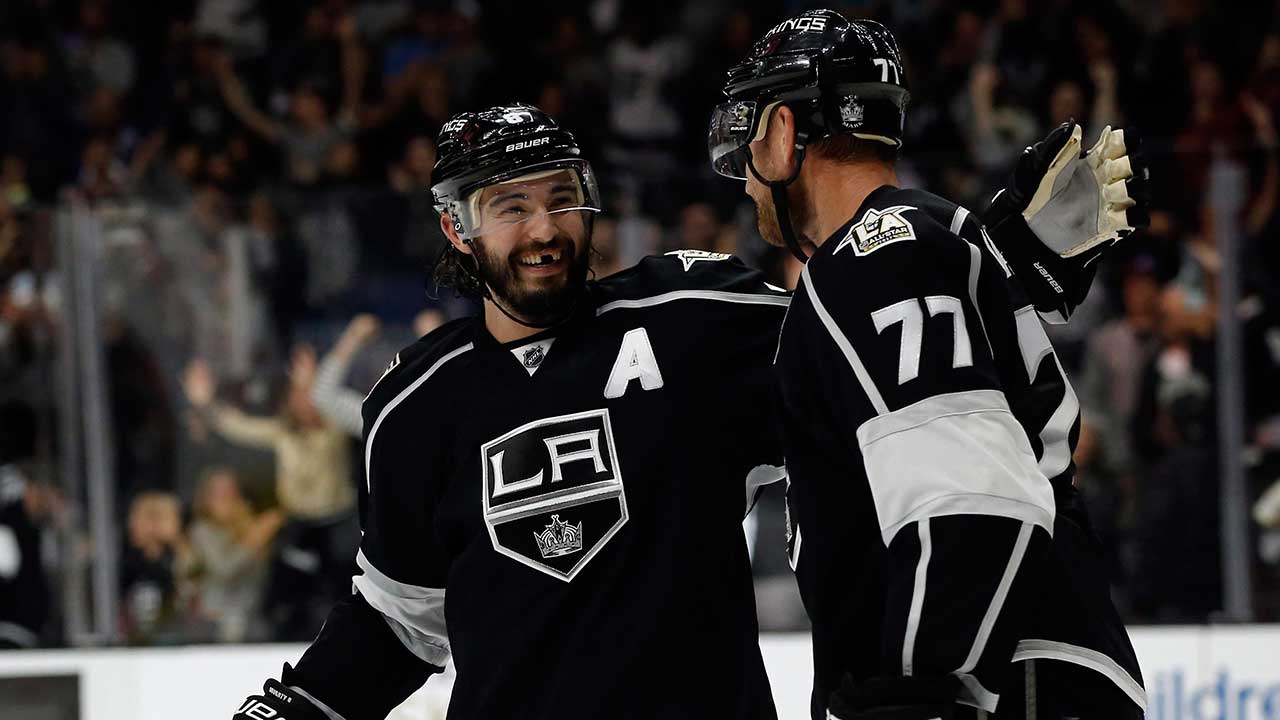 By actions more than words, the best NHL players of this generation have indicated that they see little value in free agency.
There is risk in a physical sport to play a contract out to its conclusion, especially when there's an option to extend it a year early. There is also no guarantee a top free agent would set off a serious bidding war in today's NHL – not with so many contenders already over-committed on the cap. For example, if Carey Price were available this coming July 1, could he command more than the $84-million, eight-year deal Montreal extended him to last summer?
That's what made the comments from Doughty and Karlsson stand out so much. They seem inclined to test conventional wisdom.
The pair entered the NHL together as part of the 2008 draft class and helped usher in a push towards mobile, puck-moving defencemen. They are two of the game's biggest attractions and biggest personalities. They are perennial Norris Trophy contenders.
Backed by a powerful agency in Newport Sports, they also have the gravitas to try and blaze a new trail.
Only time will tell if that's truly their intent.