(Simmons speaking here)
Growing up, I always wanted to be a general manager.
I made countless trades in video games and I liked to work the phones in fantasy leagues. But that dream quickly died once I realized that I didn't have any pro hockey experience, and I didn't go to law school.
However, when the NHL became national news across North America on Wednesday by officially announcing its expansion plans in Las Vegas, I jumped all over the opportunity to play GM.
Our NHL editor told me to quickly assemble a mini front office of my colleagues, so I turned to NHL contributors Mike Johnston and Mackenzie Liddell to help out. Using the incredibly handy Expansion Tool on General Fanager, we were able to do our own expansion draft and select our roster.
THE RULES:
Based on the reported expansion draft rules, which were clarified last week by Chris Johnston of Sportsnet, the General Fanager tool allowed us to go through the process of protecting players on every team and select one unprotected player from each of the 30 teams to form our new Las Vegas roster.
We tried to be as realistic as possible and account for the salary cap, so the tool helped us indicate which players were automatically protected due to no-movement clauses.
The three of us put our heads together to come up with a few quick rules:
Rule 1) We are performing the exercise as if they were selecting a team this year. Remember the Las Vegas team will do their expansion draft after the 2016-17 season. So we did not include any pending UFAs in our protected lists OR on our Las Vegas roster. So Steven Stamkos, for example, is unprotected and undrafted.
Rule 2) We came up with a few hypothetical trade and buyout scenarios just so teams wouldn't get screwed over with their protected lists, which included Penguins goaltender Marc-Andre Fleury for example.
Rule 3) We tried to be as realistic as possible, coming up with a balance of experienced scorers, veteran defenceman, youth, upside, and a little bit of sentimental value. Below you'll see our rationale for the picks.
Reader's Tip: There will be plenty of moves over the summer that will alter this formula, so don't get too upset if you don't agree with any of our choices. The actual Las Vegas roster will likely look much different than this, but what you'll find below is the type of team fans can expect to see.
With all that in mind, here is our Las Vegas roster and depth chart:
| | | |
| --- | --- | --- |
| LW | C | RW |
| Rick Nash | Tyler Bozak | James Neal |
| Patrick Sharp | Rickard Rakell | Dustin Brown |
| Jussi Jokinen | Luke Glendening | Matt Read |
| Nikolay Kulemin | Marko Dano | Jason Zucker |
| Matt Moulson | Chris Tierney | |
| Christian Thomas | Mikhail Grigorenko | |
| | | |
| D | D | |
| Mark Methot | Jack Johnson | |
| Alexei Emelin | Adam McQuaid | |
| Ian Cole | Carl Gunnarsson | |
| James Wisniewski | Jyrki Jokipakka | |
| David Schlemko | David Rundblad | |
| | | |
| G | | |
| Ryan Miller | | |
| Phillip Grubauer | | |
| Kristers Gudlevskis | | |
| Laurent Brossoit | | |
Note: If it says UFA beside the player, it means they are a UFA after the 2016-17 season.
FORWARDS: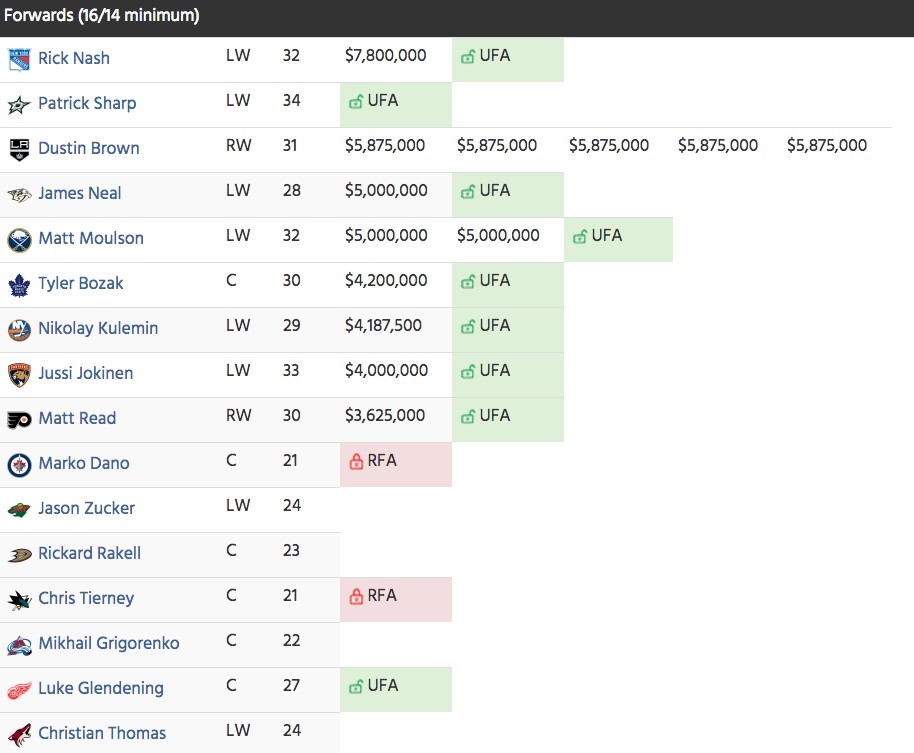 Our rationale: Nash could help sell jerseys right away and we were sure the Rangers, who have many inflated contracts, would be happy to get his salary off the books. Neal, Jokinen, and Sharp were added to provide veteran scoring on short-term deals. Brown has a bad contract but could fill a needed leadership void while Bozak has brief experience playing the No. 1 centre role. It was tough picking him over Joffrey Lupul, who would have loved the Vegas experience. We got some solid grit in Kulemin, and plenty of upside in Rakell, Dano, Grigorenko, and Tierney. The toughest call? Passing on Thomas Vanek in order to pick Jason Zucker, who could help the transition as he grew up in Nevada and knows the area outside of the main strip.
DEFENCEMEN: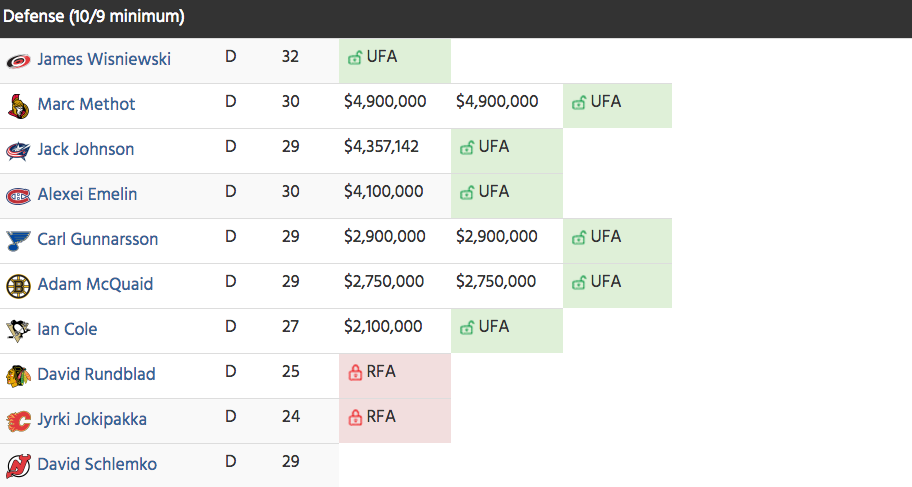 Our rationale: The front office was very pleased with the depth we were able to accumulate on defence. Because most teams will likely end up protecting just three blue liners (if a team chooses to protect four defenceman then it means they can only protect four forwards) it resulted in plenty of players slipping into the expansion draft. Johnson and Wisniewski add power-play experience, Jokipakka is an up-and-comer that made Team Finland for the upcoming World Cup while Methot, Emelin, Gunnarsson, Cole and McQuaid are all — at the very least — serviceable NHL contributors that help the team play respectable defence right away.
GOALIES:
Our rationale: We wanted an American goalie, so the final debate came down to Ryan Miller or Jimmy Howard. Ideally, Ben Bishop could've been the pick but we assumed that either him or Vasilevsky will be moved before the real expansion draft. Tampa is in a similar situation to the Pittsburgh Penguins here. They can't afford to risk letting one of these goalies go without getting anything in return. Grubauer offers upside as a backup and we have two developmental goalies in Brossoit and Gudlevskis (Tampa's third goalie) that can play at the AHL level in the mean time and fill in once Miller moves on or gets injured.
Our Final Takeaways:
We kept a running notepad of all the tough decisions and debates we had going through the expansion draft process. Here's a summary.
1) The Tampa Bay Lightning are going to have a difficult time deciding on who to protect — more difficult than most teams. They have a ton of forwards that garnered consideration for protection and the matter becomes further complicated if they are able to re-sign Steven Stamkos. They would likely love to find new homes for Valtteri Filppula and Ryan Callahan, who both have no-movement clauses in their current deals.
2) Another challenging team to come up with our protected list was the San Jose Sharks. They have between four and six legitimate NHL defenceman and have plenty of quality depth forwards that will lead to some difficult decisions for GM Doug Wilson. The Nashville Predators were in a similar scenario and we chose to protect four defenceman for them, which left a player like James Neal unprotected.
3) On the other hand, it was very difficult to even find 11 players worth protecting for some teams, such as the Arizona Coyotes (remember players with two years of professional experience or less are exempt from the process), Carolina Hurricanes, Vancouver Canucks, New Jersey Devils and Buffalo Sabres.
4) Other teams that will have challenging decisions include the Anaheim Ducks, Colorado Avalanche, Dallas Stars, Minnesota Wild, New York Rangers, Ottawa Senators (who have lots of intriguing forwards and defenceman), and St. Louis Blues.