CALGARY — The Calgary Flames checked the top task off their summer to-do list by signing captain Mark Giordano to a six-year contract extension.
The 31-year-old defenceman has a year remaining on his current contract, but Flames general manager Brad Treliving said in May that re-signing the captain was his "number one priority" this off-season.
The deal announced Tuesday is worth US$40.5 million, at $6.75 million per season.
"Mark has established himself over the last few years as an elite defenceman in the league," Treliving told The Canadian Press. "We look at it as we got our captain, our leader, our best player under a contract at what we feel is a very competitive number.
"Mark wanted to be here. We wanted Mark here. It was just finding something that fit and worked for everybody. That takes a little bit of time."
Despite missing the last quarter of the regular season, Giordano posted a career-high 48 points in 61 games to finish fifth in team scoring.
The six-foot, 200-pound rearguard was on track for Norris Trophy consideration when he tore his bicep Feb. 25 in a road game against the New Jersey Devils.
"I'm probably of the camp that if he doesn't get injured this season, there's a likelihood that not only is he nominated for the Norris, but I believe he's deserving to win it," Treliving said.
Giordano was a key catalyst in the attack speed the Flames generated from their back end.
Calgary's captain the past two seasons insisted at the time of his injury that his absence would not prevent the Flames from making the playoffs for the first time since 2009.
The Toronto native watched from the press box as the Flames secured a playoff berth in their last home game of the regular season. Calgary played 11 playoff games before bowing out to the Anaheim Ducks in the second round.
Giordano started participating in full practice with the green light to shoot the puck during the Anaheim series, but Calgary's post-season ended before he could return to the lineup.
Giordano, who was in Toronto on Tuesday when his contract extension was announced, has fully recovered from the bicep injury and subsequent surgery, according to Treliving. NHL training camps open Sept. 17.
"All systems go," the GM said. "He's been training hard. We talked the other day. He doesn't think about it now. He's been shooting, skating and training without impediment here for awhile."
Giordano has 66 goals and 179 assists in 510 career games, all with Calgary. He played in February's NHL all-star game prior to his injury.
Giordano was also one of three finalists for the NHL's Foundation Player Award that goes to the player "who applies the core values of hockey — commitment, perseverance and teamwork — to enrich the lives of people in his community."
His previous five-year extension signed in 2010 was worth $20.1 million, or $4.02 million per season. Giordano's new extension doesn't kick in until 2016-17, so it won't count against this season's salary cap ceiling of $71.4 million.
Giordano can now be a Flame until 2022, by which time the team wants to have a new arena. The Calgary Flames Sports and Entertainment Corporation revealed a $900-million plan last week for a new hockey arena and indoor football field/fieldhouse.
The Flames captain's extension also solidifies a strong group of defenceman following the acquisition of Dougie Hamilton from the Boston Bruins.
Treliving dealt Calgary's 15th, 42nd and 57th picks in June's NHL draft to get Hamilton's rights. The GM quickly signed the 22-year-old to a $34.5-million, six-year deal.
Calgary also has top defenceman T.J. Brodie under contract long term with a five-year extension finalized last October.
Giordano's commitment to the Flames could have a domino effect on prominent teammates who also have one year remaining on their respective contracts.
They include Kris Russell, who led the NHL in blocked shots last season, rookie sensation Johnny Gaudreau, top centre Sean Monahan, leading scorer Jiri Hudler and goaltender Jonas Hiller.
"We'll address all those in due time," Treliving said. "We got this one done today and it's taken some time. Now we definitely have some other players that are going to be needing new contracts."
August 25, 2015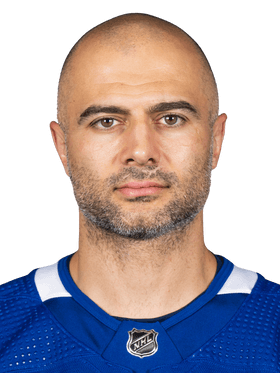 Mark Giordano
Defence
AGE: 37
---
SIGNED BY
Calgary Flames
CONTRACT TYPE
Contract Extension
SALARY CAP HIT
$6.75 million