After breaking down some players who should be available come July 1 and fly under the radar as likely bargains, it's time to look at the other side of the coin.
Every summer there are huge contracts handed out to players who probably shouldn't get them. That can be tough to avoid in a scenario where teams are desperately trying to fill holes and competing with other general managers to achieve that can drive up costs.
It's important to note that when we're looking at these players, no one is saying they're bad. When we talk about buyers having to beware of signing players it has more to do with a player's reputation outstripping their actual performance, or short-term success leading to poor evaluations.
Essentially the lessons all teams should take from past mistakes are beware of age curves and never pay for last year's playoff performance.
WAYNE SIMMONDS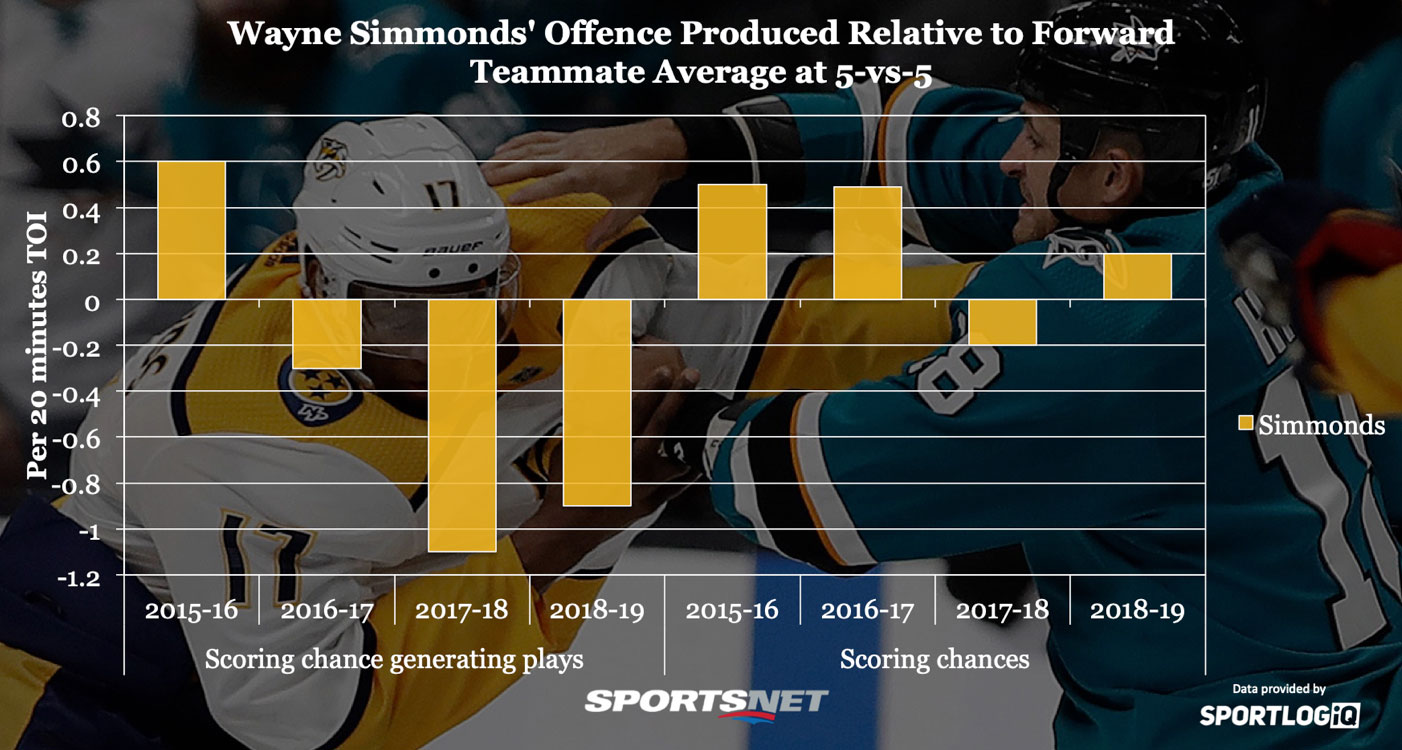 Everyone is a big fan of the way Wayne Simmonds plays the game. He's tough as nails, he scores from the net front, and you know when it's crunch time he's going to be a warrior out there. The problem is, he's been dealing with some injuries that have really slowed him down in recent seasons.
That's really cut into his production at 5-on-5 and at 30 years old he's at an age where injury and natural decline can coincide to rapidly push a player down the lineup, especially one that plays a physical game. Simmonds is also coming off a contract where he was severely underpaid considering the 161 goals he scored during his six-year deal.
Simmonds remains a particularly excellent power play net-front guy and he works hard every game he can get in. But teams should be extremely wary of giving out too much term, and a big raise on his current cap hit ($3.75 million) also seems like a bit of risk.
TYLER MYERS
This past season was a huge opportunity for Tyler Myers to really set himself up. Jacob Trouba and Josh Morrissey emerged as the top pair for the Jets, while Dustin Byfuglien manned the second pair. That left Myers with very cherry-picked, relatively easy minutes. It should have been a season for Myers to dominate, but instead the Jets were consistently worse with him on the ice than off.
Myers is a boom or bust player with a ton of raw talent, but outside of his rookie season he's never seemed to be able to put it all together on a consistent basis. His sheer size combined with that talent is going to tempt teams to roll out huge contract offers this summer despite the fact that he struggled as a 4/5 defenceman in 2018-19.
Myers can help most teams when he's at his best, but it's a roll of the dice when he's going to give you a good game, and when he's struggling he can really hurt you. It's not as if there aren't any teams that would benefit from his presence, but expecting him to consistently play within the top-four is a stretch.
MIKE SMITH
This one is quick and easy. For a long time Mike Smith was a little overrated by teams and a little underrated by data-driven analysts. He's struggled with injuries in recent years and last season his performance fell off a cliff and he was only an average goaltender throughout the season.
But in the playoffs he was spectacular on a Flames team that was thoroughly outplayed and outcoached. He was essentially the lone bright spot and a lot of hockey people are going to look at that and say he was great when it mattered most.
This is really dangerous thinking and it's the kind of thing that leads to the infamously bad Ville Leino contract. Leino was a decent depth player who got big money and big term and couldn't ever replicate the playoff performance for which he was rewarded. At 35 years old, Smith is unlikely to suddenly get better and a five-game stretch of absolute dominance in the high danger area is more of a blip than a signal of what's to come.
On a short-term deal worth a middling amount of money, Smith can probably still work well as a platoon option in 30-45 games for a team. But assuming he can be a 55-plus game starter or even a massive difference maker in fewer games because of his playoff performance is not smart thinking.
[relatedlinks]