Sportsnet's Damien Cox, Jeff Marek and Sam Cosentino have all shared their mock drafts and now Sportsnet Magazine's Gare Joyce weighs in.
Here's how he sees the first round of the 2016 NHL Draft playing out.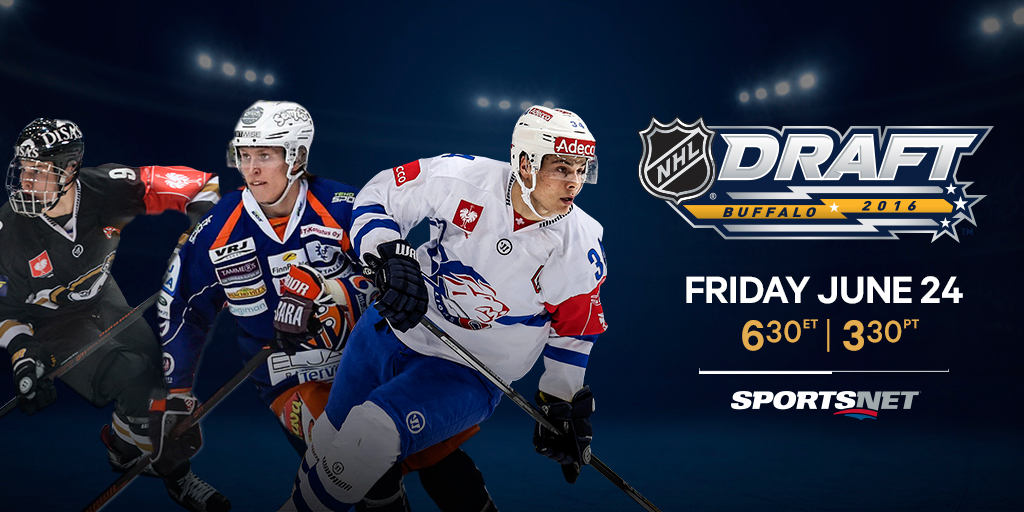 1. TORONTO MAPLE LEAFS
Auston Matthews, C, Zurich (Switzerland)
This is chalk. There isn't the separation in talent between the top two this year that there was last year—Laine is a lot closer to Matthews than Eichel was to McDavid and among scouts there's not the consensus about the best-in-class last year. That's not a knock on Matthews. Conspicuous team need and best player available, a seemingly perfect marriage and, hopefully, a honeymoon period when Matthews isn't asked to carry the team to instant contenderdom. Because that's too big to ask.

2. WINNIPEG JETS
Patrik Laine, RW, Tappara Tampere (Finland)
The Jets get the player most likely to sell tickets and a player like that isn't out there every year. In three years Laine will own Winnipeg in a way that Selanne did and this again is something that isn't out there every year.

3. COLUMBUS BLUE JACKETS
Jesse Puljujarvi, RW, Karpat (Finland)
I know that there's talk about this pick being in play. Sam Cosentino has a move being made and Dubois being snapped up here. I can't see GM Jarmo Kekalainen passing up opportunity to take Puljujarvi.

4. EDMONTON OILERS
Matthew Tkachuk, LW, London Knights (OHL)
I'm slotting Tkachuk here as best player available, but the fourth pick will be in play. The Oilers can move down a few slots and still come away with a blueliner they like. Some scouts are still skeptical about Tkachuk's skating, but even they note it doesn't get in the way of his arriving in time to finish a scoring chance.

5. VANCOUVER CANUCKS
Olli Juolevi, D, London Knights (OHL)
I don't think there's much that separates Juolevi and Sergachev, but most scouts lean to Juolevi. Juolevi plays a game that's more heady than showy—because he makes the right read almost instantly, he gets out of jams and makes it look almost too easy. Great ability to make the first pass.

6. CALGARY FLAMES
Pierre-Luc Dubois, LW, Cape Breton Screaming Eagles (QMJHL)
If Dubois is gone in this slot, the Flames will go with Nylander. Flames aren't looking for any blue line help. They might hope that Tkachuk falls here, but are pretty resigned to the fact that he'll be gone.

7. ARIZONA COYOTES
Mikhail Sergachev, D, Windsor Spitfires (OHL)
One scout told me that he thinks Sergachev in five years might be the best player coming out of this draft and that scout would be far from alone in thinking that Sergachev has a higher ceiling than Juolevi. A beast at the combine testing, Sergachev is physically ready to step right into the NHL, but Arizona is unlikely to rush it. Teams liked his interviews at the combine.

8. BUFFALO SABRES
Alexander Nylander, LW, Mississauga Steelheads (OHL)
Some scouts have Nylander as high as No. 4 or 5 and the Sabres would be ecstatic to see him available at No. 8. Said one scout: "He tired at the end of the season and wasn't as consistent as he had been, but that wasn't anything that had you questioning his compete level. His skating and skill level is elite stuff, all first-line upside."

9. MONTREAL CANADIENS
Logan Brown, C, Windsor Spitfires (OHL)
There's a big divide on Brown. Like Nylander, he sits in the top five on some scouts' lists. Unlike Nylander, though, he's slotted outside the top 10 by a few scouts, on the fringe of the top half of the first round. (Funny thing, a couple of those who have him outside the top 10 have seen him a lot more than most, so it's not an opinion based on limited views.) That's a function of projection—it's ironic that the player whose head is closest to the ceiling literally is farthest from his ceiling as a player in a figurative sense. (Mull it over.) Skating is a knock and he has to fill out. Made a great last impression at the under-18s and that's what makes him too tempting to fall past Montreal.

10. COLORADO AVALANCHE
Jake Bean, D, Calgary Hitmen (WHL)
The Avs have picked for the blue line with seconds and thirds in recent drafts (Nicolas Meloche, Kyle Wood) but if one of them winds up as a second-pair defenceman then Colorado will have hit a home run. Bean has great offensive upside, a top pair talent, but he's on the slight side and a June birthday–he's probably good for another two years in junior. Chychrun's delivery is sort of 30-minutes-or-it's-free but as will be noted his stock for the long term fell while Bean's has climbed.

11. NEW JERSEY DEVILS
Clayton Keller, C, US NTDP (USHL)
Keller is in the top 10 on a lot of scouts' lists. Some liked him from Day 1, but others had doubts about his ability to play at the next level at his size. Those doubts were effectively erased by late season and under-18s. As good as any player at the tournament.

12. OTTAWA SENATORS
Kieffer Bellows, LW, US NTDP (USHL)
Tyson Jost would be a player of interest here, but he tops out at second-line upside, which the Senators already have at centre. With an all-around game that only starts with scoring, Bellows has a shot at being a first-liner with a playoff team and a needed upgrade on a left side.

13. CAROLINA HURRICANES
Tyson Jost, C, Penticton Vees (BCHL)
Jost is in several scouts' top 10 and a consensus top 15. He gets high marks for energy and hockey sense, but gets marked down a bit as something less than physically dynamic. Had a strong under-18 tournament which solidified his stock.

14. BOSTON BRUINS
Charlie McAvoy, D, Boston University (NCAA)
The Bruins might look to draft a centre here, Jost as the most likely. With six picks in the top 52 last year and in fair number of others recently, the Bruins haven't really addressed the most important position. McAvoy, though, is the best player available.

15. MINNESOTA WILD
Jakob Chychrun, D, Sarnia Sting (OHL)
It's one of those precipitous drops that can ambush a scouting staff. Precedent: When their turn at the 2010 draft came up, the Ducks staff didn't have much of a book on Cam Fowler simply because he had started the season as a potential first overall pick whose stock dropped off and they knew they were very unlikely to own a pick in the top five overall. In Fowler's case, no one saw him falling right out of the top 10. In Chychrun's case, though, the drop has been out there long enough for organizations to have a ready handle on his game. He will play, no doubt about that, but he's probably closer to his ceiling than any player in the draft.

16. DETROIT RED WINGS
Rasmus Asplund, C, Farjestads (Sweden)
Some teams didn't like Asplund's attitude at the combine—that he didn't take the process of testing and interviews seriously enough. Lots to like about him based on his play at the U-20s though and Hakan Andersson, the Wings' longtime Euro scout, will have the intel.

17. NASHVILLE PREDATORS
Michael McLeod, C, Mississauga Steelheads (OHL)
McLeod competes as hard as anyone in the draft and has elite speed. Scouts wonder about his puck skill and play-making—he creates chances almost exclusively with his speed, but at the next level can he continue to do the same?

18. PHILADELPHIA FLYERS
Max Jones, LW, London Knights (OHL)
Jones would fill a team need on the left side and fit the Flyers' mold. Another player who left a strong last impression with scouts.

19. NEW YORK ISLANDERS
German Rubtsov, C, Russia U18 (Russia)
If McLeod falls here, it would be a good fit. Isles are thin after Tavares down the middle. Rubtsov is most skilled centre at No. 19 and might have an advantage in pure puck skills of centres in the second 10.

20. ARIZONA COYOTES (FROM RANGERS)
Luke Kunin, C, U of Wisconsin (NCAA)
Arizona has Dylan Strome and Christian Dvorak coming, but it's a full generation change the Coyotes are looking at down the middle. Kunin has superior hockey sense like Strome and with the Coyotes' abundant young talent up front the premium is on play-making.

21. CAROLINA HURRICANES (FROM LOS ANGELES)
Brett Howden, C, Moose Jaw (WHL)
Howden has second-line upside, but a strong enough physical presence and defensive game to contribute at 20 or 21. A safe pick in this range.

22. WINNIPEG JETS (FROM CHICAGO)
Dante Fabbro, D, Penticton (BCHL)
Laine is the splashy pick and Fabbro (or anyone else) would go way under the radar with the Jets' second pick. Still, Fabbro's upside is a second pair D-man, a playmaker and second power play blue liner. A pick for the long haul.

23. FLORIDA PANTHERS
Logan Stanley, D Windsor Spitfires (OHL)
Extreme size, 6-foot-7 and maybe still growing, makes Stanley both an intriguing prospect and a project. In the 20s, with anyone who might offer immediate impact off the board, the Panthers look at the long range. Gauthier would be a player of interest, but a bit of an overlap with last year's draft Lawson Crouse.

24. ANAHEIM DUCKS
Riley Tufte, LW, Blaine (Minn HS)
Toughest scouting job in the business is the elite prospect in Minnesota high school. The level of competition is just all over the place. The Panthers got Nick Bjugstad right—would be a top 10 in a do-over of 2010 draft. Tufte is Bjugstad redux, a huge body, athletic, skill level to be determined. High-risk, high-reward.

25. DALLAS STARS
Julien Gauthier, RW, Val d'Or Foreurs (QMJHL)
Physically dominant, Gauthier creates chances at the junior level just by crashing to the net. Scouts wonder about his finishing and skill level. He will play in the league just based on size and skating, could be a superior third-line player even if his skill set is locked in as a teenager. None of that would be bad news for the Stars in this slot. Anyone who takes him earlier is betting there's more than role-player stuff in the package.

26. WASHINGTON CAPITALS
Libor Hajek, D, Saskatoon Blades (WHL)
With contracts expiring and expansion looming, the Caps are looking at some turnover on their blue line over the next couple of years. Hajek would be a great insurance policy here and his skill set suits Washington's talent up front.

27. TAMPA BAY LIGHTNING
Dennis Cholowski, D, Chilliwack (BCHL)
Cholowski has great offensive upside, but is physically immature, likely to spend two years at least at St. Cloud State and a year in the pro minors before even getting a taste of the big club. But his hockey IQ and puck skills are up there with the top defencemen in this draft class.

28. ST. LOUIS BLUES
Tage Thompson, C/RW, U Conn (NCAA)
Very mixed feelings among scouts about Thompson—some wouldn't want him in the 50s. And some think that his game at the next level would be a fit on the wing rather than centre. Still, with a late first someone is going to bite on a 6-foot-5 forward regardless of position.

29. BOSTON BRUINS (FROM SAN JOSE)
Henrik Borgstrom, C, HIFK (Finnish U20)
Borgstrom passed through last year's draft and played in the Finnish under-20 league rather than against Laine, Puljujarvi and other top countrymen in the pros. In fact he didn't even get invited to the U20 team's camp. That, however, is a function of his desire to go to the NCAA next season. 6-foot-3 and great hockey sense.

30. ANAHEIM DUCKS (FROM TRADE WITH MAPLE LEAFS)
Jordan Kyrou, RW, Sarnia (OHL)
In other circumstances a team with a second pick in this range would be look at the best goaltender in the draft class, in this case Filip Gustavsson. Not happening, given that trading a netminder is how the Ducks landed this pick and it's regarded as a soft year at the position. Kyrou is a pretty dynamic skater, probably more dynamic than any others from the 20th pick on.