You could call yesterday the craziest day in NHL off-season history, but you'd be wrong. That would imply that crazy things were happening throughout the day, and with apologies to that already-forgotten Seth Jones extension, that wasn't the case. No, yesterday featured the craziest half hour in NHL history.
Taylor Hall was traded, P.K. Subban was traded, and the Steven Stamkos watch disintegrated, all in the time it takes to get a pizza delivered.
And the emphasis here is on crazy, because on the surface, we saw some truly puzzling decisions being made. Some of the reviews have been downright savage, and I'm pretty sure Hockey Twitter is still smoldering from the full-scale meltdown it underwent as all the news broke. The consensus: Stamkos should have gone to free agency, the Oilers didn't get anywhere near enough for Hall, and the Canadiens got robbed.
It's tempting to pile on. But instead, I'm going to follow in the footsteps of some of yesterday's decision makers and do the opposite of what common sense says I should. I'm going to challenge myself to defend the moves. I'm going to use the power of positive thinking to dig my way through to the other side, or at least try.
Consider it a chance to exercise some contrarian muscles. Let's walk through yesterday's three big stories and see if we can nail down an argument that goes against what the majority seems to be thinking.
As with any challenge, we'll start on the easy level and work our way up.
Level One: Defending Steven Stamkos
Sure, on the surface the timing of Wednesday's decision seems odd. Stamkos has had all year to work out an extension with the Lightning. Instead, he gets within 48 hours of finally becoming the most sought-after free agent in modern NHL history, and that's when he gets cold feet?
But sour grapes from certain fan bases aside, Stamkos's decision makes all the sense in the world. Remember, he's been able to talk to other teams since Saturday, so by this point he knows what the market looks like. He had a chance to test the waters, he knew what other options were out there, and he decided he wanted to stay in Tampa. There's nothing especially odd about that.
Factor in that the Lightning are a very good team with legitimate Cup hopes and could offer Stamkos an extra year, and it makes perfect sense to get a deal done. Sure, it's disappointing if you're a fan of a team that was going to be in the running, or just wanted to sit back and watch the chaos as the bidding war breaks out. But Stamkos went looking for the best possible home, and realized it was right where he'd been all along.
Whew, this is easy! I barely even broke a sweat. On to the next one…
Level Two: Defending the Taylor Hall deal
Uh, can we go back to the Stamkos thing?
OK, the degree of difficulty just got ramped up significantly here. The Oilers traded one of the best left wingers in the world, one who's still just 24 and on a very team-friendly contract.
We all knew it was possible; rumours have had the Oilers moving one of their good young forwards in exactly this sort of deal for years now. But Hall was their trump card, the one arrow in their quiver that they could reach for if they had a shot at the sort of Norris-calibre defenceman that could transform the team. Instead, they used him to get Adam Larsson, who is… well, not that guy.
So yes, this one is a lot tougher to defend. On the surface, it looks like the Oilers panicked here. After years of failing to make the sort of tough but necessary moves that would improve the blue line, they finally screwed up their courage, took the plunge, and then overshot the runway by a mile. After all those years, they worked up the nerve to talk to the pretty girl across the street, then stepped right into an open manhole cover.
Yes, I know I'm using too many mixed metaphors right now. Give me a break, I'm clearly stalling.
But let's step back and look at it from the Oilers' perspective. They desperately needed help on the blue line. We all know that. We've all been screaming about it for years, all while ripping the organization for failing to get a deal done. All they did was give us exactly what we'd been asking for.
Think of it this way: The Oilers were like a guy who needs new brakes for his car but insists on paying fair value and not a penny more. That's a nice stand to take when you first start shopping around. But if it's three years later and you're still hopping curbs and hitting trees every few days, at some point you need to just meet the asking price and get the job done. Yesterday, the Oilers finally reached that point.
Was Adam Larsson really the best they could do? It's hard to imagine that he was, but the market is the market. Peter Chiarelli doesn't exactly have a great track record with trading top picks from the 2010 draft, but he's no dummy. If he could have turned Hall into a better blue liner than Larsson, he would have.
And remember, while Hall leaves a gap in the lineup today, that could be filled as early as tomorrow. If the Oilers sign Milan Lucic, as expected, he'll just move into Hall's spot.
So there you go. The Oilers had a roster hole to fill and they did the best they could, paying the price they had to pay to get the best player available. And they'll just replace Hall with Lucic, because hey, signing power forwards in their late-20s to long-term deals always works out, right?
So it's fine, Oiler fans. You'll be OK. Let's face it, you've sure been through worse. This trade probably isn't a total disaster. You can stop reading now and go enjoy your day.
Did that sound convincing? I'm not sure it sounded convincing. Just remember: The Oilers were always going to have to settle for guy like Larsson because Norris-winning defencemen in their prime never get traded in this league. OK, what's next?
Level Three: Defending Subban-for-Weber
Yeah, I quit.
Look, Shea Weber is a good defenceman. He's great on the power play and eats big minutes. He's been a First-Team All-Star twice, has been a Norris finalist three times, and immediately becomes the Canadiens best defenceman.
But that's only because their previous best defenceman, P.K. Subban, just got traded for a guy who's three years older and has a terrible contract. What's more, Subban is just a better player at this point, and given their ages, that's not likely to change a few years down the road.
The Canadiens had a surefire stud locked in for the next six years, one who was loved in the community and was quite possibly the league's most entertaining and marketable player, and they traded him away because… well, he high-fived wrong? Honestly, I'm stumped. And it's fair to say I'm not the only one.
But we've come this far, so let's take a swing at this thing. Trading Subban for Weber makes sense for Montreal because… (searches frantically) … hey, at least it's not the Patrick Roy trade.
Granted, "it's not the Patrick Roy trade" isn't exactly anyone's idea of a high bar to clear. But there really is some room for optimism here for Montreal.
At the risk of opening up chapter 473 of the Great Analytics War, all those modern-day numbers that point to Subban being the better player aren't infallible. More than a few smart hockey people still prefer Weber right now, and that includes the brain trust behind Team Canada. If Weber is the better player today, it's at least possible he could stay that way for a while. After all, it's rare to see a defenceman maintain his level of play well into his 30s, but it does happen. And who's to say Subban isn't the one who loses a step?
Beyond that, there was clearly a rift between Subban and Michel Therrien, one that's been bubbling for years and seemed to erupt this season. Teams usually choose the star player over the coach in those situations, because the former is far harder to find than the latter. But after a season in which Therrien's job security was a major storyline all year long, he's just been given the biggest vote of confidence a coach could ask for. That has to help stabilize things heading into next year.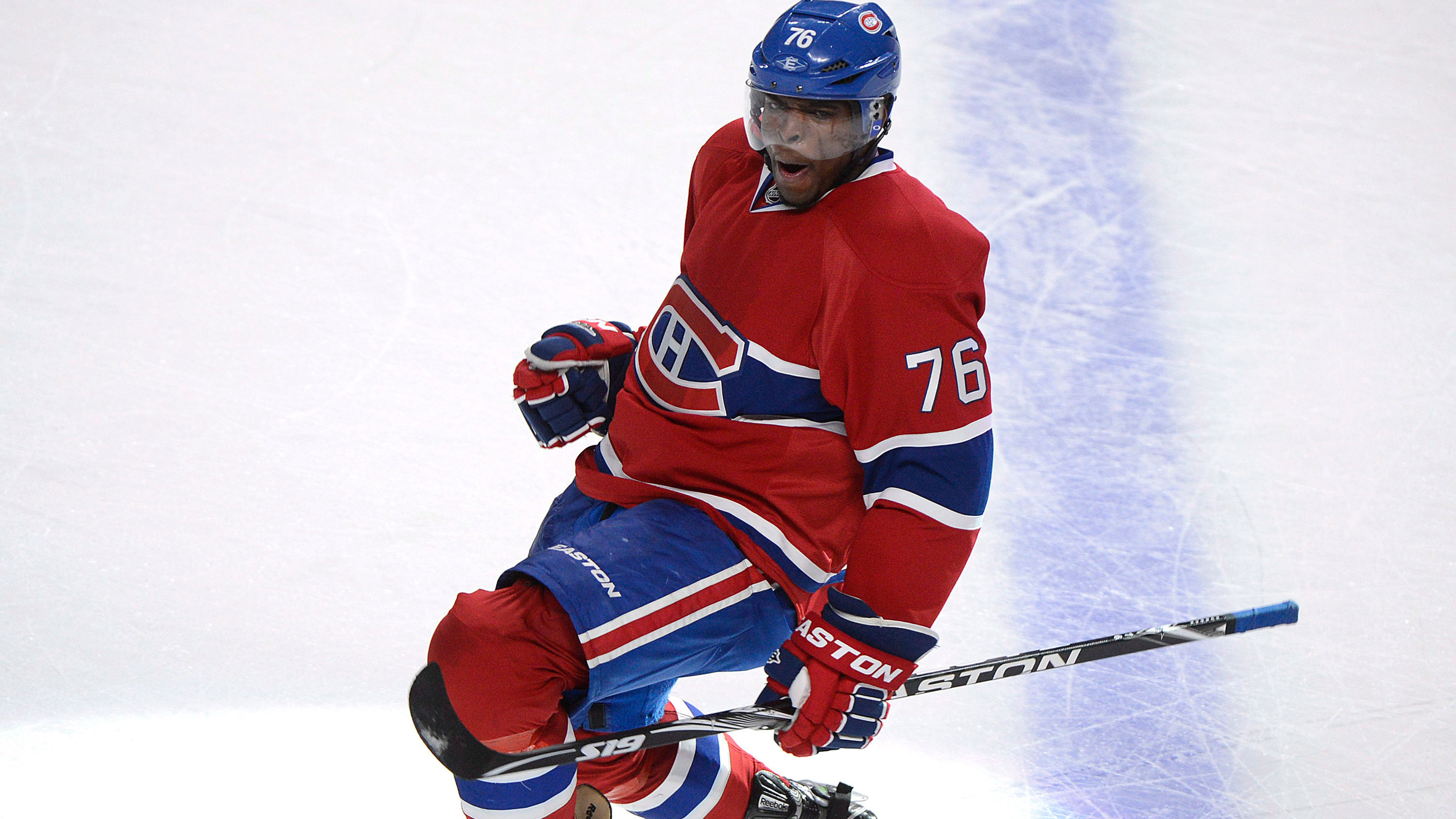 And as far as that albatross of a contract, remember: Weber's got one of those shady back-diving deals from the old CBA that encourages players to retire early. And if he does, it's the Predators who get crushed by the cap recapture penalties, not Montreal.
Remember, we're being positive here. Who knows, maybe Weber can even win over all those Habs fans screaming about the trade. After all, they're a pretty easy-to-please fan base, right? And Subban will probably struggle in Nashville, where he'll be playing next to the incredibly talented Roman Josi, outside the Montreal microscope, under a coach who isn't constantly criticizing him for being himself, and… sorry, I forgot where I was going with that one.
But here's the bottom line: The Canadiens appear to have decided that they absolutely had to move Subban before his no-trade clause kicked in, for reasons we may or may not ever learn. If that's what it came down to, then a team could do a lot worse than getting a future Hall-of-Famer in return.
See, Montreal? Positive thinking. This wasn't the worst deal in the world. It may not have even been the worst deal of the day. And hey, look on the bright side: At least you didn't give up a franchise player for Adam Larsson, am I right?
(Oh, sorry Oiler fans. Didn't realize you were still reading.)