The VO2 max.
It is a brutal test of an athlete's fitness. Running on a treadmill, breathing tube shoved into the mouth, nose clamped. Body pushed to the limit in an effort to measure cardiovascular strength and aerobic power.
In the fall of 2001, John-Michael Liles returned to Michigan State University for his junior season. He would win the team's pre-season fitness award, for his overall ability in different challenges. But he wouldn't be the best at this.
---
STANLEY CUP PLAYOFFS: | Broadcast Schedule
Rogers NHL GameCentre LIVE | Stanley Cup Playoffs Fantasy Hockey 
New Sportsnet app: iTunes | Google Play
---
"Two years earlier, Shawn Horcoff was our captain, and he was in pretty amazing shape," Liles recalled Tuesday. "He got towards the end of Stage 6. That was really impressive."
But a freshman from Penticton, BC, named Duncan Keith was going to show this group something they hadn't seen before.
"He looked like a track athlete, skinny and young," Liles said. "I don't want to say his numbers were exactly like Lance Armstrong's, but that was the comparison they used. Some guys would get to Stage 5 or maybe Stage 6. Duncan blew everyone out of the water. He got halfway through Stage 7. Freakish is not a bad word in this sense. That's what he was."
Mike Vorkapich, who played linebacker for the Spartans from 1991-94, is now the school's strength and conditioning coach. He's worked with the hockey team since 1998.
"We use what is called a 'discontinuous' test. Three-minute stages. After each one, we stop for 90 seconds and prick their finger to measure their blood-lactate level, to see how hard they are working. Roughly the fourth stage is game-intensity. The first 20 seconds of each stage are a gimme, because that's when speed and incline of the treadmill go up."
"He got a minute into Stage 7."
Stage 1 is six miles per hour and a zero incline. Stage 2 is the same speed and an incline of five. Both numbers go up one from there. So, Stage 7 is 11 miles per hour with an incline of 10. Piece of cake, right?
"It happened before I started working with them," Vorkapich said, "but only two others have reached that level — Steve Guolla and Dwayne Norris."
But wait, there's more. The mathematical formula for a VO2 number is mL/(kg*minute). An average male comes in around 30-40. Vorkapich says a great athlete will be in the 60s. Then, he pauses.
"Duncan Keith scored a 71. To this date, that is the highest ever by an MSU hockey player."
So now we know. We know why, when Duncan Keith plays 46:19 against Nashville or 49:51 at Anaheim, it looks like he isn't breathing hard. We know why, when Matt Carle suggests the Lightning "will try to tire him out as much as we can," well, good luck with that.
Keith leads all skaters with 537:04 of ice-time in these playoffs. If the Stanley Cup Final goes five games, and he plays his current average of 31:35 per night, his total will be fifth-highest since the NHL began keeping track in 1998. If it goes seven games (and he keeps that same pace), he will break Drew Doughty's record of 747:33, set last year.
Additional fun with numbers: Keith's played 68:50 more than Victor Hedman, the second-most used skater in the postseason. The biggest difference between first and second was in 1999, when Dallas's Sergei Zubov finished 126:31 ahead of Buffalo's Alexei Zhitnik. It would take seven games, but if both Keith and Hedman stayed at their current averages, they would be 126:07 apart, just 24 seconds shy of the record.
"Of the top 10 guys (in VO2) since I've been here, six made the NHL," Vorkapich said. "If you're a great player with a great conditioning level, you have a chance to sustain it, not just make it."
Some of it, obviously, is genetics. There were good athletes in his parents' families, especially his maternal grandfather, a talented soccer player. But, we've all seen gifted people fail because they don't have the drive.
When Keith was an Atom-aged player living in Fort Frances, ON, a team from Thunder Bay invited him to join for a tournament in Minneapolis.
"He was pumped," says his father, David, laughing at the memory. "There were teams from all around the world. We played the Moscow Selects, with Ilya Kovalchuk. He scored four goals…we lost 7-3. Duncan was distraught."
"He told us he wanted to move to Russia, so he could get better over there. We said no."
While Eastern Europe was out of the question, David Keith's work did transfer him from Fort Frances to Summerland, BC, when Duncan was Bantam-aged. He did his research, telling the Canadian Imperial Bank of Commerce he had to live in Penticton because Summerland did not have Triple-A hockey for Duncan and his brother, Cameron. Otherwise, he wasn't going.
"We saw (Cameron) come out for the midget team, he was a big, tall defenceman," said Rob McLaughlin, then head coach of the Bantam Triple-A Penticton Predators. "When we saw (Duncan) we were like, 'Okay, where's the other guy?' As soon as we saw him on the ice, wow. He was 130 pounds, five-foot-six. But you couldn't hit or touch him."
"That's why I was surprised to see him getting hit by Ryan Kesler," said Calgary's current AHL coach, Ryan Huska, an assistant in Kelowna when Keith was there. "That never happens."
"His explosiveness on one leg, two legs, even off-balance, was fantastic," McLaughlin continues. "Monday was always plyometrics, followed by a one-to-two mile run. He was one of the guys always finishing first. There were some fantastic track athletes on our team. His focus was hockey, but he kept up with those guys. It was funny, other boys would be huffing and puffing, he'd keep walking chest up."
---


Download Sportsnet magazine now: iOS | Android | Windows
---
When McLaughlin says Keith's focus was hockey, he wasn't kidding. Duncan's father was reminded of that the summer his son turned 16.
"I told him it was time to get a job, to help the family. He said, 'I can't dad, I've got to train.' I took it with a grain of salt. When I got home that day, he'd tied three tires in a rope around his waist and shredded my yard. He was showing me, 'This is how I'm training, dad.'"
"He was so disciplined," says McLaughlin, now Associate Director of Hockey Operations at the Okanagan Hockey Academy. "I'd send a sheet home with the players, asking them to shoot 500 pucks. He was one of the only guys who would bring it back, filled out…Very serious about his off-ice work."
On-ice, Keith made an impact right away.
"Great skater, never panicked. Getting passes where guys couldn't expect it. Even for me, he played a lot of minutes in all situations," McLaughlin said. "He never tired. He could go into corners, come out at same speed he came in, it didn't matter one side or the other."
"One game, we were getting nothing up front, so I stuck him up at forward. He scored five goals."
Keith became the prize in a recruiting battle between the WHL's Kelowna Rockets and Michigan State. As a freshman, he is listed at 160 pounds on the Spartan roster, but anecdotal evidence suggests that was inflated. A few sources indicated that's the reason he went to the NCAA first, because he physically wasn't ready for the CHL.
"Here's a story for you," says Vorkapich. "Our first home games after he arrived were back-to-back on Friday and Saturday. This was the Friday night. After the game, he and (teammate) Kevin Estrada are going at it on the bikes. We ask them, 'What are you guys doing?' They said, 'This is what the pros do.' 'Yeah, but they don't play the next night.'
"He had that mindset: I have to do more, more is better. I'd much rather work with a kid you have to put the reigns on than one you have to push."
"He was always trying to be faster, quicken his fast-twitch muscles," Liles added. "Always trying to push that line to make himself better."
Keith left Michigan State for Kelowna at Christmas of his sophomore year, joining Josh Gorges and Shea Weber on the blueline. The Rockets were a powerhouse, going 16-3 in the playoffs en route to a berth in the Memorial Cup.
"He was so skilled, he could do whatever he wanted on the ice," said Huska. "One thing that I'll never forget; running our power play, he loved the backhand sauce…It was high-risk, but he had the ability to make that play and make it easily. It drove (coach) Marc Habscheid nuts."
It's amazing, when you think about it. Keith and Weber, two of the NHL's best defencemen, both second-round picks out of Kelowna. Keith went 54th in 2002, Weber 49th in 2003.
"Both of those guys worked hard to overcome doubts," Huska said. "Duncan loved the game. He'd practice in small areas, quick-turn drills, work on his hands…always playing with pucks, little stick-handling things. The things you see on YouTube, stuff that everybody tries now, nobody did then."
We all know how this turned out. Keith is a two-time Norris Trophy winner as the NHL's best defenceman, a two-time Olympic Gold Medallist and a two-time Stanley Cup champion — readying for a shot at number three as you read this. He's led the Blackhawks in ice-time in 57 of his last 64 playoff games.
"He was raw back then, but you saw good he was," Liles says. "He was going to be an NHL defenceman. It was just a matter of, 'How good he is going to be?'"
As the conversation closes with David Keith, he mentions an old scrapbook his wife, Jean, packed when the family moved from Ontario to British Columbia. It contains a promise Duncan wrote on a piece of paper when he was "eight or nine." Years later, they found it — and framed it.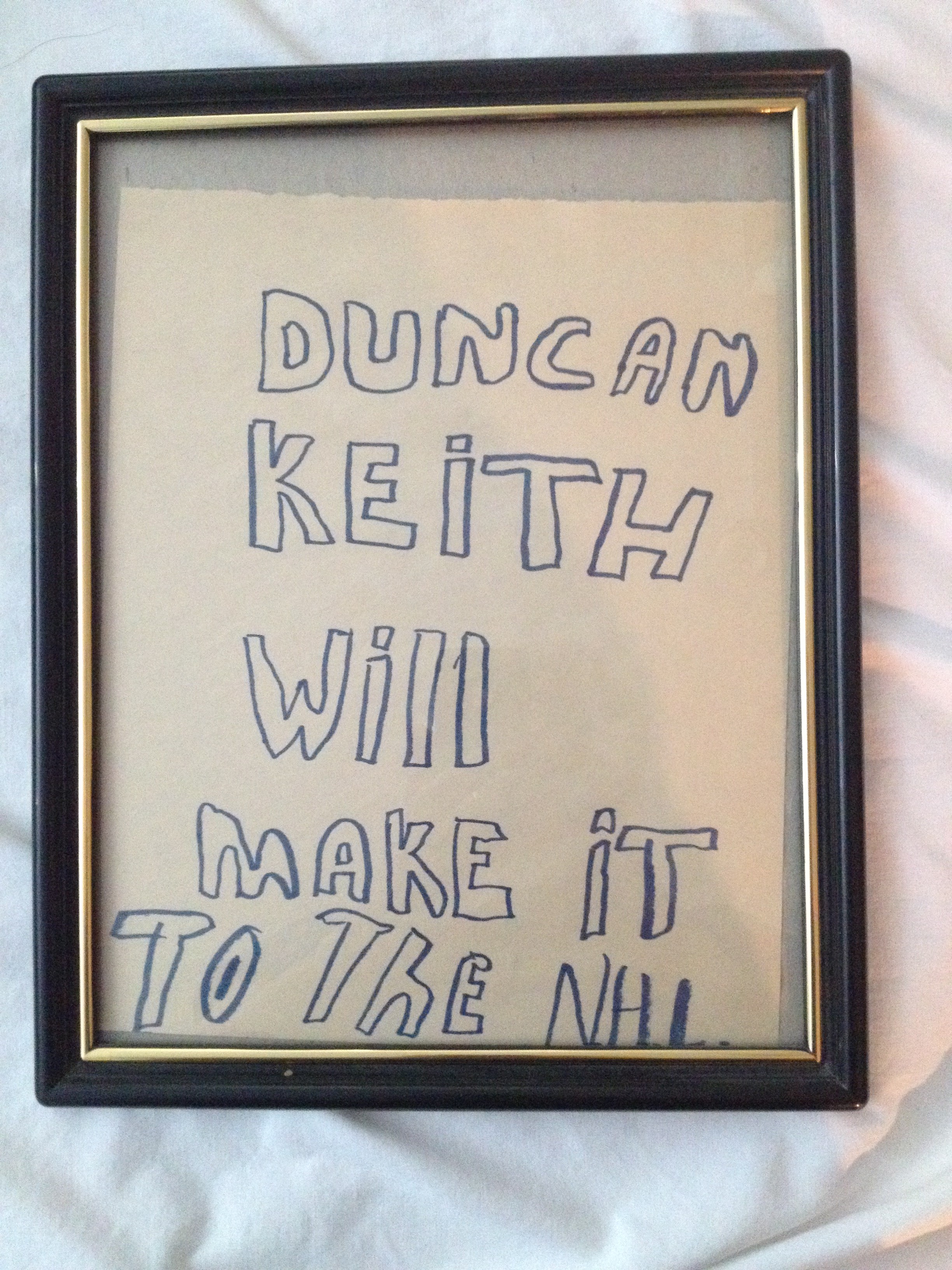 Duncan Keith didn't just make it. He's thrived in it. And there's plenty more to be done.