For perhaps half a decade, Zdeno Chara was arguably the NHL's most proficient defenceman, combining an unparalleled physical game with high-level hockey sense, surprisingly good skating and a potent scoring touch.
Now, at age 38, he is undeniably a diminished force — but that does not mean he is a spent one.
With his future — and that of the Boston Bruins — uncertain, it is worth asking now how good Chara is in the present, and how much he has to offer over the remaining term of his contract.
Because we're still so early in the 2015-16 NHL season, the easiest way to answer that question is to look at what Chara has accomplished in recent years. Obviously, we'll look at last season, but we'll also compare it to his previous four campaigns to see if we can identify a trend which might indicate how quickly his game is declining.
We should start by establishing context.
Chara's reputation as the ultimate shutdown defender is well-earned, and Bruins coach Claude Julien has not eased his load at all. Chara faced the third-toughest competition in the entire league last season, a marginally tougher level than he played in 2010-11 when Boston won the Stanley Cup. He also actually started more shifts per game in the defensive zone last year than he did in 2011.
Despite playing these tough minutes, Chara's traditional two-way dominance remains intact. If we look solely at on-ice scoring chances over the last few years, we see only the barest evidence of decline: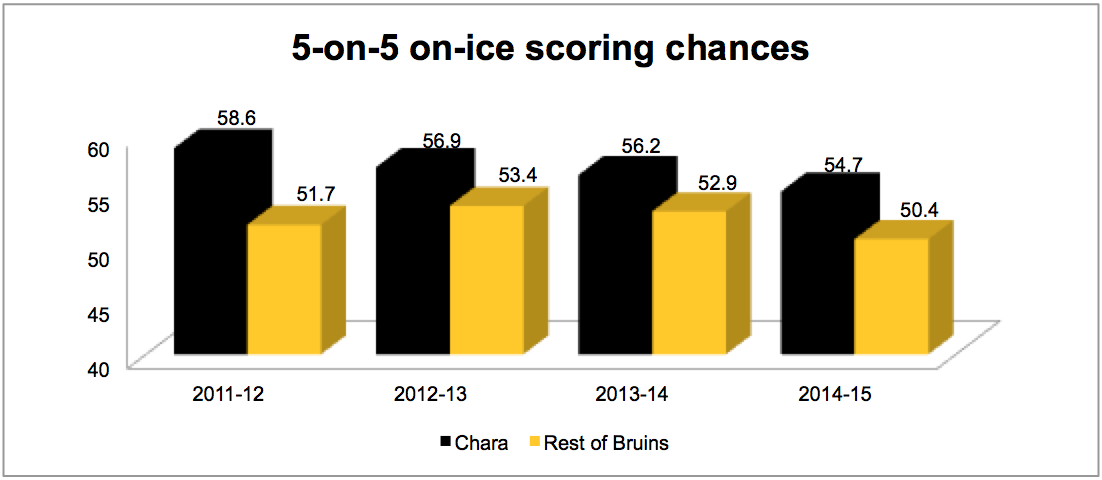 The numbers on that chart show what percentage of the scoring chances that happened were in the Bruins' favour. So, for example, last season with Chara on the ice Boston out-chanced the opposition 55 to 45, which is a very good number.
Without him, the total was closer to 50/50. That is impressive all by itself; it's even more impressive when you remember that Chara is playing much, much harder minutes than everyone else.
Still, we can see the start of a decline.
In 2011-12, Chara was outperforming the team average managed by a better version of the Bruins by seven points. Last season, with an inferior Bruins roster (it's easier, of course, for a star player to outperform indifferent teammates than it is great teammates) the gap had fallen to less than 4.5 points.
That's still very good of course; it just isn't as strong a performance as Chara managed when he was in his prime.
In another specific area, offence, the bottom may have already fallen out.
From 2009-10 to 2013-14, Chara consistently posted between 0.9 and 1.1 points/hour at even-strength — very good numbers for a defenceman. Last season, he fell to just 0.4 points/hour. He also fell from 4.8 points/hour in 2013-14 on the power play down to just 2.5 in 2014-15.
Personally, I'm skeptical. The typical route for a player like Chara isn't five strong seasons followed by half his offence disappearing overnight. A knee injury slowed him down early, and Boston's on-ice shooting percentage dipped in a big way; it seems probable that we'll see some rebound from him this season, though the same sort of slow decline we noted in his on-ice scoring chances may well be evident here, too.
Even now, Chara looks like a legitimate No. 1 defenceman. He plays brutally tough minutes, the ice is tilted in his team's favour when he's out there and there is plenty of evidence that last year's scoring drought was likely an aberration rather than the start of a trend.
This isn't exactly unprecedented, either; in recent years, players like Nicklas Lidstrom, Rob Blake and Ray Bourque continued to be effective right up to their 40th birthdays and it's not crazy to think that Chara is in the same class.
It's highly probable that Boston's captain will continue to be an effective top-pairing defenceman this season. Unless the slow erosion of his physical skills suddenly accelerates, it's entirely possible he'll continue to be a decent option in that role for the remaining three years of his current contract.