His photo is plastered across these pages, so this won't be an especially good parlour game.
But play along: Without that screamingly obvious cue, would you have been able to guess which of last summer's free agents is currently top-10 in the NHL for goals, power-play tallies and game-winners?
Probably not.
Throughout his career, this 33-year-old winger has been vastly underrated or simply not even given the chance to engineer the freaky on-ice feats he's capable of. He was forced to play musical chairs early on, then finally found a home in the Arizona desert before making the tough decision to move on last summer.
MORE STANLEY CUP PLAYOFFS: | Broadcast Schedule
Rogers GameCentre LIVE | Stanley Cup Playoffs Fantasy Hockey
New Sportsnet app: iTunes | Google Play
Now, since signing as a free agent with the Canucks and becoming the piece that seemed to perfectly complete the puzzle of the Sedin line, Vrbata is having what you might call a breakout campaign in his 13th season in the NHL. But he's doing it with the same understatement that makes him so crafty on the ice, so don't feel bad if you haven't noticed.
Radim Vrbata is a quiet guy. He speaks softly and not often, is unfailingly polite and plays hockey with a preternatural patience and intelligence. His most impressive goals happen when he waits and watches, then waits some more until he finds a split second on the clock or a few inches of space that just weren't available to anyone else.
In Ottawa on Dec. 7, he picked up a pass at centre ice and charged toward the Senators goal with only defenceman Chris Phillips on him. As Vrbata closed in on the net, Phillips cut off his passing lane, and other Ottawa defenders swarmed in. Vrbata paused elegantly for a moment then deked out Craig Anderson to draw him from his crease. He slipped behind him and reached around to tuck the puck into the abandoned net, just before the angle closed on him.
It was one of his prettiest goals of the year, and it helped Vrbata remain on pace to best his career high of 62 points. He was initially a perfect complement to the Sedins, but coach Willie Desjardins switched things up recently, and Vrbata is now lighting it up with Chris Higgins and Nick Bonino on the second line.
"He's kind of an assassin," Higgins said after Vrbata contributed two goals and an assist to his team's 5–2 downing of the Jets on March 25. "It's pretty incredible watching him around the net—so much poise and patience."
Vrbata grew up in Mlada Boleslav, about 50 kilometres north of Prague in what is now the Czech Republic. His mother was a secretary and his late father worked as a driver at the Skoda car factory, the largest employer in town, ferrying people and food around the facility. Vrbata and his younger brother, David, grew up playing everything together—tennis, soccer, street hockey—and scrapping in their shared bedroom when one of them took a loss badly.
"Then our dad came to the room and just smashed us both, and it was quiet for the rest of the night," David laughs, miming their father cuffing them across the ears.
As an adult in the NHL, Vrbata is as close to a homebody as a transplanted European can be. He spends off-seasons in the Czech Republic practising with BK Mlada Boleslav, his hometown Extraliga team — where David is a winger — and even purchased a one-third ownership stake four years ago. But at 17, he moved 6,000 km away to play junior in Canada, first with the Hull Olympiques and then the Shawinigan Cataractes. He was drafted by Colorado in the seventh round of the 1999 draft and put up 30 points in 52 games in his rookie season with the Avalanche two years later. He was traded three times in the next five seasons, eventually landing in Phoenix, where he finally had a chance to excel. He loved playing for Wayne Gretzky because he was the first coach who just let him play his game.
---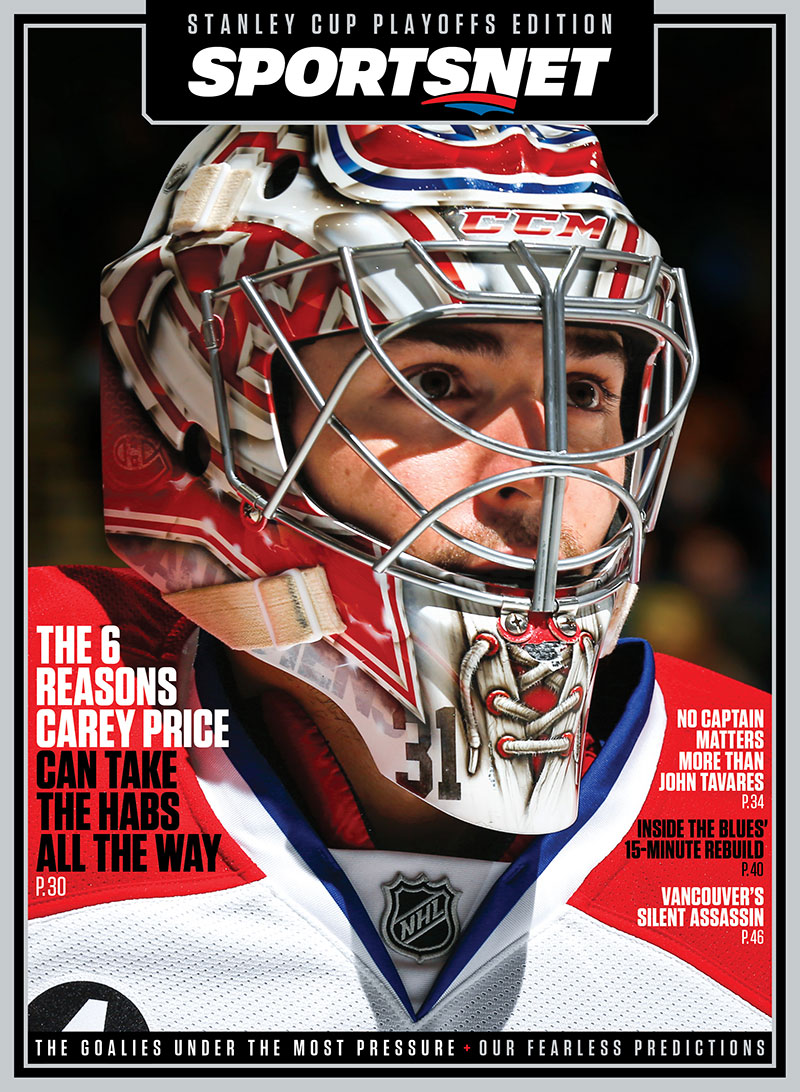 Sportsnet Magazine Stanley Cup Playoffs
Edition: The six reasons why Carey Price can take the Montreal Canadiens all the way. Download it right now on your iOS or Android device, free to Sportsnet ONE subscribers.
---
Vrbata netted 27 goals and 56 points in 2007–08, then signed a three-year, $9-million contract with Tampa as a free agent. Almost immediately, though, things went sideways. Vrbata's wife, Petra, was dealing with a high-risk pregnancy with their first child, and he was struggling on the ice, with just six points in 18 games. The winger asked management for permission to spend the rest of the season in the Czech Republic.
"The way everything was going in Tampa, we felt like there were more important things than just hockey," he says. "We just decided to go home and have a child back in Czech, where you're comfortable, and then deal with hockey after. It wasn't about money, it was more about family."
Vrbata split the rest of that season between the Mlada Boleslav team and another in Liberec, 40 km away, and the couple's son, Krystof, was born that March. But in 2009–10, when Vrbata was ready to return to Tampa, GM Brian Lawton said his roster spot had been filled and gave Vrbata's agent permission to shop around. The first call he made was to the Coyotes, who were happy to engineer a trade. Vrbata flourished there yet again, becoming one of the team's go-to snipers and topping 20 goals (or the equivalent in the lockout-shortened season) in four of his five campaigns there. Today, he sits in the top 20 in franchise points and is third all-time with a plus-41.
When he hit free agency last summer, the Coyotes were dismantling their core and counting their pennies. Meanwhile, Vancouver came calling with a two-year, $10-million offer — not to mention the possibility of slotting in on the top line. Vrbata thought the Sedins' wily, pinball-style game would be a great fit for his tendencies. Still, the decision to leave was difficult. Vrbata and his family loved the years they spent in the sunny warmth — and relative NHL anonymity — of Arizona. It was all Krystof knew of life in North America, and the couple's younger son, Oliver, was born there last year. "It was like a second home away from Czech," Vrbata says.
For a guy who's weathered so much disruption in his career, going to Vancouver meant taking one more big leap of faith — but it was the right move. His veteran savvy has brought a much-needed element to a resurgent team. In the pre-game dressing room, he's so quietly analytical that he notices patterns — like when certain teammates will get up to go for a stroll, or who habitually talks to whom. And Vrbata's stoicism circles around to absurd entertainment for his teammates in big-game moments: He does not do goal celebrations. Early in his career, he read that Brett Hull said if you whoop it up too much, the other team zeroes in on you.
Now, even his biggest goals — like the gem against the Senators — elicit a reaction restrained enough to please a British aristocrat: a nod of the head, maybe a small fist pump if he's really worked up. "I hear a lot that I should celebrate more or that I don't show emotions when I score, and I know I don't," he says. "I don't want to draw too much attention, but on the inside I'm really happy."
Vrbata already considers this season a career highlight, and he has hit on a nice equilibrium: eight or nine months a year in a new city with a team that's given him the freedom to pull off his shifty magic tricks, and off-seasons back in the place where his roots will always be. Pretty good life for a polite assassin.
With files from Naoko Asano in Vancouver