One day down the line, the Calgary Flames faithful will see that familiar No. 12 rise to the rafters of the Scotiabank Saddledome, cementing the legacy of the best to ever don the city's colours.
It's the only fitting endpoint to Jarome Iginla's near-two-decades-long career in Alberta, one that saw the future Hall of Famer carry the Flames from a post-season drought to the Stanley Cup Final. And one that — following a subsequent five-year spin through Pittsburgh, Boston, Colorado and Los Angeles — will come to an end when the 41-year-old announces his retirement at the Saddledome on July 30.
Though it's been five years since the St. Albert, Alta., native walked the halls of the Saddledome as one of the arena's own, the homecoming seems an appropriate send-off.
"In a sense, I grew up there," Iginla told CalgaryFlames.com's George Johnson on Wednesday. "I started playing for the Flames at 19 but even in minor hockey I remember travelling to Calgary for tournaments, from St. Albert, and I imagined playing in the Saddledome. It's been a fun adventure for my family and I. Some great cities, great people. To be back in Alberta, though, will feel like home."
The veteran sniper posted more than a few milestone moments through his lengthy NHL tenure, establishing himself as the league's quintessential power forward en route to an Art Ross Trophy, two Rocket Richard Trophies and a Lester B. Pearson Award.
But his most memorable stretch in a Flames jersey was undoubtedly the 2004 playoff run that saw Iginla push an unlikely contender to the Final, bowing out just one win shy of a championship (not without a bit of controversy, of course).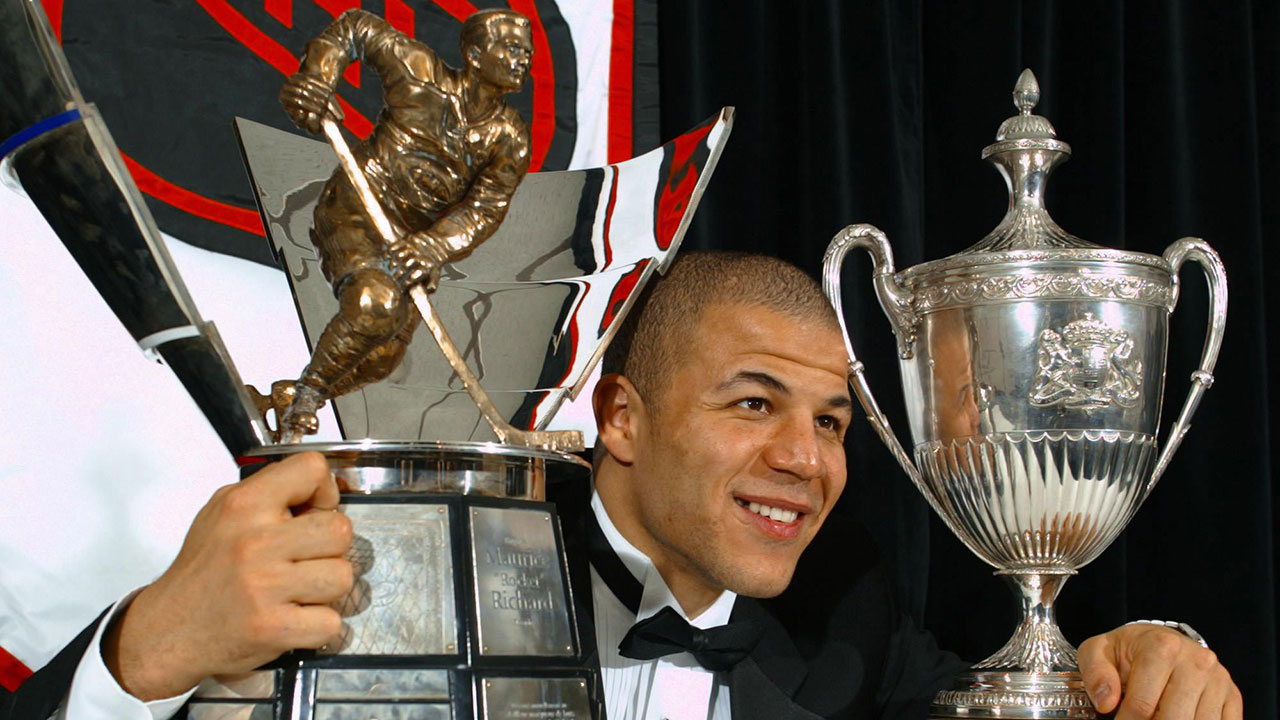 "Being so close, that was tough. But it was amazing, too," Iginla told Johnson. "The way the city embraced us. The Red Mile. And each series was so close. Beating Vancouver and then Kipper standing on his head against Detroit. … For sure, it took me a while to just let it go, losing. From seven years of missing the playoffs to almost winning it. And it does still sting a little bit.
"I've always dreamt of being on a Stanley Cup-winning team. That always stayed with me. I know now that dream isn't coming true."
Though Iginla finishes his career without reaching that Stanley Cup summit, he leaves with a legacy dotted with far more than playoff failures.
"If you said when I started that I was going to play 20 years, experience what I have, I'd have taken it in a heartbeat," Iginla said. "I did the best I could, played as hard as I could. And all my dreams came true, more than I ever could've imagined. Except that one dream. It just wasn't in the cards for me."
The captain's impact on his former franchise's history is undeniable, with none who have come after yet able to rise to become the same type of central, crucial figure in Calgary. Assistant GM Craig Conroy, who logged nine seasons on the Flames roster alongside Iginla, said it wasn't difficult to see what drove the winger's impressive career.
"First of all, the one thing people should know about Jarome — he just loves the game. He's passionate about the game," Conroy told Sportsnet back in February. "We used to go over to his house at Christmas time and he had a little outdoor rink in the back, and we'd be playing one-on-one. Whether we were playing in the NHL or playing in his backyard or playing shinny hockey with our buddies, he just loves the game."
Though the tail end of Iginla's career saw him don a few different jerseys, No. 12's time in the NHL will always be defined by his Flames tenure.
"He's a Calgary Flame to me," Conroy said. "That's what Jarome Iginla is."
Well known for his all-world sniping ability — Iginla's 625 career goals rank 15th-most all time — Conroy said there was far more to his former teammate's skill-set than filling the net.
"He could play the game any way you wanted. When it got hard, he got better. That really seemed to take his game up a level or two," Conroy told Johnson on Wednesday. "Even when there wasn't a lot of hitting, Jarome could get by on finesse. Even though he was classified as a power forward, he could play in any situation.
"He's an all-timer. He's an all-star. He's a Hall of Famer. But he's also a good guy. You want to go to war for him because he is the ultimate good guy."
Added Flames assistant coach Martin Gelinas — who played a key role in that '04 run alongside Iginla — to Johnson:
"You spend a little bit of time with Jarome Iginla and it's a breath of fresh air. I've never heard him say a bad word about anyone. Always positive. Smile on his face. But a true warrior. I can't say enough about the guy.
"The ultimate player."