The phone rings, you say hello. Before any further pleasantries, Jason Blake has a question.
"How's Brian doing?"
Told Brian Boyle sounded as positive as can be expected, Blake recalls sitting at home with his son one night. They were watching the New York Rangers and on came a feature about Boyle's family.
"I remember thinking, 'God, he's got a wonderful family.' That's going to help him a lot. I was so fortunate to do everything I loved as a kid. When you're playing, you take it for granted once in a while, but you learn the only thing that matters is your family. They're the ones who are going to be there at the end of the day."
"He carries himself with such character," Blake adds about Boyle. "I think he'll be just fine. I really do."
Boyle revealed Tuesday that he was recently diagnosed with chronic myeloid (or myelogenous) leukemia. It's been 10 years, almost to the day, Blake received the same diagnosis. He remembers every detail.
"It's not uncommon in training camp to have your blood tested twice. Then, they came to me and said, 'We're going to do it a third time. Meet us at Princess Margaret Hospital.' Remember, I've just signed with Toronto, I don't know the city, there's construction everywhere. I park the car with my wife and we go up to the second floor."
The elevator doors open. Jason and Sara Blake see the words: "Princess Margaret Cancer Research Centre."
"They tell us to go to the right. I'm starting to lose my mind, but I see we're going to a section marked, 'Leukemia.' Then, I'm saying, 'What the f—? What is going on?' They told me, 'We have good news and bad news, which do you want to hear first?'"
Blake laughs when recalling this part of the conversation.
"Obviously, I want the bad news first, because, since you're telling me there's good news, I want that last," he answered.
The good news was that there were major advancements in CML treatment prior to his diagnosis. Blake gave great reviews to his oncologist, Dr. Jeffrey Lipton, who had done a ton of research and gone to Europe to study the new option. Blake was told that if he had been diagnosed five years earlier, the success rate was much lower.
But a new drug, Gleevec, was available. It was, and still is, known as "the magic bullet." Blake was given the choice of trying that, or a bone marrow transplant.
"With bone marrow, I knew I was going to have to give up a year, and there was no guarantee it would work. They were confident the pill would be great. For us as players, it's a reminder how fortunate we are that we get to do this. Because we do these blood tests, they catch it early. Often, men don't start it until north of 45. I was 34. Brian is 32. When I got diagnosed, as much as it sucked… they caught it early. The support system will be excellent.
"The Devils and the NHL will take care of him."
[relatedlinks]
A decade later, Blake still takes one pill every morning. But our conversation indicated he's in a great headspace, living in Minnesota with his wife and four children. He played 445 NHL games after the diagnosis. As you can imagine, the hardest part was the beginning.
"I didn't miss any (regular-season) games, but it was tough. It's basically chemotherapy in a pill form. I came to camp (at) 182 pounds, because that's what I played at. I lost 10 pounds in the first seven, eight, days. It was a big adjustment, trying to manage weight. Every time I ate, I couldn't stay out of the bathroom, because your stomach is upset and you're nauseous."
"As time went on, I cramped up quite a bit and started drinking tonic water during periods. I still drink it today."
He and Boyle share something else: both signed with new teams, which brought its own pressures. In the summer of 2007, no free agent hit the market with more goals the previous season than Blake's 40 for the New York Islanders. Toronto pounced with a five-year, $20-million deal. Boyle's on a new two-year, $5.5-million contract in New Jersey.
"That day (I was diagnosed), they took part of my bone marrow," Blake said. "That night, we had a pre-season game against Buffalo. I wanted to play, but it hurt so bad I couldn't. It was tough. I missed practices, I missed pre-season games. I didn't want to be the new guy in town, with teammates thinking I was asking for special treatment. So I asked if I could address the team."
"Darcy Tucker," Blake pauses to laugh a little bit, "We had some real run-ins when I played for the Islanders. Then, we sat next to each other in Toronto. After I spoke, Darcy sat me down and said, 'We sit next to each other. I can't believe you didn't tell me this. We would have taken care of you.' He's a great guy.
"They'll take care of (Boyle). It's a fraternity, almost. Even if you hate each other on the ice, people care for guys. One morning in Carolina, I went to talk to Peter Laviolette, who was my coach with the Islanders. He must have talked to his team, because they were coming over the red line in warmup, tapping me on the ass."
Blake said Matt Cullen sent him Boyle's number, and he will reach out. But he's waiting for the right time, because, "as much as you appreciate all the notes, you want your privacy, too."
What would he tell him?
"I've played against him. He's a tough guy who works hard every shift. His attitude will get him through this."
Then Blake pauses.
"Yes, I was dealt a s—ty hand. But how you play that hand decides what kind of a person you are moving forward. As much as it sucks, accept the fact. Deal with it. There is no other option.
"God bless him, I really mean that."
31 THOUGHTS
1. Blake's 14-year-old son, Jackson, will participate in the USHL showcase next week in Pittsburgh. "Maybe he will play for North Dakota one day," he laughed. Blake had 171 points in 119 games in Grand Forks from 1996-99.
Johnston: Joffrey Lupul's intentions from his comment are still unsure
September 19 2017
2. Joffrey Lupul tweeted Wednesday that he will not pursue a second opinion to challenge his failed physical with Toronto. The question now becomes: does the NHL ask him to see a doctor for its own ruling?
It's not unprecedented. During the 2008-09 season, other clubs complained after Calgary placed Rhett Warrener on waivers, then put him on long-term injury, where he spent the season. The defenceman was examined twice, the second time when the Flames were forced to play with just 15 skaters because of salary-cap problems. Philadelphia was on LTIR for almost a decade and, while no one would confirm it, word was there were several occasions where Flyers players had to see league-appointed physicians.
As a couple of Lupul's former teammates indicated, he still wants to play. That's different than say, Andrew Ference/Edmonton or Chris Pronger/Philadelphia. As you all know, if you don't live in Toronto, you hate Toronto; certainly opposing teams wouldn't mind seeing the Maple Leafs with a deeper cap crunch. But, how many really want tougher policing?
3. Lupul's initial Instagram post revealed what has long been suspected: he does not like that the Maple Leafs decided they don't want him around. After the great disappointment of 2014-15, the organization made it clear things were going to change and certain personalities were not long for the city. I don't profess to know the exact reason, but the team took the first opportunity it could to remove him. This was Lupul's way of stating his disapproval. It's not easy for him to be banished as Toronto appears on the rise. It is also a reminder that if anyone says anything remotely controversial on social media or in a foreign language — it is not going to stay hidden.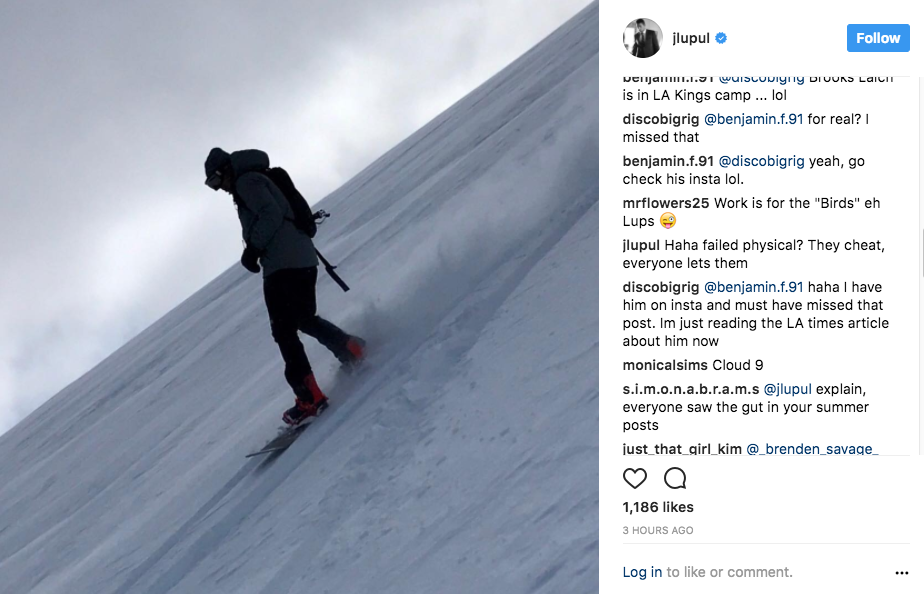 4. I'm a big believer in the Lou Lamoriello, "If you have time, use it," philosophy, so, when it comes to unsigned players, the next pressure point is the start of the season. That said, I'm surprised that Josh Anderson remains without a deal. Columbus went the extra mile to keep the edgy, rapidly improving forward from Vegas, and others.
It is believed, for example, that Colorado asked for him in Matt Duchene talks, only to be rejected. Word is the Jackets want a three-year term to protect against Anderson's upcoming salary arbitration eligibility, but the two sides are nowhere close on value. Another source indicated Anderson used Tom Wilson as a comparable. The Washington forward signed for two years and $4 million, but that did not bridge the gap, either. Anderson's agent, Darren Ferris, declined comment. This is a huge year for the Blue Jackets, too.
5. Ferris also represents Andreas Athanasiou. The longer this takes, the more you think a Detroit-Pittsburgh trade is contingent on his signing with the Red Wings. At his season-opening media conference, Penguins GM Jim Rutherford indicated there were three options for the Penguins to consider. Riley Sheahan is one, and I think the parameters are all but agreed to. (I'm wondering if Derrick Pouliot is a possibility, he seems like a sensible gamble for Detroit.) But, I don't know how the Red Wings feel about potentially losing both Athanasiou and Sheahan, which could be holding up the deal. Of course, Pittsburgh could decide to move on, too.
6. Part II of this whole scenario is the Penguins may be waiting to figure out this move before making Evgeni Malkin happy and taking the plunge with Danis Zaripov.
7. Reports from overseas indicate Jaromir Jagr is prepared to make an announcement about a future club on Oct. 5. That indicates he's got a KHL situation sorted out, and is just waiting to see if anything shakes loose in the NHL. HC Neftekhimik's Rail Yakupov told Sport-Express's Igor Eronko that his club is "very interested" in Jagr.
8. Vegas has told all of its defencemen to act as if you are staying, find a place for the season. GM George McPhee is not tipping his hand. Someone's going to have to break a lease.
9. Like Fight Club, the first rule of Andy O'Brien's special end-of-summer training camp in Vail, CO is: don't talk about Andy O'Brien's special end-of summer training camp in Vail, CO. O'Brien, Pittsburgh's Director of Sports Science and Performance, attracts the likes of Jamie Benn, Sidney Crosby, Nathan MacKinnon and Tyler Seguin. Guys swear by him. This year's rookie was St. Louis's Brayden Schenn. Schenn politely declined an interview request, sending word the group likes to keep things private. But I'm curious to see if it has a positive effect on his 2017-18 season.
10. From 2011-12 to 2014-15, Philadelphia had a top-five power play using four forwards and one defenceman on the top unit. During that four-season span, only Washington and Pittsburgh were better. But the Flyers dropped to 11th in 2015-16 and 14th last year. Newly hired assistant coach Kris Knoblauch is trying a new look, four forwards and one defenceman on the second unit, too. The scouting report on Knoblauch's power plays at OHL Erie:
"They loved to generate chances off the rush. Their group will attack the offensive zone with speed and try a lot of rush offence…not something you see much strategically in the NHL like the OHL, though. Setting up in-zone was much more conventional, but similar to Washington in the sense everyone has a purpose."
Also: Expect a lot of movement from between the goal line and bottom circle and, "Running that 4F 1D, the defenceman will be very involved. Not just a set up on the half-boards guy." That could be very good for Shayne Gostisbehere.
Asked about all of this, Philadelphia head coach Dave Hakstol said Knoblauch's philosophy is to "always evaluate his personnel, and put different setups in place to use that personnel best. We will have the same base, but additional options. We do have to be careful, though. This unit has been very good for several years. I look at it as growing and adding." He pointed out that what happens with the first power play group won't be the same for the second. "We will have additional options for them."
11. At the NHL media tour, Gostisbehere said he feels completely different than he did a year ago, when he was rehabbing from hip/abdominal surgery.
"I feel great on the ice, there's no doubts in my mind about injuries holding me up," he said. Were there doubts last season? "Not physically or anything, but I think mentally it takes a toll on you after a while, just thinking things aren't really working out. (You're) thinking, 'Is it my injuries, is it this?' But this year I have a clear mind and I'm ready to go."
He and Claude Giroux tried their best to refute the idea their recoveries interfered with their performance.
"We're no-excuse guys," Gostisbehere said. "We know when we're playing bad. We'll let you know. I don't need anyone to tell me. I know." Biggest lesson he learned in 2016-17? "It's not the easiest thing in the world to play in the NHL."
12. Hakstol on this talented defender: "Honestly, what I've seen is a mindset to make sure he's staying positive. That doesn't mean he's being soft on himself. It means being positive and confident. The dedication of his summer is what builds confidence. He put in the work. When you do the work and do the prep, you feel better. Maturity is figuring out what you have to do, and be disciplined every day. He's done that."
13. The Flyers also raised eyebrows at practice by lining up Giroux on the wing. "You heard about that?" Hakstol laughed. "It's an option we wanted to look at, because he can excel at any position. People may look at that as a negative, but no, it's not. It's what's best for our team, the best fit at end of day. It doesn't mean a set line every night, but the right option in certain situations. There's a good opportunity in pre-season to take a look."
Personally, I like the idea because it gives Giroux a bit of a jolt. We get a little flat the longer we stay in one place, so something different ignites challenge in the best of us. "Giroux entering the zone on his off-wing, using the middle of the ice, if there's any gap from the defence, there are offensive benefits for us," the coach said.
Does he worry about Giroux being on his weak side in the defensive zone? "No," was the reply. "With (opposing) defencemen, everybody pinches deep. Where's the one place you can't go as a winger? You can't chip up the wall. You have to protect that lane with your body, and if you can turn on the forehand, it's easier to make a play. When the pressure comes, if you're on your strong side, you have to be on your backhand, or jam the puck past a 6-foot-5, 240-pound monster 'D' on your back." Hakstol paused. "Wherever, we play Giroux, he will be at a high level."
[snippet ID = 3322139]
14. I'm always intrigued about the approach of dealing with star players. Did Hakstol broach this with his captain over the summer, or wait until training camp? "We waited," he answered.
15. Finally on Philadelphia, Hakstol talked about some of the pre-season battles. He likes Scott Laughton's mentality early, then added, "Somebody — or a couple of guys — are going to have to adjust to a different role if Nolan Patrick proves ready to be here. If he's going to make this team, we've decided he makes it as a centre." So no hiding him on the wing to start his NHL career.
16. Assuming my math is right (and that's always a big assumption), the NHL is averaging almost 15 penalties a game through Tuesday's exhibition action. That's very high. For comparison's sake, coming out of the 2004-05 lockout and into the obstruction crackdown, the number was around 12.
The emphasis on slashing looks here to stay, and I get the sense most around the league support that. The faceoff penalties don't seem as well-received. The biggest complaint: that the teams and players did not understand how much it was going to be emphasized, especially since they knew slashing was under the spotlight.
I'm going to be in the minority on this one, but I'd like to see where it goes over the next week. After watching Toronto and Ottawa play their exhibition opener, my concern was the linesman dropping the puck couldn't watch both centremen. Connor Brown was nailed for a violation, the right call, but the same official couldn't see Zack Smith also lined-up illegally. The next night, when both teams played again, the other linesman came from across the ice to make a call. That's good.
I don't mind the idea of exhibition play being a "testing ground." There's really nowhere else for the majority of NHLers to tinker. If it makes the game better, everyone benefits. As for Brad Marchand, it's always good to hear blunt honesty, even if I disagree.
17. Request for next year? Do some games with the two-line pass disallowed.
18. The GMs were the driving force behind a two-minute penalty for an incorrect offside challenge. The interesting thing is that the league office didn't want it. They believe, as the stakes get higher, GMs are going to regret this decision.
19. Leo Komarov was "patient zero" on the league's visor-wearing crackdown, so it wasn't a surprise to see the officials all over him this week. When footage was shown to the GMs last June about players wearing it too high, Komarov was the star of the show.
20. I say this every year, but be careful how much emphasis you put on the first week of pre-season play. Week Two is a truer indicator. Veterans start to care a little bit more.
21. Teams are notoriously private about their sports science data, but it's very interesting that Toronto decided it will keep 49 players until the end of camp. That's exactly the kind of thing that department would recommend. With the length and intensity of the NHL season, why waste energy in exhibition? Watching some of Vancouver's young players (Brock Boeser, Jake Virtanen) show life while the veterans are overseas makes me wonder if this is where we should be headed.
The thinking has usually been, "Okay, get these guys out of here so we can get ready." Everyone shows up in shape now, so maybe it should be, "Let's give these guys extra opportunity, we know what the other guys can do." It might actually increase interest, letting fans see excited, motivated young players for a few extra days, rather than bored veterans.
22. One of the non-Canucks executives in Penticton for that rookie tournament had some interesting comments on Olli Juolevi. "He's subtle, not dynamic. You have to look for him. Sometimes, people think you have to notice a guy to believe he's making an impact. That's not him. He's still working his way through, but I think those fans have to adjust their expectations."
23. Haven't heard a ton of Vancouver on the Matt Duchene watch. (Doesn't mean it's not true, just means I haven't heard much.) Last I heard of anything really with the Canucks and Colorado was two years ago about this time. The Canucks liked Tyson Barrie, but, from what I understand, weren't so interested in including Ben Hutton as part of the package. As for Duchene, I've got no problem with his reluctance to speak. Let his play do the talking.
24. Had heard the Rangers took a look at Thomas Vanek during the summer, but that was going to be on a tryout basis.
25. Word is Ottawa's players have been really impressed with Alex Formenton. The 47th overall pick last June is only 18, so he's a long shot to make it this year. But he's still with the big club.
26. At the NHL media tour, Roman Josi — who wore the best suit of anyone there — was asked if he'd discussed the captaincy with David Poile. Answer: "No." So, either the whole thing came together in a week, or you don't want to play poker against him. Excellent bluffer.
27. Interesting comment from one of the Lightning: "No more taking anything for granted. We've learned our lesson. We thought our skill would get us into the playoffs last year."
28. Tampa Bay with a couple small moves this week, waiving both Cameron Darcy and Brian Hart for the purposes of a buyout. Hart (taken 53rd in 2012) and Darcy (185th in 2014) split time in the AHL and ECHL last season. It's a battle in the Lightning's loaded prospect pool. Both will try fresh starts elsewhere. This also drops Tampa to 45 contracts (the maximum is 50), depending on any junior-age players who might make the team. Flexibility is always good.
29. Erik Cole signed an honorary contract to retire as a member of the Carolina Hurricanes on Wednesday. Anyone who saw him play the final two games of the 2006 Stanley Cup Final won't forget it. Recovering from a broken neck, the Hurricanes kept denying there was even a chance, until Cole showed up in warmup for Game 6. I didn't work that night due to CFL hosting duties, but Scott Oake told a great story of standing on the bench waiting to do an interview, trying to catch Cole's eye to ask if he was really going. Finally, Cole looked over, winked and nodded.
30. I have zero faith in politicians, and believe that their only concern is counting votes. So, when it comes to the fight over a new arena in Calgary, if mayoral candidates believe the voters want a new arena, the Flames will get one. If not? I don't believe for a second the team will move, because it makes the league weaker.
I was sharing this opinion with someone who lives there, and his reply was, "(Owner) Murray Edwards is a total wild card. He picked up and moved to London, remember?" The accusation is that he did it to avoid heftier Canadian taxes, although Edwards told The Globe and Mail in 2016 it was "based on my personal circumstances, which I don't want to go into…a change of scenery." The NHL controls relocation, not the individual owners, but it is an interesting point to make.
31. Last week, when reporting on Matt Duchene's media availability in August, I saw some quotes from him that were not credited to a specific reporter. After publication, I learned those particular words were said to NHL.com's Dan Rosen. Wanted to make sure Dan got the credit for his work.