Digit Murphy is having her back checked out.
"Probably too much sliding on the ice," she says over the phone from Toronto.
That's not an exaggeration. In one of her do-it-yourself promo videos, the Canadian Women's Hockey League coach can be seen mugging for the camera, striking figure skating poses, and literally sliding along the ice.
The 56-year-old has travelled between North America and China 14 times this season and is here this weekend to lead her expansion Kunlun Red Star in the Clarkson Cup final. She is simultaneously the driving force behind China's goal of competing for a women's hockey medal at the 2022 Beijing Olympics.
Tune in to see @KunlunCWHL vs. @ThunderCWHL LIVE on @sportsnet this Sunday!

OR purchase your tickets at https://t.co/SqnKthoyxV! #WeAreTheGame #ClarksonCup2018 pic.twitter.com/zzkogjAbYX

— CWHL (@TheCWHL) March 21, 2018
That back of hers must be pretty resilient.
In her first year behind the bench of one of the CWHL's two Chinese expansion teams, Murphy's taken a combination of Western imports and Chinese nationals and produced a second-place finish and a berth in the championship against the Markham Thunder. And though she's an American affiliated with the Chinese hockey program and the CWHL, her vision for the future of the sport is singular and unique.
"I get s— done because I'm not afraid to have conversations that are uncomfortable, and I'm not afraid to say I'm wrong, and a lot of people don't like that so f— 'em," says Murphy.
That approach, understandably, doesn't sit well with everyone. Three members of her team were nominated for awards, including MVP, top goalie, and top defender, while she was snubbed for coach of the year. The coaches of the first-and third-place teams got a nod while Jeff Flanagan of the Toronto Furies received a nomination despite finishing sixth and out of the playoffs. Murphy points out that she is one of two female coaches in the seven-team league and all three nominees are men. It's not clear how the coaching award is determined while other awards are voted on by managers, coaches, and players.
It wouldn't have been the first time the decorated NCAA coach won an award, nor the first time she was denied one.
CWHL title to be decided this Sunday
March 19 2018
This season actually marks Murphy's return to the CWHL. She led the Boston Blades, made up at the time of Hilary Knight and several other American Olympians, to three straight Clarkson Cup appearances from 2013 to 2015, winning the first two titles for an American team in the league. Her departure was acrimonious, as was the departure of many of the Blades who jumped ship to the NWHL for its inaugural season in 2015-16. The Blades were, and still are, largely neglected in comparison to the four Canadian teams, and the NWHL's initial promise to pay player salaries helped convince the Blades that this new league was progressing faster.
Murphy had actually planned to retire.
"After 2015, I thought I was done," she says.
After winning the Clarkson Cup in the spring of 2015, she discovered that the Blades' logo was not trademarked and bought the rights in an attempt to preserve it for the league. But a dispute over those rights and other financial issues caused a rift between her and the CWHL.
But retirement became just a coaching hiatus as the Providence, R.I., native was inspired to return to the Canadian league through KRS, a job she immediately accepted upon her first visit to China last year. She became the de facto manager of hockey operations in helping to select the CWHL for KRS to join, as well as in recruiting players. She's also tabbed to be the next coach of the Chinese Olympic women's team which she believes will medal in 2022.
Missing out on one more individual award is not going to sully this coach's résumé.
"It doesn't surprise me," she says. "Leadership is lonely, that's all I'll say."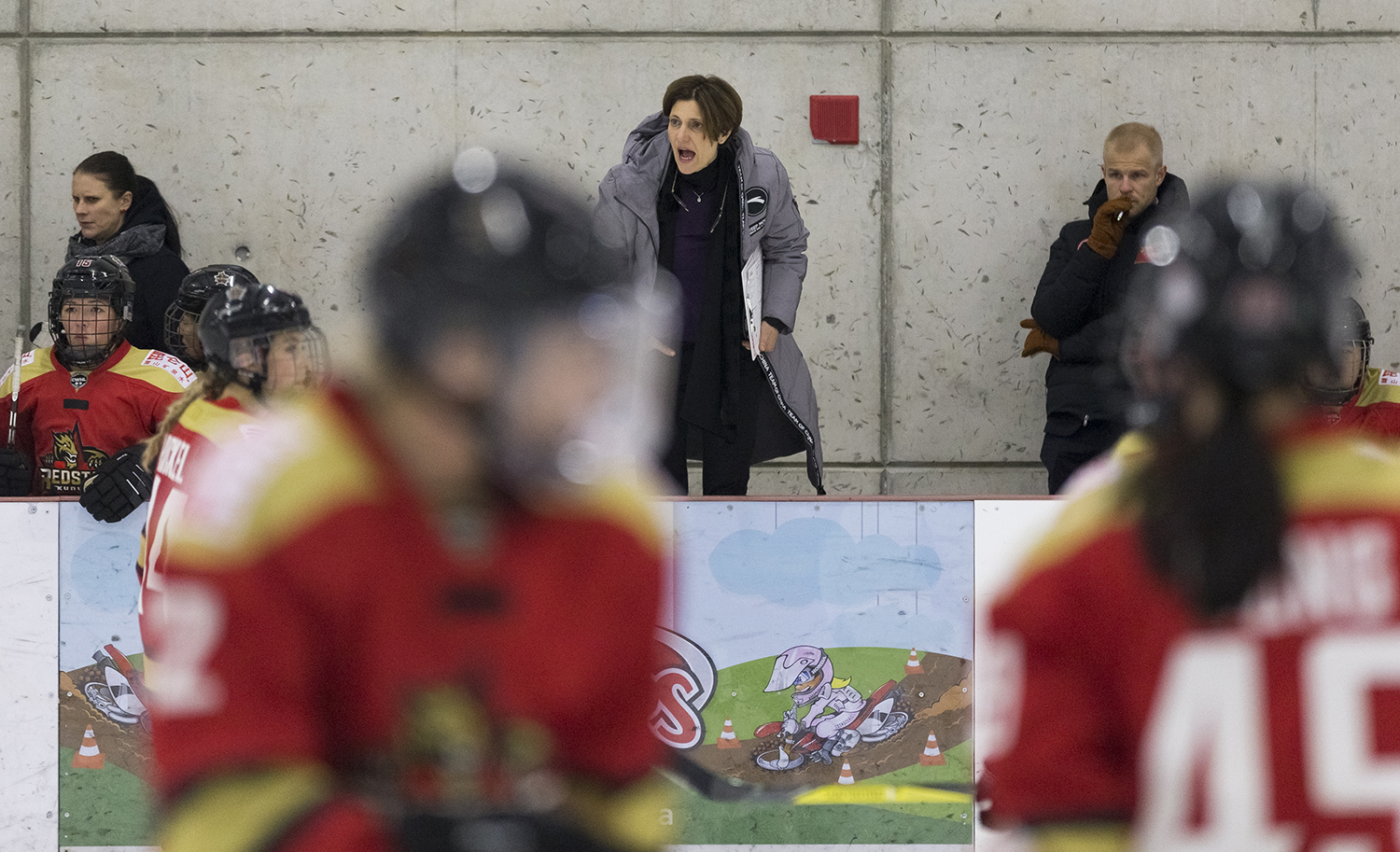 Murphy had done a bit of everything in the game before becoming a frequent flyer. She played on the pond in Providence in the 1960s when there weren't any local girls teams, played for one of the first-ever girls programs in the country in Rhode Island, and got recruited to the Ivy-League Cornell University. There she captained the junior and senior teams, was once named Ivy League player of the year, and was honoured in the school's Hall of Fame in 1993. Cornell's women's hockey MVP award is even named after her.
She coached Brown University for 18 seasons, finishing with a better-than-.500 record in 14 of those and winning many awards and ECAC and Ivy League titles.
She used to watch the Boston Bruins on channel 38 with her dad when Bobby Orr and Phil Esposito starred for the Big Bads. Now she works with Esposito who sits on the KRS board, a dream come true for her.
"My playing and coaching career kind of mirrors the women's game," Murphy says. "I don't think there are too many women who have been as lucky as I have to do so much in the sport."
With a fresh start in China, the coach has done as she always has. She's poured every ounce of her personality and infectious energy into growing the women's game in a country that remains a mystery in the hockey world, but one that is all too eager to tap the sport's best resources.
"China has set a new standard for women's sports," she says. "The number of fans they've brought in in one year to a place like Shenzhen, which might as well be Tampa — to bring an ice sport to a warm climate — and to have a progressive mindset towards sports is a dream come true. And I think it should be a dream come true for a lot of female athletes across the planet. To have a country like China, with the magnitude of its resources, want to grab women's hockey, it's beyond belief."
Cassie Campbell-Pascall on CWHL/NWHL merging: 'Enough is enough, let's take women's hockey to the next level'
March 09 2018
All-world Olympians like Kelli Stack and Noora Räty have followed her there, paid handsomely (for women's hockey standards) to both play and act as sport ambassadors — helping to sell the game to the population- and resource-rich China while assisting in coaching the national team players who make up the majority of the KRS roster.
Murphy leans almost exclusively on her American and European imports, running two lines and four defenders, making their back-to-back overtime wins last weekend in the semi-final seem even more remarkable. The question becomes how KRS can evaluate the growth of its national team and women's program when most of them are stapled to the bench for much of the season.
"China is very passionate about winning," says Murphy. "They're results driven, so it's not just KRS. I'm a little more process driven. We have a common goal, and it's never been to win. I think China wants to win. I've said several times that "we have to win" but only because ownership wants [that]. When you have a great process, the winning happens."
Therein lie the duelling motivations of China's and Murphy's hockey experiment. She explains that the sport is still so new to the culture that development will take years, not a single road trip or season. She has to take stock of player development in baby steps and illustrative anecdotes.
For instance, forward Zhu Rui scored her first goal earlier this month and Murphy's enthusiastic reaction was caught on tape.
Back in November, Baiwei Yu, a defender Murphy gives plenty of ice time to in comparison with other Chinese nationals, scored the first-ever goal by a Chinese-born player in the CWHL and similarly fell over herself celebrating.
"When you ask, 'How do you evaluate [the progress of Chinese national team players]?' You teach them to go to the net and then watch them go to the friggin' net," she says. "In practice every day, in video sessions, in the weight room: these kids learn. That's how you evaluate success."
And after a slow start to the season for KRS, the team rattled off a 15-game winning streak in a league that plays a 28-game campaign. Stack led the league in points easily while Räty set a new league standard in shutouts with six. The MVP and top goalie awards could easily be theirs.
Winning, Murphy says, is an invaluable experience for the Chinese program.
"It gets China on the map and excited about women's hockey which is why it's really important that we see results and that we win," she says. "Our Chinese players are learning on the job at this [high] pace and level of play. When you're losing games 6-1, mistakes don't matter [for developing players]. But when you're in a 0-0 game, they matter.
"[Our goal] is way bigger than the Clarkson Cup. We are in the CWHL to grow Chinese hockey. It's not the CWHL growing hockey, it's us growing it in China. Our mission right now is more about growing the number of teams in China, not North America. If we can figure out a better model in China, maybe we import players there."
Murphy has less patience for measured growth in women's hockey than most. A Clarkson Cup for a Chinese expansion team in its first year would be an incredible accomplishment yet she's already looking ahead to next month's Div. I women's world championships in which China will compete, possibly writing a book, and other media ventures that involve bringing the sport to a larger stage.
Not to mention those homemade videos.
"I do [the videos] with my own personality and my own style," she says. "Like f— this man. We gotta tell people what's going on. The reason why I do it is because women's sports are underserved. Nobody puts the resources in. There are so many stories to talk about but no money. They're not told in a fun way. You look at my stuff — it's crazy. I say whatever I want."
That back of hers has some miles in it yet.
[relatedlinks]