As the Nashville Predators battled through calamitous injuries to get to the Stanley Cup Final for the first time in franchise history, there has been a lot of talk about the trade that tipped the scales for them, and allowed the Preds to get through three great teams without ever facing elimination.
While Roman Josi and Ryan Ellis get a lot of attention, the pairing of P.K. Subban and Mattias Ekholm has been the Predators' best all season long. During the playoffs, that has been more obvious than ever.
Ekholm is perhaps the most underrated defenceman in the NHL these days — aside from maybe Hampus Lindholm — but let's focus on Subban.
He has always been at his best come playoff time, but we've seen a very different player this year. It's been talked about all year by Sportsnet insiders such as Nick Kypreos and Eric Engels that Subban has been dealing with a herniated disc in his back, and while he took some games off to rest in the middle of the season, he's clearly still not 100 per cent.
Because of that injury, some of the dynamic components of his game haven't been as evident. In terms of involvement in creating scoring chances, he's only providing about half as much offence at even strength as last season per minute played, though he has found a way to contribute anyway with 10 points in 16 playoff games. What has been more impressive than his offensive game, however, is his focus on the little things he can still control to make a big impact for the Predators.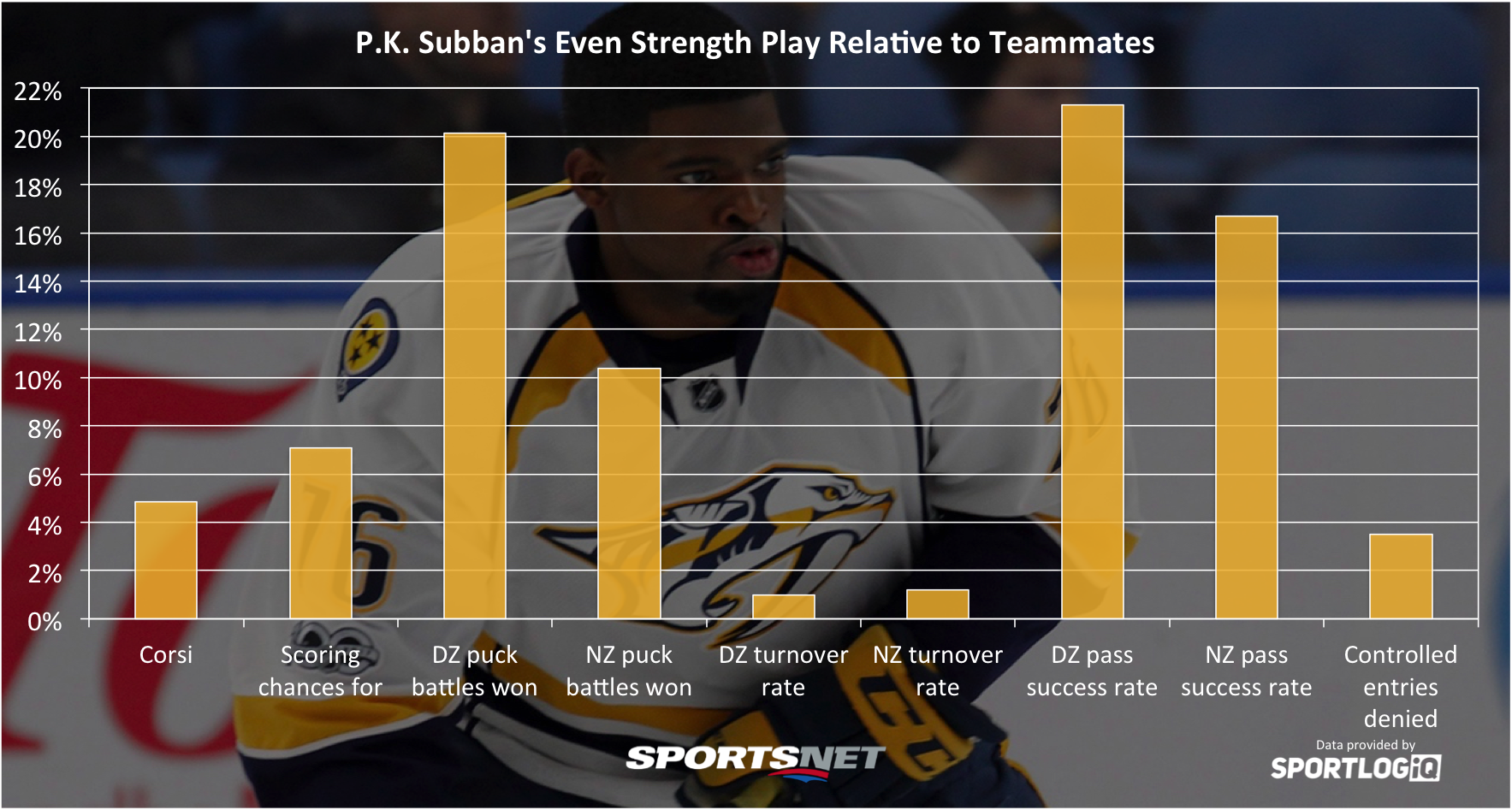 (Turnover rates are inverted so positive numbers are good)
Subban has been playing a shutdown role in the playoffs, hard-matched against the likes of Jonathan Toews, Vladimir Tarasenko, and Ryan Getzlaf as often as coach Peter Laviolette could get the match-ups — and the results have been staggeringly excellent. That those players were limited to just three goals in 16 games is one thing, but the fact Subban and Ekholm together have been on the ice for only six goals against at even strength in the playoffs is perhaps the most impressive stat.
It's not just goals either. Despite those tough match-ups Subban leads all Predators defencemen in on-ice Corsi, scoring-chance differential, and high danger scoring-chance differential. How he's accomplishing those feats when contributing less offensively is answered by the other statistics on the graph.
No other defenceman on the Predators is even close to Subban in the playoffs when it comes to winning contested loose pucks, the kind of play he executed to perfection on the boards in the defensive zone to spring Colton Sissons and Calle Jarnkrok for a rush that ended up being the series-winning goal for Nashville against the Ducks Monday night.
That ability to win battles and get the puck out of trouble has been a major reason why the Predators have been able to shut down opposing stars, and it helps that once Subban has acquired the puck, he's been absolutely clinical with it.
In terms of pass success rate, he's been 21 per cent better than the rest of Nashville's defencemen in the defensive zone and 16 per cent better in the neutral zone, which allows the Predators to transition the puck up the ice without fear of losing it and being caught.
Despite the reputation Subban has as a risky player, those high success rates and low turnover rates per puck touch have been a hallmark of his entire career. Compared to most players, he just doesn't make many mistakes and he's tightened up even more in the playoffs.
Subban is also among the Predators' leaders in denying controlled entries against, which has prevented opponents from being able to generate chances off the rush. This is a particular danger with a goaltender like Pekka Rinne who overreacts to pre-shot movement and can lose his net when forced to react to a couple passes in a row.
There is a temptation among Subban's doubters to put all this success on the supremely underrated Ekholm, who is a fantastic defender in his own right. But looking at shot locations while that pairing is on the ice, as noted by Tyler Dellow, they're mostly weighted to Ekholm's side of the ice:
Nashville's, like, fourth or fifth or seventh or eighth best defender. pic.twitter.com/lh9Juto1Gt

— dellowhockey (@dellowhockey) May 20, 2017
It's high time that Subban gets some of the respect he deserves as not only an offensive defenceman, but an all-around powerhouse at the position. The data has been saying he's among the top-three defenders in the world for the past six or seven years. Perception needs to catch up with that reality.