Usually when I write these trade trees I try to focus on one trade. With the Chicago Blackhawks set to take on the Leafs, I have something else in mind.
On June 24, 2006, the Leafs gave the Blackhawks the 76th overall pick in the 2006 NHL Draft in exchange for the 99th and 111th picks in 2006. Chicago picked Tony Lagerstrom, who never played in the NHL while Toronto got James Reimer and Korbinian Holzer — who both did.
This, to me, marks the last time the Leafs definitively won a trade with the Blackhawks. The win is kind of on a technicality, too. The Leafs "won" the trade because they drafted better than the Blackhawks. Chicago actually had a terrible draft in 2006 with just one player who played an NHL game for them. Asterisk – that player is Jonathan Toews. I'd say that's good enough.
Since this deal in 2006, the Leafs and Blackhawks have completed six more deals together. Have you ever wondered "How do the Blackhawks stay so competitive?" I think part of the answer is the Toronto Maple Leafs. Let's go through the trades and I'll explain.
SEPTEMBER 5, 2009
On this date, Leafs GM Brian Burke dealt a 2011 second-rounder and a 2011 third-rounder to the Blackhawks for a 2010 second-rounder, which was actually the Leafs' pick they had previously traded for Mikhail Grabovski. Also worth noting, the Leafs had previously acquired the 2011 second-rounder they gave Chicago when they traded Anton Stralman to Calgary.
Toronto handed this 2010 second over to the Boston Bruins shortly after as part of the Phil Kessel deal.
Who did Chicago get? The 2011 third-rounder was used to select defender Michael Paliotta. The 2011 second-rounder was used to select star forward Brandon Saad.
After four seasons and 208 games with Chicago, the Blackhawks dealt Saad and Paliotta to Columbus in the same trade in exchange for Marko Dano, Artem Anisimov, Corey Tropp, Jeremy Morin, and a 2016 fourth-rounder.
Anisimov is currently a key centre for the Blackhawks, Tropp was traded to Anaheim for Tim Jackman and a 2017 seventh-rounder, Morin was traded for Richard Panik (we'll get to that), the 2016 fourth-rounder was traded to the New York Islanders for another 2016 fourth-rounder and a 2017 sixth-rounder, and Dano was part of a large package used to rent Andrew Ladd from the Winnipeg Jets last spring.
That is just one of the trades Chicago made with Toronto that is still paying dividends in their lineup today.
JUNE 26, 2010
On this date, the Leafs traded their own former second-rounder, Jimmy Hayes, in exchange for a 2010 second-round pick from Chicago. The Leafs used it to select Brad Ross 43rd overall. The picks that followed? Ryan Spooner (45th), Martin Marincin (46th) and Tyler Toffoli (47th). The Leafs would eventually trade Ross and a draft pick to the Oilers to get Marincin, but it should be noted that Ross was essentially a contract dump in that deal.
Meanwhile, Hayes played 43 games over three seasons for the Blackhawks. Hold on to that name.
JUNE 30, 2010
On this date, the cap-strapped, Stanley Cup-winning Blackhawks dealt Kris Versteeg and former second-rounder Bill Sweatt to the Leafs for Viktor Stalberg, Chris Didomenico, and Philippe Paradis.
After less than one season on a pretty miserable Leafs team, Versteeg was dealt to Philadelphia for two draft picks. One of those picks was Stuart Percy, who the Leafs let walk for nothing this past summer. The other was Josh Leivo, who has nine points in 12 games this season and presumably a disdain for press box popcorn.
Meanwhile the Blackhawks got a useful 203 games over three seasons from Stalberg, who scored 90 points as a Blackhawk. Didomenico never paid dividends for Chicago and Paradis was dealt for Kirill Gotovets, but Stalberg's use alone has so far been the best part of this 2010 trade for either team.
Side note: Remember when I said we would get to Jimmy Hayes? Well, after the Leafs dealt Versteeg to Florida, the Blackhawks got Versteeg back for the 2013-14 season. Who did they give up? Prospect Dylan Olsen and none other than Jimmy Hayes. So basically, the Leafs gave the Blackhawks an asset Chicago could use to get back an asset that the Blackhawks had previously pawned off on the Leafs.
JUNE 30, 2013
On this date, the cap-strapped, Stanley Cup-winning Blackhawks — stop me if you've heard this before — dealt David Bolland to the Leafs for a 2013 second-rounder, 2013 fourth-rounder and a 2014 fourth-rounder.
Some people like to say "told you so" regarding Dave Bolland, but what ultimately sunk him as a Leaf was a freak injury. After putting up 12 points in 23 games in just one injury-riddled season, Bolland left for the Panthers in free agency.
Meanwhile, the 2013 second-rounder turned into current Blackhawks prospect Carl Dahlstrom. The 2013 fourth-rounder was traded for a lower 2013 fourth-rounder (Robin Norell) and a 2014 fifth-rounder (Luc Snuggerud). The 2014 fourth-rounder is Frederik Olofsson. Now, none of those four players have made an NHL impact for Chicago but all four became Blackhawks prospects.
FEBRUARY 26, 2015
We can relax about this one. The Blackhawks got Spencer Abbott. The Leafs got T.J. Brennan. Abbott is still with Chicago and even played one NHL game with them this season, but this is a minor-league deal.
Actually, not so fast…
On March 1, 2017, the Blackhawks traded two AHL players to the Anaheim Ducks for minor-leaguer Kenton Helgesen and a 2019 seventh-rounder. The two players Chicago traded: Spencer Abbott, who the Leafs traded to the Blackhawks, and Sam Carrick, who signed with Chicago after Toronto let him walk in free agency.
It may not be much but it's yet another draft pick in the bank for the Blackhawks.
JANUARY 3, 2016
On this date, the Blackhawks traded Jeremy Morin, a former second-rounder of theirs, once again — this time to the Toronto Maple Leafs. Since the beginning of 2014-15, Morin has played for two NHL teams and five AHL teams. He gets around, is what I'm saying.
Who did the Blackhawks get? Oh, they got Richard Panik. He scores some goals.
The Leafs ended up dealing Morin to the Sharks in the James Reimer deal.
Here's a list of assets the Leafs were able to turn their Blackhawks deals into vs. a list of assets the Blackhawks were able to turn their Leafs deals into.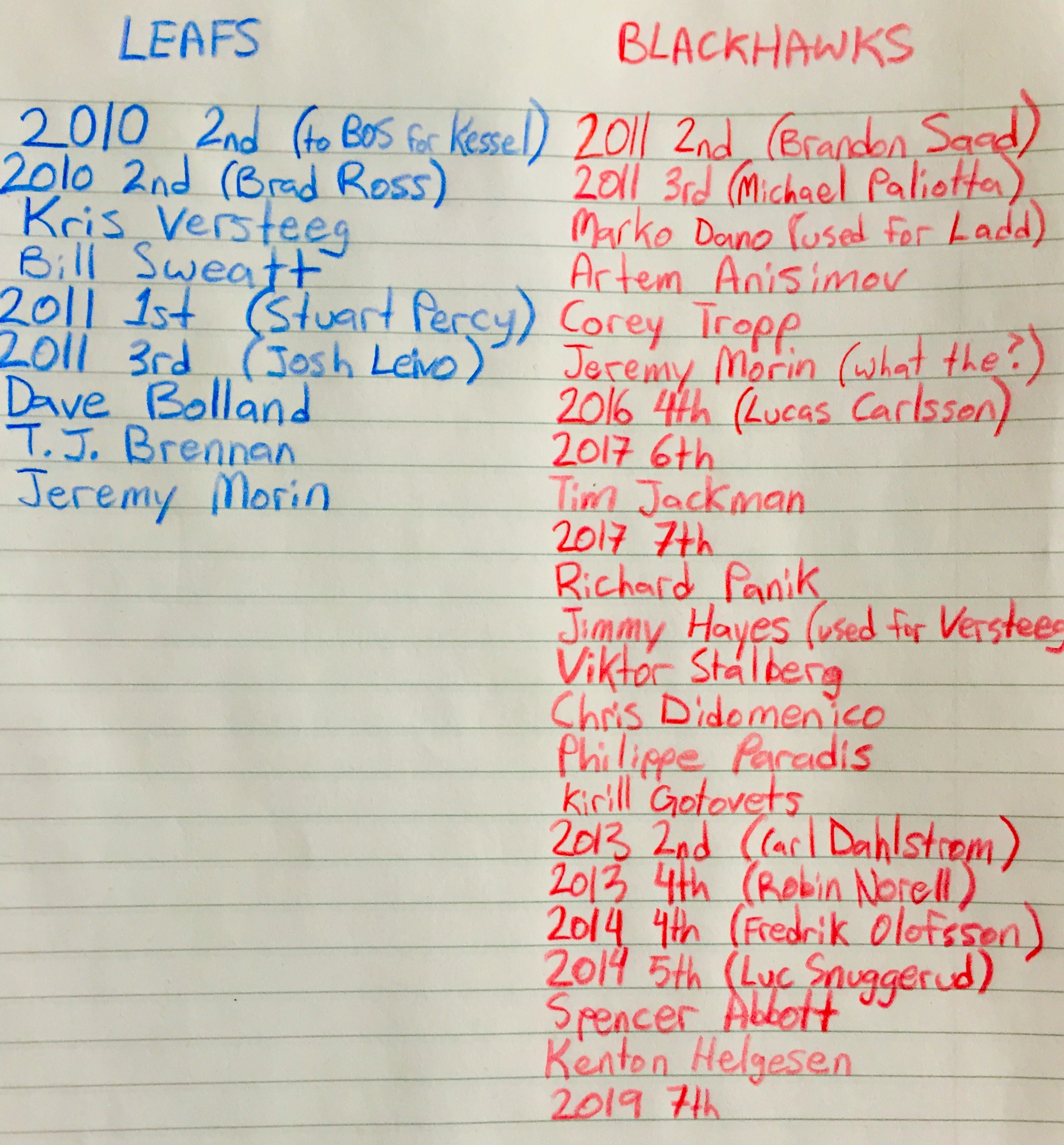 I'm gonna have to sharpen my red pencil crayon after that. My blue one is still fine.
Here's the "so what?" part.
The Toronto Maple Leafs have not built the Chicago Blackhawks. The Leafs haven't given the Blackhawks any of their big core guys, unless you want to squeeze Saad's tenure in there. That's not the point.
A cap-strapped perennial contender like the Chicago Blackhawks needs cheaper spare parts, depth players, young prospects, draft picks, and every scrap of cap space they can find to fill out their roster. The Leafs have been pouring those types of assets into the Blackhawks organization since September 2009. What's more is the Blackhawks managed to turn those assets into even more assets, with an impressive mix of quality and quantity.
What's actually kind of amazing about all this is that since 2009 when this string of trades started, the Blackhawks have won three Stanley Cups and the Leafs have been abysmal. Yet most of the time, the Leafs seem to be buyers in this relationship.
It's not even like the Blackhawks have fleeced the Leafs in these deals, maybe with the exception of how the Panik deal has turned out. They were simply good at accumulating a quantity of assets and getting what they needed, while the Leafs had a suspect draft record, injuries and were without a clear direction until about two years ago.
I doubt Lou Lamoriello knows the phrase "New phone, who dis?" but if Stan Bowman calls, he may want to learn it.