The National Hockey League's buyout window opened June 15 and will remain open until 5 p.m. ET on June 30.
Players bought out of their contracts during this period immediately become unrestricted free agents and are free to sign with any of the other 29 clubs.
Under a buyout, salaries are paid out to the player over twice the number of years remaining on his contract.
The salary cap hit for that player then becomes one-third of the total remaining salary for players under age 26 and two-thirds for those 26 and older.
Players still recovering from injuries incurred during the regular season cannot be bought out.
Keep it here for an up-to-date rundown of 2016's buyouts.
June 30
The Toronto Maple Leafs placed Jared Cowen on unconditional waivers for the purposes of buying out the 25-year-old back when the window first opened on June 15. General manager Lou Lamoriello had been up front about his intention to do so since the Leafs landed the defenceman in the Dion Phaneuf blockbuster. Cowen, who never dressed for a game with Toronto, cleared waivers on June 16 but, according to Elliotte Friedman, the buyout has not yet been processed, due to concerns about Cowen's health. (Cowen has long been dealing with the lingering effects of his 2012 hip surgery.)
Here's Friedman's explanation of the situation, which now involves the NHLPA:
Due to Cowen's interesting contract quirk, explained here, Toronto would actually get a rare salary cap credit of $650,000 in 2016-17 for buying him out, assuming a hit of just $750,000 in 2017-18.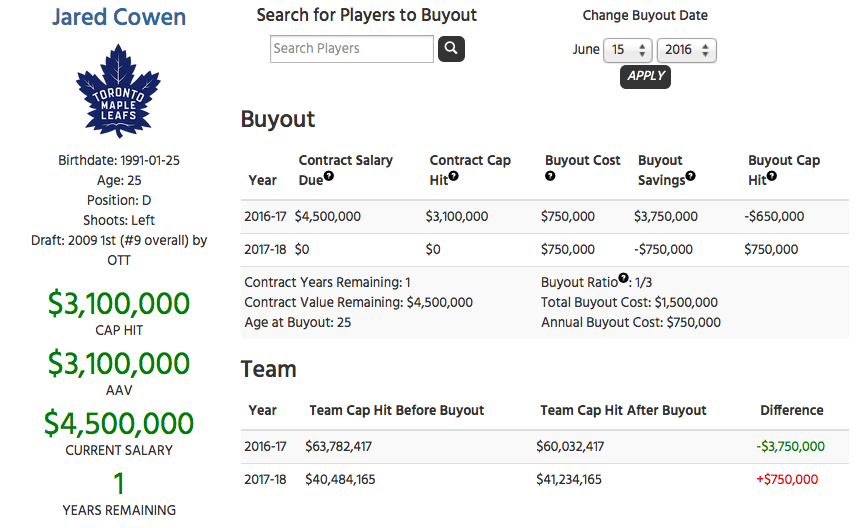 Earlier on buyout deadline day, six more players were placed on unconditional waivers for buyout purposes.
James Wisniewski
The 32-year-old defenceman played just one game in 2015-16—his only season with the Carolina Hurricanes—due to a torn ACL in his left knee that he suffered in the first period of the very first game of the season. The Now-UFA had just a single season remaining on his contract, carrying a cap hit of $5.5 million.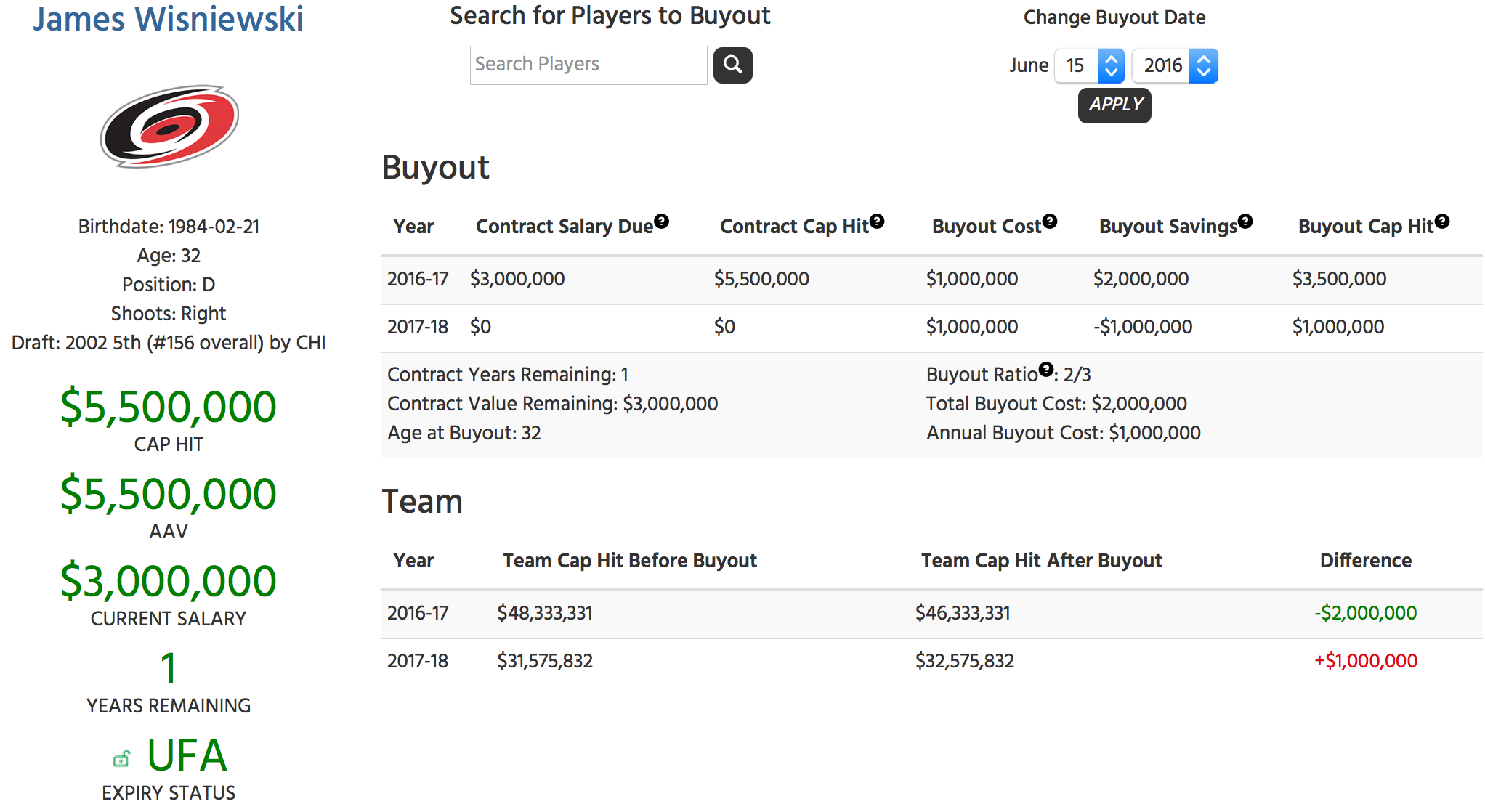 The Tampa Bay Lightning's Carle carried a $5.5 million salary cap hit through 2017-18 and had been on the trade market for months. GM Steve Yzerman needed to clear his contract in order to make room for the anticipated big extensions to stars such as RFA Nikita Kucherov and 2017 UFA Victor Hedman.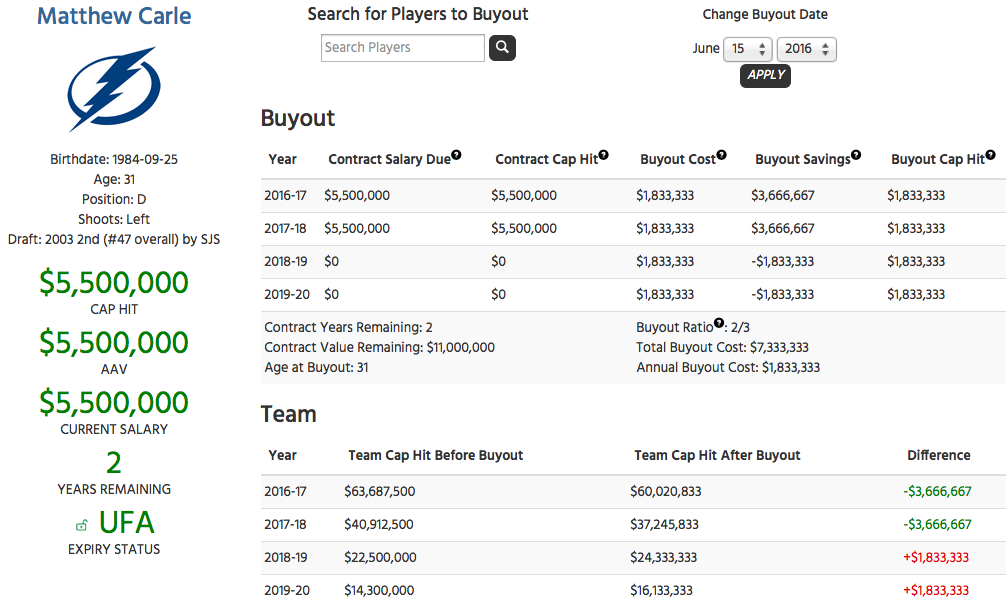 The 30-year-old Boll was due $1.7 million for the final season of his deal, and the Columbus Blue Jackets — who bought out Fedor Tyutin one day earlier — are hard against the cap.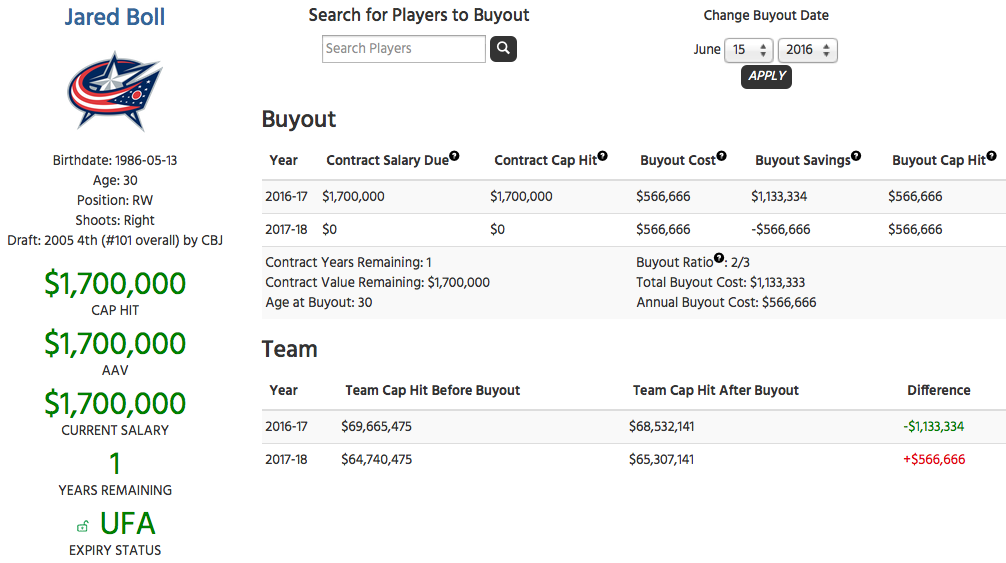 The veteran defenceman, who battled injury in 2015-16, had two more seasons left on his contract with the Boston Bruins. His deal carried a $4 million cap hit. Expect the Bruins to make a significant signing in free agency.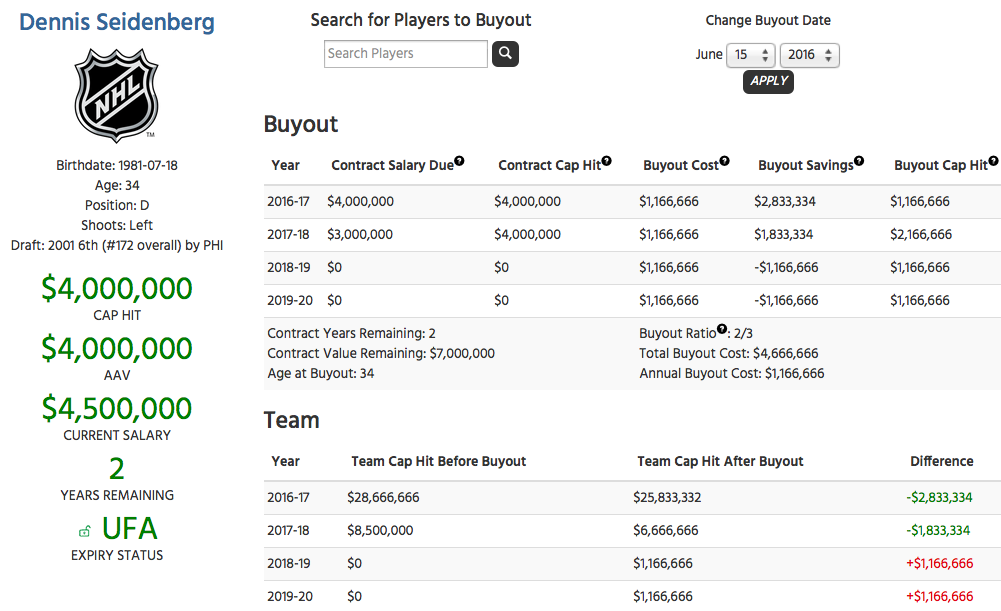 Jackman scored just one goal in 73 games with the Nashville Predators last season. He will be bought out of the final year of his contract, which carried a $2 million hit.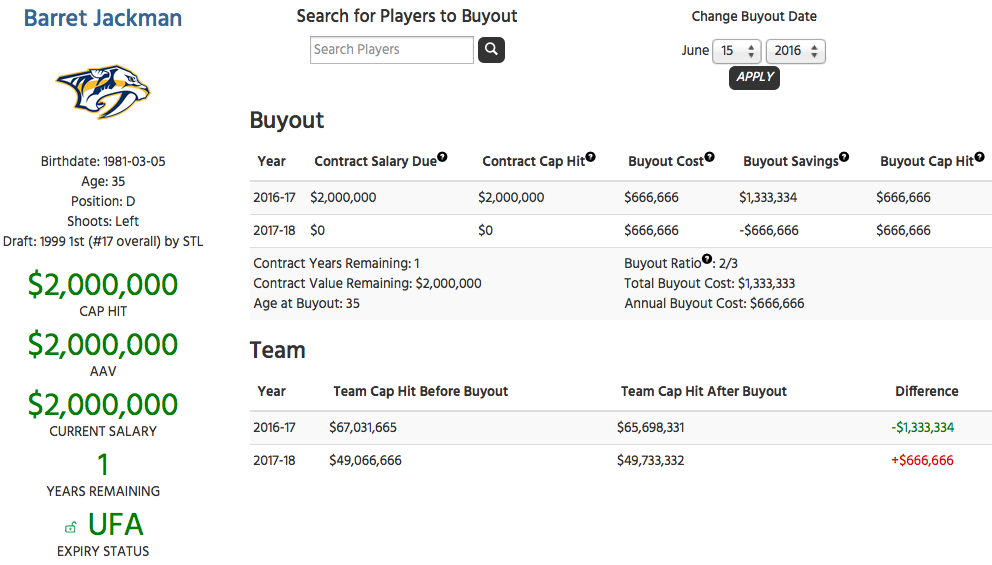 The Edmonton Oilers winger had one year left on his contract, which held a $2.5-million cap hit. Korpikoski put up 10 goals and 21 points in 71 games with Edmonton last season.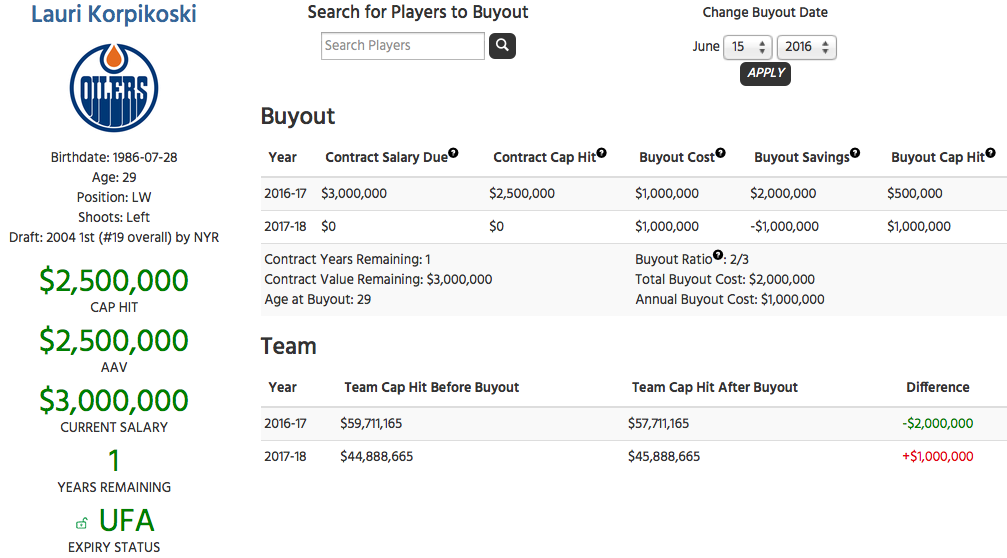 Injury limited Greene to just three games last season. He has two more years left on his deal at $2.5 million per. The Kings D-man passed waivers Friday but was not bought out, according to the club.
June 29, 10:30 p.m.

Mason Raymond
Raymond was put on waivers Wednesday with the intention of being bought out, reports the Calgary Sun.
Raymond's buyout is the latest in a series of moves Calgary has made to free up cap space, such as not qualifying RFAs Joe Colborne, Josh Jooris and Joni Ortio. The idea being GM Brad Treliving needs to cut big cheques to stars Sean Monahan and Johnny Gaudreau, neither of whom have a contract for 2016-17 yet.
"The term was very important for us," Treliving said when he signed Raymond as a free agent two summers ago. "We wanted to keep things three years and under term, in a cap system, is what strangles you.
"You see a lot of long-term deals bought out."
The 30-year-old winger scored just four NHL goals last season and finished his year in the AHL.
Raymond's cap hit will cost the Flames $1.05 million for two seasons.
June 29, 2 p.m.

Fedor Tyutin
Hours after re-signing Seth Jones, the Columbus Blue Jackets revealed they bought out the last two years of Fedor Tyutin's contract.
The 32-year-old defenceman was due $4.5 million in each of the next two seasons. The Jackets are tight to the cap ceiling, so the buyout will save them $3.3 million in space.
"I'm looking forward to a new start," Tyutin told The Columbus Dispatch. "No hard feelings."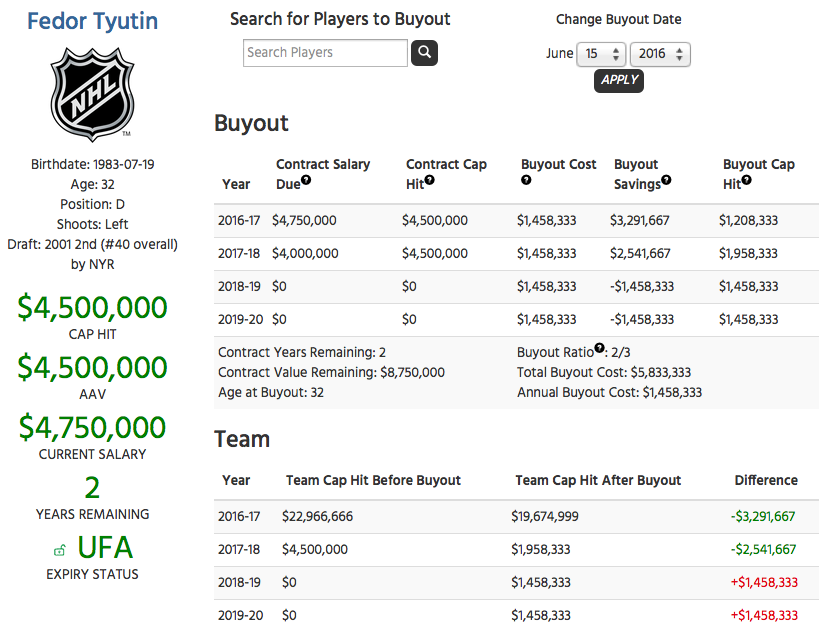 June 27, 5 p.m.

Brad Stuart
The Colorado Avalanche will buy out defenceman Brad Stuart, reports the Denver Post, even though the Avs will see no cap relief from the 36-year-old's buyout.
Colorado will save $1.2 million in cash but must still absorb Stuart's $3.6-million cap hit as they look to get younger on the blueline.
GM Joe Sakic plans to increase the ice time of defencemen Nikita Zadorov and Chris Bigras, both 21, and offer 2011 first-round pick Duncan Siemens "every opportunity to try to make this team."
June 27, 12 p.m. ET

Chris Higgins
The Vancouver Canucks place forward Chris Higgins on unconditional waivers for buyout purposes.
There had been speculation that the Canucks may choose to buy out Alexandre Burrows.
Vancouver is looking to sign a top-six winger via free agency.
Higgins has been publicly on the trade market since Jan. 10. The winger had just three goals and one assist in 33 games with the Canucks last season, after scoring 36 points in 77 games in 2014-15.
Higgins, who will now become a free agent, had one season left on a deal that paid him $2.5 million per.
"We would like to thank Chris for his contributions to the Canucks both on and off the ice over the past six seasons," said general manager Jim Benning. "Chris was a leader in our dressing room and a leader in the community, especially as an ambassador for Special Olympics BC. He set a great example for our younger players to follow. The professionalism he has displayed throughout this process highlights the kind of person he is. We wish him nothing but success in his future endeavors."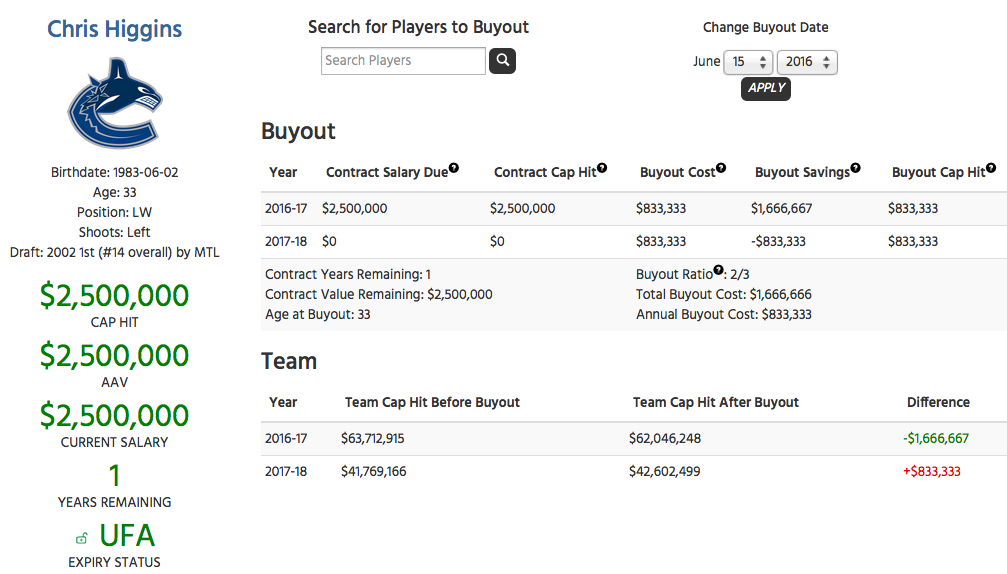 June 24, 5 p.m. ET

Thomas Vanek
The Minnesota Wild sniper confirms he will be bought out of the final year of his contract.
"I think I can score 25, 30 goals in the right situation. As disappointing as it is," Vanek tells Wild beat reporter Michael Russo, "the focus is to find the right fit."
Vanek, who held a no-move clause, scored 18 goals in 74 games this season, the lowest total of his NHL career. He went goal-free in his final 14 games and was injured for the playoffs.
"In order to give our team more salary cap flexibility we needed to make this difficult decision," GM Chuck Fletcher said. "We thank Thomas for his time with the Minnesota Wild and wish him the best going forward."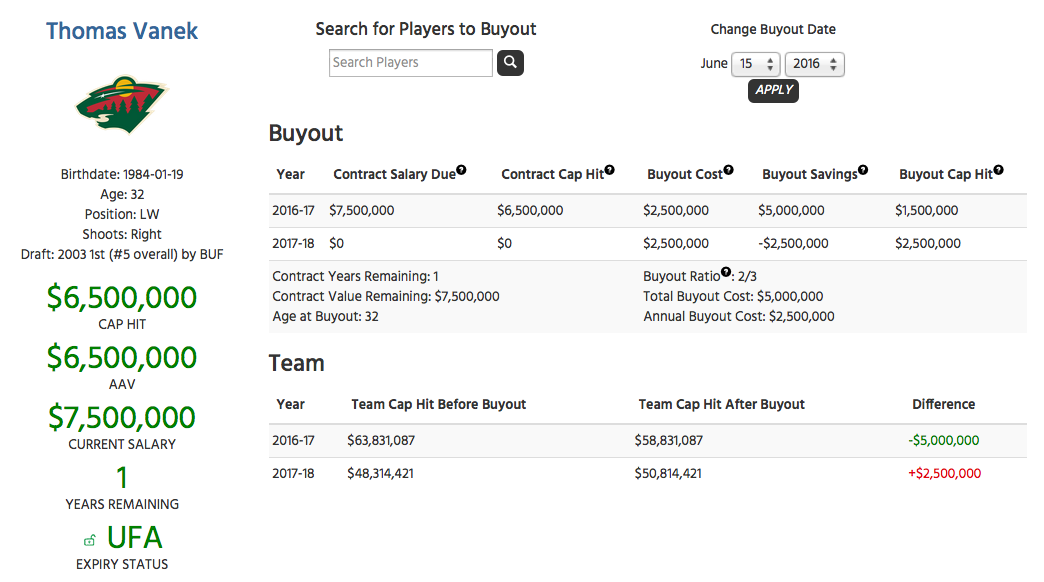 June 16, 2:50 p.m. ET

Los Angeles Kings general manager Dean Lombardi announces that Dustin Brown will lose his captaincy to Anze Kopitar.
Although he's a candidate for buyout, Lombardi says he will not be buying out Brown's contract, which still has six years and $32.5 million remaining.
"I really believe he's going to get his game back," Lombardi said on a conference call. "There's no physical hindrance to him not getting back to that quality of player."
June 16, 11:30 a.m. ET

R.J. Umberger
Philadelphia Flyers GM Ron Hextall announces the team will buy out R.J. Umberger, who has one year and $4.5 million remaining on his contract, which had a no-move clause.
The 34-year-old Umberger is a 20-goal winger five times over, but his production fell off a cliff after he left Columbus and returned to Philadelphia in 2014. Last season he scored just two goals in playing only 39 games.
Umberger will count $1.6 million against the Flyers' cap in 2016-17 and $1.5 million in 2017-18.
Classy move by the player, releasing this statement on Twitter: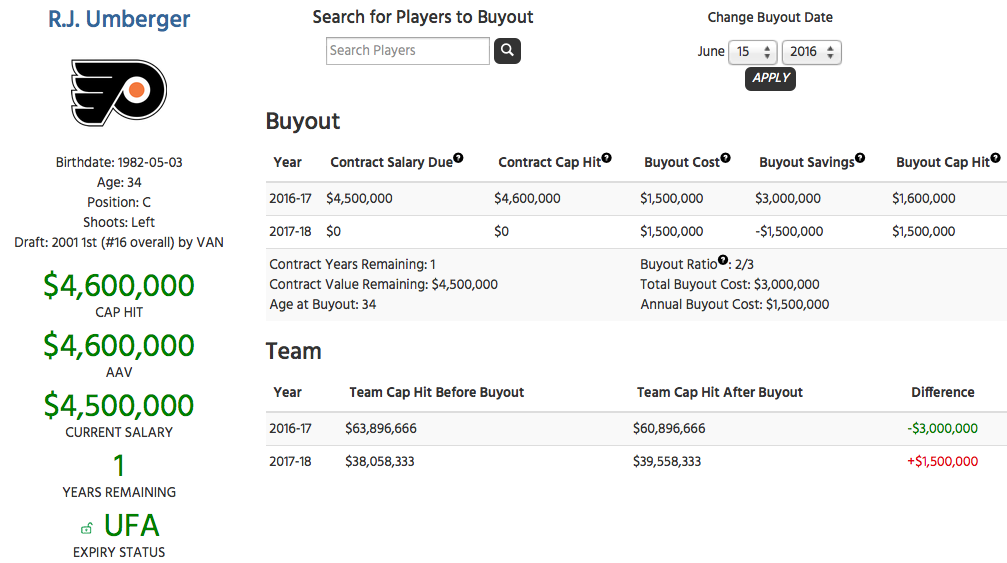 (buyout data via the excellent General Fanager)