Underperforming players, albatross contracts and a modest bump in the projected 2019-20 salary cap got you down?
Fear not, National Hockey League general managers. The annual buyout window is handing you a get-out-of-jail card. But it ain't free.
All you have to do is convince your team's owner to shell out millions of dollars over multiple years for a hockey player to not play for his franchise.
The NHL's buyout period begins one month from today, the later of June 15 or 48 hours after the Stanley Cup is awarded. It concludes on June 30 at 5 p.m. ET.
Those bought out will become unrestricted free agents and will not be able to sign with the team that paid them to go away.
Teams can buy out a player in order to reduce their short-term cap hit by spreading it over a longer period of time. Depending on the player's structure, age and when the player is bought out, the buyout ratio varies.
It should be noted that players still recovering from injuries incurred during the regular season cannot be bought out. A buyout of those who sign age 35-plus contracts (see: Marleau, Patrick) would not yield any cap relief for the club and can only help minimally on the salary front.
Of course, the buyout is a last resort when trade options have been exhausted.
(For all the nitty-gritty details on buyouts and a handy buyout calculator, head over to the excellent CapFriendly.com.)
Here is a breakdown of the top 10 players who might be considered for a buyout, and the pros and cons of pulling the trigger on arguably the most uncomfortable tool at a GM's disposal.
[relatedlinks]
Corey Perry, two years at a $8.625 million cap hit
Among the top 15 most expensive players in today's NHL, none have delivered less bang for the buck than Perry the past few seasons. The winger turns 34 this week and has watched his production drop in each of his past three seasons.
Granted, health issues were a contributing factor to Perry's career-worst output in 2018-19 — six goals, four assists and a minus-16 rating in 31 games played — but he hasn't been a 20-goal threat since 2015-16.
Perry holds a full no-movement clause, and Bob Murray's cap-tight Ducks need to get younger and cheaper. (Pricey veteran centre Ryan Kesler might have cracked this list as well, but clubs are not permitted to buy out injured players.)

Scott Darling, two years at a $4.15 million cap hit
The 30-year-old goaltender was signed to be Carolina's No. 1 two summers ago and has since slipped to the point where concerns over his career are secondary.
Darling was waived in December, posted an .822 save percentage with AHL Charlotte and was granted a personal leave of absence in February as his agent said Darling needed "to get his mind back together."
Besides Darling, the Hurricanes do not yet have an NHL goalie under contract for 2019-20, as both Petr Mrazek and Curtis McElhinney are impending UFAs.
Carolina is not up against the cap, so buying out Darling is not imperative to cap relief.
Justin Abdelkader, four years at a $4.25 million cap hit
It's easy to look at Abdelkader's 2018-19 numbers — six goals, 19 points, minus-14 rating — and start dreading another four declining years of overpaying a depth veteran winger whose no-trade clause won't be modified until 2020-21. Especially if you're new GM Steve Yzerman, who inherits a couple of troubling long-term loyalty deals handed out by the departing Ken Holland.
Yzerman bought out Matt Carle and Vincent Lecavalier when he served as Tampa's GM. Because Abdelkader still has four years left on his deal, a buyout would put him on the books for eight years (at a reduced annual hit of between $1.145 million and $2.395 million).
The question here is twofold: How aggressive will Yzerman be in this rebuild? And much cultural worth does he see in keeping an alternate captain like Abdelkader — a leader in the room and in the community — around a core that is getting younger by the autumn.
Other factors here: The Wings are already cutting buyout payments to Stephen Weiss and Xavier Ouellet, plus they have Henrik Zetterberg and Johan Franzen stuffed on long-term injured reserve. How many guys do the Illitches wish to pay to not play for them?
Also, with Niklas Kronwall and Thomas Vanek heading toward free agency on July 1 and some entry-level skaters expected to play a bigger role, Yzerman will have a bit of financial wiggle room even if he keeps Abdelkader.
Milan Lucic, four years at a $6 million cap hit
The underwhelming Lucic has a no-movement clause until June 1, 2021, at which point it becomes modified, but he has publicly acknowledged that a change of scenery might not be the worst thing for him.
On Vancouver radio he mused about the possibility of joining his hometown Canucks — pretty rare for a player under long-term contract with a division rival.
New Oilers GM Ken Holland has been explicit about his goal of returning to the post-season in 2020, and he'll need cap flexibility to do it.
"Lots of players sign these long contracts, and then they're not able to live up to the expectations, and it's tough on everybody — the player and the team," Holland told Sportsnet's Mark Spector last week regarding Lucic's murky future.
"I don't have an answer for you. I've got to talk to Milan, talk to some people in the organization and I've got to hire a coach. Then the coach and I can start to figure it out. I've talked to a lot of people – Bob Nicholson, Keith Gretzky, Craig MacTavish, Ken Hitchcock – and I'll double back and talk to them again."
Milan Lucic open to the possibility of playing for the Canucks
May 01 2019
Andrej Sekera, two years at $5.5 million cap hit
Lucic gets the headlines, but Holland may wish to consider wiping Sekera off the book as well. Injuries have limited the 32-year-old defenceman to a mere 60 games played in the past two seasons. He hasn't scored a goal since the 2017 playoffs and is overpriced for a second-pairing blue-liner.
Sekera holds a modified no-trade clause, but his hefty contract and health flags will make him nearly impossible to move. The good news is that Edmonton has younger, cheaper defenders coming.

Dion Phaneuf, two years at a $7 million cap hit
Phaneuf falls into the same category as teammate Ilya Kovalchuk: a fading, expensive star who fell so out of favour in 2018-19 that he was healthy scratched by interim coach Willie Desjardins.
The safe bet here is that both stars will work their butts off in summer training and get an opportunity to redeem themselves under new bench boss Todd McLellan. The Kings would have once considered Dustin Brown an anchor but stuck with him, and he's posted back-to-back 20-goal, 50-point campaigns.
Even if he was bought out, Phaneuf's cap hit would be significant: $2.9 million in 2019-20, $5.4 million in 2020-21, then down to $1.4 million the two seasons after that. (A silver lining for L.A.: Buyout or not, the Senators retain 25 per cent of Phaneuf's costs.)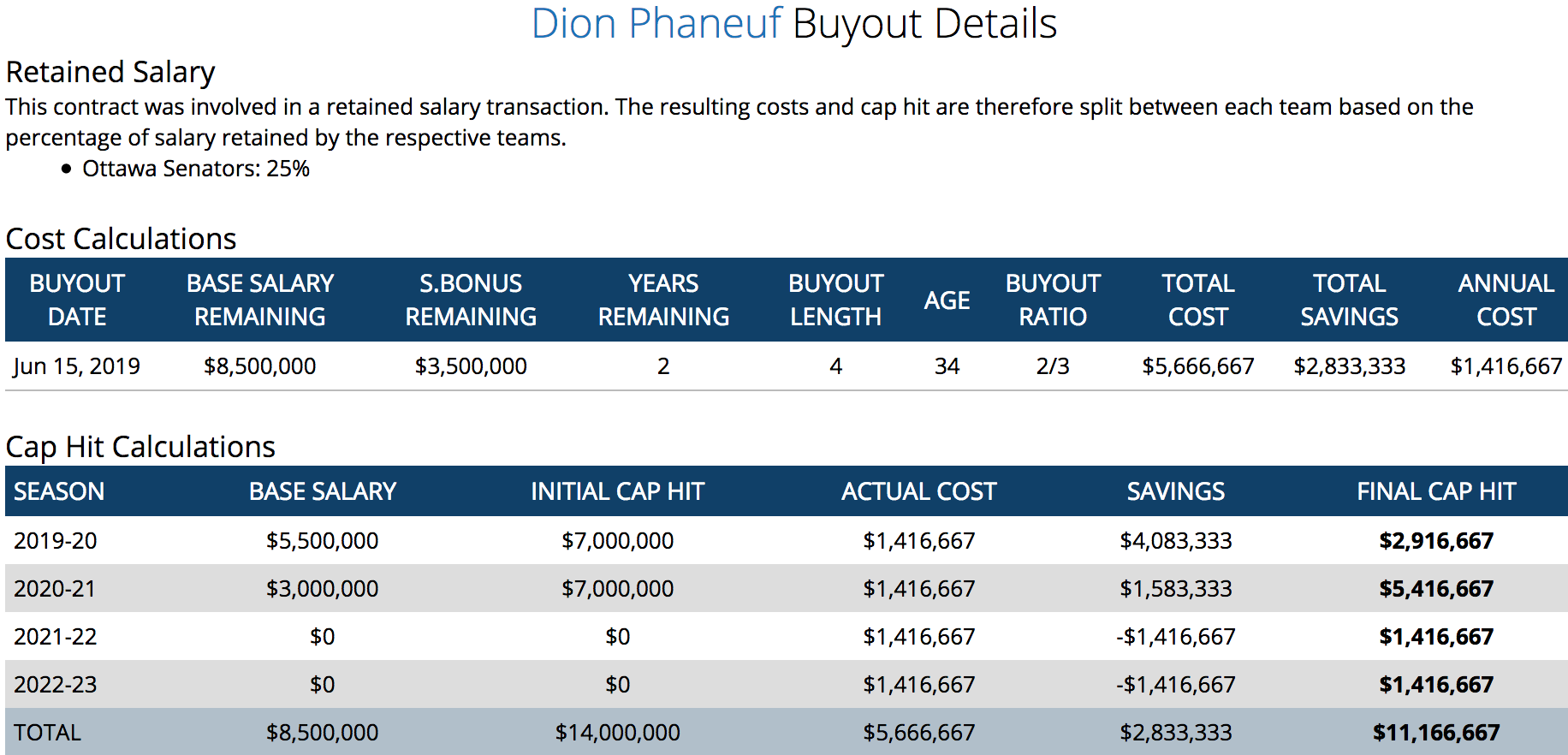 Karl Alzner, three years at a $4.625 million cap hit
The feeling in Montreal is that Marc Bergevin would wait at least one more year before seriously considering an Alzner buyout, and the Habs GM's cap flexibility relieves immediate pressure.
But there is no mistaking Alzner has been a supreme bust, a classic July 1 overpay. He ranks second to Lucic among CapFriendly.com's most-searched buyouts.
After eight years of perfect NHL attendance, Alzner was scratched on opening night of the 2018-19 season and appeared in just nine big-league games for the organization before being demoted to Laval.
Perhaps with Jordie Benn heading toward free agency, the 30-year-old could earn back his roster spot in the fall.
More likely, Alzner's salary will remain buried in the farm system, where he can mentor the promising Montreal prospects.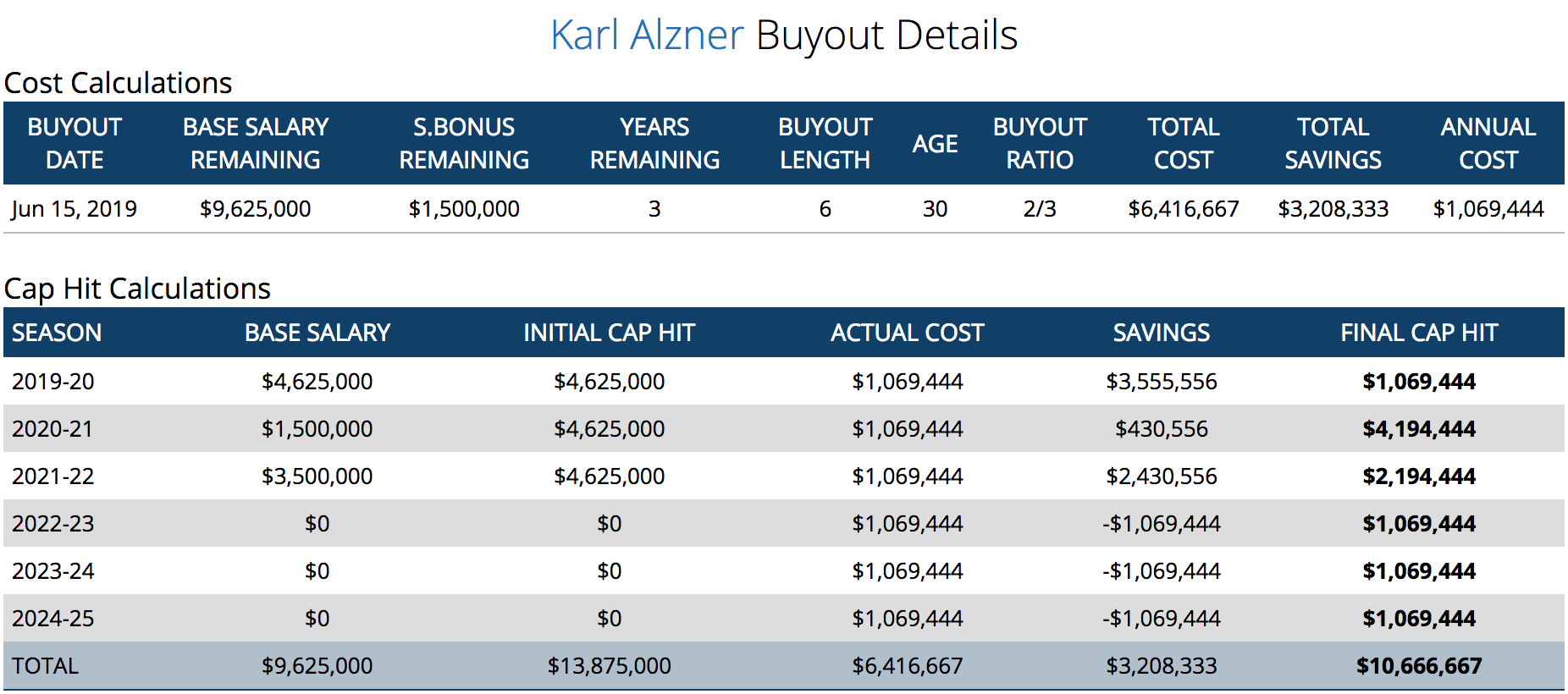 Brendan Smith, two years at a $4.3 million cap hit
Two springs ago, the Rangers bought out Dan Girardi (still on the books through 2023) to sign Smith. Now, GM Jeff Gorton must contemplate buying out Smith, who holds a modified no-trade clause.
The 30-year-old has been surpassed on the depth chart by younger D-men Neal Ponik and Tony Deangelo, both of whom are headed toward restricted free agency and will require nice raises out of their entry-level deals. And, oh, yeah, Gorton just pulled a trade-and-sign for NCAA stud Adam Fox.
Toss in the notion that cash-flush New York is expected to aggressively pursue high-end UFAs this summer (Artemi Panarin? Erik Karlsson?), and a Smith buyout becomes one of the more likely among this bunch.
The Rangers' most senior D-man, 32-year-old Marc Staal, could also be a consideration here. He's more valuable than Smith but also more expensive ($5.7 million cap hit through 2020-21).

Ryan Callahan, one year at a $5.8 million cap hit
The 34-year-old alternate captain is still a positive force in the room and on the ice, in limited minutes, but when a fourth-liner is your second-highest-paid forward, as Callahan was in 2018-19, something doesn't add up.
It's been three years since Callahan has been healthy enough to play 70 games. this season he registered 17 points in 52.
Newish GM Julien BriseBois's first full off-season is a complicated one, and in order to dole out raises to RFAs Brayden Point, Adame Erne and Cedric Paquette, trades and/or a Callahan buyout are in order.

Loui Eriksson, three years at a $6 million cap hit
Eriksson made public this off-season the rift between he and coach Travis Green, who chopped the veteran winger's ice time by more than two minutes per night last season (down to 14:04).
Eriksson's performance, mind you, hasn't demanded much more. Among Canucks wingers, his minus-11 rating was a team worst and a career worst.
In the summer of 2016, Vancouver signed a 30-goal, 63-point stud out of Boston. In three tries as a Canuck, Eriksson has never scored more than 11 goals or 29 points. His slowing feet have also led to an increase in minor penalties.
He holds a no-trade clause that gets modified in 2020-21, but Jim Benning — rumoured to be active in a free agency — would have to take on a bad contract to rid himself of this one.