The Blue Jackets shock, the Red Wings steal, some fan "scoops" the Lightning's draft plans, and the Bruins draft a player who hated them.
It's the 16 Best Moments from Round 1 of the 2016 NHL Draft, and we promise it will take you under four and a half hours to read this.
1. New sweater, new third-line centre in Toronto
The Toronto Maple Leafs used all three minutes of the clock, for reasons unknown, before making the night's first selection and then simultaneously unveiled a gorgeous new sweater and the most promising centre to don the Blue and White since Mats Sundin.
"It just goes to show if you really love the game and you work at the game, you can turn into a player no matter where you live," head coach Mike Babcock said of Arizona-raised Auston Matthews to reporters.
Babcock also said Matthews will slot in as Toronto's third-line pivot behind Tyler Bozak and Nazem Kadri.
Matthews was the first of 12 Americans selected in Round 1, a new record. (An incredible five prospects from the St. Louis area were chosen Friday night.)
2. Blue Jackets deliver the evening's first shocker
For months, we've read ad nauseum how the top three picks in this draft would be Matthews, Patrik Laine and Jesse Puljujarvi. Wild-card Pierre-Luc Dubois — the top Canadian plucked — spoiled 99.9 per cent of mock drafts when Columbus chose the versatile Quebec forward over Puljujarvi.
Dubois plays both left wing and centre and is expected to (eventually) fill the void left up the middle when the Blue Jackets traded away Ryan Johansen.
Fun fact: Columbus GM Jarmo Kekalainen, who hails from Finland, has never picked a prospect from his home country in the first round.
3. Edmonton gets lucky… about time, right?
The fall of Puljujarvi out of the top three meant Edmonton was able to snap up a prospect who was long regarded as the No. 2 prospect of this class.
"I don't mind," Pujujarvi said of the Jackets' decision to pass. "Edmonton is a real hockey town."
With Laine, Puljujarvi and Olli Juolevi (to Vancouver) all going in the top five, for the first time ever Finland landed three of the first five picks.
That's something to smile about, right, Jesse?
4. Treliving? Très bon
Not only did the Flames score the big-bodied left wing they wanted in 200-pound Matthew Tkachuk, but GM Brad Treliving landed 2016 playoff stud goalie Brian Elliott from the Blues at a price cheaper than the Maple Leafs paid for Frederik Andersen.
Tkachuk was drafted 13 spots higher than his legendary dad, Keith, and NBC compared the kid to New England Patriots tight end Rob Gronkowski.
Gronk approved:
5. Ken Holland can't stop smiling
The Detroit Red Wings general manager sounded stressed out earlier this week as he tried to find a taker for KHL-bound Pavel Datsyuk's $7.5-million cap hit. When the camera panned to Holland after he dealt Datsyuk to the Arizona Coyotes (employer of inactive legends such as Hall of Famer Chris Pronger), he was cackling while looking at his phone.
Chicago's Stan Bowman lost primo forward Teuvo Teravainen in order to shed Bryan Bickell's contract. Holland had to move down four draft spots in the draft but was able to save about $6.4 million in cap space, plus grab a second-rounder from Arizona. (Holland still drafted a defenceman, Dennis Cholowski, at No. 20, which is what he wanted.)
6. Laine wanted to say something but wisely did not
When Sportsnet's Jeff Marek asked No. 2 overall pick Laine if the Leafs had made a mistake passing on him in favour of Matthews, he hesitated and then gave a generic hockey answer.
In an instant, the brash sniper transformed into vanilla NHLer:
7. Gallagher and Shaw?! C'mon
The Montreal Canadiens upped their pest factor by roughly 100 per cent when they acquired RFA forward Andrew Shaw from the Chicago Blackhawks in exchange for picks Nos. 39 and 45.
Hey, goalies, welcome to the Bell Centre. Now prepare to get your crease crashed.
8. Boo-ettman
NHL.com reporter Dave Stubbs told commissioner Gary Bettman that he'd probably get booed by the Buffalo faithful until he said, "I have a trade to announce."
Bettman's response? "Probably after that, too."
The jeers for the league's chief were relentless, save for a roar of applause when Bettman announced that the NHL Combine would be back in Buffalo for 2017.
9. Stammergeddon is upon us
When Holland pawned off Datsyuk's millions, he immediately became a major player in the Stamkos sweepstakes.
"Well, obviously we've got the flexibility now to do what we want to do," the Red Wings GM said. "We'll see."
Lightning GM Steve Yzerman, whose captain is now free to speak with competing clubs, said he would consider a sign-and-trade. He'd love to salvage something.
10. Poor Jim Benning got his wrist slapped hard
You have to feel sorry for the Vancouver Canucks general manager.
We love it when front office types give us actual nuggets instead of general statements, and Benning did just that when he told the world Thursday he was pitching for Stamkos and P.K. Subban. The only problem is, those players are under contract with other teams.
So, is a tampering charge forthcoming?
"I talked to the league and they're reviewing it," Benning told Sportsnet's Elliotte Friedman on-air.
Watch, cringe:
11. The Lightning leak
Tampa Bay's draft strategy was reportedly scooped up by a fan, photographed and put out on social media.
Then the fan got smart when the club reportedly direct-messaged the fan to make it go away.
Wow.
12. Deleted tweet of the night
The Bruins drafted Charlie McAvoy, a defenceman out of Boston University. Perfect match, right?
Well, McAvoy is from Long Island and grew up a Rangers fan. Back in 2013, when Boston defeated his beloved Blueshirts in the playoffs, McAvoy tweeted this: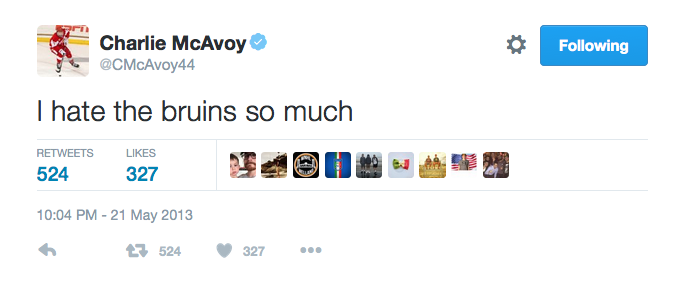 Hilarious. Of course, the kid was only 15 at the time. But the outdated tweet made the rounds and was soon deleted from McAvoy's account.
13. Nylander to Buffalo sets up sibling rivalry
The Atlantic Division is positioned for a fun battle of brothers for the next few years. With older brother William Nylander to be a full-time Maple Leaf in the fall and younger brother Alex snapped up by the Sabres at No. 8, Nylander vs. Nylander adds a fun wrinkle to the QEW rivalry.
Alex Nylander has some serious skills #danglesfordays (@OHLHockey)https://t.co/UweeF3dQa3

— Buffalo Sabres (@BuffaloSabres) June 25, 2016
14. P.K. Subban stays put
So much anticipation for a Subban blockbuster turns into much ado about nothing. We've seen this movie before, and I'm sure we'll see it again.
Subban's no-trade clause doesn't kick in until July 1, and Habs GM Marc Bergevin is obviously listening, but you'd have to think a high first-round pick was a key ingredient — and everyone in the Top 10 kept theirs.
15. Jim Nill passes off to Lindy Ruff
In one of the classiest moments of the draft, Dallas Stars GM Jim Nill passed off pick announcement duties to his head coach, Lindy Ruff — who was the NHL's longest-tenured coach before he left Buffalo.
Ruff, rightly, was welcomed with a massive cheer before taking Riley Tufte at 25.
Nice one, Nill.
16. Tyson Jost's grandpa made us catch feelings
When St. Albert's Jost went 10th overall to the Colorado Avalanche, his grandfather teared up with joy and almost caused us to do the same.
Watch this heartwarming scene. Then call your grandparents and start incorporating suspenders into more outfits. Awesome.
Bonus: Some dude dressed as a Maple Leafs Mexican wrestler meets Matthews
Welcome to a city obsessed, kid: