This is the fourth instalment of our Draft Decisions series, which takes an in-depth look at some of the biggest decisions facing each of the seven Canadian NHL franchises as we approach the NHL Draft on June 24.
Montreal | Ottawa | Toronto | Winnipeg | Calgary | Edmonton | Vancouver
For the first time this century, the Vancouver Canucks own a top-five pick at the NHL Draft.
Though general manager Jim Benning has been fielding calls and listening to offers on the pick, the club is comfortable at five and seems to be excited about adding a new top prospect to the pipeline. Barring a Godfather offer – the sort that one 'can't refuse' – the club isn't eager to move down.
"We've got the fifth pick and we really like the players available at five," Benning told Sportsnet this week. "We think it's going to be a first line player as a forward or a first pair player as a defenceman.
"There are two forwards we really like and a defenceman, or a couple defencemen, who we really like and we're getting one of those players," Benning continued, while emphasizing that he didn't expect to be able to move up in the draft order.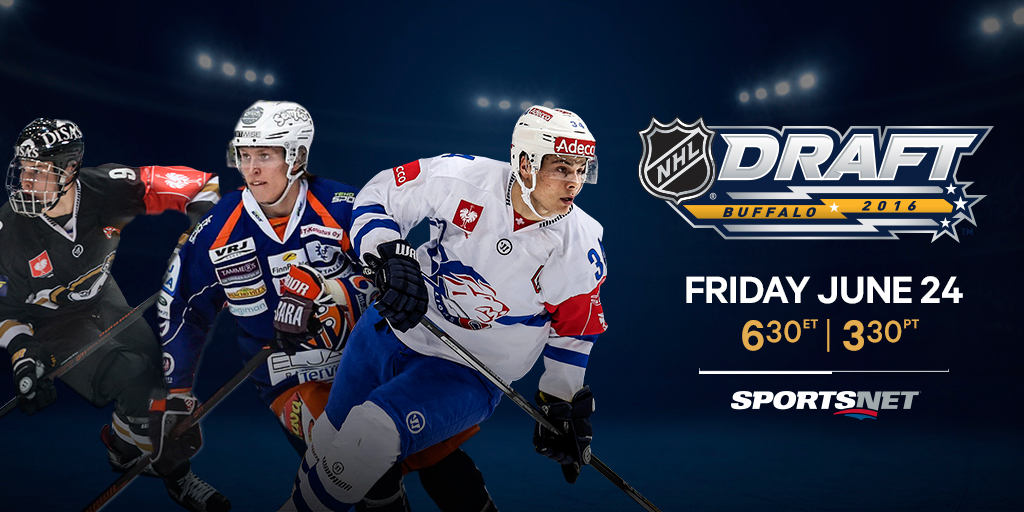 Assuming the Canucks use the fifth overall pick, the club will have some intriguing options. And there are a number of players they're considering.
"There's still some uncertainty as to who is going to be there and not, so we go through different scenarios," said Canucks director of amateur scouting Judd Brackett. "We've identified five or six different players that we'd be thrilled to get. We think they're going to be fundamental, cornerstone pieces of our franchise going forward."
Who are some of the players that could be available the Canucks are strongly considering? Here are four top contenders.
Matthew Tkachuk
The American-born power forward won the Memorial Cup with the London Knights this past season and scored the championship-winning overtime goal.
Tkachuk has the raw offensive instincts and the sort of physical strength and speed that generally appeals to NHL teams at the top of the draft. He also managed a whopping 107 points in 57 games in the OHL regular season, before scoring better than a goal per game in the OHL playoffs in his draft season.
If any questions linger about Tkachuk's suitability as a bluechip prospect – and talking to people in the industry, it seems most of those questions were answered by his playoff performance – it relates to his having spent the season with top-end linemates, including Christian Dvorak and top Toronto Maple Leafs prospect Mitch Marner.
The Canucks, it seems, aren't concerned by the possibility that Tkachuk's offensive totals were inflated by the players he skated with.
"We've watched him now for three years, he played on a good line (this year), the year before he played on a good line with the US Development Program," Benning told Sportsnet. "In each instance, part of that line being good was because of him…
"I know he played on a good line this year, but the last three years he's been on good lines, and a big part of those lines' success has been his play."
Pierre-Luc Dubois
The Canucks heavily scouted Dubois over the course of this season, with Benning even making a special trip to watch Dubois' Cape Breton Screaming Eagles play live in the playoffs.
Dubois won't turn 18 until draft day and he led all first-time draft eligible players in the QMJHL in scoring by a decent margin. He has a rare combination of size, speed and offensive skills and projects as the sort of two-way piece that can stick at centre in the NHL.
Just how rare is Dubois' combination of size, speed and skill? You have to go back a decade – to Jakub Voracek in 2006 – to find a QMJHL prospect whose performance in their draft eligible season closely compares with Dubois' height, relative youth and production.
Though there's always a chance the Canucks might pass on Tkachuk or Dubois, at least one of whom will surely still be on the board by the time they pick, the smart money is on the club selecting whichever one of these two is left over.
Logan Brown
If there's one forward who might change that calculus, it's 6-foot-6 Logan Brown of the Windsor Spitfires.
The American-born son of former Canucks defenceman Jeff Brown, Logan is blessed with a massive frame and a solid offensive toolkit. Among first-time draft-eligible skaters in the OHL, only Tkachuk, Alex DeBrincat and Alex Nylander manufactured a higher points per game rate. And none of those other players are 6-foot-6.
Brown stands out to the Canucks for a variety of reasons, all of which make sense. After all he's a natural centre, he's massive and he's shown enormous improvement over the past 10 months.
"Over the course of last season, out of all the players in this draft, from the start of the season to the way he played in Grand Forks (at the U18 tournament), there was a huge jump in his progression," Benning said of Brown.
"A 6-foot-6 guy who protects the puck and handles the puck like he can and make plays, that's an attractive package. To say he's a dark horse, I don't know about that. He's really improved, but he's always been a skilled, talented player."
Olli Juolevi
The Canucks are high on several defencemen in this draft – they're believed to like Jake Bean, Jakob Chychrun and Charlie McAvoy in particular.
London Knights blueliner Juolevi has emerged as the consensus 'best defenceman available' and Benning has praised the Finn's game in recent months, so we'll use him as our example of what the Canucks would do if they decide to take a defenceman.
Before the floor fell out from under the Canucks in mid-February, the club seemed to be telegraphing their desire to select a defenceman in the first round. Now that they're picking in the top-five though, they can't afford to consider positional need.
"When you're at five, you have to look for best overall ability," Brackett said. "If it happens to coincide with a depth need or an organizational need that's the cherry on top, but when you're picking this high you just take the best available. You can't be influenced by positional need at this point."
Also consider that in May Benning said he wasn't convinced that a true No. 1 defenceman existed in this draft class and it seems likely the club will use the fifth-overall pick on a forward. That said, Benning did seem to moderate those comments in an extended discussion with Sportsnet this week.
"I think there's a couple of defencemen that have a chance to grow into (a No. 1) in this year's draft, and I think there's some defencemen that have some special skills that will transform to the way that the game is being played now," Benning said.
If the Canucks opt to hold the fifth-overall pick, expect them to take a forward. If they find a trading partner and move back in the first-round though, expect them to select a defenceman.
"In the course of the top 15 picks, there are five or six defencemen that we really like, who we think can be top-four defencemen in the NHL," Benning said.