The Edmonton Oilers were dealt a bit of a rotten deal to start the 2018-19 season, starting off in Europe, playing their last pre-season game and first regular season game, then waiting five days to play another game.
After losing both games, the rumour mill started churning out stories of a toxic locker room and other such problems, and it wasn't about to get easier with the Oilers facing a gauntlet of six straight Cup-contending teams after the rebuilding Rangers.
Sportsnet's Mark Spector went so far as to say the next couple of games were 'must wins' for an Oilers team with a fragile psyche, that needed to avoid the poor starts of previous years and get some belief in themselves, and win they did.
Gutting out three straight one-goal wins, two in overtime against legitimate contenders, and with the win over the Winnipeg Jets involving a dramatic comeback, the Oilers are back on stable ground and the start to the season looks fine. However, there's some trouble underneath the record that bears looking at.
Everyone was pointing out when Connor McDavid had helped create or score all of the Oilers' first nine goals of the season, and he's still been involved in 11 of 13 through five games. Sometimes with a player like McDavid, you can get streaks like that even on a good team, but the problem is the Oilers' forwards have not played well at all.
That total reliance on McDavid to manufacture offence isn't just a small swing in the percentages — just look at the plays that produce goals each Oilers forward has made at 5-vs-5 this season.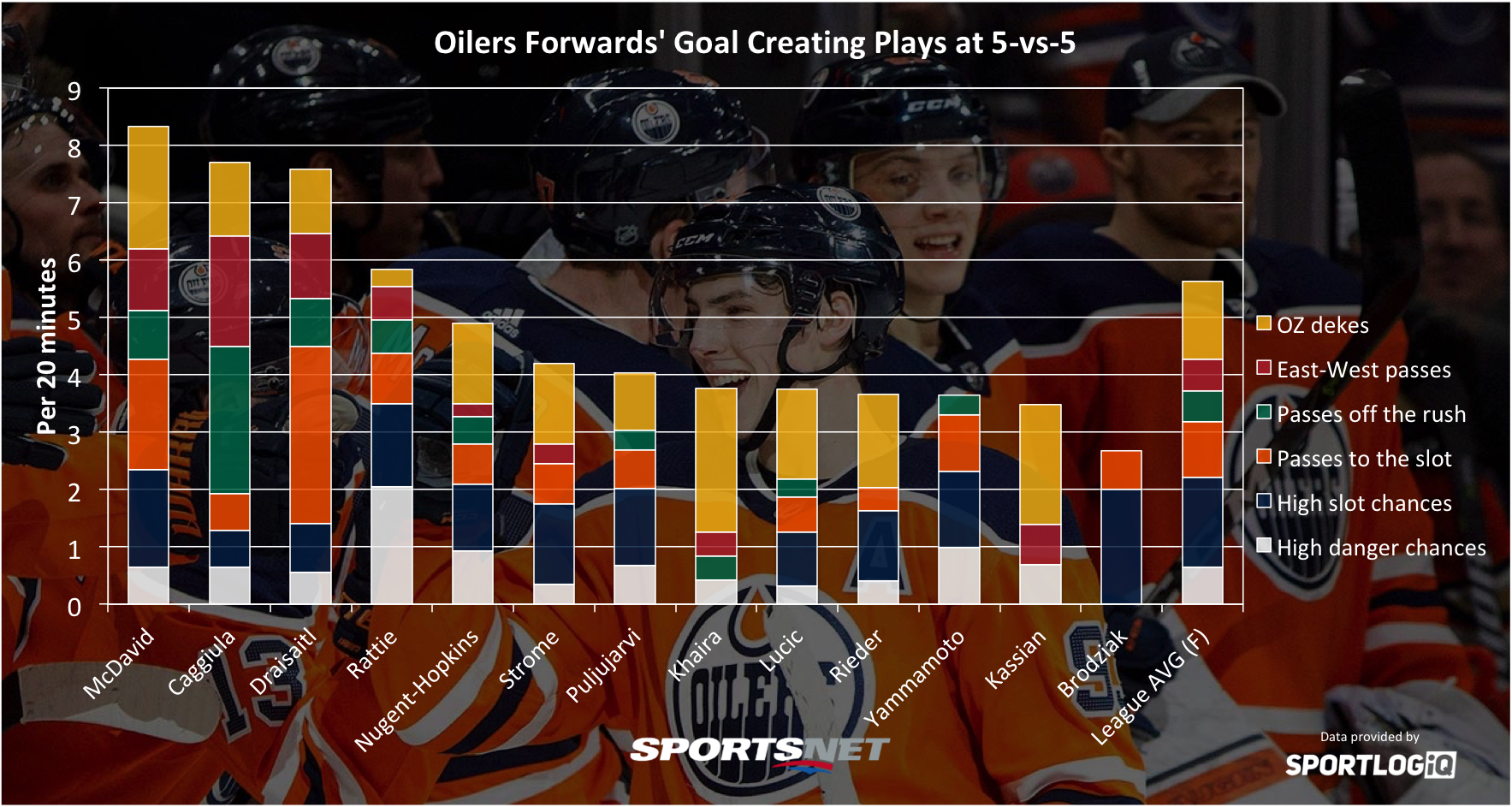 While Leon Draisaitl has caught a lot of flack for his play this season, with most of that criticism focused around his play without the puck, he is literally the only Oilers forward who has been able to manufacture above league-average offence without being attached to McDavid's hip.
Draisaitl has created a ton of passes to the slot for young Kailer Yamamoto in particular. But there hasn't been much finish yet, so he looks underwhelming, especially because he's not shooting from dangerous areas much.
Drake Caggiula looks great here, but remember that he's barely played, and a huge portion of his total is due to an outrageous 100 per cent success rate in passes off the rush in a small sample. Not to take anything away from him, but there looks to be more noise than good process in his play so far.
Using the eye test, I think you can expect to see a bit of improvement short- and long-term from Yamamoto, but the big problems here for the Oilers are, despite playing on and off with McDavid, both Milan Lucic and Ryan Nugent-Hopkins are below league average.
Nugent-Hopkins appears to be getting a bit better, and he has a history of being an above-average offensive player, but for Lucic, his 5-vs-5 play has deteriorated to a point where he is a real problem.
This is the beginning of a fourth-straight season where Lucic is less involved in creating 5-vs-5 offence than a league-average forward, and while last season, after he broke his 29-game goal drought, I hypothesized that the Oilers could get a useful player out of Lucic if they played him to his strengths as a playmaker, I'm no longer sure that's true.
Sportsnet NOW gives you access to over 500 NHL games this season, blackout-free, including Hockey Night in Canada, Rogers Hometown Hockey, Scotiabank Wednesday Night Hockey, the entire 2019 Stanley Cup Playoffs and more.
Another problem for the Oilers is that despite McDavid's history of elevating his linemates, and his ability to create offence all by himself, he has only lifted Ty Rattie slightly above league average offensively, and his own numbers are currently down from last year in terms of offensive generation, hidden slightly by a 30 per cent shooting percentage.
McDavid will only get better as the season goes along — he's the best player in the world and not someone you ever worry about — but if the Oilers can't find more than one winger who can play with him at an above league-average level without cannibalizing all their secondary offence by putting Draisaitl with him, this team isn't going to be anywhere close to the playoffs.
Peter Chiarelli owes it to McDavid, at the very least, to be active in finding a solution here, especially while the Oilers are finding ways to win despite not creating much offence.