The talk surrounding Patrik Laine leading up to the draft was that it was possible he could be the best pure goal scorer since Alex Ovechkin. The parallels were easy to see when you watched him play: he loves to shoot from Ovechkin's patented spot on the power play and he has that same wicked release.
However, even the most lofty projections didn't have him tied for the league lead in goals over a quarter of the way through the season, and put him on pace for 48 goals if he plays every game this season.
Despite how dynamic Laine has looked, his 21.8% shooting percentage has raised a few eyebrows about how sustainable his goal scoring will be. Every player among the top-five scorers in the NHL this season have been scoring on a similar number of their shots, but when you combine that with the average distance Laine has been shooting from, there's reason to be suspect of the pace he's currently on.
To get an idea of what kind of scoring should be expected from Laine this season, I figured we should compare him to the top scorers from last season based on median shot and goal distance, to see if he's truly that big of an outlier.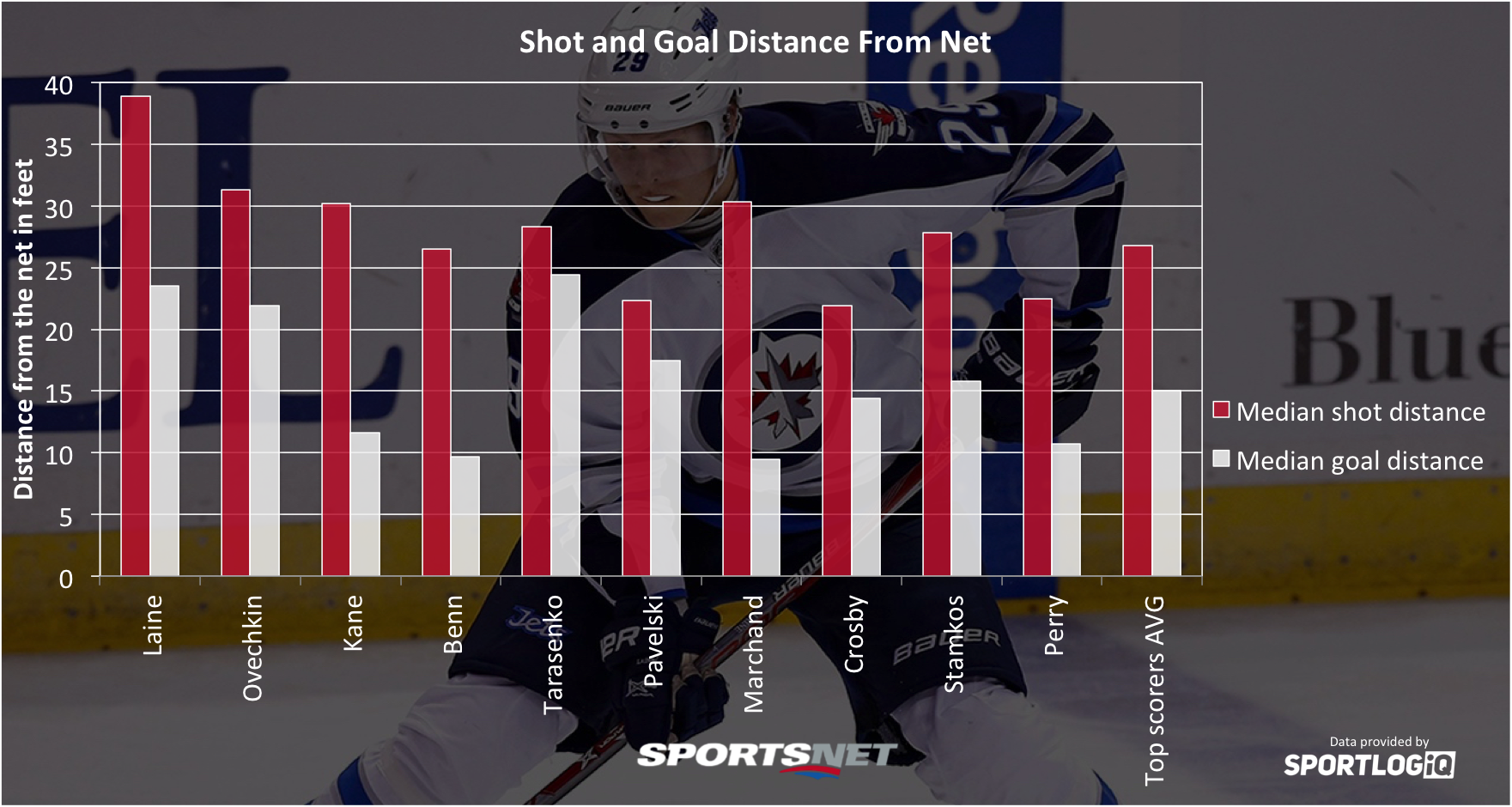 Laine clearly loves to shoot from a distance, with his median shot being over eight feet further from the net than the next longest distance shooter in Ovechkin. That is a bit worrying, but it's interesting that Laine's median goal distance is closer than Vladimir Tarasenko's, even if it's eight and a half feet further out than the average for last season's top scorers.
Using this data we're left with the question: is Laine's shot better than all of those players? It's a possibility — his shot is absurdly good — but to have a better shot than Alex Ovechkin is a very big task. The problem with projecting Laine to be a 40-plus goal scorer with the way he's shooting isn't just that he would need to be a better shooter than Ovechkin, he would need to be much better, considering he's shooting more often from further out and less often overall.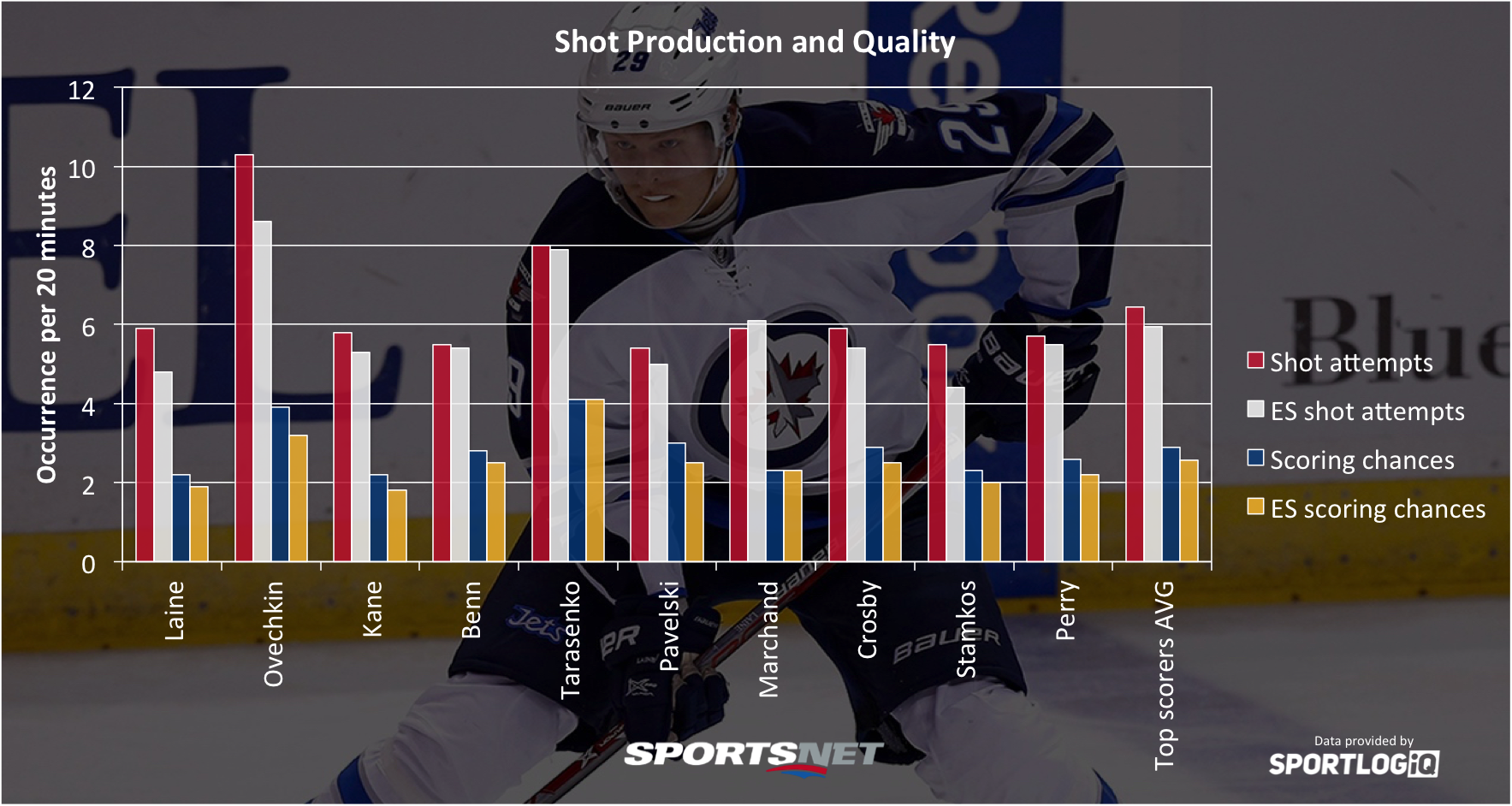 Looking at Laine's shooting rate compared to those same top scorers, it seems to me that while he's below average in shot attempts and scoring chances, there is a bit too much of an overreaction to his low numbers, considering players such as Patrick Kane and Jamie Benn were in similar ranges and hit 40 goals. In single seasons, you don't necessarily need the shot rates of Ovechkin or Tarasenko.
However, the combination of shot rate and shot distance that Laine has currently produced doesn't look like that of a 40-goal scorer, even if he has the best shot in the world. That doesn't mean he won't hit that mark in the future, but we have to remember that Laine is just 18 years old and won't be 19 until mid-April.
That's important to consider when he's compared to Ovechkin, who made his NHL debut at age 20 and immediately put up 425 shots on goal and scored 52 times. Laine isn't doing what Ovechkin did, but as a teenager he shouldn't be expected to.
There is legit criticism of Laine in terms of his shot attempt differentials — he's a -7.1% relative Corsi so far this season, which is terrible. However, not all great scorers are possession drivers, and lots of talented players can outperform their Corsi.
Laine may be unlikely to maintain his scoring pace this season, but his ability to score at 18 years old can't be underestimated. It's very rare for a prospect to jump on to a top line in the NHL as a teenager and immediately dominate both goals and shot attempts. I wouldn't worry about him.