If Logan Stanley can develop his skating to an elite level, it'll go a long way towards securing what should be a promising NHL career.
He's a behemoth defenceman with strong puck-moving capability, and he's not afraid to get his nose dirty. It's no wonder Stanley lists Nashville's Shea Weber as his favourite player.
Here's everything you need to know about the 2016 NHL prospect.
Age on June 24: 18
Current Team: Windsor Spitfires (OHL)
Position: Left Defence
Shoots: Left
Height: 6-foot-7
Weight: 220 pounds
From: Waterloo, Ont.
NHL Central Scouting Rank (North America): 19th
Jeff Marek's Take: Giant of a defenceman who likes to play nasty. Long stick and great range alongside his remarkable agility for a large man make him a candidate for a solid shutdown defenceman at the pro level.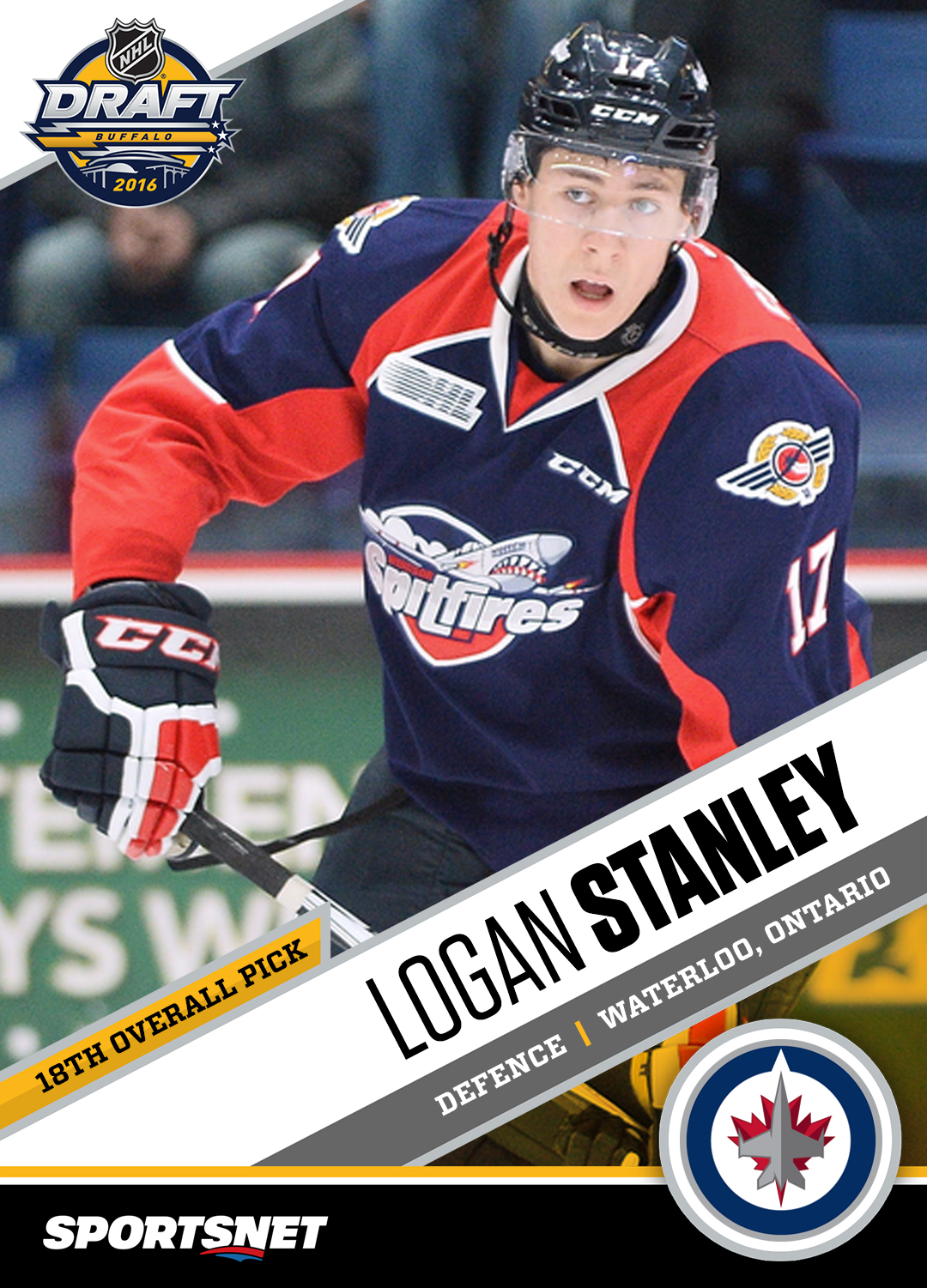 Beast mode
Stanley's a giant among men, and he's not even close to being done filling out that enormous frame.
That he can move the puck efficiently and play the game at both ends of the rink only makes him more compelling as a prospect, but it's hard not to get over-excited about his size.
The report at eliteprospects.com says, "[Stanley] has become a nasty player the other team dreads whenever he is on the ice."
That's not a bad reputation to carry into the NHL.
But with five goals and 12 assists with the Spitfires this season, Stanley has shown he's more than just a bruiser.
He's rounding out his game
Today's hockey is played at breakneck pace, and that's why Stanley's focus has been on crafting the skill elements of his game so he can go down the same path as thriving St. Louis Blues defenceman Colton Parayko, rather than the muddled ones Arizona's Jarred Tinordi and Toronto's Jared Cowen have traveled.
"As a big guy, you have to be physical and have a good active stick," Stanley told Sportsnet's Neate Seager. "Just because I am big doesn't mean I am exempt from other parts of the game. I have to be able to skate and move pucks and play with some skill. I've tried to work on that part."
You want to drop 'em with me?
It's funny how that works. You'd think players would want to avoid fighting a 6-foot-7, 220-pound monster like Stanley, but he's been challenged 11 times in his two OHL seasons, according to hockeyfights.com.
He's got a cousin in the NHL
He may not be at the top end of Washington's lineup, but that doesn't mean Capitals forward Michael Latta can't help his cousin Logan realize his NHL dream.
"As I got older, Mike started teaching me more, telling me about key things I needed to do in order to impress scouts," Stanley told Yahoo Sports. "He's been a great influence on me. We work out together. Seeing how committed he is makes me want to push for the next level."
His ranking, in a nutshell
It's not hard to see why NHL central scouting has Stanley as a first-round hopeful for this year's draft, ranking him 19th among North American prospects.
A little more foot-speed and a tad more production might have bumped him up the list, but like most players his size, he'll have plenty of time to improve in those departments.