One of the most valuable positions in today's NHL is the two-way defenceman.
Just about every Stanley Cup winner over the past decade has heavily relied on their top-pair blueliner, so you can understand why there is significant buzz around Windsor's Mikhail Sergachev.
Here's everything you need to know about the ultra-competitive defenceman:
Age on June 24: 17 (turns 18 on June 25)
From: Nizhnekamsk, Russia
Current Team: Windsor Spitfires, OHL
Position: Defence
Shoots: Left
Height: 6-foot-2
Weight: 208 pounds
NHL Central Scouting Rank (North American): 8th
Jeff Marek's Take: Plays with zero panic leading to one scout telling me "he skates like he's in a rocking chair." Has four different kinds of shots from the point and many feel he's the class of all blueliners this year. This guy gets on the game sheet in a positive way almost every night.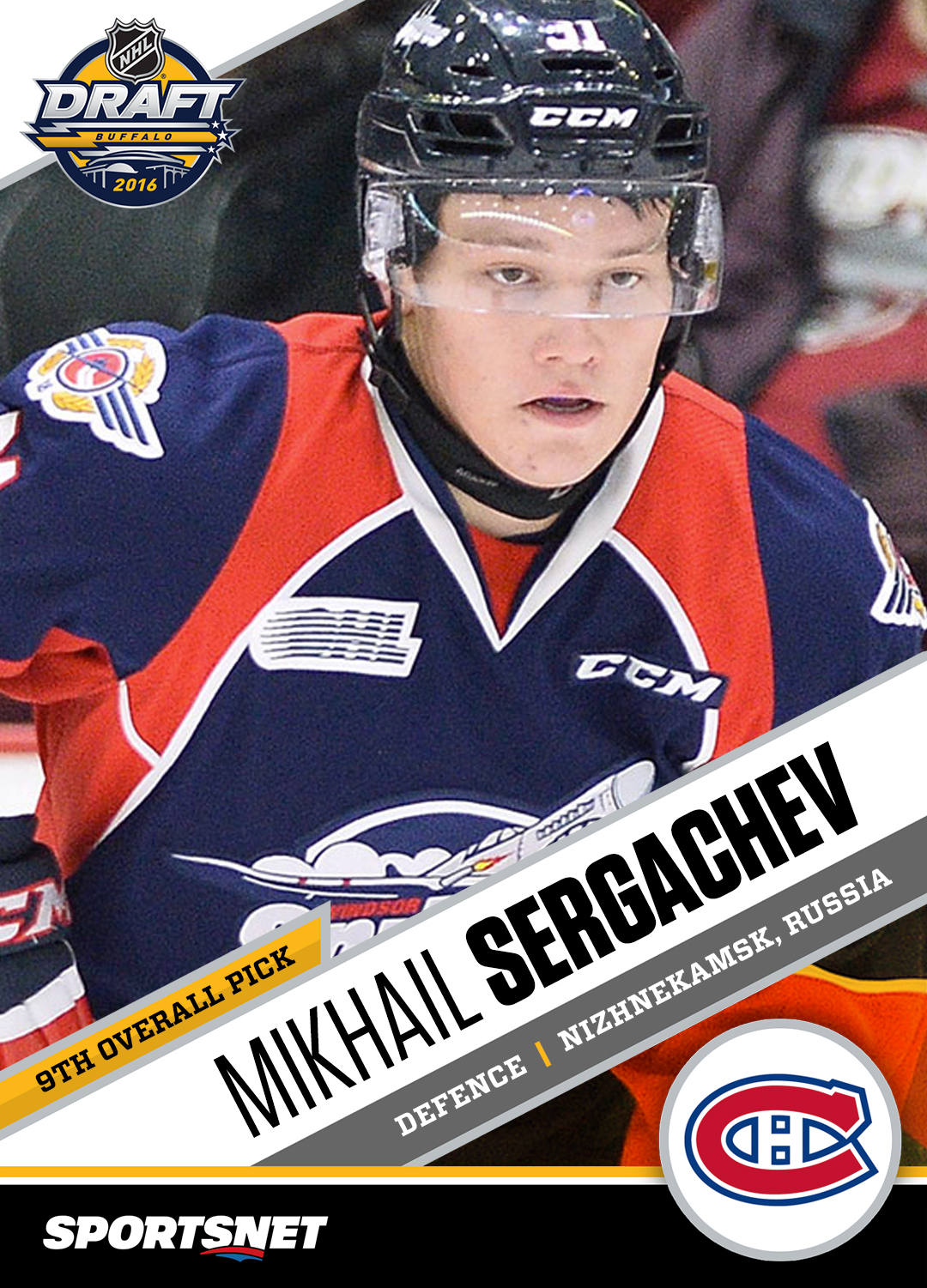 Very poised on the blue line…
Sergachev is defined by his three-zone play, confidence, and creativity with the puck. But perhaps his best asset is how calm he is, even when facing significant pressure.
He is a very controlled player, especially when he needs to make split-second decisions, and is patient when he needs to drive the puck up ice, make a breakout pass, or maintain puck possession.
He's a fairly physical (and smart) player too. The tenacious Russian is very aggressive and consistently uses his big frame to angle off opponents and win puck battles.
"His read-and-react game is fast," Central Scouting's Dan Marr told NHL.com. "He's able to transition quickly. He's got that focus on the ice, and he's a guy you don't catch out of position. It is a lot tougher to beat him 1-on-1 now than it was earlier in the year."
His all-around play helped him win the Max Kaminsky Trophy in his first junior season in Canada as the most outstanding OHL defenceman. Past winners include Drew Doughty, Aaron Ekblad, and Dougie Hamilton.
Should be an offensive weapon at the next level…
Sergachev was third in total points among OHL defencemen this past season, and he finished first in goals.
He has a big shot from the point that can be difficult for opposing goaltenders, which helps create rebounds for his teammates as well. He's most often been compared to Zach Werenski, the eighth overall pick in the 2015 NHL Draft and captain of Team USA's World Junior Championship team. Werenski played seven games at the end of the AHL season this past year, after finishing up at the University of Michigan as a point-per-game player.
Sergachev is a logical option as a power play contributor at the pro level because he can move the puck well, create space with his body, and generate offence from the point.
Sergachev wants to be a bear of a player…
One of his favourite players is fellow Russian, Alex Ovechkin.
"He's an animal on the ice," Sergachev said (via NHL.com). "He's big, strong, has a good shot, good hands and good head. He's fun to watch because he's like a bear, and I want to be a Russian bear."
Sergachev certainly has enough size to bring that physical game to the next level, and it's another element that scouts love about him. Ahead of the draft, the buzz was about which defenceman would get picked first and, for the most part, the scouting community seemed torn between Sergachev and Olli Juolevi of the London Knights.
Here's what one scout, who advocates for Sergachev, told Sportsnet's Gare Joyce at the NHL's Scouting Combine in early June:
"He probably helped himself this week. He measured at 220 pounds and over 6-foot-2. You can see him bring a physical component as a pro that you wouldn't project for Juolevi. I think there's a chance that he could be the best player in this whole draft eight or 10 years from now. We liked him in our interview. He could have opted out of the U18s (after most of the Russian team was suspended for PED use). He told us that he wanted to go and play with underages at the tournament because he'd been an underager the year before and felt like he had a duty to help the Russian kids. 'My country was always there for me, so I'm there for my country,' he told us. Which you have to respect."
He didn't know much English when he arrived in North America this season…
When Sergachev first came over for Russia, it took him some time to acclimate himself. He didn't know a ton of English at first but he worked through it, thanks to the help of his billet family and former teammate Daniil Vertiy, according to NHL.com.
However, when Vertiy was dealt away from Windsor last November, he had to step up his English game.
"He's not your prototypical Russian," teammate Logan Brown told NHL.com. "He learned the language on his own and is now cracking jokes. He's hilarious. But even more remarkable was how quickly he was able to translate his game into a North American game."
Since then, there's been notable progress.
"He has an English teacher now and it gets better and better, so it's fun to play with him," Windsor defenceman Logan Stanley added. "I think he makes me look a lot better. He still yells in Russian when he gets fired up. He sometimes comes back to the bench and says stuff in Russian, but we laugh at him and brush it off."
He sounds great – so where can he improve?
Even with his impressive season, there's still so much room to grow in Sergachev's game.
That's why many expect he'll go back to junior next season.
While Sergachev was a solid defensive player for the most part, displaying good gap control in his first OHL season, he admitted he can grow even more in that area.
He wants to improve his positioning and become harder to move in front of the net.