Most of the discussion surrounding the 2016 NHL Draft has focused on top forward prospects such as Auston Matthews and Patrik Laine, but there are some emerging defencemen who should be picked in the top 10.
One of those players is Olli Juolevi, who had a breakout year in the Ontario Hockey League in his first season in North America.
Here's everything you need to know about Juolevi:
Age on June 24: 18
From: Helsinki, Finland
Current Team: London Knights
Position: Defence
Shoots: Left
Height: 6-foot-2
Weight: 182 pounds
Twitter: @OlliJuolevi
NHL Central Scouting Rank (North American): 5th
Jeff Marek's Take: Offensively minded defenceman who helped anchor a Memorial Cup champion London Knights team. A smooth skater who sees the ice well. Questions linger about his physical strength.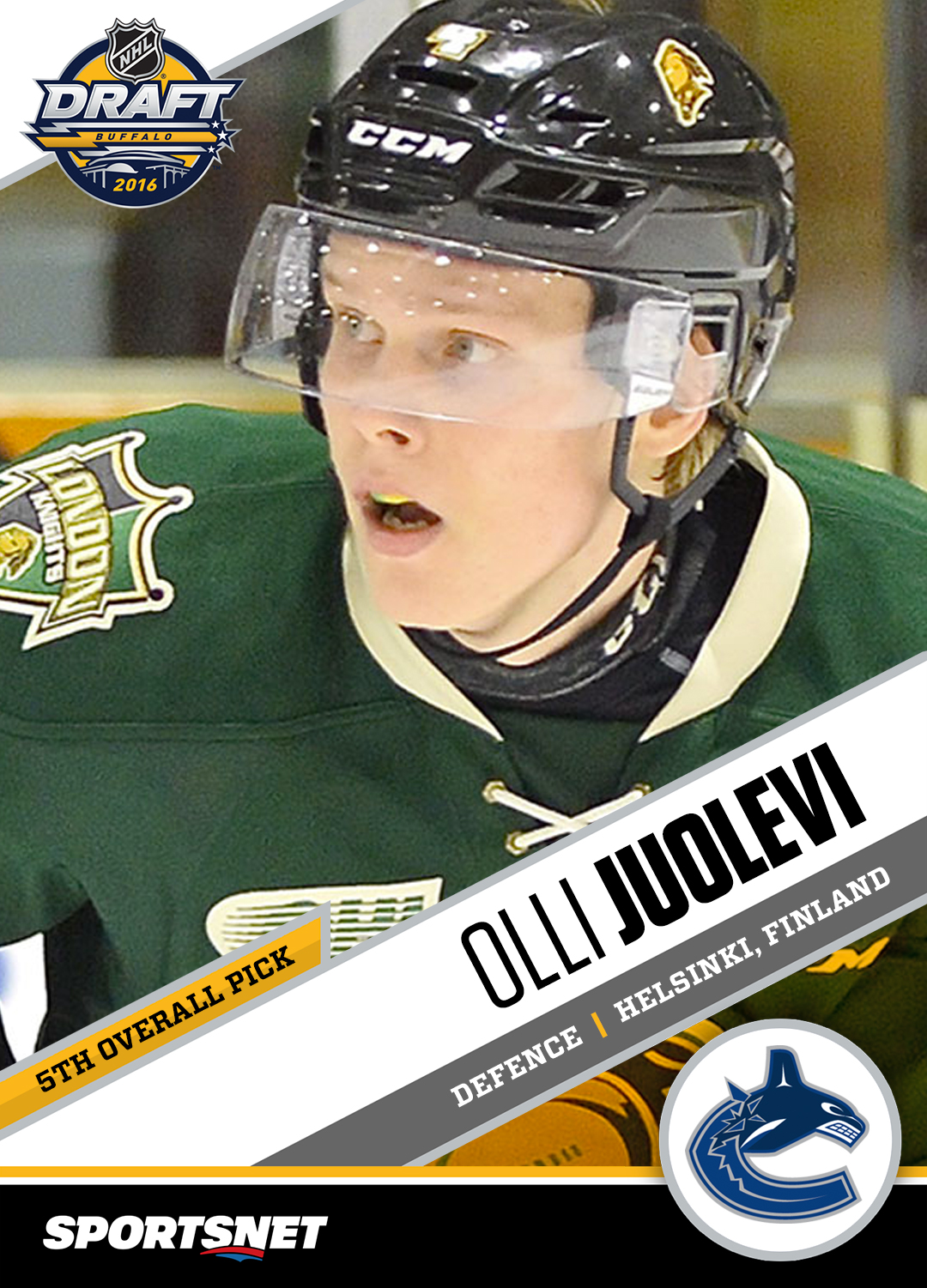 RISING TALENT
Juolevi wasn't regarded as a top-10 pick at the start of the season, but he captured the attention of NHL scouts early in the OHL year. Now, it's possible he could go as high as the top five.
Juolevi has often been compared to a fellow Finn, Olli Maatta of the Pittsburgh Penguins, and it's not just because they have the same first name.
The 18-year-old defenceman is an all-around playmaker with size, outstanding hockey sense, and solid puck possession. He had nine goals and 33 assists in 57 games for London and added 14 points in 18 OHL playoff games. At the Memorial Cup, Juolevi led all defencemen with seven points (all assists) in four games as the Knights took home the championship.
Juolevi is a multi-dimensional talent. He can rush the puck through the neutral zone, provide steady play in his own end, and is one of the most competitive players in the draft class.
"He burst on to the scene and didn't require the adjustment period that most players coming from Europe do," NHL Central Scouting's Matt Ryan told NHL.com last month. "His poise with the puck is that of a much older player and he has the ability to see the ice the way most players can't."
He also has a clear sense of where he needs to improve.
"I'm a pretty good skater so the big rink [in Europe] was a good thing for me growing up," the defenceman told Sportsnet's Gare Joyce earlier this year. "I know now that I have to be stronger here because the rink is smaller. Plays happen faster from the boards to the net. You have to be strong on the boards. For me this is something that I have to work at. I'm lucky because I work at it every day because I have to practice against our top line (Mitch Marner, Christian Dvorak and Matthew Tkachuk)."
As explained in that piece linked above by Gare Joyce, some scouts like Juolevi even more than Jakob Chychrun, who is ranked one spot higher than Juolevi on Central Scouting's list.
EXCELLED AT WORLD JUNIORS
The skilled defenceman stood out among elite competition at the 2016 World Junior Championship.
He had nine points, all assists, in seven games and his point total was the most in the tournament's history by a 17-year-old defenceman, breaking Ryan Ellis' previous record in 2009.
The Finn led his club in ice time and made the tournament all-star team en route to a gold medal victory.
On that big stage, in a tournament generally regarded to be for 19-year-old players, Juolevi appeared able to thrive under pressure and play 25 minutes a night at the next level.
"The world juniors (were) an amazing time … different [than the OHL]," he told Sportsnet. "I was back on the big ice but the level is so high. It was faster, players are stronger, more skilled. It was tougher, especially with the big guys—you have to skate faster to keep having good position with them."
HE WAS NAMED TO THE OHL'S THIRD ALL-STAR TEAM
Juolevi finished 12th among all OHL defencemen in scoring, was third with a plus-38 rating, third in power play assists (20) and had the fewest penalty minutes (16) of any of the top 25 scoring defencemen.
For his efforts, Juolevi was named to the OHL's third all-star team. Of note: two draft eligible defencemen earned a spot on the first and second all-star teams. Windsor's Mikhail Sergachev was named to the first team and had the most voting points of all defencemen, while Chychrun earned a spot on the second team.
At the Memorial Cup, Juolevi was named to the first all-star team. The other defenceman to earn that honour this year was Haydn Fleury, the seventh overall pick of the Carolina Hurricanes from 2014. Juolevi was the only first-time draft eligible player to make this year's Memorial Cup all-star team.
HE THINKS HE SHOULD BE THE FIRST DEFENCEMAN TAKEN
Juolevi may not be as outspoken as Patrik Laine, who has said on a few occasions that he thinks he should go No. 1 overall. However, Juolevi does have that confidence, telling reporters at the draft the he thinks he should be the first defenceman taken.
As Gare Joyce wrote in his takeaways piece from the NHL Combine there is no clear consensus on which defenceman will go first, but it appears to be between Juolevi and Russian Mikhail Sergachev.
One scout who thinks Juolevi will be the first blueliner off the board said this to Joyce: "So smart, so much of what Finland did at the worlds and what London did this season started on his stick. Physically, he doesn't get the credit that he should but he's a playmaker and he makes the puck do the work. And he's bigger than people might think."
Another scout said: "The defencemen with top-pair upside here are Juolevi and Sergachev."