Just look at him. At 6-foot-5, with a deft scoring touch, Tage Thompson has NHL written all over him.
Central Scouting currently ranks him 20th among North American prospects, and after a great year at UConn you can see why.
If Thompson makes it, he'll be the second member of his family to do so. His father Brent played defence for the Los Angeles Kings, Winnipeg Jets and Phoenix Coyotes.
Here's everything you need to know about this hulking NHL prospect.
Age on June 24: 18
Current Team: Connecticut Huskies
Position: Centre/Right Wing
Shoots: Right
Height: 6-foot-5
Weight: 185 pounds
From: Oyster Bay, NY.
Twitter: @TThompson_97
NHL Central Scouting Rank (North America): 20th
Jeff Marek's Take: Outstanding on the power play, but that's where he's picked up all his points. Still needs work on his 5-on-5 game.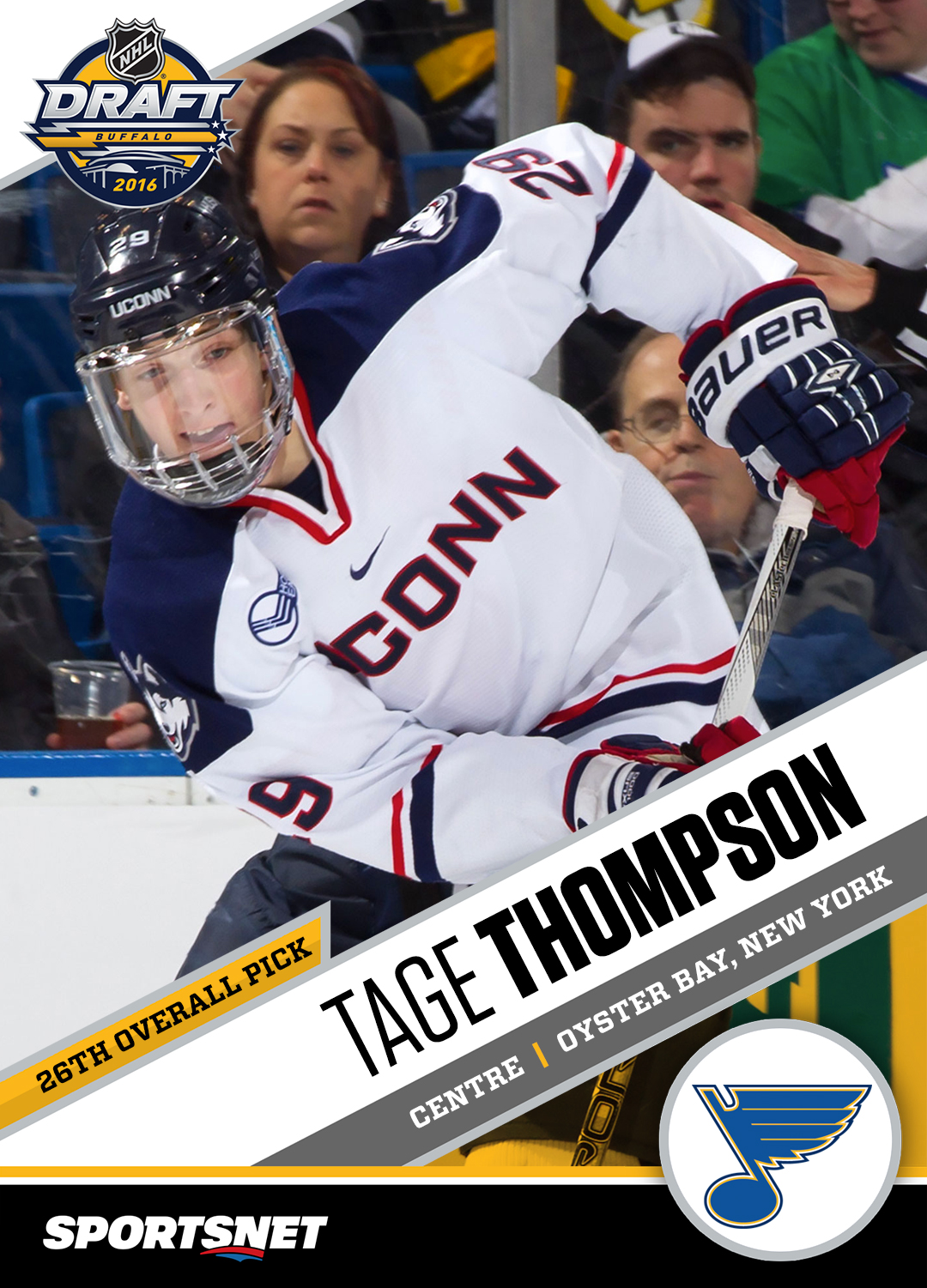 Speed and skill
When you look at a player who's 6-foot-5, it's only natural to focus on his size. But Thompson's speed and skill saw him score 14 goals and 18 assists in 36 games as a freshman at UConn this season, finishing second in team-scoring behind Arizona Coyotes prospect Maxim Letunov.
You'd think with that frame, he'd be banging and crashing his way to goals, but it's his big booming shot, stick-handling and skating that have carried him. Thompson also only took six minor penalties this season.
He's a power player
No player on the entire U.S. college circuit scored more than Thompson's 13 goals on the power play this season.
Pretty impressive, considering Thompson was the third-youngest player behind Luke Kunin and Charlie McAvoy, playing in the NCAA this season.
He's a right-handed shooter who sets himself up on the left half-boards (a la Alex Ovechkin), and from there his slapshot does the damage.
"Tage didn't miss often," UConn coach Mike Cavanaugh told NHL.com. "If he gets the puck in space and can one-time it, he can bury it."
He's getting stronger
Thompson may not be a bruiser just yet, but he's been working on becoming one.
When he first started in the U.S. National Development program in 2014 alongside other notable 2016 NHL prospects Auston Matthews and Matthew Tkachuk, he was 6-foot-1. He's grown considerably since then, and so has his game.
Thompson told sbncollegehockey.com that strength and speed were some of the key improvements he's made.
"I try to play a power-forward game, be strong on the puck down low, limit my turnovers in the neutral zone," he said.
"He's a pro player," NHL director of central scouting Dan Marr told NHL.com. "For him to go to that program and get the ice time and production he's getting; he's getting bigger and stronger and his skating has picked up."
He's following dad's advice
Brent Thompson had 17 years of professional experience, much of it spent in the IHL and AHL. His persistence and perseverance served as the most valuable lesson his son Tage could absorb.
"One of the biggest things that's stuck with me is he said, 'every day is a tryout and there is always someone trying to take your job,' Tage told NHL.com. "He also said, 'never be satisfied with where you're at.'"
He could be a steal in the second
In all likelihood, Thompson — who's ranked 20th among North American prospects by NHL central scouting — is most likely going to be drafted in the second round. But with his size, shot, scoring ability and the rate at which he's improving, he's likely going to be a steal for whichever lucky team gets their hands on him.