There's this kid named Connor McDavid. He plays hockey. Ever heard of him?
At this point there's not much else to be said about the Erie Otters centre, a lock to be the No. 1 pick in the 2015 NHL Draft.
Dubbed a generational talent, McDavid's output is at a level typically reserved for video games. We all know the Edmonton Oilers will select him on June 26. From there, hockey fans will watch to see if the phenom can develop into a future Hall of Fame talent the way Wayne Gretzky and Mario Lemieux did and the way Crosby is in the midst of doing.
With that in mind, here's what you need to know about Connor McDavid.
Age on June 26: 18
Birthplace: Richmond Hill, Ont.
Current Team: Erie Otters, OHL
Position: Centre
Shoots: Left
Height: 6-foot-1
Weight: 187 pounds
Twitter account: @cmcdavid97
NHL Central Scouting Rank (North American): 1st
Marek's Take: Since the NHL opened up the game with the new rules package in 2005 we've waited for the first elite-level player who grew up in the new system to turn pro. Someone who didn't have to break old habits but rather grew up in this environment that focuses on skill. That player is Connor McDavid. He's a franchise-changing player in every sense of the word. Looked like a pro player even before he started in the OHL. This has been a long time coming but the future is finally here. Comparable: Sidney Crosby/Patrick Kane
He is talented beyond his years and always has been…
McDavid has played against older competition his entire career. In fact, when Connor was four his parents lied and said he was five so he could play in the local league. At age six, McDavid was playing against mostly nine year olds and shone.
Although born in 1997 like Erie Otters teammate and fellow GTHL alumnus Dylan Strome, the two never played on the Toronto Marlboros together. McDavid played up a year and was GTHL teammates with the likes of Josh Ho-Sang and Sam Bennett. In 88 games during his midget year, McDavid registered a whopping 79 goals and 130 assists.
He does things like this…
He's in an exclusive group with two other first-overall picks…
In 2012, McDavid became the third player in Ontario Hockey League history to be granted "exceptional player" status, gaining entry into the league one year early, joining defenceman Aaron Ekblad (2011) and John Tavares (2005). In total there have been four "exceptional players," as Mississauga Steelheads defenceman Sean Day was given the status the year after McDavid.
He was drafted into the KHL last year…
The likelihood of McDavid playing in the KHL is basically non-existent, but that didn't stop Croatian club Medvescak Zagreb from taking him 77th overall in the 2014 KHL Junior Draft. This isn't unheard of. In fact it's quite common for KHL teams to take fliers on top North American prospects. Ak Bars Kazan took Taylor Hall 89th overall in 2009, Vityaz Podolsk took Nathan MacKinnon with the 114th pick in 2012 and Aaron Ekblad was taken 171st overall by Podolsk last year.
His trophy case is full…
McDavid has won pretty much everything there is to win in hockey up to this point in his career. The good folks at Elite Hockey Prospects compiled a list of his accomplishments to date.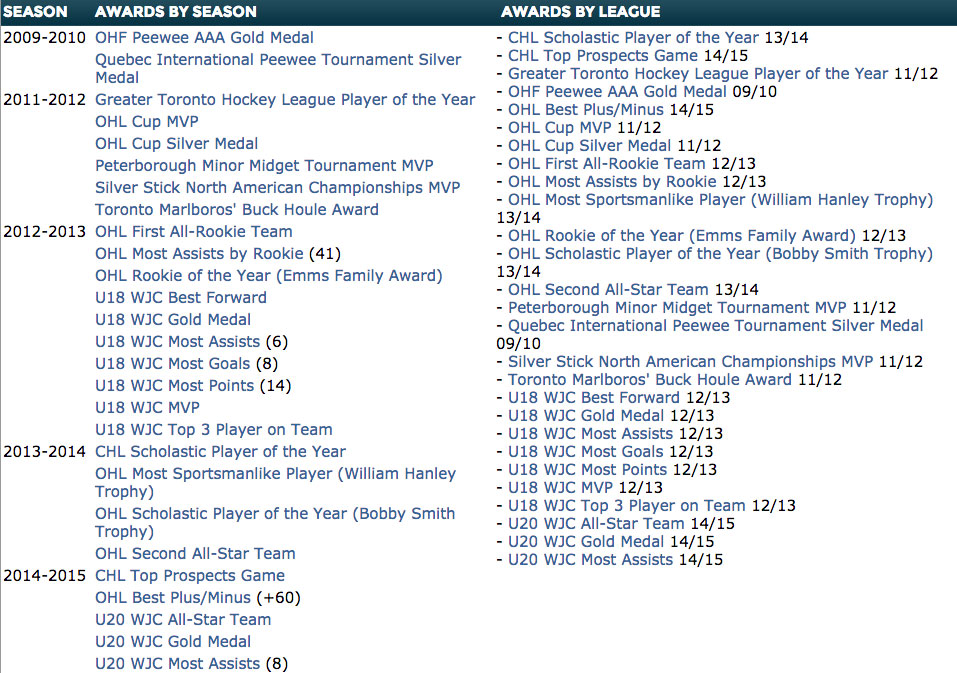 His international resume is already expansive…
McDavid is one of only six 16-year-olds to compete for Canada at the world juniors joining fellow prodigies Wayne Gretzky, Eric Lindros and Sidney Crosby, plus solid NHLers Jason Spezza and Jay Bouwmeester. McDavid has represented his country on a number of occasions, but none were more noteworthy than at the 2015 world juniors where he led the tournament in assists, was named an all-star and helped Canada to a gold medal.
He is excited to play for Edmonton…
Not that he would have anything negative to say about any of the 30 NHL teams, but he seemed at least somewhat enthused at the idea of being an Oiler prior to them winning the draft lottery.
"That's a great hockey town. They love their hockey," McDavid told the Toronto Sun.
"Obviously they've been on a bit of a slide the last couple of years. That's allowed them to get some unbelievably amazing players that play there now. They're just kind of a young team now, I guess. I'm not quite sure what's going on (moving forward). That would be an awesome place as well."
He really, really hates underperforming…
As we've seen so often over the years, innate competitiveness can drive an athlete to greatness (Michael Jordan anyone?). McDavid certainly has a desire to be great and is his worst critic.
"When I was growing up my parents thought I was a perfectionist. I saw a sports doctor and all this stuff," McDavid told the Globe and Mail in December. "When I wouldn't have a good game, I would be so torn, so upset about it. They felt like something was wrong. I don't know. It's just how I am and how every athlete should be. Good is never enough."
He is better than Crosby…
Wayne Gretzky told the Edmonton Journal in April he thinks McDavid is "the best player to come into the league in the last 30 years." McDavid has a long way to go to match or exceed what Crosby has done – 853 points in 627 games to date – but based on what he's done at the junior level he's well on his way.
Back in 2013, Sportsnet's Gare Joyce wrote about all the things McDavid was doing so well at such a young age.